The proper New York Jets 2019 offseason blueprint deploys a motto of "building the house" while excluding Le'Veon Bell.

Build the house. It's ESNY storytime.
There was once an NFL general manager who severely screwed up. On the heels of three-straight tournament appearances and an AFC title game loss, his organization entered the offseason as one of the hotter teams in the land. Everything about the culture and talent suggested an uptick.
A veteran running back and wide receiver were inked to deals, signaling the final pieces of a hopeful Super Bowl contender.
Instead of glory, the fanbase was treated to pain. Instead of enthusiastic parades, there were pity parties lamenting the overall health of the city's franchise stud.
Of course, Ryan Grigson is the man mixed up in this scenario. Frank Gore and Andre Johnson were the veteran free-agent signings. Andrew Luck was the franchise stud who was left hanging by the Indianapolis Colts.
Grigson allowed Luck to fool him. Luck's incredible play without much around him had the Colts believing they were one step away when it was apparent to many not to be the case.
The Colts house wasn't secure. The offensive line in front of No. 12 showcased a porous talent level. And instead of making sure it was buttoned up, Grigson took on veteran weapons.
Three non-tournament seasons and a debilitating shoulder injury later, Indy is finally back with a new general manager (Chris Ballard) who understands the importance of NFL Draft-blood big heavies.
Meet Sam Darnold, the fresh-faced kid who played his rookie campaign with a Grigson-like O-line. Meet Mike Maccagnan, the man in charge who's selected an incredible number of two offensive linemen (Brandon Shell, 2016 fifth round and Jarvis Harrison, 2015 fifth round) through four seasons and 28 total draft picks in a league that never allows talented linemen to reach free agency.
See the problem?
Worse yet, many of those who identify or fail to reconcile this specific issue are calling for Le'Veon Bell's services.
It just doesn't work within the rigors of today's unforgiving, hard NFL salary cap.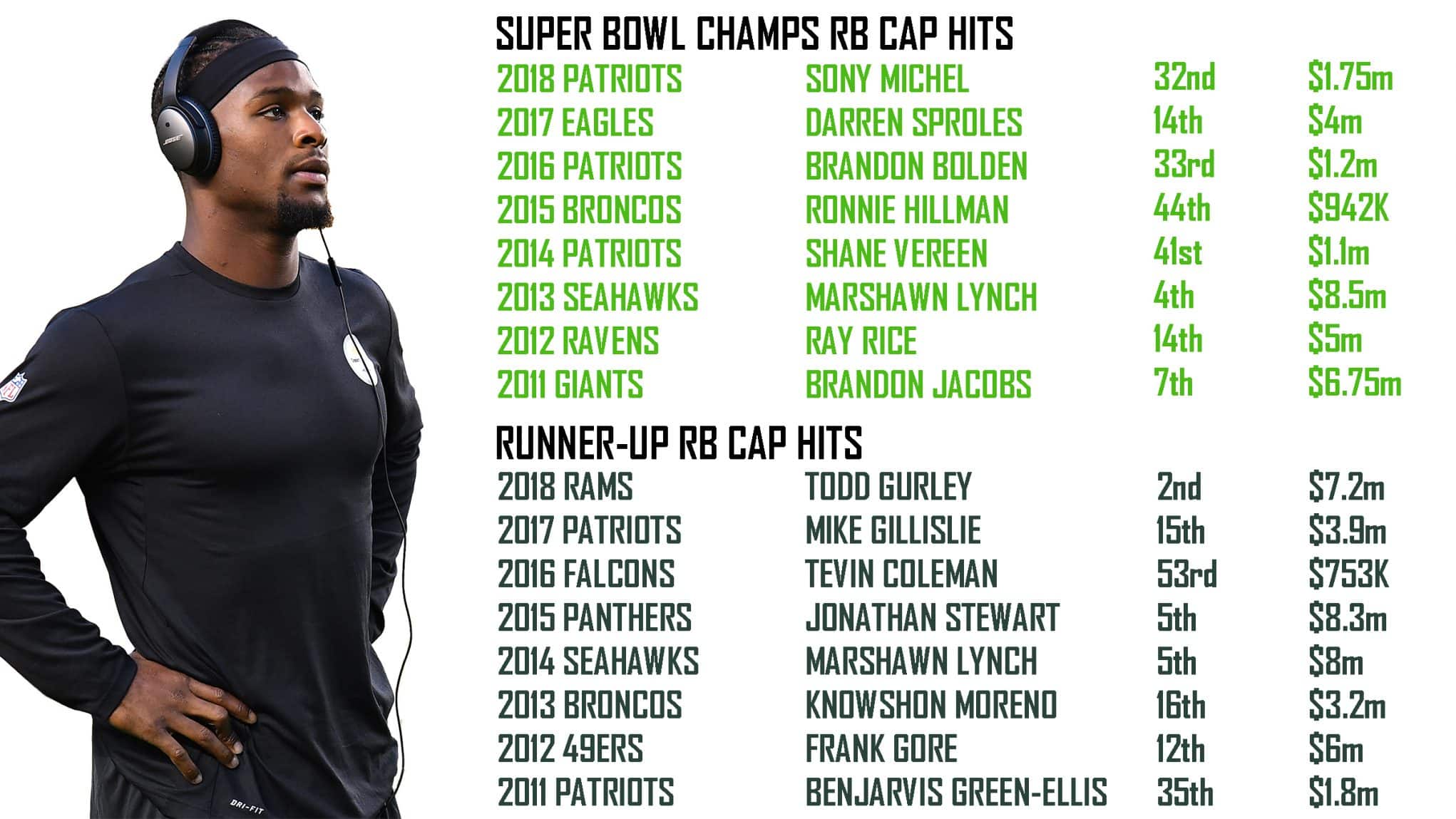 One simple glance at the above graphic is all that's needed to understand the nature of dishing out big running back bucks. Champions don't do it.
Conventional wisdom is suddenly pitted against new-age stubbornness. The majority of cap experts understand the reality of the devalued running back in today's world. Of course the position still matters. It's a big-time deal to deploy a stud horse behind a Sam Darnold.
That's not the issue.
What becomes problematic is when the argument for Le'Veon Bell ensues while ditching the reality of snagging a workhorse on the cheap (via free agency or draft). It's a position that breeds value like no other across the football landscape. It's also a position that's incredibly dependent on the offensive line working the line of scrimmage.
But the Jets haven't employed a stud RB since Curtis Martin
Curtis Martin has nothing to do with Le'Veon Bell. Sure, the salary cap had already been introduced when Bill Parcells shopped for the groceries pre-1998, but C-Mart was a true workhorse.
Look at Bell's attendance record. Via injury or suspension, he's missed an incredible amount of time. There's no chance an NFL team would be better off dishing out a long-term, hefty deal to a back who'll turn 28 next February.
Furthermore, it's a different game. Martin's day consisted of one featured back ready to assume every down. Whereas Bell will miss many plays (and games).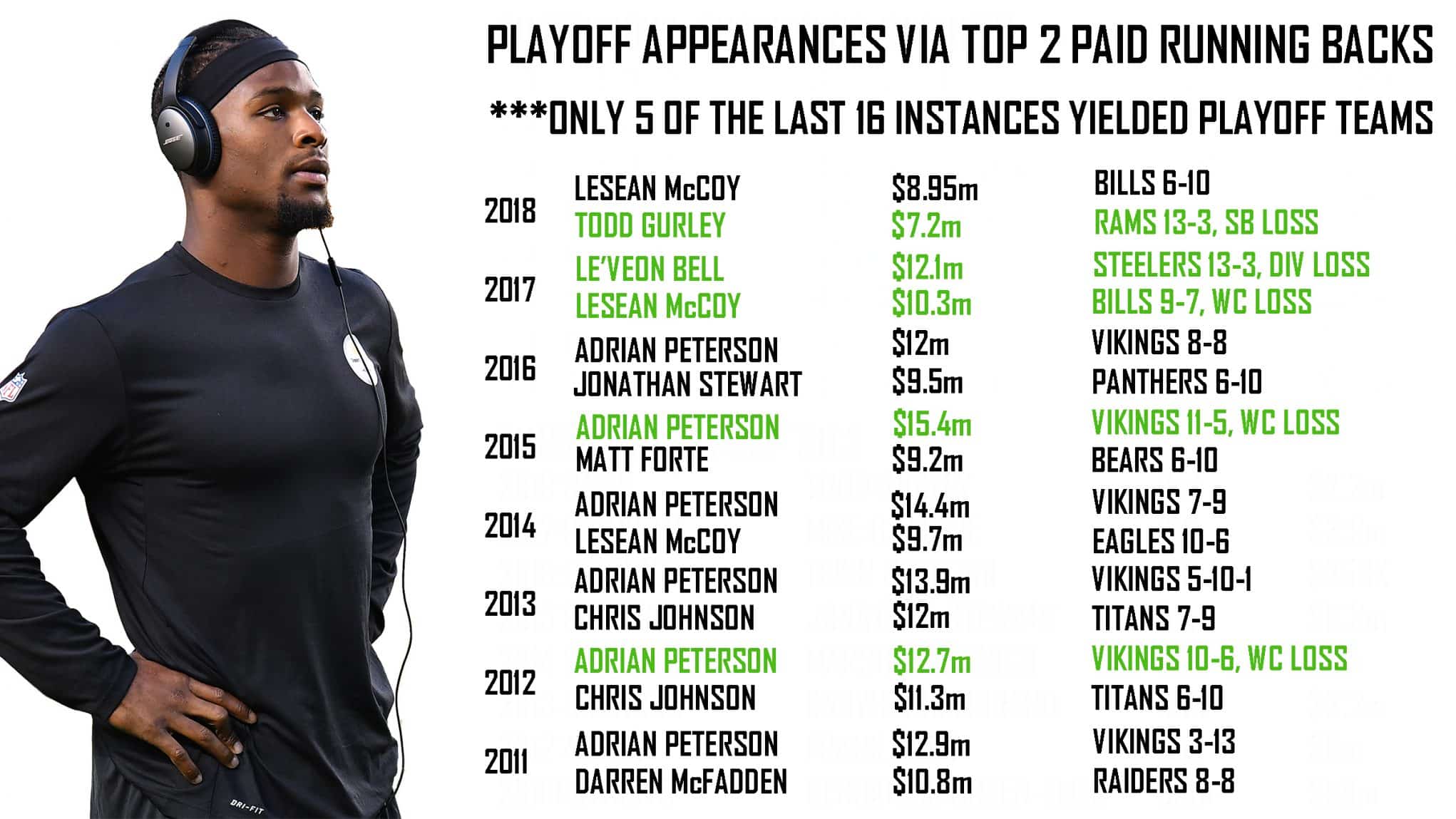 Only five times of the last 16 teams employing a top-two paid running back qualified for the NFL Playoffs. Only five Super Bowl teams (16 in total over the last eight years) possessed a top 10 paid back.
The answers lie in building from the inside-out.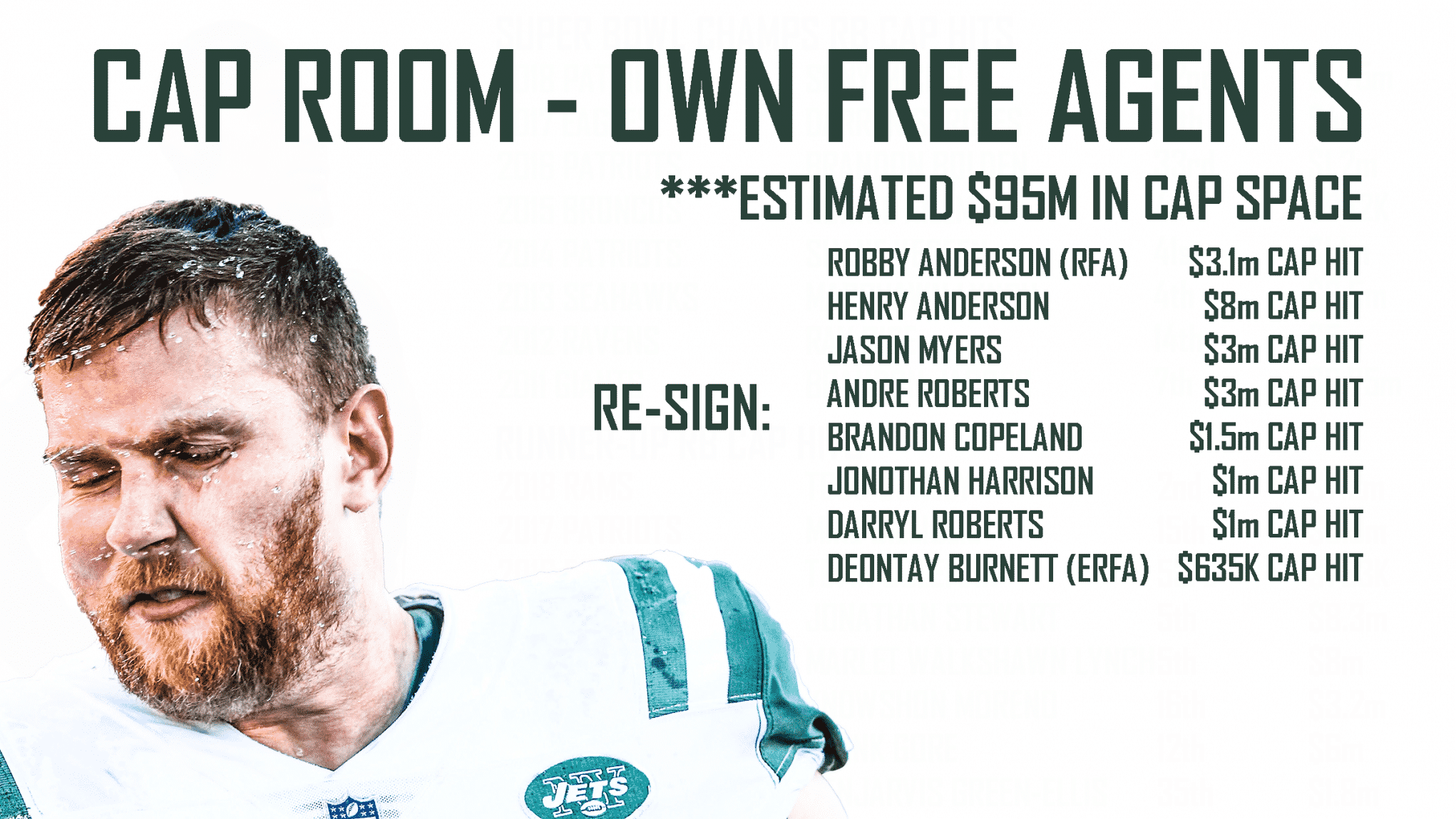 Of the available own free agents, Robby Anderson and Henry Anderson mark the most critical. Henry will cost a little dough. It matters very little that he can't play alongside Leonard Williams in the base 4-3 (both three-to-five-techniques).
He's a beast within the subpackage next to Leo along the interior. Besides, 11 personnel has taken over the actual "base package" in today's game (well over 50 percent of the time).
Robby should be tendered as a restricted free agent. Mix in Jason Myers, Andre Roberts, Brandon Copeland, Jonotthan Harrison, Darryl Roberts and Deontay Burnett, and the Jets are off and running headed into NFL free agency.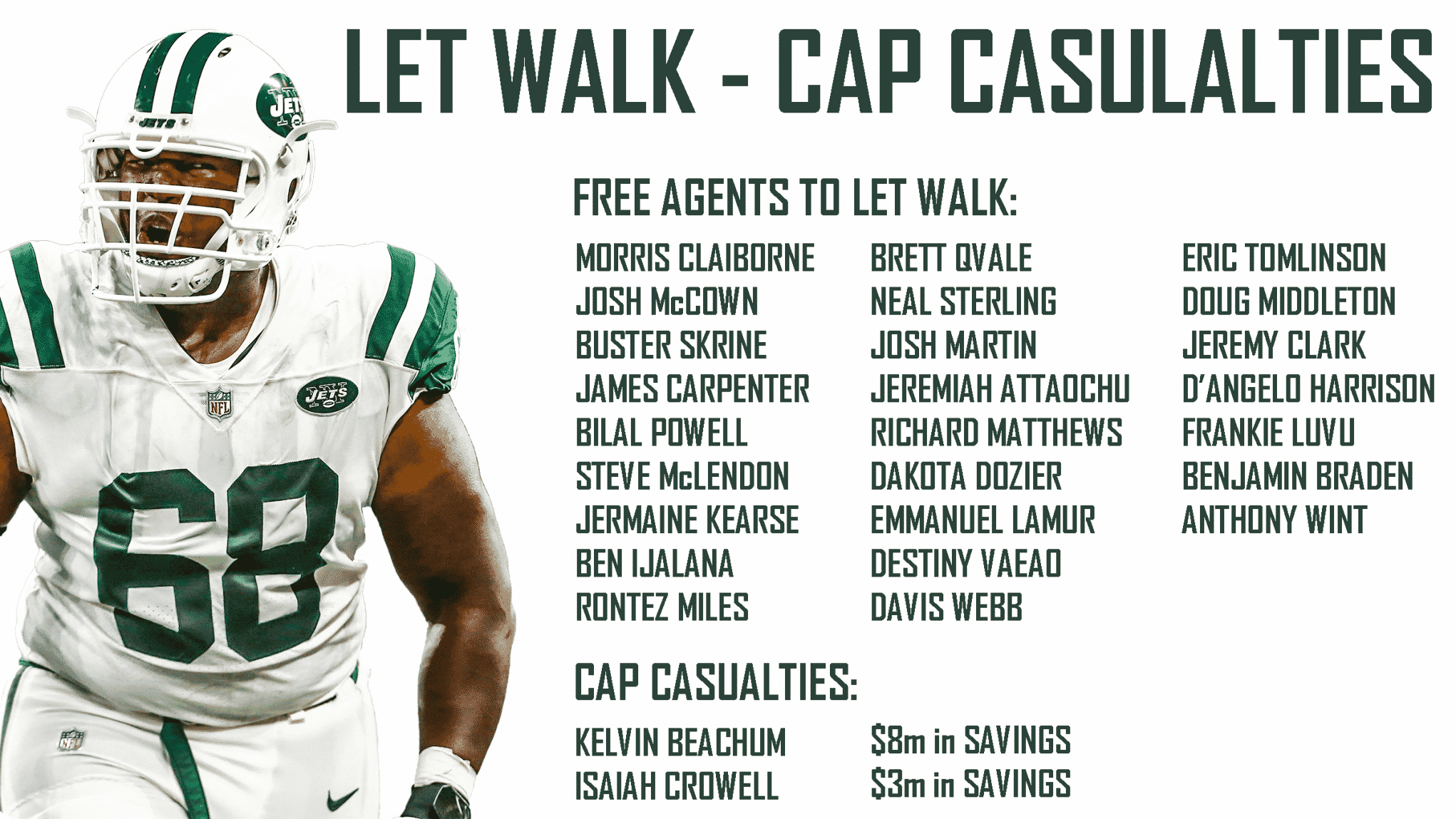 In an article written several weeks ago, I highlighted the idea that Maccagnan must focus on the left side of the line.
Kelvin Beachum may just represent the best of the bunch. It doesn't matter. He and Brandon Shell together make for a poor tackle tandem. Never can an offense reach max potential with that look. A decade-long left tackle is a must. The idea remains the most critical aspect of the offseason.
Beachum can easily come back and play out his last season. He just needs to do so while battling it out with Shell on the right side.
I also highlighted cutting Spencer Long was the right move. New York has already done it. It appears both Brian Winters and Shell are cemented on that right side.
As per the specific blueprint, cut Isaiah Crowell and Beachum to save $11 million. Allow Morris Claiborne, Buster Skrine, James Carpenter, Jermaine Kearse and others to walk. If Josh McCown wants to play another year, welcome him back with open arms. We have him listed on the walk-graphic due to the feeling he's calling it a career.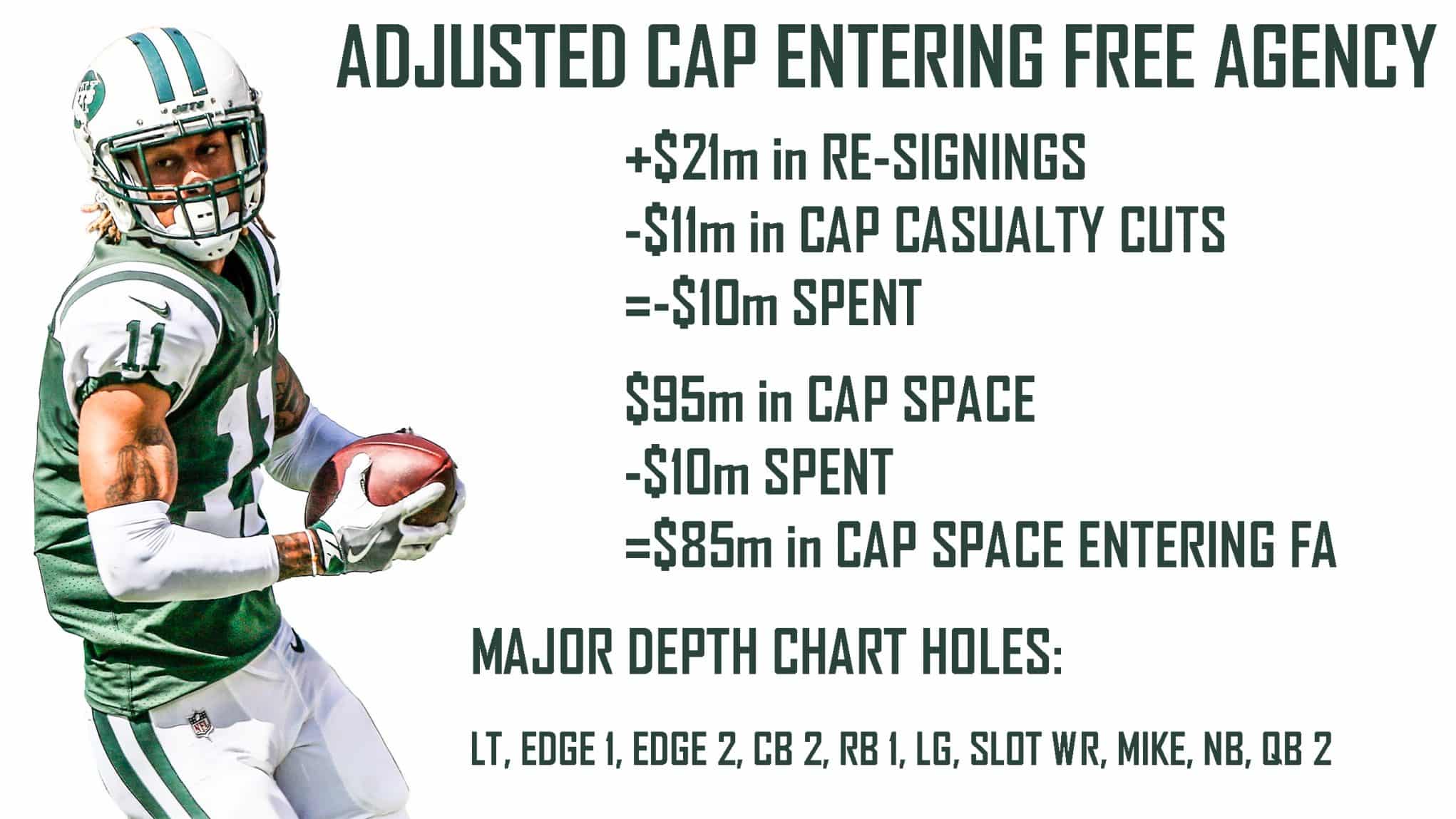 The Jets are now equipped with $85 million heading into free agency.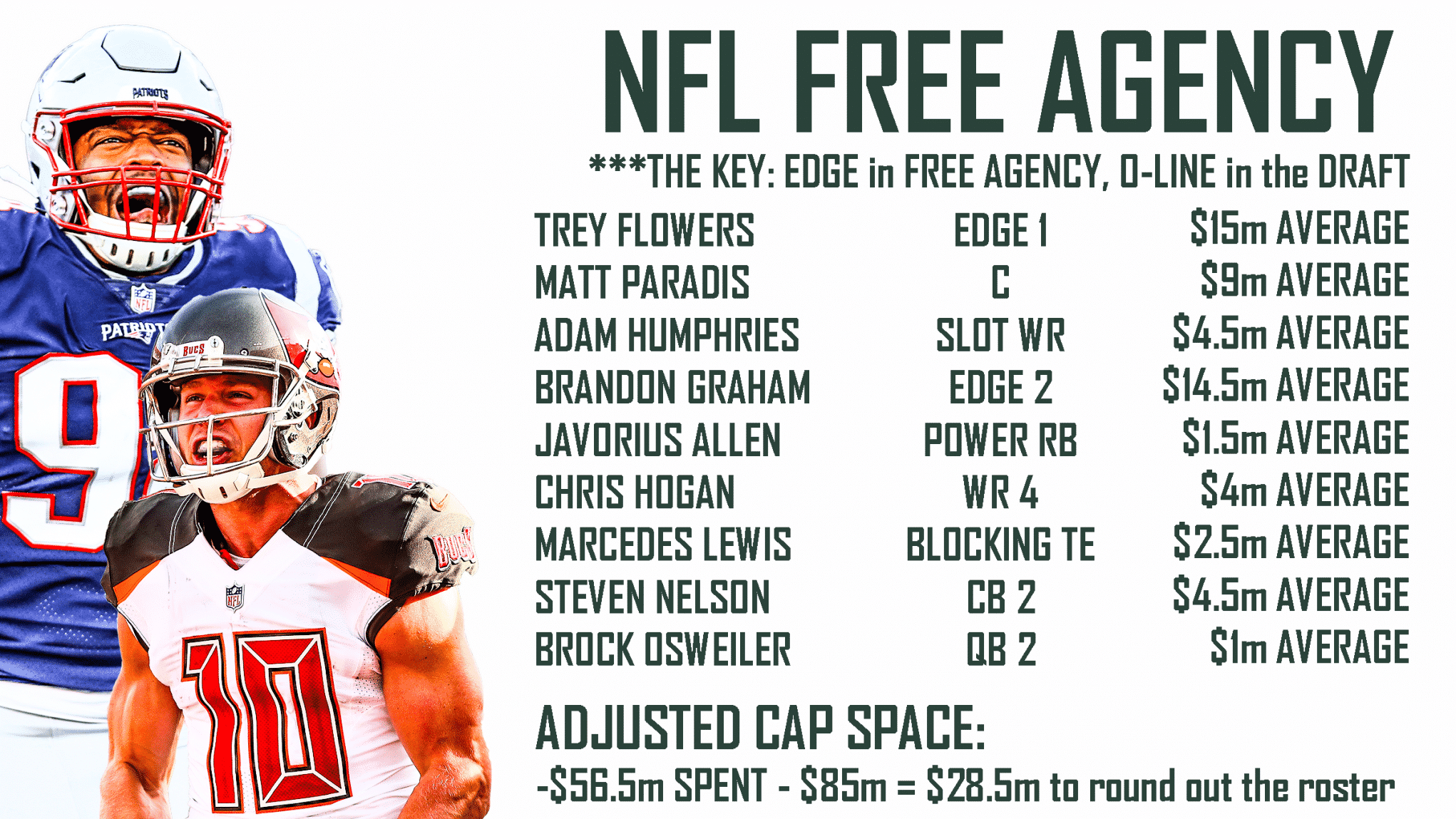 Edge, edge, edge. Forget about Bell. Forget about Antonio Brown. Both Bell and Brown are "roster completion" moves. The Jets are still in "building the house" mode. Besides, assets would have to be coughed up for Brown's services. Already without a second-round selection, it'd be a terrible move.
Robby Anderson, Quincy Enunwa, Chris Herndon and Elijah McGuire are more than enough as the four base starters to get it done as long as the offensive line is ready to roll.
Why such a hard stance on EDGE in free agency?
Offensive line talent is never available in free agency. Never.
During an offseason that features several edge pass-rushing names (Demarcus Lawrence, Jadeveon Clowney, Trey Flowers, Brandon Graham, Ezekiel Ansah and more), New York can't miss out.
Oftentimes, general managers screw themselves with the "best available player" notion via the NFL Draft. Not everything is absolute. There are specific puzzle pieces necessary to round out a team. There are also more important puzzle pieces that exponentially raise the talent and production of those around them.
One such piece is, of course, the quarterback. The other two lie right within the wheelhouse of where the Jets are most fleeting: offensive line and four-man conventional pass rush.
Concerning this specific offseason, the puzzle is simple: sign edge rush and draft linemen. Trent Brown is not the answer. Neither is Rodger Saffold.
I believe Lawrence, Clowney and Ansah will remain in each's respective city. Snagging both Flowers and Graham wouldn't just signal tremendous offseason, it would be an all-timer. I'd absolutely be concerned about the money dished out to each, but those two positions are so critical in raising the game of Jamal Adams and everybody else that's worth wasting some value.
Adam Humphries, while not as flashy as Brown, fits as a cheaper slot man perfectly complementing Enunwa and Anderson. Javorius Allen is a nice cheap power-back option, complementing McGuire and Trenton Cannon while also leaving room to draft a mid-round back.
The signing of veteran Marcedes Lewis would provide the Jets with the best blocking tight end in the game. Remember, Adam Gase neither uses nor carries a fullback. Gase is also familiar with Brock Osweiler. If McCown calls it a career, much money would be saved on Osweiler as the backup.
After it's all said and done, $28.5 million would remain to round out the roster.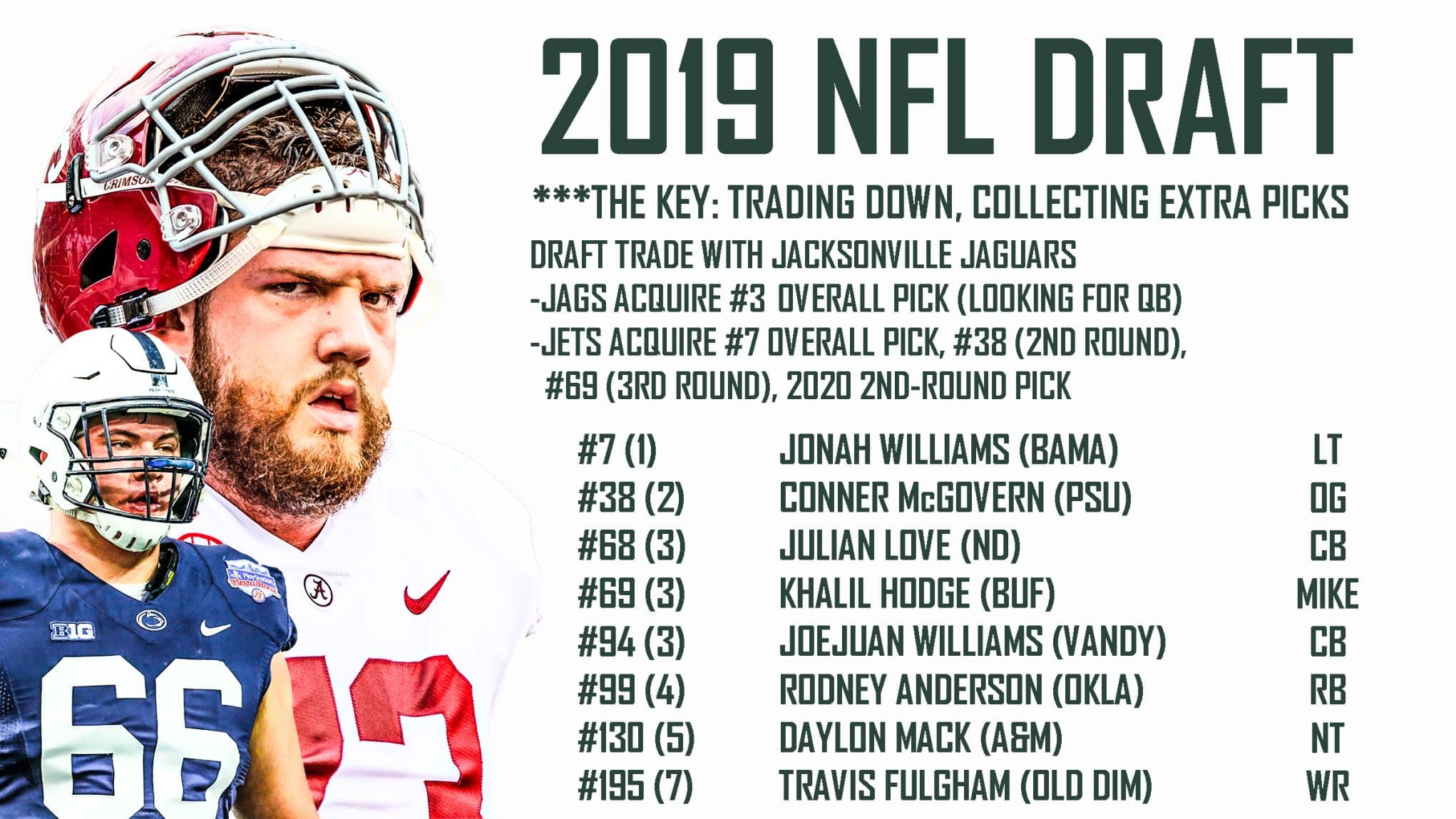 Some believe Williams is an NFL guard. Some believe he'll fall into the mid-to-late first round. As we speak, McGovern is falling as well. Don't focus on Jonah Williams and Connor McGovern as the specific answers. It's not specifically about those two players. Rather, it's about the position.
I don't care who the names are. It could be David Edwards from Wisconsin. How about Jawaan Taylor from Florida? Even Greg Little from Ole' Miss fits the bill. Whichever left tackle the Jets like best is the man they must target in Round 1.
The keys are easy to identify. Look to trade down while collecting assets and secure the left side of the line immediately.
If the Jets remain in the No. 3 spot, Kentucky's Josh Allen is, by far, the most talented and logical selection as a standalone effort. But Allen should only be the selection if New York completely whiffs on edge pass-rushing in free agency. And if that scenario goes down, Darnold heads into his sophomore season with another rough-looking five-man unit in front of him.
In the above scenario, much talent is secured in the draft thanks to a trade with the Jacksonville Jaguars (who are looking for that next franchise signal-caller).
In addition to the O-line, a MIKE, a corner or two, and a mid-round back would be needed.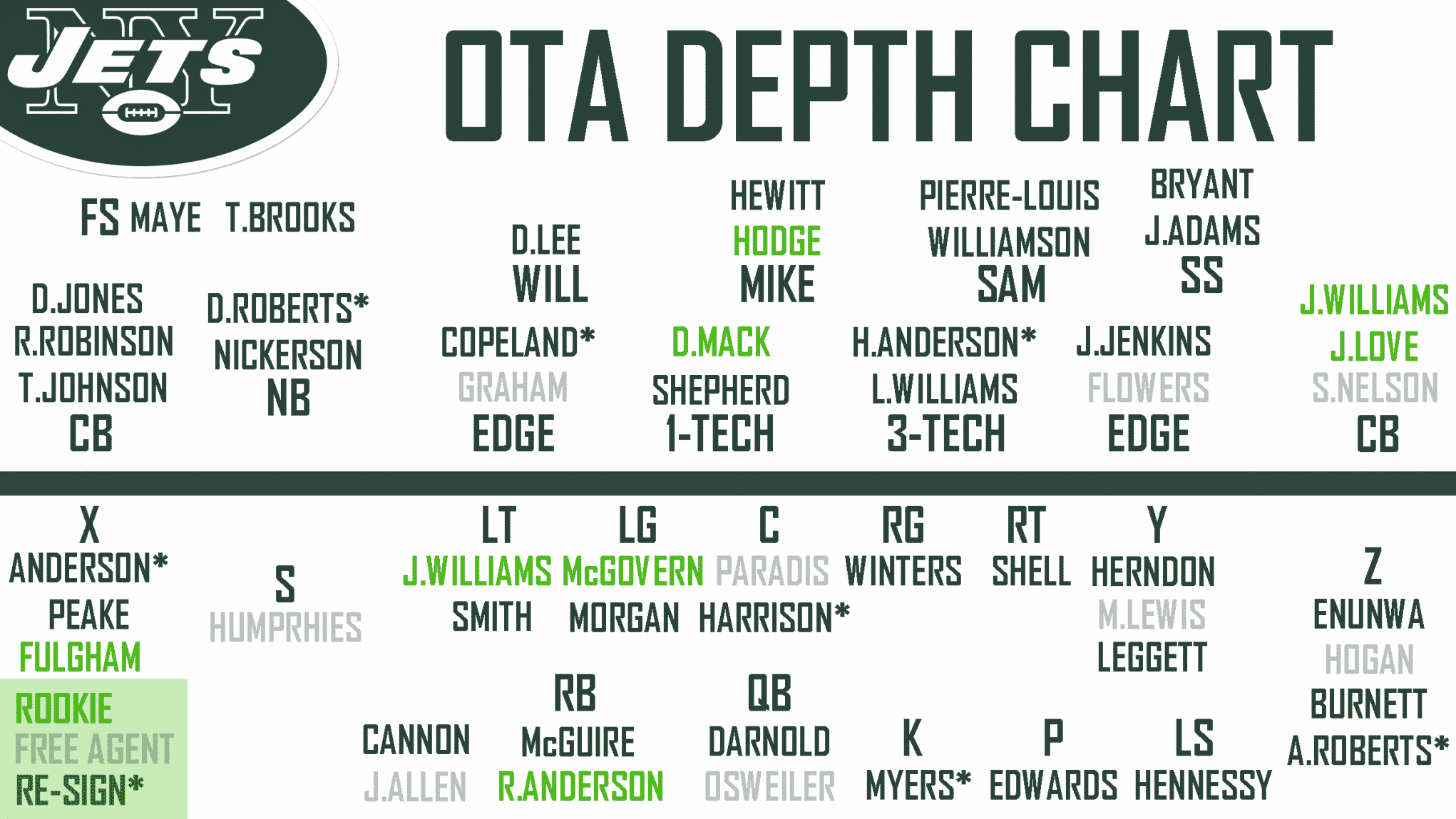 Here it is, the finished product.
I'm not at all concerned with the weapons. Through strength in offensive line breeds more production everywhere else. Elijah McGuire can absolutely handle the workload next to a power back such as rookie Rodney Anderson from Oklahoma.
Third-round corner Julian Love combined with free-agent Steven Nelson and Trumaine Johnson at least makes the corners look respectable. Buffalo's Khalil Mack is another third-round possibility who can fit Gregg Williams's MIKE perfectly.
What has me excited about the chart is the pass rush and the O-line. Imagine Flowers, Anderson, Williams and Graham as the four-man conventional pass rush in sub packages. Then imagine Williams, McGovern, free agent Matt Paradis, Brian Winters and Brandon Shell making up the five-man unit up front. (No, starting two rookies on the O-line is not a problem. After the first quarter of the season, everything begins to gel towards a dominant future.)
The way to sneak Le'Veon Bell into the equation is to sign only one edge rusher, which is actually the more probable scenario. Still, I'd rather save the money than commit big bucks longterm to a position that oozes value on the cheap.
The way to sneak Antonio Brown into the chart is to ensure that extra assets are acquired via the draft. Trading away a mid-round selection while taking that hefty contract is a terrible move unless a draft-day deal is guaranteed.
What's Le'Veon Bell and Antonio Brown without a solid foundation leading the way? Very little.
Stick to the "building the house" motto for now. Until the war is won within the trenches, flashy weapons remain overvalued.