The New York Jets path to correcting the offensive line lies completely on the left due to skill, salary-cap details, and age.

In 2018, the New York Jets active roster offensive line collected a grand total $26,982,145. This lofty number ranked 11th in the NFL. The average cap dollar for each offensive lineman on the roster represented $3,372,768, good enough for eighth in the entire league.
Witch such dough handed to the big heavies up front, at least a "good" performance should be expected.
Instead, free runners, false starts, and plenty of Sam Darnold running-for-his-life moments plagued his entire rookie campaign.
Enough with the patchwork. Stop it already with the free agent road. The offensive line accounts for nearly half of the entire offense (five of 11) and thrives off competition during those all-too-crucial August days.
Yet Mike Maccagnan has drafted a mere two offensive linemen over the course of 28 total draft picks (both of whom represent fifth-round selections).
There is an appropriate way to fix it this offseason (akin to the last two offseasons). The Jets top executive simply needs to go out and make it priority number one. He must understand it always starts up front. It's time he realizes the offensive line lifts the play of every offensive player that plays in conjunction.
The road to fixing the New York Jets offensive line lies on the left side.
Kelvin Beachum Can't Play Left Tackle
Kelvin Beachum represents the team's most consistent linemen. This doesn't mean he's safe. In fact, when taking everything into account—salary cap, age, production—he must be moved.
First and foremost, this is left tackle. This is the position that needs to contain a decade-long youngster who protects Sam Darnold's back. Beachum is equipped with one remaining year on his initial three-year, $24 million deal signed during the 2017 offseason.
Frighteningly, the teams Beachum leaves generally improve the very next season. In 2016, the Jacksonville Jaguars ranked in the 20s in terms of rushing. With Beachum gone and Cam Robinson in (with a relatively similar offensive line other than the right guard, the below-average Patrick Omameh), the Jags skyrocketed to first. Leonard Fournette helped the cause, no doubt, but he didn't even amass 50 percent of the total rushing output.
He can't play left tackle for a dominant NFL offensive line.
New York would save $8 million by cutting the ordinary tackle pre-June 1.
Cutting Beachum while making sure that decade-long youngster is secured in the first round of the 2019 NFL Draft is the most critical aspect of remaking the O-line.
The other option is keeping Beachum on the roster and having him fight for the right tackle spot during the summer.
Brian Winters & Brandon Shell Remain
It's pretty obvious why Brandon Shell remains on the roster while Kelvin Beachum finds himself unemployed, but we'll shout it anyway. The former is 26-years-old and still on his rookie deal while Beachum will be 30 by the time camp opens. Again, Beachum could remain on the roster and snag that right tackle spot if good enough, but it should only go down that way if the Jets don't need the cap space.
Winters, 27, is the de facto individual of the group. Unspectacular in many ways, the Jets draftee comes equipped with two years remaining on his massive, rough deal. If the Jets decided to move on, they would save $6.5 million.
The reason Winters should remain safe is drilled down to one specific (Spencer Long) reason.
Take The Hit With Spencer Long
We already know James Carpenter is gone. Once upon a time, the former Seattle Seahawks world champ accounted for one of Mike Maccagnan's sneakiest free agent pickups. These days, the man simply cannot stay healthy.
Carpenter, who'll be 30 by this summer, is at the end of the road. He will be a free agent this offseason and under no circumstances should be re-signed.
Spencer Long is the name that makes things tricky.
Much like Winters, Long's contract is a major hindrance. Graciously accepting a four-year, $27.5 million deal last offseason, Long is signed through the 2021 season. Smartly, Maccagnan overpaid on the average salary to ensure the guaranteed money remained relatively low, allowing for flexibility in a pinch.
Long's total guaranteed money only nets $6.5 million over the four years. Should the Jets move on this offseason, they'll actually save $6.5 million, meaning they're in the same boat with Long and Winters. To me, it's easy which one to ditch. Though Winters disappointed this past season, his ceiling is levels higher than the former Washington Redksin modern-hog.
To recap, Carpenter is already gone and his ditched salary is already included in the $93,837,909 total cap space, via Over The Cap. The potential cuts of Beachum and Long would save an additional $14.5 million. Should Beachum remain to battle it out with Shell and Long only go, $6.5 million would be cleared.
In an ideal world, all five of these big heavies would be replaced in one fell swoop. That reality is a tough one to conjure up, however.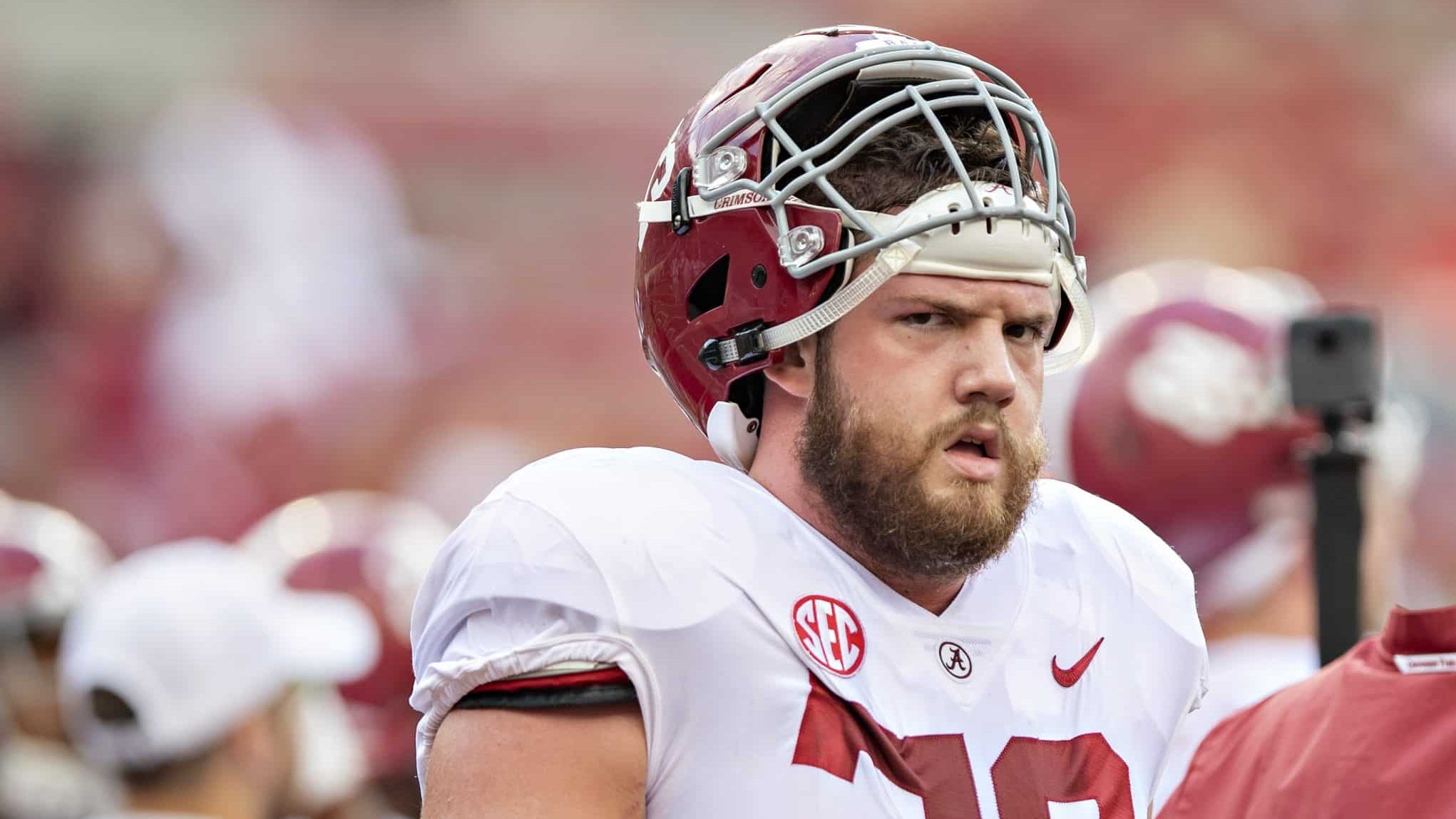 A First-Round Tackle & Second or Third-Round Guard/Center
There are two routes Maccagnan can go in the first round if he does the right thing in free agency (which means snagging two stud edge players, i.e. Demarcus Lawrence, Brandon Graham, Trey Flowers). He can stay at three and draft Alabaham's Jonah Williams or Ole' Miss' Greg Little, or he can trade back, collect assets and still draft one of those two tackles or snag Florida's Jawaan Taylor or Wisconsin's David Edwards (or perhaps Kansas State's Dalton Risner if they feel he's not a guard at the big-boy level).
In my world, I'm not messing around. I'd only trade back, at most, 10 spots and only if I'm ensured one of the top four (Williams, Little, Taylor, or Edwards). Should Williams and Little separate themselves from Taylor and Edwards, I'd make sure my next left tackle will be one of the two formers.
Forcing the left tackle issue in round one is crucial. There are no answers at this position in free agency. There never are. With young Darnold in the house, it starts at left tackle.
Trading down could fetch them a second rounder that could be used on a much-needed guard or center. Or, at the very worst, the third rounder is there to double-down along the unit.
Guards and centers to look out for between the second (if the Jets acquire that round) and fourth round are Florida's Martez Ivey, Mississippi State's Darryl Williams, Wisconsin's Beau Benzschawel, Penn State's Connor McGovern, Boston College's Chris Lindstrom, LSU's Garrett Brumfield, Texas A&M's Erik McCoy, Mississippi State's Elgton Jenkins, Stanford's Jesse Burkett, North Carolina State's Garrett Bradbury, Oklahoma's Cody Ford, or the aforementioned Risner who may each make the transition from outside to the interior.
[membership level="0"]
Right now, McGovern is my guy, a Penn State product who can play both guard and center. His stock is quickly rising which may spell doom for a third or even second-round projection, but he's the gold standard right now—the perfect turnout.
Truthfully, I'd draft a left tackle, guard and center all within the first five rounds of the draft to make up for ill-conceived personnel ideas in year's past, but we'll play it conservatively.
Sign Center Matt Paradis
Trent Brown doesn't excite me. Any offensive lineman who loses Dante Scarnecchia is never a good fantastic gamble. Roger Saffold is 31-years-old. Twenty-nine-year-old center Matt Paradis is a nice thought.
Paradis suffered a fractured fibula after playing just nine games in 2018. Prior, he played 16 games from 2014 through 2017 after sitting out his rookie campaign. Only a sixth-round draft selection, Paradis isn't exciting on the surface, but hey, nothing is along the O-line in free agency. That's why it's crucial to always have an influx of young talent every year via the bloodline, the draft.
Prior to his season-ending injury, Pro Football Focus ranked the free agent center within the top three at the position. He's allowed just one sack over the last two seasons (hello Spencer Long).
The ideal situation would see New York draft three offensive linemen. That's just not realistic and offers little flexibility. Instead, throw money at two edge rushers, sign Paradis and go into the draft needing that left tackle and another interior guy while scouring the pool for a wide receiver and corner.
This is what the 2019 New York Jets offensive line should look like. Something like this. Sam Darnold needs it. The entire organization needs it. It always starts up front. Snag the EDGE in free agency and draft heavy O-line. #Jets
FULL STORY: https://t.co/mnHzHG1k0B pic.twitter.com/9HBqVb19Du

— Elite Sports NY (@EliteSportsNY) January 23, 2019
The Jets 2019 Offensive Line
Left Tackle: Jonah Williams (No. 3 overall pick or first round via trading back)
Left Guard: Connor McGovern (Round 3)
Center: Matt Paradis (Free Agency)
Right Guard: Brian Winters
Right Tackle: Brandon Shell (with the option of Kelvin Beachum competing
What's beautiful about this specific free agency and draft is that the puzzle pieces fit exactly what the Jets need: edge and O-line. The only thing left to be done is to actually take action.
Aggressively pursue two edge defenders and then load up on O-line in the draft. Mike Maccagnan, the Dunkin Donuts coffee man, has been addicted to caffeine yet allergic to drafting offensive linemen. If he fails to swallow a Zyrtec prior to the 2019 NFL Draft, Sam Darnold will quickly turn into the next Andrew Luck caution story.
No more messing around. It's time to secure the house.