Here is the wish list for what the New York Giants should keep an eye on in the upcoming 2019 NFL Draft in April.
Last year's draft was great for the New York Giants, as Big Blue hit a few home runs involving future talent. They, of course, selected AP Offensive Rookie of the Year RB Saquon Barkley with the No. 2 overall pick.
In addition, people overlook the notion they snagged their left guard of the future in Will Hernandez, as well as promising pass rusher in LB Lorenzo Carter.
However, this year's draft is also extremely important for the G-Men. They have the chance to get their quarterback of the future as well as fix other aspects. These problematic aspects range from the offensive line to the issues on the defensive side of the ball.
That being said, here is the Giants 2019 NFL Draft wish list.
1. Quarterback of the Future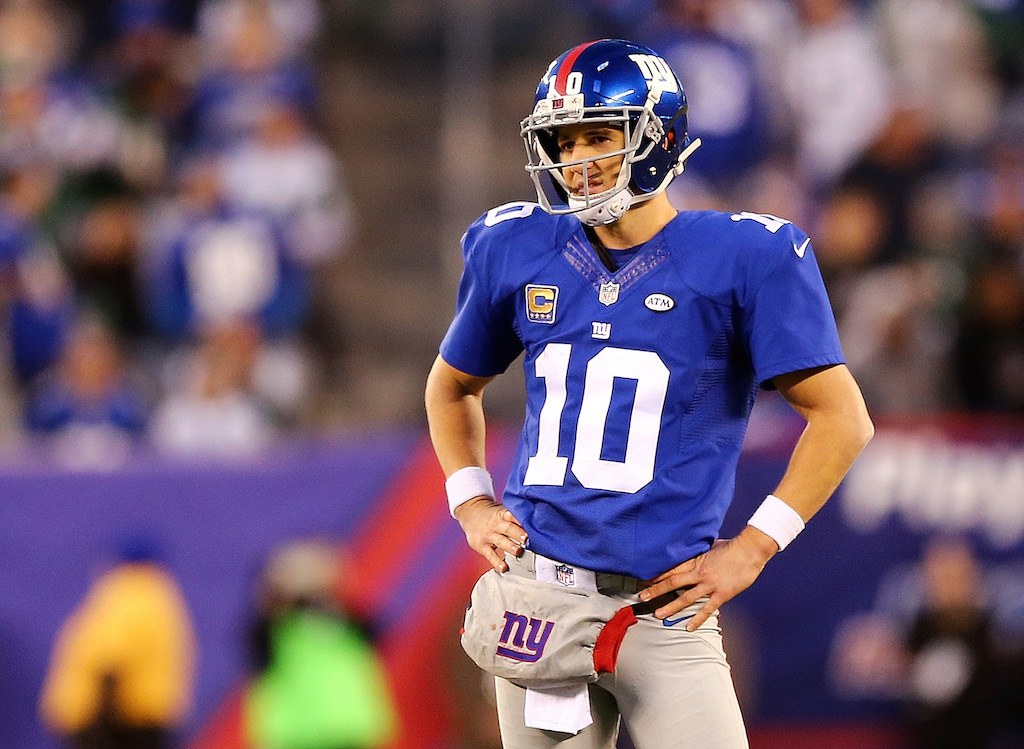 One of the lingering questions for the Giants going into this offseason is what to do with their quarterback situation. Eli Manning is currently 38-years old and plans on playing in 2019. It will be his 16th season in the NFL, all with the Giants. However, many believe his skills have declined and Big Blue should part ways with their long-time quarterback. Many also believe Eli should stick around for a year and mentor a possible drafted quarterback. I, for one, agree with the latter.
There are a number of quarterbacks the Giants can look at with their No. 6 overall pick.
There's Ohio State QB Dwayne Haskins, Oklahoma QB Kyler Murray, Duke QB Daniel Jones, and numerous others. And all are special too. Haskins threw for 4,831 yards and 50 touchdowns this past year, both Buckeyes records. Jones was coached under the same guy who was Eli's coach at Ole Miss. And Murray, well, he proved to be the best player in college football this past year when he won the Heisman Trophy.
However, when you talk about next year, it's clear Eli still gives the Giants the best chance to win. If you keep Eli for 2019 and have him mentor a quarterback drafted in the first round, that backup rookie QB can be groomed into something special. Call it the "Patrick Mahomes Treatment." It could definitely work, and we all know how it worked for the Chiefs.
2. A Dominant Pass-Rushing Linebacker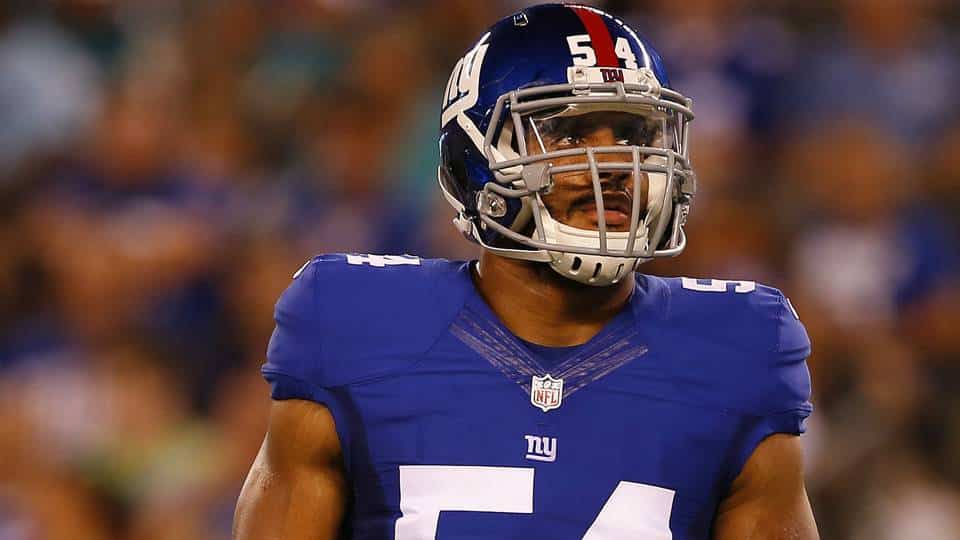 The Giants this past year were tied for 30th in the NFL with 30 sacks all season. It was clear as the season went on that it was a legitimate problem. With their depth, they should've had a dominant pass rusher and they simply didn't.
Looking at their possible roster next season, Big Blue may have less depth at the pass-rushing position than they did in 2018. Last week, LB Connor Barwin was released after one disappointing season. And we still don't know what's going to happen with edge rusher Olivier Vernon. Despite making the Pro Bowl as an alternate this year, he hasn't performed up to his standards since becoming a Giant prior to the 2016 season. For a guy who's getting paid $85 million over five years, Vernon needs to perform better, and he simply hasn't.
Linebacker Alec Ogletree is also a problem at times. He wasn't always healthy this past year and only had one sack through 13 games for the Giants. Ogletree finished with a below-average grade of 50.7 on Pro Football Focus, one of the lowest on the team. Again, who knows what will happen with him in the future.
Kareem Martin was also brought in to add depth to the pass-rush and he hardly did much either. In 16 games for the Giants this past year, he only had 1.5 sacks. Not great numbers at all for someone brought in to rush the quarterback.
The Giants just need to find a dominant pass-rusher who can play alongside growing linebacker Lorenzo Carter. Carter had 43 tackles and four sacks for the Giants in his rookie season, and looks like he may become a force for that defense in the future.
3. A Right Tackle who Actually Knows how to Block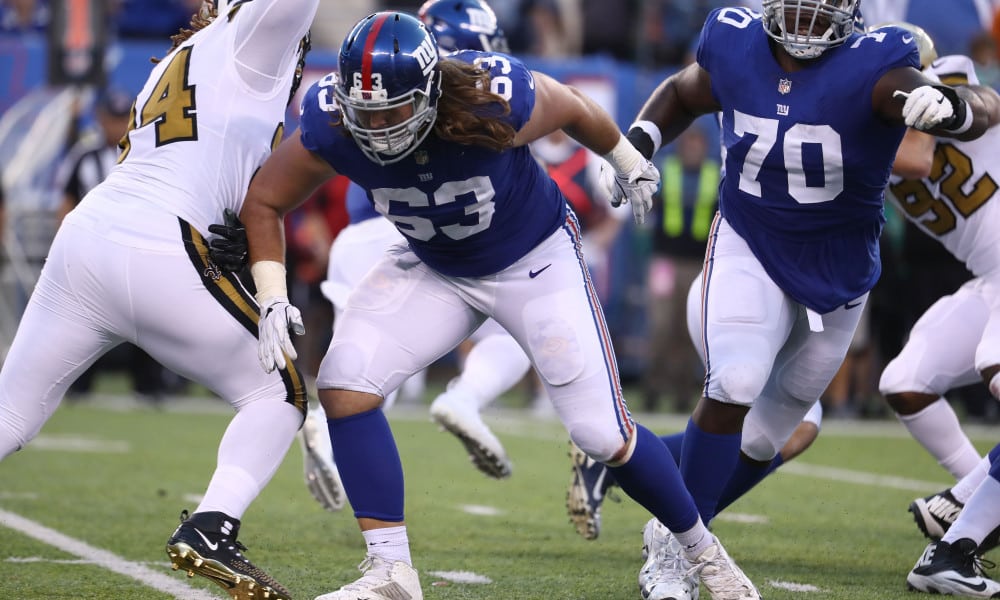 After signing left tackle Nate Solder last offseason and releasing Ereck Flowers after week three of this past year, many thought the Giants had finally fixed their offensive line.
That turned out to be false, considering the Giants had the 21st ranked offensive line in the NFL, according to Pro Football Focus.
Solder wasn't too great, and definitely not up to his standards, considering the Giants made him the highest-paid offensive lineman in the NFL. However, he's not the main problem with the offensive line, because that's RT Chad Wheeler.
Starting 14 games for the Giants this year after replacing Flowers in the starting lineup, Wheeler had an extremely below-average season. He finished with a below-average grade of 47.4 on Pro Football Focus, the lowest PFF grade on the Giants. He also had the lowest grade in the NFL when it came to run blocking.
Through his 14 starts, Wheeler allowed 45 pressures and six sacks on Eli Manning. Awful numbers for a guy trying to make a name for himself in this league.
Big Blue needs someone who can come in and man the offensive line but also work together with his teammates. Yeah, we need a quarterback for the future in this draft, but what good is a quarterback if you don't have a functioning offensive line?
4. Cornerback to Possibly Help Replace Current Starters
The cornerback situation was another problematic aspect for the Giants in 2018. The secondary was ranked 23rd in the NFL after allowing 252.8 passing yards per game. And individually, each of the cornerbacks didn't have a great season.
B.W. Webb had an average PFF grade of 62.6 this past season, his first with Big Blue. In 16 games, he managed to only have one interception and six pass deflections. Not great numbers for a guy trying to become a starting cornerback in this league.
Janoris Jenkins didn't have great numbers either, as he only had two interceptions all year for the Giants. Having under-performed for the most part since the 2016 season, it's still a real possibility the Giants part ways with Jenkins this offseason too.
The Giants did take Sam Beal in the NFL Supplemental Draft last year, but was hurt for his entire first season with a shoulder injury. The Giants could use him and another young option at cornerback taken in the draft to revamp the secondary for a very low cost. They also could learn from elite safety Landon Collins and thus improve their game for future years.
5. A Reliable Free Safety to Work with Landon Collins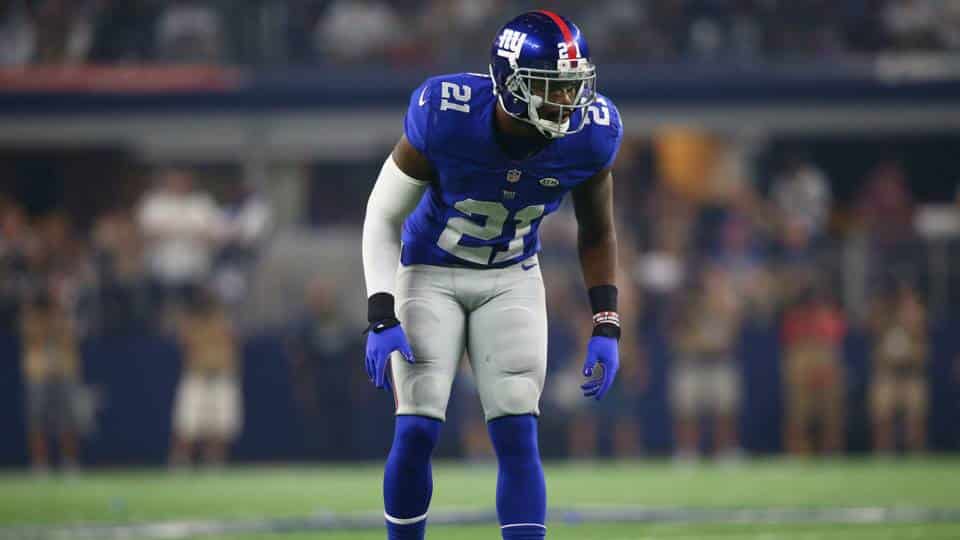 Over the last few seasons, Giants safety Landon Collins has proved to be of the elite safeties in the NFL. Having made the Pro Bowl the last three years, Collins is gearing up to be one of the highest-paid safeties in the game at some point in the future.
However, what Collins hasn't had in recent years is a reliable free safety to work with him in the secondary. The past free safeties they've had in recent years haven't been too dominant when it comes to defending the pass. It's forced Collins to be away from where he's comfortable, and that's up near the line of scrimmage.
Being that the Giants may franchise tag Landon Collins this summer, it's clear they need a reliable deep free safety to help revamp that secondary.
This past year, they had safety Curtis Riley playing alongside Collins. Although he did have four picks this year (one of which returned for a score), he may not come back to the Giants due to one play. In the final game of the regular season, Riley hardly made an effort on a tackle in which he whiffed. He was thus benched for the rest of the game. Now, who knows what the Giants front office will do with him.
Before that, it was Darian Thompson playing alongside Collins in the defensive backfield. Thompson only had one pick in 16 games for the Giants in 2017; not a great statistic for a deep free safety.
If they get the chance, the Giants should seriously consider taking a deep free safety that can become a ball-hawk in the defensive backfield. Collins can't do it all, and Big Blue needs to realize that.
6. Defensive End to Help Set the Edge
In 2018, the Giants had rookie B.J. Hill on the right defensive end side of the 3-4 defense. Hill had a great year in his inaugural NFL season, racking up 48 tackles and 5.5 sacks. However, it was the left defensive end who struggled for the most part.
Giants DE Josh Mauro played 12 games for Big Blue this year and only racked up 28 tackles and one sack for them. He was one of the issues in the 30th-ranked pass-rush that was the Giants this past season. He just never seemed to find his groove much with this defense.
A great move by this front office would be to bring a rookie in to help set the opposite edge of Hill. With Dalvin Tomlinson manning the nose tackle position, the Giants could put together a young, healthy defensive line in this 3-4 set that could assist in revamping the overall pass-rush.