The secret sauce to the Brooklyn Nets' season has been it's overlooked bench unit.

The Brooklyn Nets have been the center of mainstream attention. For the first time since the days of Jason Kidd, it's for the right reasons.
Brooklyn has been in the conversation of the Anthony Davis trade rumors; a feat that, if you told me was possible at the beginning of the year, I would have scoffed at.
Their 22-year-old point guard of the future, D'Angelo Russell, has an outside shot at advancing to the All-Star game. He would be the first Brooklyn player to do so since Joe Johnson in 2014.
Two members of Brooklyn's starting lineup, Rodions Kurucs and Jarrett Allen, are headed to the Rising Stars game.
Even fellow starter, Joe Harris, has received considerable buzz for All-Star weekend as a contestant in the three-point contest.
As exciting as the waterfall of accolades has been, there's still a portion of Brooklyn's team that deserves more shine. Perhaps the biggest catalyst to the Nets' winning ways has been their seemingly endless flow of depth.
When you think of deep rotations, a couple of teams come to mind: the Denver Nuggets, the Toronto Raptors, the Boston Celtics, the Indiana Pacers, and the Milwaukee Bucks. The Los Angeles Clippers should also be named, led by the two-time Sixth Man of the Year, Lou Williams.
If the season ended today, all of those teams listed would make the playoffs. There's a reason they've been publically lauded for their end-to-end talent.
However, one team is often left off the list.
The Brooklyn Nets have one of the deepest rosters in the NBA. The statistics can back that claim up.
When it comes to bench scoring, Brooklyn's 47.9 point average ranks second out of thirty teams. They've attempted the second-most three-pointers (at 14.6 per game) and take the second-most free throws. When it comes to rebounding numbers, Brooklyn's reserves are number one in all of the following categories: total boards (21.8), offensive rebounds (5.9), and defensive rebounds (16.0). Not to mention, Brooklyn leans on its bench more than any other team; their 21-minute per game average is the highest in the NBA.
These impressive statistics only tell half the story.
Brooklyn's backups are a smart and experienced group. They find each other for the right types of shots (i.e open three-pointers). At the same time, they charge to the basket appropriately to keep the defense on its toes. (This explains the high free-throw rate).
Brooklyn's bench plays hard. Night after night, Brooklyn's reserves put their bodies on the line, hustling for every available loose ball and rebounding opportunity.
The commitment from Brooklyn's bench is perhaps the biggest argument for Kenny Atkinson's Coach of the Year campaign. He's been able to encourage consistent effort from the back-end of Brooklyn's rotation; a lofty, Popovich-like accomplishment that very few coaches in the league can boast.
Brooklyn's first-rate bench isn't just a selling-point for Atkinson's leadership. It's also a clearcut example of the front office's intellect in team building.
The way that Sean Marks has constructed this roster is fascinating. Brooklyn's starting lineup is absurdly young, with an average age of 22.8 years old. At just 27-years-old, Joe Harris is the elder statesman within Brooklyn's starters.
Brooklyn's bench is the complete opposite. For the most part, it's constructed of wily veterans. Ed Davis, DeMarre Carroll, Shabazz Napier, and Jared Dudley are all battle-tested NBA journeymen. The youngest of this group, Shabazz Napier, is 27-years-old and has already been on four teams.
The Nets' bench is unique in that every member excels at different things. The reserves play within themselves, only showcasing what they're good at. Together, these backups move fluidly and effectively.
Being a plug-and-play guy who can work well with a variety of teammates is crucial for an NBA backup. Unlike starting lineups, bench units are rarely substituted in as a group. In some games, Shabazz Napier may enter the game in the first two minutes of play. In others, he might not see the floor until the second quarter. Brooklyn is blessed to have a group of backups who routinely perform well regardless of these changing rotations patterns.
The minutes of Brooklyn's backups can depend on the starters' quality of play. Given how young that starting lineup is, things can get pretty unpredictable. In certain matchups, Jarrett Allen's lack of physicality makes him borderline unplayable. This is when Ed Davis' number gets called.
On other nights, Rodions Kurucs may pick up three quick fouls (he averages four fouls per-36 minutes). In steps DeMarre Carroll to pick up the slack.
Brooklyn's bench counteracts the starters' variability. Coach Atkinson knows precisely what he's getting from his guys when making substitutions. This makes his job a hell of a lot easier.
To Kenny Atkinson's credit, he deserves high praise for keeping Brooklyn's most dependable players stuck to the bench. Starter minutes can be grueling, and they run the risk of injuring key glue-guys (like 32-year-old DeMarre Carroll). By limiting their minutes on the bench, Atkinson is preserving his veterans for the playoffs. They have been given spot minutes with large rest periods. This allows for guys like 29-year-old Ed Davis to look fresh and springy when jumping off the pine.
However, Atkinson's minutes' scheme is a double-pronged strategy; it benefits the young starting lineup, too. D'Angelo Russell, Jarrett Allen, and Rodions Kurucs work together as a group, enjoying the shared experience of going against the league's most prominent players. Because of this, their chemistry has grown exponentially. Given that Kurucs, Allen, and Russell appear to be a part of the franchise's long-term plan, Atkinson's youth-forward thinking is greatly beneficial.
Let's briefly go through this talented cast of Brooklyn reserves.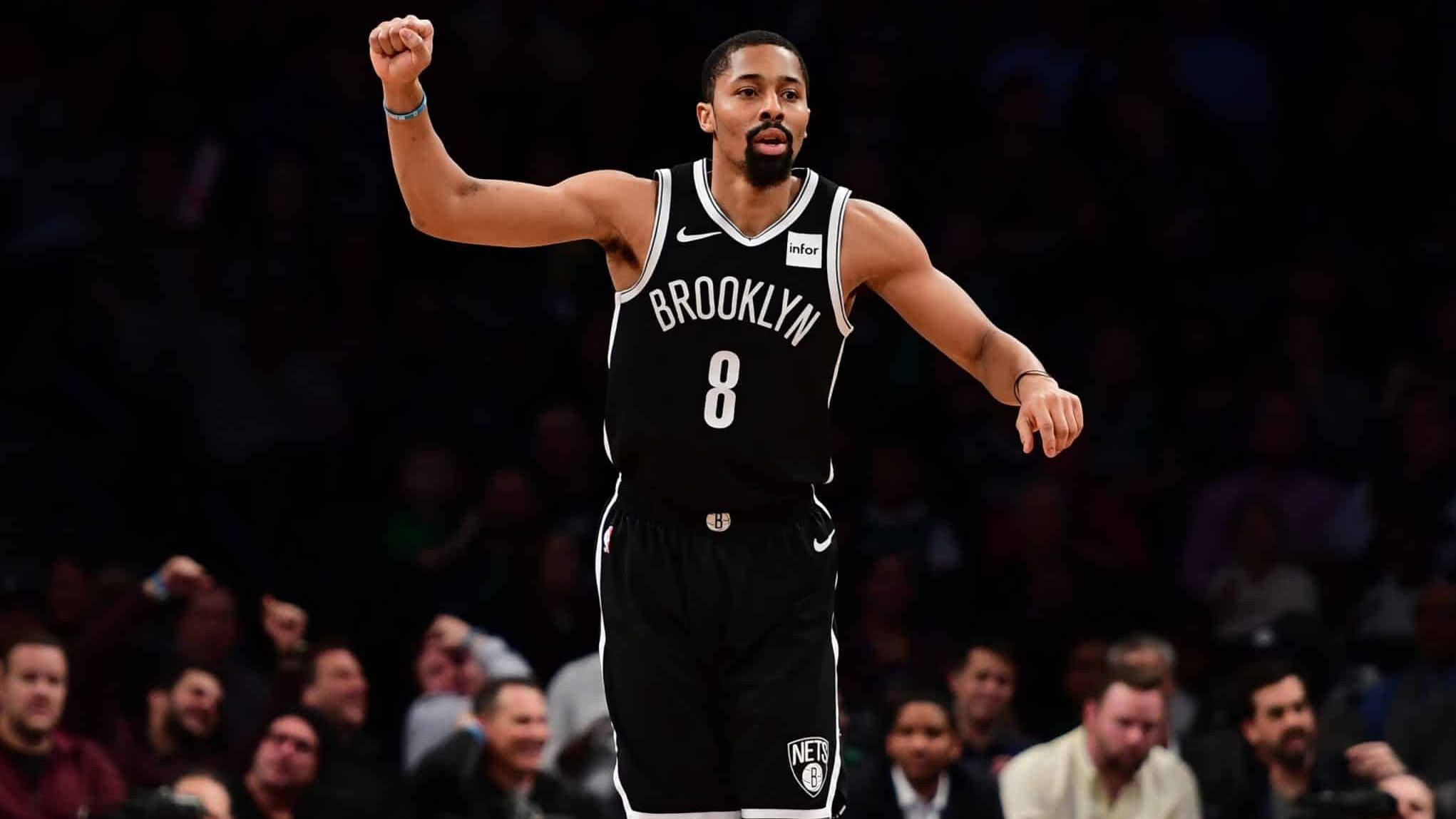 Spencer Dinwiddie headlines Brooklyn's bench unit. He's one of the team's most storied players and was the first to lock down a long-term deal.
Dinwiddie is lethal at getting to the cup. His immense stature (6-foot-6), shifty handle, and patience allow him to abuse defenders. Most of the time, Dinwiddie can simply shoot over shorter opposing point guards. However, if matched up with someone his size (i.e. a shooting guard or a small forward), his speed allows him to zip to the rim for nifty layups.
Currently, he's on the mend with a thumb injury. The team has undeniably missed his presence. Dinwiddie gives this rotation a caffeinated, 24 oz. Monster sized jolt. His proficiency on drives provides Brooklyn with the spacing it languishes over.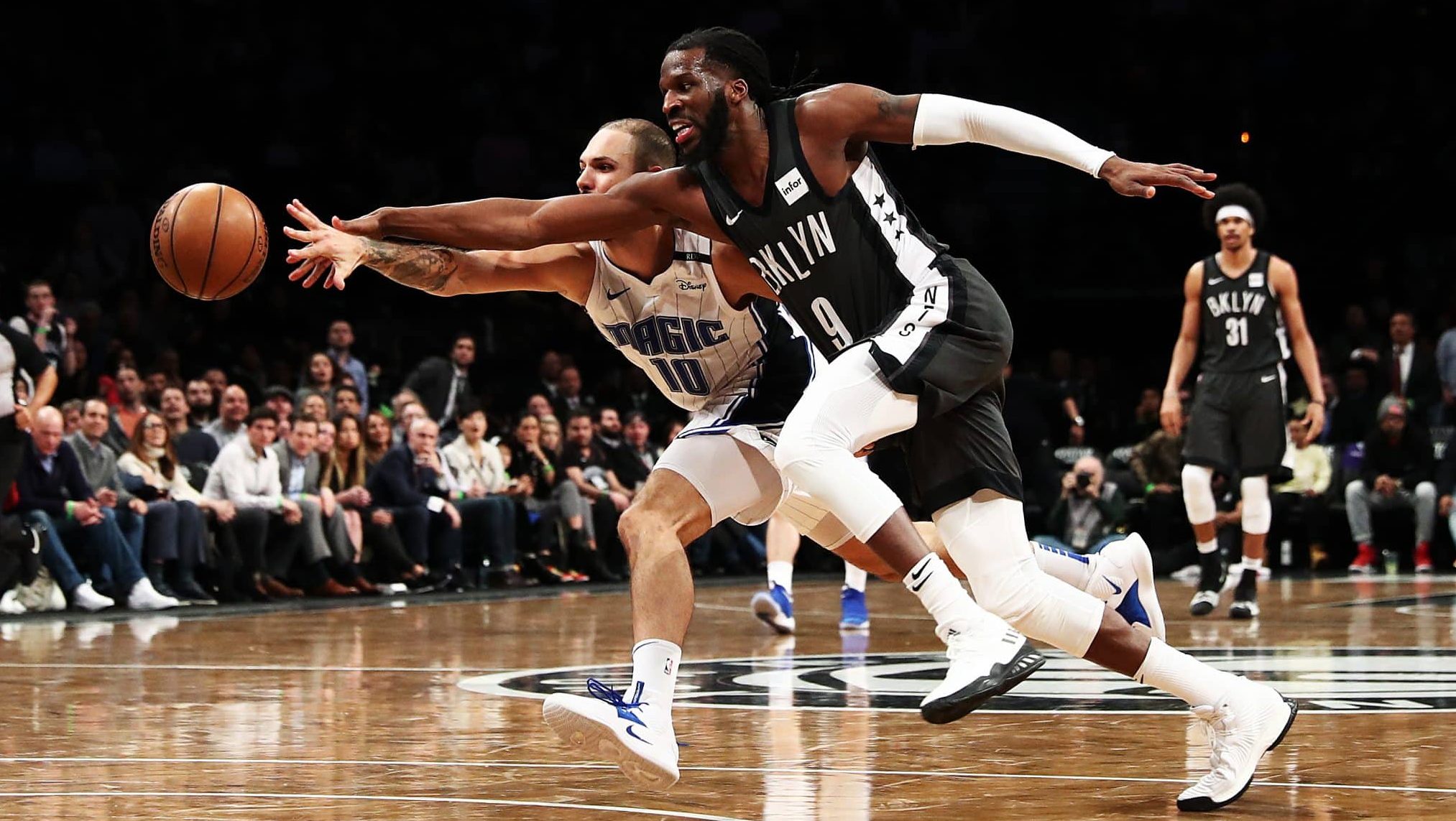 After a slow start, DeMarre Carroll has worked his way back into shape. In January, he's arguably been Brooklyn's second-best player (behind the god-like D'Angelo Russell). In his last 14 games, Carroll has averaged 14.1 points on 42.9 percent from the field. He's also made 39.4 percent of his 5.1 attempted threes.
However, one statistic stands out to me the most when looking at Carroll's numbers.
In the month of January, Carroll has averaged five free throw attempts per game. For a guy with declining athleticism who comes off the bench, this is immense.
Similar to James Harden, Carroll has a nose for hunting fouls. Carroll's timing when driving to the rim is pristine. He waits for cracks in the defense before making his move, knowing that the defense will converge. When Carroll strikes, he doesn't hesitate, going headfirst into the sea of defenders. Typically, the defensive pressure is a step late. What results is illegal contact.
Carroll's patience is the main reason why he's such a foul magnet.
Although he's lost a step, Carroll is still a smart defender. He sniffs out plays from opposing offenses, dislodging the ball with frequency. A great example is the clip below:
That right there, my friends, is a textbook "vet move."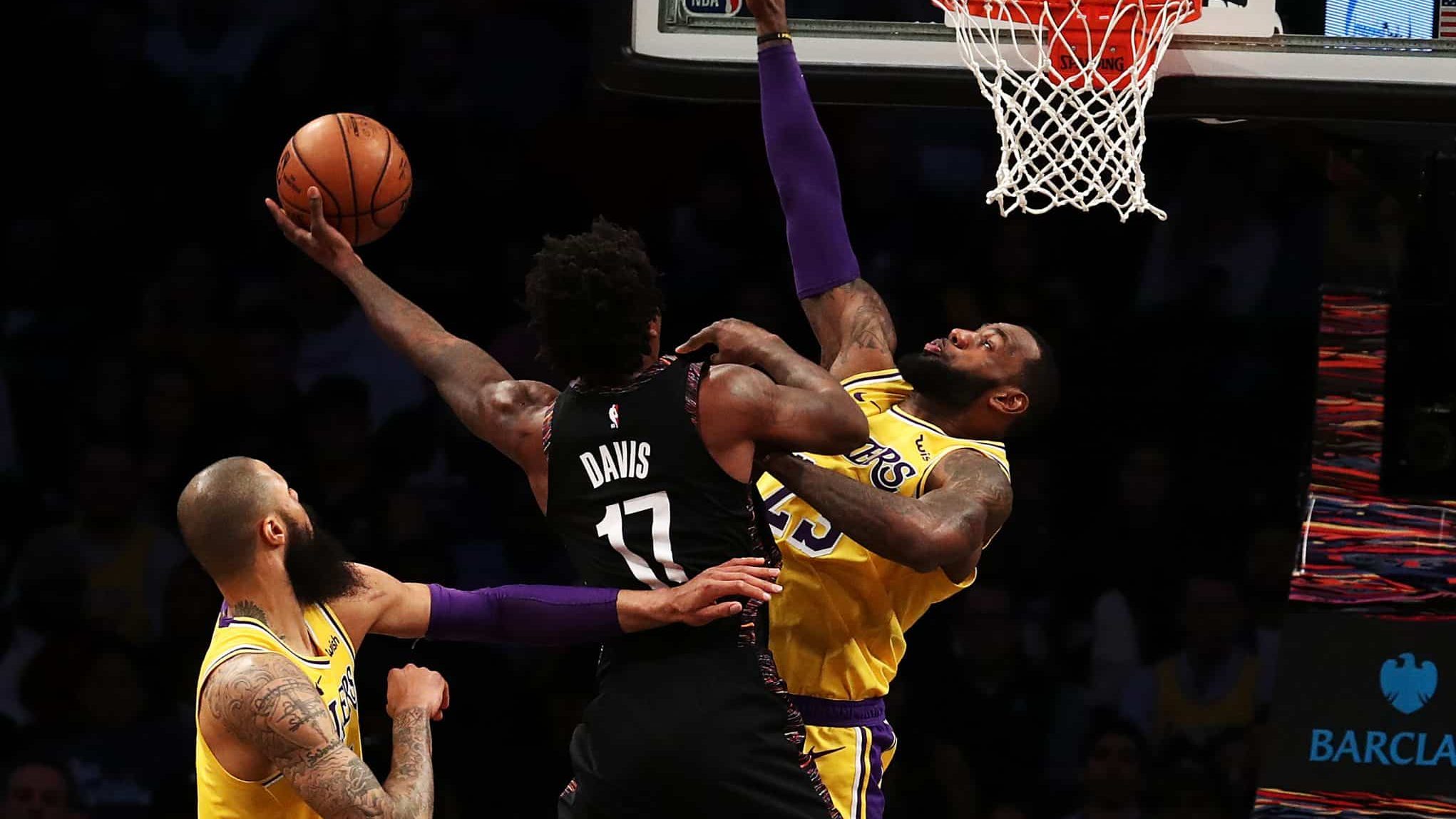 Ed Davis, Brooklyn's backup center, is often overlooked. It's a shame, too. His impact is unbounded.
He represents the highest degree of being a specialist.
Davis entered the league as a power forward. With the emergence of the small-ball movement, Davis was forced to shift to center. At 6-foot-10, Davis is fairly undersized for his new position.
Even so, he still dominates the glass. Davis' three offensive rebounds is a top-20 mark; it places him in the same class as DeAndre Jordan, LaMarcus Aldridge, and Karl Anthony-Towns.
However, there's a key difference between Davis and the players listed. Ed Davis records these impressive statistics in only 18.5 minutes of play. This is, by far, the lowest minutes average of any player on the leaderboard.
His per-36 numbers tell the full story. When controlling for sample size, Davis' 5.8 offensive boards would lead the league.
Davis has great hands along with excellent spacial awareness. This partially explains his knack for grabbing boards in traffic.
However, his biggest skill is a personal trait; he's a fearless madman. At least when it comes to jostling bodies down low.
In fairness, his low minute count is a partial catalyst to this frantic play. Given that he plays less than 20 minutes per game, Davis can go balls to the wall, lurching for every possible rebound on offense.
His energy has been felt on defense, too. Per 100 possessions, Davis' 102 points allowed would be the second-lowest mark on Brooklyn's roster. (The lowest is Treveon Graham's 101.9 per 100 possessions. As it turns out, he's fitting in pretty nicely).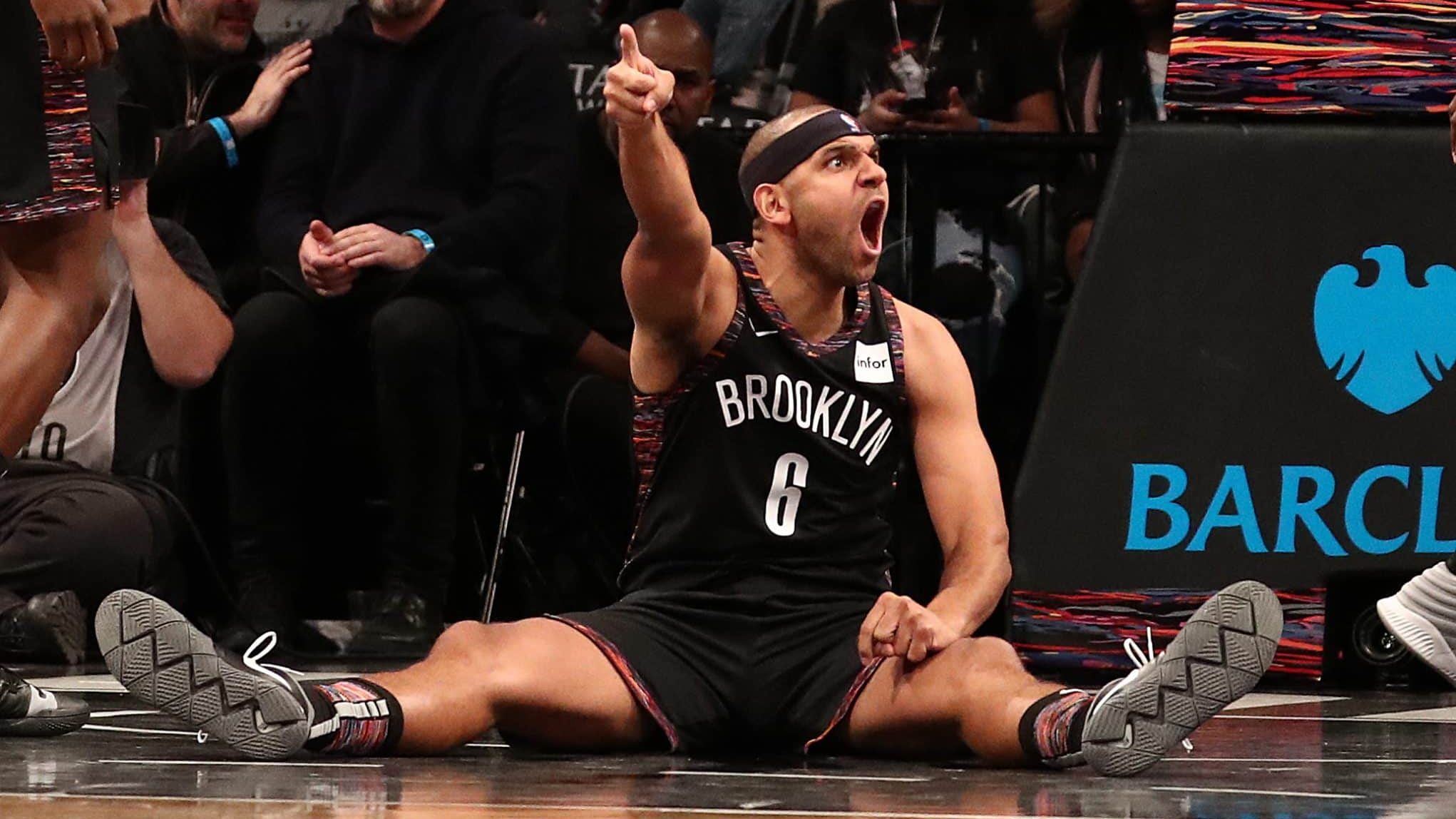 With all of this talk about veteran cleverness, you know I couldn't leave Jared Dudley off the list.
Dudley has stepped into the veteran leadership duty with ease. He's been Brooklyn's vocal commander, on and off the court. Much like Carroll, Dudley has become increasingly comfortable within his role as the season has progressed.
Dudley knows when to make his move on offense. Although he doesn't drive to the hole with much frequency, he picks his spots well. Dudley has shot 54.5 percent off of drives; an efficiency that is second to only Caris LeVert.
According to NBA's hustle statistics (one of my favorite resources), Dudley ranks fourth in Brooklyn's screen assists, at 3.2 per game.
However, the most telling statistic of all: Jared Dudley's 0.09 drawn charges is Brooklyn's highest per-game average. If that doesn't scream "veteran savvy," I don't know what does.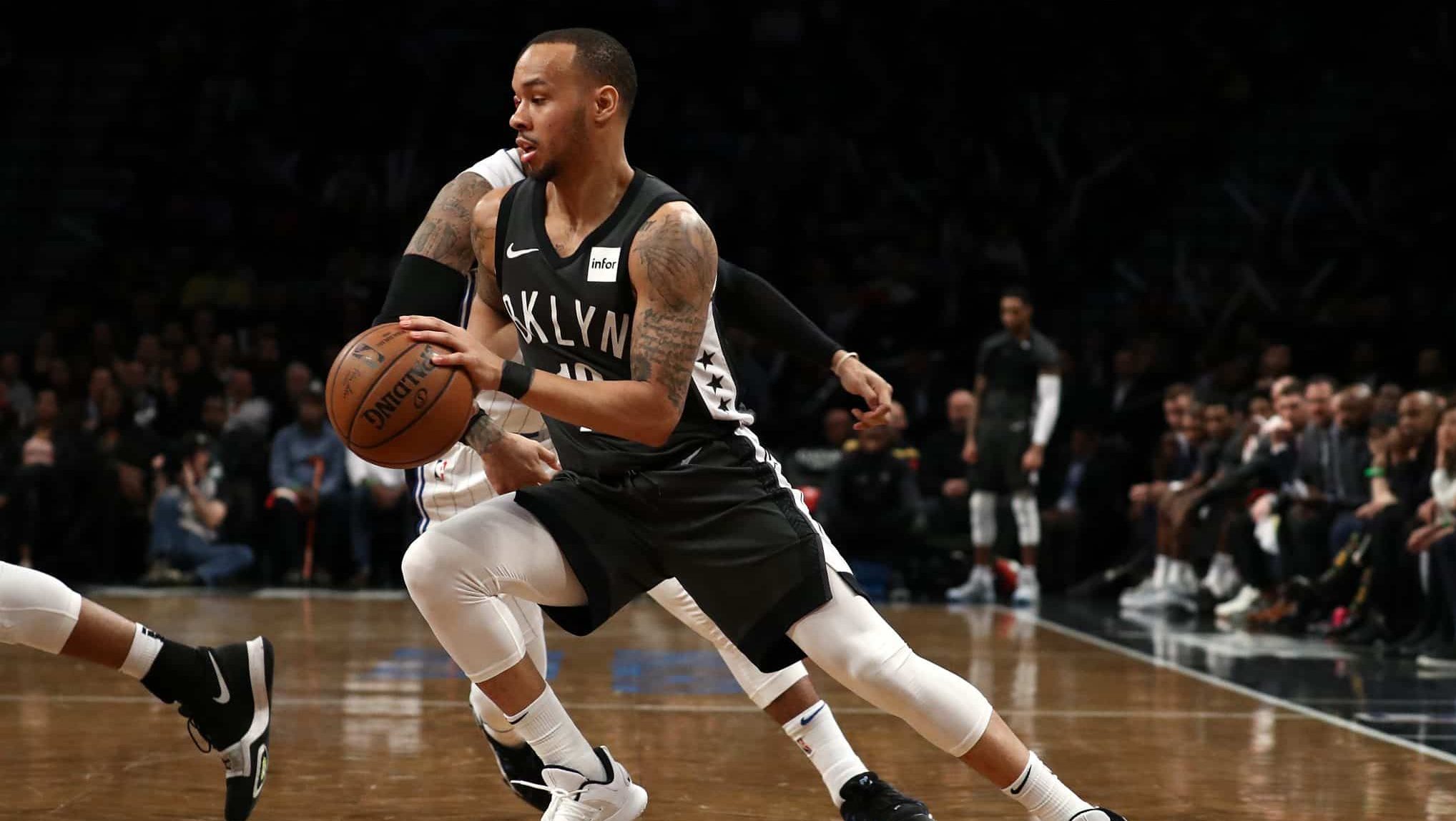 To cap things off, let's talk about Shabazz Napier; an undersized, 6-foot-1 point guard from the University of Connecticut.
After winning the national championship as a Husky, Napier barely received playing time during the start of his NBA career. When he did play, Napier looked vastly underprepared and overmatched.
However, in Portland, Napier finally showed signs of life. Last season, Napier put up 8.7 points per game; which at that time, was a career-high. His accompanying shooting percentages (42/37.6/84.1) still remain a career-best.
Unfortunately, after the Trailblazers' disappointing playoff exit, Napier's solid two-year campaign became a bit of an afterthought. Recency bias reared its ugly head, and Napier's promise in the Northwest was quickly swept under the rug.
Napier ended up signing a two-year, $3.78 million deal with the Nets in July. For the first three months of the 2019 season, Napier barely stepped onto the court for Brooklyn.
That all changed during the month of January. In the blink of an eye, Brooklyn's cavalry became grossly depleted. First, guard Allen Crabbe aggravated his knee. Then, down went Spencer Dinwiddie with thumb surgery.
Because of this, Kenny Atkinson inserted the UConn product into his regular rotation. Napier has responded nicely.
Shabazz Napier is a lethal off-the-dribble scorer. He's an undersized craftsman in the mold of an Isaiah Thomas or a Kemba Walker.
Much of his offense comes from pull-up shots. Napier comes equipt with a handle that can break ankles and necks alike.
Napier is a 5-Hour Energy shot of instant offense. Outside of the immortal Joe Harris, Napier might be the team's best pure shooter. When he misses a stepback three, it's genuinely shocking. His performance against Chicago was the full display of his shooting prowess:
Napier's immediate impact on the team further strengthens the commendable body of work from Marks and Atkinson. How many other teams in the league can boast a third-guard that's capable of popping-off for 25 points on a given night? The Clippers? Maybe the Nuggets?
The list isn't long, and Napier's scoring punch is one of the many things that makes Brooklyn's bench unit so special.