Part one of the New York Rangers report cards saw the offense and goalies get their midterm grades. Next up, the defense and coaching staff.

In part one of the New York Rangers report cards, we took a look back at how the Rangers offense and netminders did throughout the first half of the season. We saw the positives and a decent amount of negatives but still recognized how there is hope for improvement.
This version is going to take a deeper look at how the Rangers defensive core is handling the adjustment of a new coaching staff along with how that coaching staff has done in their first season on Broadway. It will recognize the strengths each area of the team has while pointing out some weaknesses where they can improve.
All in all, there have been mixed results for both parties being graded here. There have been moments where they have shined, and times where they left you scratching your head wondering if it could really be this bad. Like the first report card, the grades are going to be low, but most definitely have room for improvement.
Grades will be determined based on impact to the team, performance, and consistency.
Defense
All season long, the Rangers have been trying to mix in eight defensemen while trying to keep everyone fresh and sharp. It was a plan that was well received at the beginning of the season, but now is getting frustrating considering certain players deserve to see more consistent playing time over others, but we'll talk more about player usage a little later.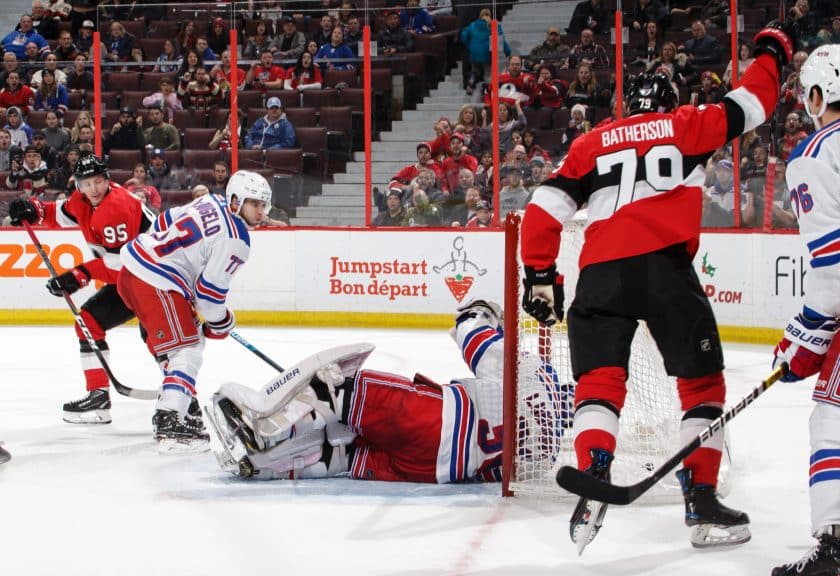 Defensively speaking, some of the same problems we've seen over the last three years are starting to creep into the Rangers game. Defensemen are losing their assigned man and falling into the dangerous trap of puck watching. All of that has created open players on the attack for the opposition and this makes things harder on Henrik Lundqvist and Alexandar Georgiev.
New York averages 33.3 shots against per game which results in them having the sixth highest goals against average in the league at 3.38. It doesn't just stop there when it comes to atrocious defensive metrics as the Rangers have the 27th ranked penalty kill in the NHL at 77 percent. Simply put they just aren't defending properly and are allowing way too many turnovers with 609 giveaways, the fifth most in the league.
One stat that hasn't really been looked at when it comes to defending is faceoff percentage, an area where the Rangers struggle mightily. Their 47.4 faceoff winning percentage is the third lowest in the league which right away does not help a team in trying to gain possession of the puck in a puck possession game.
If the last three games before the bye week have shown anything, it's that New York has the ability to defend. The problem has just been getting them to do it on a consistent basis.
Grade: C-
Coaching Staff
The 2018-19 season brought the Rangers a relatively new coaching staff led by first-year head coach David Quinn. If Quinn made one thing obvious from the beginning of his tenure, it was that his team was going to compete on a nightly basis and if they didn't, there would be consequences for their effort.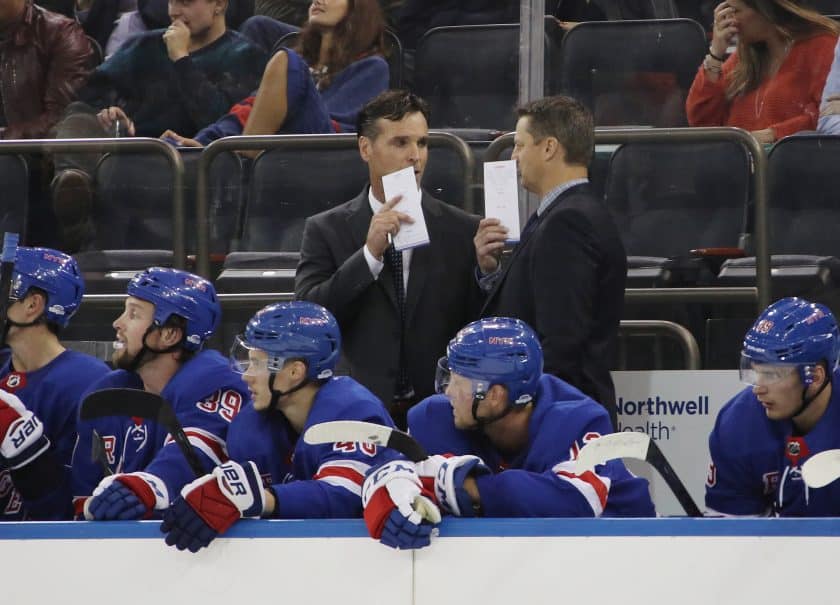 Those consequences meant being a healthy scratch if Quinn did not like what he saw, and it did not matter who it was you really were going to sit. It all started with Kevin Shattenkirk who was the first to sit in what Twitter calls the "Quinn-bin." While it was a one-game hiatus, Shattenkirk got the message and performed right away.
The same can be said for Neal Pionk, Brady Skjei, and Pavel Buchnevich who have sat a few times this season. From an in-game perspective, Quinn hasn't completely abandoned the style former coach Alain Vigneault used, but he hasn't taken it too far. Most recently Chris Kreider sat for an entire period after taking a bad penalty in the offensive zone and came back stronger.
While some of these moves seem very close (if not identical) to Vigneault, there is a difference—communication. The player sitting on the bench has an idea of why they are there and what they need to do to get better. It's up to them to show it in practice. For example, Tony DeAngelo has been the odd man out a ton on defense, which seems to be the wrong move considering how they are 19-8-4 when he's in the lineup. Clearly, the head coach sees something he isn't happy about at times with DeAngelo, but Quinn is relaying the message to him and it is on the player now to earn the playing time.
From a usage perspective, Quinn has been questionable with who he's deployed in certain situations. The deployment of Lias Andersson was poorly handled this could hinder the young player's development. The next player who seems to be in that boat is Buchnevich who has been glued to the fourth line for quite some time now.
While the negatives are clear, there are plenty of positives to Quinn's short tenure so far. He's gotten the most any coach has been able to get out Chris Kreider who leads the team with 22 goals at the All-Star break. Mika Zibanejad and Kevin Hayes are also having career years and can attribute some of their success to Quinn as well.
Aside from those few negatives expressed here, there really is not much to complain about how the Rangers have played under Quinn thus far. Every night his team is competitive and has a chance to win, something most fans thought would not be the case at the start of the season. Once Quinn continues to adjust to coaching in the NHL he too will only get better, but so far so good for the first year boss bench.
Grade: C
---
There is still plenty of room for the Rangers defense and coaching staff to grow. They are both extremely new when it comes to playing in the NHL, and despite having some kind of a veteran presence still, have plenty of room to grow.
As the season goes and the trade deadline creeps closer, the main point of emphasis will be on developing players. That is where David Quinn and his coaching staff will be graded on when it's all said and done, after all, that is why he was brought here. He's had a decent start to that but has to prove he can do it on a consistent basis.