The New York Rangers have been struggling mightily defensively lately and fixing them isn't all on David Quinn's shoulders.

It has been no secret how the New York Rangers have struggled defensively over the course of the last few seasons. Whether it was under Alain Vigneault or even now under David Quinn, the Blueshirts' blueline has a been a liability.
However, there is one alarming common trend over the last few seasons: the personnel.
Blueline veterans like Marc Staal, Kevin Shattenkirk, Brendan Smith, and now Adam McQuaid continue to make up the Rangers blueline. They have mixed in younger players like Brady Skjei, Neal Pionk, and Tony DeAngelo, but nothing has changed over the course of the last three years.
Under Vigneault, the idea was that your best defense is keeping the other team's top players defending in their end. While that worked sometimes, the Rangers still found themselves struggling when they were forced to defend in their own zone. Too many times were their defensive zone breakdowns which saw grade "A" scoring chances for the opposition including defenders losing track of their assigned man.
Now back to this season and Quinn. While the idea of your best defense is keeping the opposition in their end is still popular, the fact of the matter is that the Rangers do not have a line that has the capability to do so. Quinn has asked his players to be hard on the puck along with being hard on their man playing a bit more of a physical style. By physical, Quinn does not mean hitting every player in sight, as one would do in EA Sports' NHL 19. Instead, Quinn wants to make the opposition's attack have to work hard to create scoring chances.
Lately, that has not been the case as teams have made the Rangers pay for poor zone coverage allowing 34 goals in seven games entering play Tuesday. Wile allowing 4.8 goals a game in 2019 should have Quinn pulling some hairs out, the responsibility of fixing these issues do not directly fall on him.
We know the emphasis of Quinn's tenure thus far has been about communication between him and his players. Everyone knows what is expected of them from zone coverage all the way to putting pucks on net on the powerplay. It is time to start putting the blame on the players going out there creating these mistakes like these two from their 7-5 loss to Columbus Sunday night.
What a feed from Panarin on this Savard goal. Guys different pic.twitter.com/JNI2bxCX0Z

— Fitz (@FitzGSN_) January 14, 2019
Dissecting the play above, Artemi Panarin has the puck in the left corner and is defended by Kevin Shattenkirk. Ryan Strome comes in to double team Panarin which right away creates a Columbus player wide open. At one point four Rangers find themselves around the net, while there is no problem there exactly, Strome finds himself out of position forcing Jesper Fast to have to defend the pass instead of the shot when David Savard gets the puck. Savard puts a great shot on net and beats Alexandar Georgiev, but the play begins with Strome putting himself out of position.
NICK FOLIGNO BEATS THE BUZZER IN THE 2ND!#CBJ pic.twitter.com/2XWo6J3K5b

— Hockey Daily (@HockeyDaily365) January 14, 2019
This play continues to show more of the same, this time involving defenseman Brendan Smith. Josh Anderson cuts to the net, gets double teamed by Shattenkirk and Smith leaving Nick Foligno wide open in front and the puck eventually finds him for the easy tap in as the period comes to an end.
Plays like these two have to make you wonder if what Quinn is preaching is not being understood or if his players, especially the ones who have been around for a while, are willing to change their game to fit his system. These small coverage mistakes date back to the Vigneault era, mistakes that even then seemed to not get corrected. Something has to give and it might as well just be the personnel the Rangers are deploying.
There is however one common denominator involved with these mistakes besides the players playing the game, Lindy Ruff.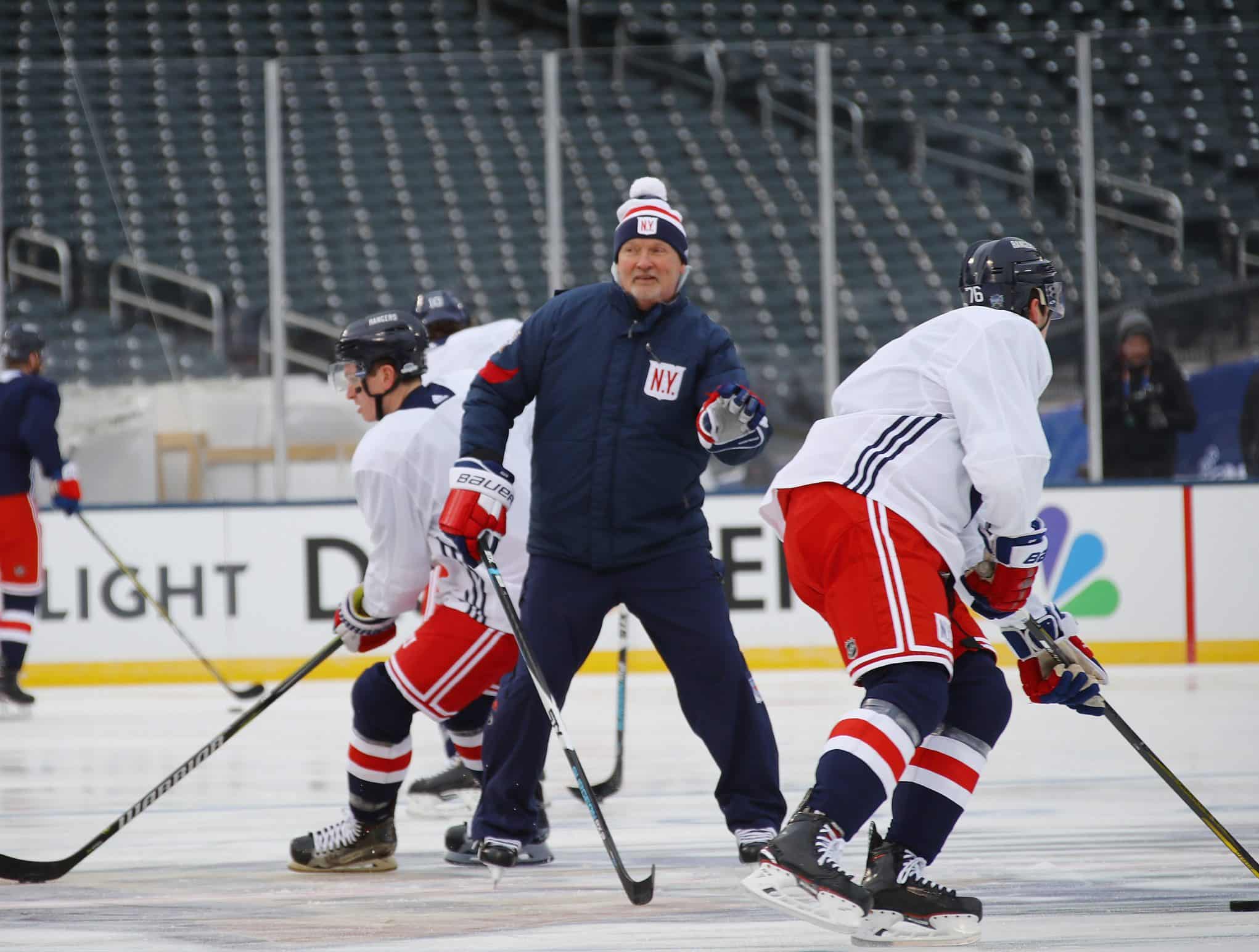 While there might be a new man in charge behind the bench, Ruff is the one piece of the Rangers coaching staff under Vigneault that remains (aside from goalie coach Benoit Allaire). The argument for keeping a guy like Ruff makes sense since he's a seasoned veteran coach who could help Quinn the first year NHL head coach. But you have to wonder if the message Ruff is sending his defensemen has not changed even with a new leader behind the bench.
The argument is not really a crazy one, the same mistakes are being made under a new coach, mistakes that should have been corrected years ago. How is developing a Ryan Lindgren, Neal Pionk, Tony DeAngelo, or Brady Skjei going to unfold if the one person remaining from a flawed system remains in a new one? Simply put, it will only create more of the same problem.
New York's defensive struggles simply do not start with Quinn, it starts with his players who have yet to make adjustments and it falls on Ruff who's message got stale in Dallas a few years back and is starting to do the same with the Rangers now.