The 2018-19 NHL trade deadline is fast approaching which can only mean Kevin Hayes attention in the hockey land of the New York Rangers. 
There was tons of excitement entering the first year of the New York Rangers rebuild. A rookie head coach and a slew of youngsters brought lots of positive energy to the world's most famous arena.
Following a disappointing start, the Blueshirts turned things around, winning nine of 11 games in November. David Quinn's squad was looking like this year's version of the Las Vegas Golden Knights. Unfortunately, this success proved unsustainable, and it became clear that the Rangers had simply masked themselves as playoff contenders for that impressive 11-game-stint.
The Thanksgiving break didn't serve the Blueshirts well. They have suffered a colossal Thanksgiving hangover. Since Turkey Day, the play of the Boys in Blue have put together a mere seven wins.
Now, the fun is over. The Rangers managed to limp their way through the first half of the 2018-19 campaign, but now the focus shifts from the performance to the personnel.
In order to accelerate this rebuild, Jeff Gorton is going to need to execute at this year's trade deadline. In 2018, the Rangers dealt Rick Nash, Ryan McDonagh, J.T. Miller, Nick Holden, and Michael Grabner. Who will be traded in 2019?
Welcome to the New York Rangers 2019 trade deadline primer:
Farewell: Kevin Hayes, Mats Zuccarello, and Adam McQuaid
The front office will have a plethora of options at this year's trade deadline. While there is a lot of uncertainty surrounding many players, I would almost guarantee that Kevin Hayes, Mats Zuccarello and Adam McQuaid are traded prior to this year's deadline.
Hayes, Zuccarello and McQuaid all have expiring contracts and are all unlikely to re-sign. Because of this, it only makes sense for management to maximize these players' value and trade them, rather than letting them walk in free agency.
I've discussed Hayes' situation before, but I'll summarize it again. He's going to be 27-years-old and coming off of a career-year; therefore, he's going to be looking for a lot of years and a lot of money. It doesn't make sense for a rebuilding team to dish out this type of contract.
By the time the Blueshirts are contenders again, Hayes will be past his prime. Because of this, re-signing Kevin Hayes does not look plausible, so a trade is the only option. Additionally, he should bring back quite the return.
My Prediction: Kevin Hayes is dealt to Boston for a first-round pick, a third-round pick, and a mid-level prospect.
Zuccarello's situation is somewhat similar to that of Hayes. The 5-foot-8 Norwegian is 31-years-old and is in need of a new deal. Zuc has been very productive throughout his tenure on Broadway, and he will be in his mid-30s the next time the Boys in Blue are competing for Lord Stanley's Cup. The only difference between Zuccarello and Hayes is that number 36 would likely accept a short-term, cheaper extension.
The fan-favorite has made it abundantly clear that the only place that he would like to play in the Big Apple, so there is no reason to believe he wouldn't settle for a hometown discount on his next contract.
With this in mind, the only reason that Jeff Gorton will part with his alternate captain is for the sake of the rebuild. Dealing Zuccarello would give New York the opportunity to recoup assets, which is truly the goal of the Blueshirts in their current state. The best case scenario for the Rangers would be to trade Zuccarello to the highest bidder at the deadline and to re-sign him this summer.
My Prediction: Mats Zuccarello is traded to Edmonton for a second-round pick and a mid-level prospect.
The final Ranger who's on his last legs on Broadway is Adam McQuaid.
The Rangers acquired McQuaid last summer with the sole purpose of having him help in the development the young defenseman for the first part of this year, and then to flip him to a contender at the trade deadline. They aren't going to stray from this plan.
Unlike Hayes and Zuccarello, McQuaid simply has no future with the Blueshirts. David Quinn already is dealing with a logjam on defense, so there is simply no benefit to keeping the 32-year-old around and there is also no room for him.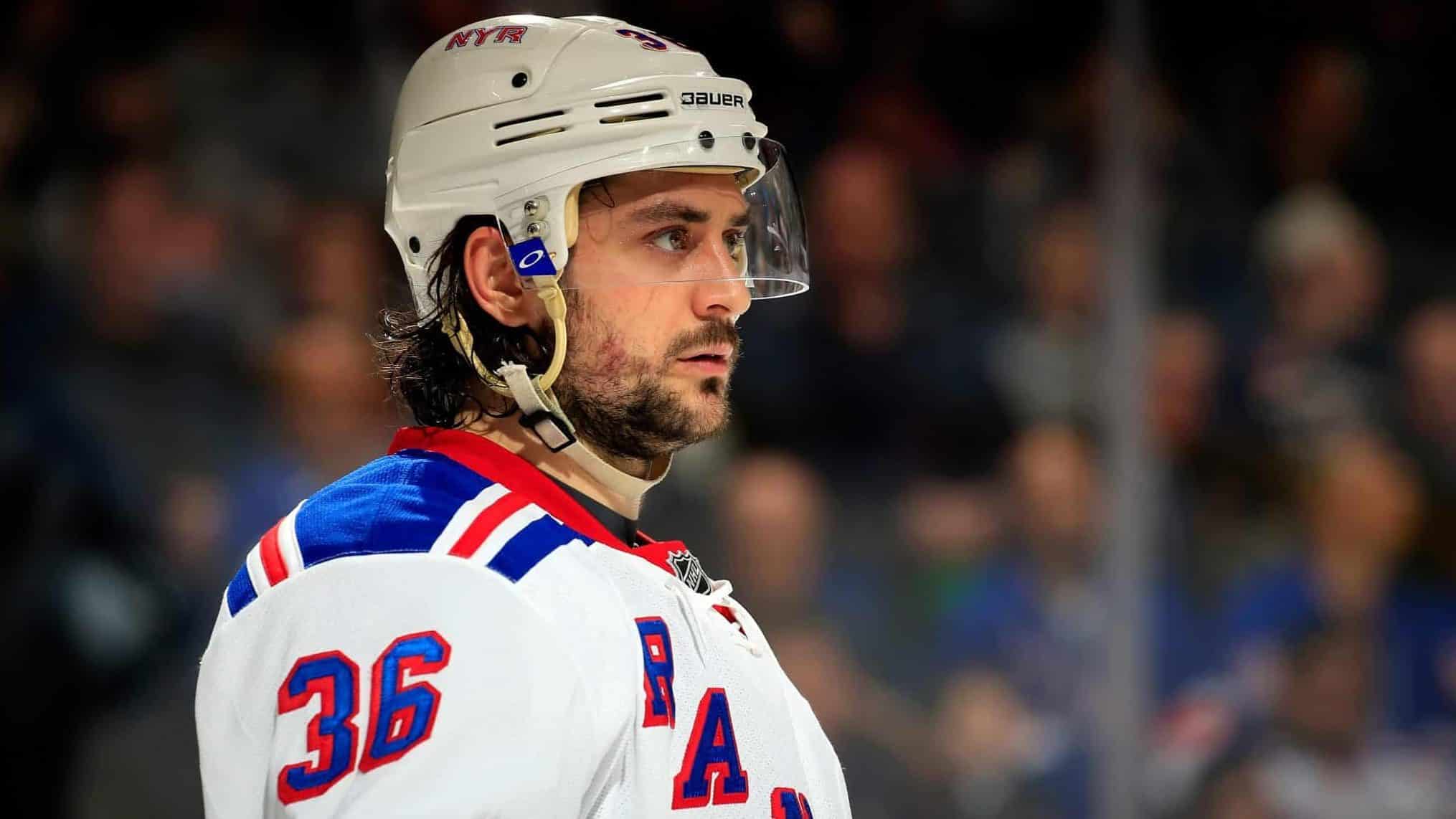 Jeff Gorton gave up a fourth-round draft pick to obtain McQuaid, so he will look to receive a third-round pick in exchange for the former Bruin. Considering the Rangers were able to collect a third-rounder for Nick Holden last February, I don't see why they won't be able to do the same with McQuaid next month. The 6-foot-4 stay-at-home defenseman will add depth, experience, toughness and leadership to his new team.
My Prediction: Adam McQuaid heads to Toronto in exchange for a third-round pick.
The Rest
Personally, I don't think that it's likely that Rangers will deal anybody outside of those three players. However, it is important to keep in mind that the Blueshirts are a rebuilding team. What this means is that everyone is on the table. I don't think it's likely that any of Brady Skjei, Chris Kreider or Pavel Buchnevich will be traded unless the Rangers are blown away by an offer.
There will be plenty of interest in guys like Vlad Namestnikov, Jesper Fast, Jimmy Vesey and Ryan Strome. Again, I think the Rangers will listen to offers on any of these players; however, they aren't going to actively shop them the same way as Hayes, Zuccarello and McQuaid.
Then there are others such as Kevin Shattenkirk, Brendan Smith, and Marc Staal, who would have suitors if not for their terrible contracts. The salaries of these three make them practically immovable.
Lastly, there are the guys who won't be moved. Filip Chytil, Mika Zibanejad, Brett Howden, Neal Pionk, and Henrik Lundqvist make up this group.
As you can see, the trade deadline should be a very interesting time. Almost nobody on this roster is safe. In the end, Jeff Gorton will look to continue stockpiling draft picks, prospects, and young NHL players.
A year ago the Rangers added Vlad Namestnikov, Brett Howden, Libor Hajek, two 2018 first-round picks (which turned into K'Andre Miller and Nils Lundkvist), a 2019 conditional second-round pick (which becomes a first-rounder if Tampa Bay wins the Stanley Cup) Ryan Lindgren, Ryan Spooner, Yegor Rykov, a 2018 second and third round pick (which became Olof Lindbom and Joey Keane). This was quite the haul by Jeff Gorton and co., as they were able to totally revamp New York's prospect pool.
This year's deadline will mark the next step in this intimidating process. If management is successful in continuing to add young, skilled, high-potential players, then the Blueshirts will be on their way towards another era of great success.
Patience will still be necessary and growing pains will occur, but the foundation will be in place.
Follow Brian Paget on TWITTER