What the New York Rangers will decide to do with veteran center Kevin Hayes is one dead serious conundrum in need of attention.
Outside of Henrik Lundqvist, the New York Rangers most valuable player since the start of the 2017-18 campaign has been Kevin Hayes. Arguments could be made in support of Chris Kreider and Mika Zibanejad, however, both suffered major injuries last season and were forced to miss significant periods of time.
Regardless of your perception of Kreider and Zibanejad, it's hard to argue against Hayes.
He's consistent, he's durable, he puts up points, he's defensively responsible, he's versatile, he's strong on the puck, he's physical, he wins battles, his underlying numbers are strong, and he wins face-offs. What more can you ask for in a player? Hayes has built upon his stellar 2017 season, as he has elevated his game to a new level this year.
Under Alain Vigneault, Hayes was primarily used in a defensive role. In fact, more than 57 percent of Hayes' shifts started in the defensive zone last season, and 59 percent of them began there the season prior. Considering Hayes entered the league known for his offense and scored an impressive 45 points as a rookie, Vigneault's usage of Hayes was questionable. Hayes was a staple on the Rangers penalty-kill and received little power-play time. While this didn't make sense at the time, it seems to have ultimately helped Hayes become a more well-rounded player.
This season, David Quinn has found a way to get the most out of the 26-year-old. Hayes has posted 27 points through 33 games, he has a plus-minus rating of plus-eight, and he has a Corsi rating of 50 percent. Hayes has played a major role in the Blueshirts success thus far this year. He has been a jack of all trades for New York, as he has contributed on both ends of the ice and on special teams. After scoring only five power-play points last year due to his limited power-play time, Hayes has rewarded his head coach for giving him increased opportunities this year. The youngster already has 5 power-play point thus far this season.
Hayes is a huge part of the New York Rangers franchise, so naturally, management would like to keep him around for the long run. Unfortunately, it's not quite as simple as that.
This past summer, Jeff Gorton signed Hayes to a one-year deal worth $5.175 million. That means Hayes will become an unrestricted free agent at the conclusion of this season, which puts the Rangers in an extremely difficult position.
Hayes' future in New York depends on two different things: His desired years and AAV (average annual value) on his next contract, and the interest in Hayes from the rest of the NHL.
The Boston College graduate's success this season will likely earn him a contract on which he should receive upwards of $6.5 million. However, the issue with Hayes isn't the money. The Rangers can afford him, and that is fair value for number 13's services. The questions lie more in the current state of the Blueshirts.
New York is currently in the midst of a rebuild. Because of this, Hayes' age could become problematic. The Rangers won't likely be realistic contenders until 2021-22 at the earliest. In 2022, Kevin Hayes will be 30 years old. This could be a problem because Hayes could be past his prime and on the decline by the time the Boys in Blue are in the running for the Stanley Cup.
Additionally, Hayes will be 27 next offseason; therefore, if he receives a six-year contract, he would be locked until he's 34. While Hayes might be worth his high cap hit for the first three years of the contract, that could be changed during the last three years.
Furthermore, the Rangers have a surplus of centers. Mika Zibanejad, Filip Chytil, Brett Howden, and Lias Andersson, are all cheaper than Hayes, younger than Hayes, and play the same position as Hayes. The fact that the Rangers have so much depth down the middle, could make Hayes even more expendable. Moreover, management may want to save their money in an attempt to sign a star-player like Artemi Panarin.
Because of all of this, the Rangers could look to trade Kevin Hayes prior to this season's trade deadline. There should be plenty of interest in the former first-round pick, so the Rangers should have the opportunity to bring back quite the haul. At the same time, I believe the Blueshirts should be targeting either young NHLers or top prospects, rather than draft picks. Hayes is such a good player that Jeff Gorton can't risk it. Receiving nothing in return would signal a great disaster. Acquiring prospects and young players would be more beneficial because their futures can be more easily predicted.
Within the realm of prospects and young players, the Rangers should look to add a high-potential defenseman, or a goal-scoring forward. In the end, it seems very risky to trade Hayes for a player that could never become as good as he is.
This situation is reminiscent to that of Derek Stepan a couple of years ago. While the Rangers definitely don't miss Stepan, the assets that they got in return haven't panned out yet either. Tony DeAngelo's future is in doubt, and while Lias Andersson is not a bust by any means, he has failed to live up to expectations thus far.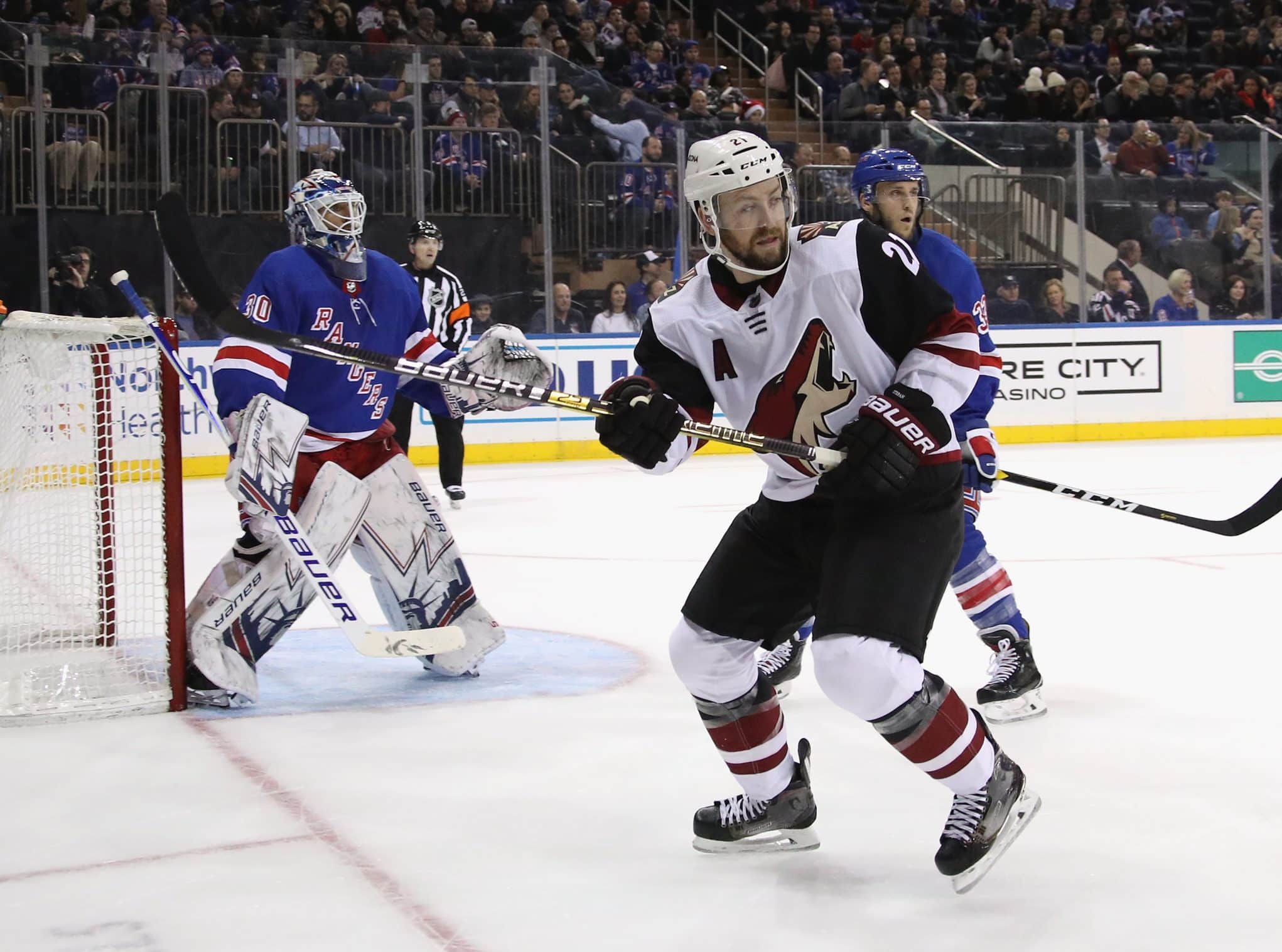 Jeff Gorton finds himself in a conundrum here. Hayes has the makings of a player that this team could be built around, but his contract situation makes him a somewhat unattractive commodity. If Gorton does decide to trade Hayes, hopefully, he executes better than he did back when he traded Stepan in 2017.
Follow Brian on TWITTER