Left winger Chris Kreider's value is peaking, and the time has come for the New York Rangers to deal him.
It took far longer than the New York Rangers expected, but it seems like it has finally happened: Chris Kreider has elevated his game to the next level.
New York drafted the gifted winger in the first round of the 2009 draft, and he has been very productive over the years. But he never managed to live up to his full potential.
Under John Tortorella, Kreider was constantly in the doghouse, going back and forth between Broadway and Hartford, and frequently finding himself in the press box.
Then Alain Vigneault came along, and Kreider improved his play and established himself as a productive NHLer. Now, David Quinn seems to have found a way to get the most out of the highly touted prospect. Kreider has tallied 20 goals and 31 points less than halfway through the 2018-2019 campaign.
He is already only eight goals and 21 points short of his career highs in those respective categories.
Number 20's greatest flaw since his noteworthy entrance into the NHL during the 2012 playoffs has been his inability to find consistency. Kreider has shown flashes of brilliance over the years. Unfortunately, he has always failed to maintain a high level of play for extended periods of time.
However, this season has been different. Kreider is using his size to screen goaltenders. He is using his blazing speed to create scoring chances and his wicked wrist shot like never before. Kreider is wreaking havoc on opposing defenses, and he has been a force to be reckoned with all season.
In fact, Kreider's resurgence actually began when he returned from an extended absence in February of 2018. The Massachusetts native was forced to miss two months in the middle of last season due to a blood clot. But he didn't miss a beat when he returned.
In the midst of his recovery from the scary injury, Kreider lost about 15 pounds and came back looking better than he did when he left. He returned for the final 21 contests of the Alain Vigneault era, in which he notched an impressive 15 points. This season he has simply picked up where he left off.
Following his late-season success a year ago, Kreider decided to continue playing at about 220 pounds, rather than 235. It has paid dividends thus far, as he looks faster and stronger than ever. This is unlike anything we've seen in the past from the 6-foot-3-inch forward: This is no fluke. Kreider has flashed and been a monster in spurts in prior years. Now he's doing it on a nightly basis.
Essentially, Kreider is having a breakout season. So, what's the problem? He's currently 27-years-old, and he'll be 28 in April.
While this may not seem like a huge deal, Kreider's four-year contract that carries an annual average value (AAV) of $4.625 million expires at the conclusion of next season. At the end of the 2019-2020 campaign, Kreider will be a 29-year-old unrestricted free agent looking for a hefty raise.
This puts the Rangers in a very interesting situation. Because of his leadership and playoff experience (he has played in 77 playoff games in his career), Kreider can still be a very valuable asset to the Rebuilding Rangers.
At the same time, the Blueshirts won't likely be legitimate Stanley Cup Contenders until Kreider is past his prime and older than 30. It is always important to have veterans like Kreider around, and it is even more crucial for a team as young as the Rangers. The problem with keeping Kreider will be his contract demands.
I believe Kreider will be looking for a five-year deal with an AAV of somewhere around $6 million. If he continues to play this way, then he will definitely have earned that type of money. It just doesn't necessarily make sense for Jeff Gorton to give it to him. Additionally, I don't think Kreider would settle for anything less, as he can easily get that type of contract as an unrestricted free agent.
The reason that I would hesitate to sign Kreider to the aforementioned contract—one that would keep him on Broadway until he is a 35-year-old—is that I think he could be primed for a major drop-off in a couple of years.
Kreider's game is predicated around his speed and physicality. He has played the same hard-hitting, north-south style of hockey for years now, and it is going to catch up to him. Kreider can't keep steamrolling opposing skaters (and goalies like Carey Price) without feeling the effects eventually. At some point, New York's alternate captain is destined to slow down thanks to the toll that his reckless style of play will take on his body.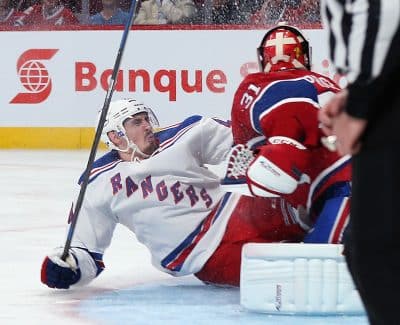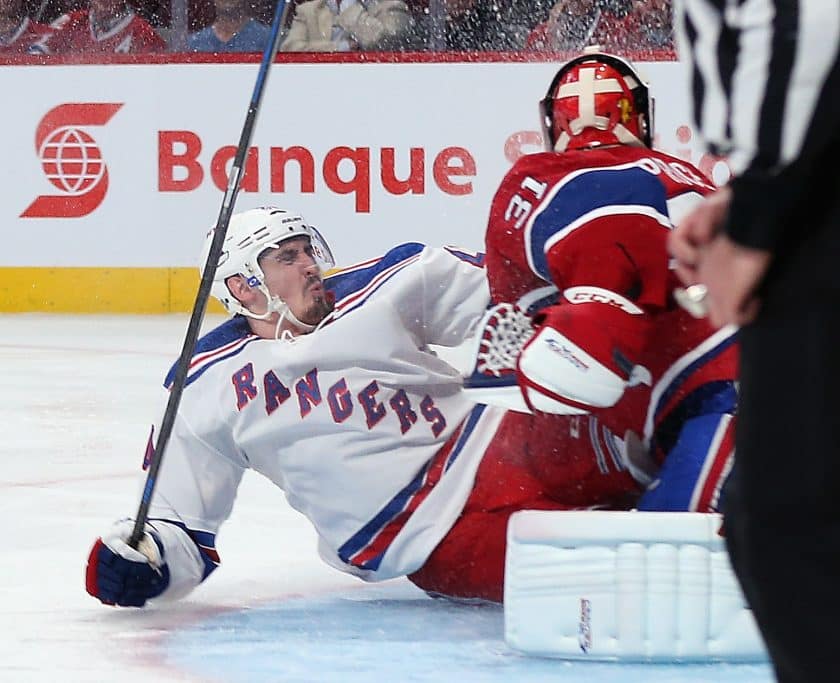 This is also not to say that a slower and less physical Chris Kreider won't be effective. Because he will. He can still be productive by getting to the front of the net and by utilizing his blistering shot. I think he'd present a similar situation to that of Rick Nash at the end of his tenure in New York.
Nash was a very valuable player to the Rangers. He still found ways to score goals. He was a leader and worked closely alongside the youngsters. Also, he was defensively responsible.
Nash wasn't the electric player he once was, yet he was still extremely valuable. The only problem was that he was being paid like a superstar, and that's not what he was at that age. The same thing could happen with Kreider.
Because of this, Jeff Gorton would be smart to look into trading Chris Kreider. Yes, he's been one of New York's best players, but the Blueshirts need to look toward the future to determine what's best for the organization.
[membership level="0"]
Kreider's value may never be higher than it is now, so the front office should at least gauge the interest from the rest of the league. I'm not suggesting that the Rangers should go out and try to shop him. Nonetheless, he should be made available.
Jeff Gorton finds himself in this very same situation with Kevin Hayes. Gorton would be foolish to trade both Kreider and Hayes. He should commit long-term to one of them and then trade the other to a contender that is looking to bolster their squad for a playoff run.
By doing this, the Rangers can keep some of their current core while also gaining more assets and cap space for the future. If I had the choice, I'd keep Hayes and deal Kreider. Hayes is a little younger, more versatile, and I don't think he'll experience the same decline as Kreider will.
In reality, it is unlikely that the Rangers trade Kreider this year. He has been arguably New York's best forward thus far, and he is one of the Blueshirts' most important players. I do think Kreider will likely be traded at the 2020 trade deadline.
Why not trade him now when his value is higher than ever? He's got two years left on a bargain contract. He's in his prime, playing the best hockey of his career. Jeff Gorton has many options, and trading Kreider this year should be one of them.
Follow Brian on TWITTER