The New York Rangers have to do what's best for the team. And that's exactly what they're doing by starting Antti Raanta now.
F
or the fourth straight game, the
New York Rangers
(20-9-1)
starting goalie
will be #32
Antti Raanta
. This will be Raanta's tenth start of the season and the second against his former employer, the
Chicago Blackhawks
(18-8-4), in three games.
Henrik Lundqvist
will be his backup.
Raanta tonight.

— Larry Brooks (@NYP_Brooksie) December 13, 2016
There's not a snowflake's chance on Raanta's blisteringly hot fivehead that he has overtaken Lundqvist as the full-time net-minder for the Rangers. It sure is fun to talk about, though.
It's even more fun to watch and listen to the legions of Blueshirt (supposedly) "faithful" flopping all over themselves, alternately wailing against and sobbing about what many seem to consider a bigger travesty than the mythical existence of a certain button up in Toronto.
New York Post writer Larry Brooks (who apparently can't spell "throne" properly), told us all yesterday that the Rangers "should" snuff out a goalie controversy before there is one. But is there really a controversy at all?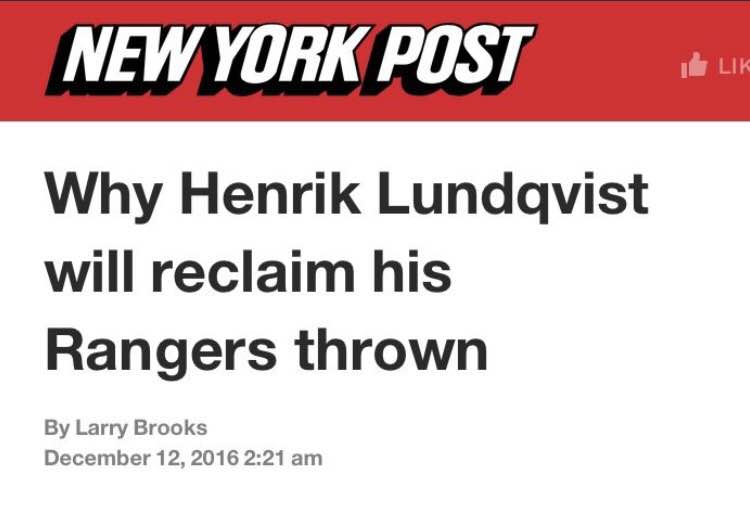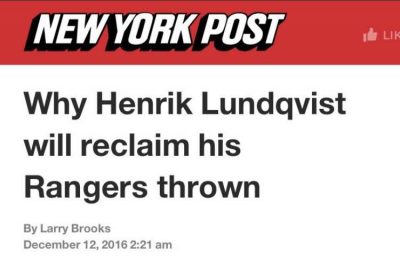 Raanta's performance this season has been better than expected. Over the last three games, his play has been incredible.
Raanta hasn't allowed a goal in over 150 minutes of play going back to the middle of the second period against the Winnipeg Jets last week. He's racked up three quick wins to improve his season record to 8-1 and is currently posting a .943 save percentage while allowing a paltry 1.65 goals allowed.
Some Ranger fans have even dubbed him "Raanta Claus."  Has a nice, little alliterative ring to it, but there's nothing "giving" about those stats. They are Grinchy – Scrooge-like, even.
Contrarily, the vaunted Lundqvist has been uncharacteristically off his game for stretches of this young (ish) season. His slash line is a pedestrian 12-8/.912 save percentage/2.55 goals allowed. The key numbers are all on the wrong side of his career averages.
However blinded anyone is by the glitz, glam, and career numbers of the Rangers' $8.5 million/year man, there is simply no ignoring the above. It only becomes harder to do so when the first week of December is borne out: two losses to sub-.500 teams astraddle a less-than-stellar performance in which a surging Chris Kreider bailed out ol' El Rey with two third period tallies.
Lundqvist gave up ten goals over those three games, breaking a .900 save percentage only once. He went from mediocre to abhorrent in a week's time. He's riding the pine right now because head coach Alain Vigneault had to protect the backstop's psyche against himself.
Anyone faulting Vigneault for playing Raanta is delusional. These games count. These points are necessary. The Metropolitan Division is arguably the most competitive in the league this season. The Rangers can't afford to "give Hank a start to get his head straight because he deserves a break." There is no opportunity against "a soft team."
When he's ready, he's ready, but until/unless Raanta cools off, AV has to do what's best for the team, and that's exactly what he is doing by sitting Lundqvist right now. Keep the cult-like worship for your fan caves and save the rest of us from having to listen to it.
At the same time, anyone who's sitting out there telling themselves that Lundqvist is no longer the Rangers starting goalie is not thinking straight. It's hard to tell with some folks whether they want that to happen just to be contrarian, because they really like Raanta for whatever reason, or that they maybe just can't stand Lundqvist. In a fan-mob of well over a million personalities though, all three of those voices are present. And then some.
Antti Raanta isn't Wally Pipp. He isn't Dak Prescott. He's a pretty good NHL goalie who's playing really, really well right now behind a team that's doing just about everything right.
Thankfully, Lundqvist is a consummate professional, basically staying mum on Brooks' little made-up "controversy." Fans shouldn't expect any more or less from #30. His silence likely belies not dissatisfaction or angst, but the kind of calm focus that makes him so good at those moments fans love him for.
Henrik Lundqvist is far from done. Or at least he better be – considering the Rangers have to pay him over 10 percent of their cap space each of the next four years.