Henrik Lundqvist is the only reason the New York Rangers are within striking difference for a playoff spot, but it is time to give the "King" some time off. 
The New York Rangers are going nowhere this season and none of that is Henrik Lundqvist's fault. But the team should sit him down and discuss a plan to keep him fresh now and in the future.
Lundqvist has always been known as a warrior. One who always gives his all in the crease, never giving up on a play. As a result of that, the Rangers have had a great deal of success over the last 13 seasons. This season has had a different narrative to it. It has been a frustrating one that appears to have worn out Lundqvist.
If there was any time to give the 35-year-old netminder some rest, now would be it. The team is close to finishing one of their busiest months of the season. A month where Lundqvist has started all 10 games played.
This season has been a bit of a whirlwind for Lundqvist. He started out the season very poorly, but then went on one of the best stretches of his career. He was selected to his fourth all-star appearance where he showcased what Ranger fans have seen from him all season. But since the break, he has not been the same player he was leading up to it.
Over his last 10 games, Lundqvist has posted a save percentage of .880 with a goals-against-average of 4.24. His play has greatly dipped, but a major reason behind that is the lackluster effort in front of him. The team is playing without veterans Ryan McDonagh and Marc Staal, and relying on rookies Neal Pionk and John Gilmour to hold the fort down. They have done a decent job at that, but Lundqvist has not been able to bail them out for mistakes like he has done earlier in the season.
In the last three seasons, we have seen Lundqvist go through stretches like this. The solution that head coach Alain Vigneault went with was giving him a few games off. This wasn't a problem as the team had backup goaltenders Antti Raanta and Cam Talbot prior to that. Both of them have since gone on and have proven themselves as starters elsewhere. But as a result of Lundqvist getting a couple of days off, he came back fresh and would go on a significant run. The team also benefitted from Lundqvist getting the days off because it forced them to focus on their game defensively. They didn't have the franchise leader in wins behind them to save them should they messed up.
The problem this year is that the Rangers don't have the depth at the backup goaltender position. Ondrej Pavelec remains out of the lineup with an injury and they are going with rookie Alexandar Georgiev to back up Lundqvist. Giving Georgiev some playing time in the upcoming weeks can have a great impact on the Rangers now and in the future.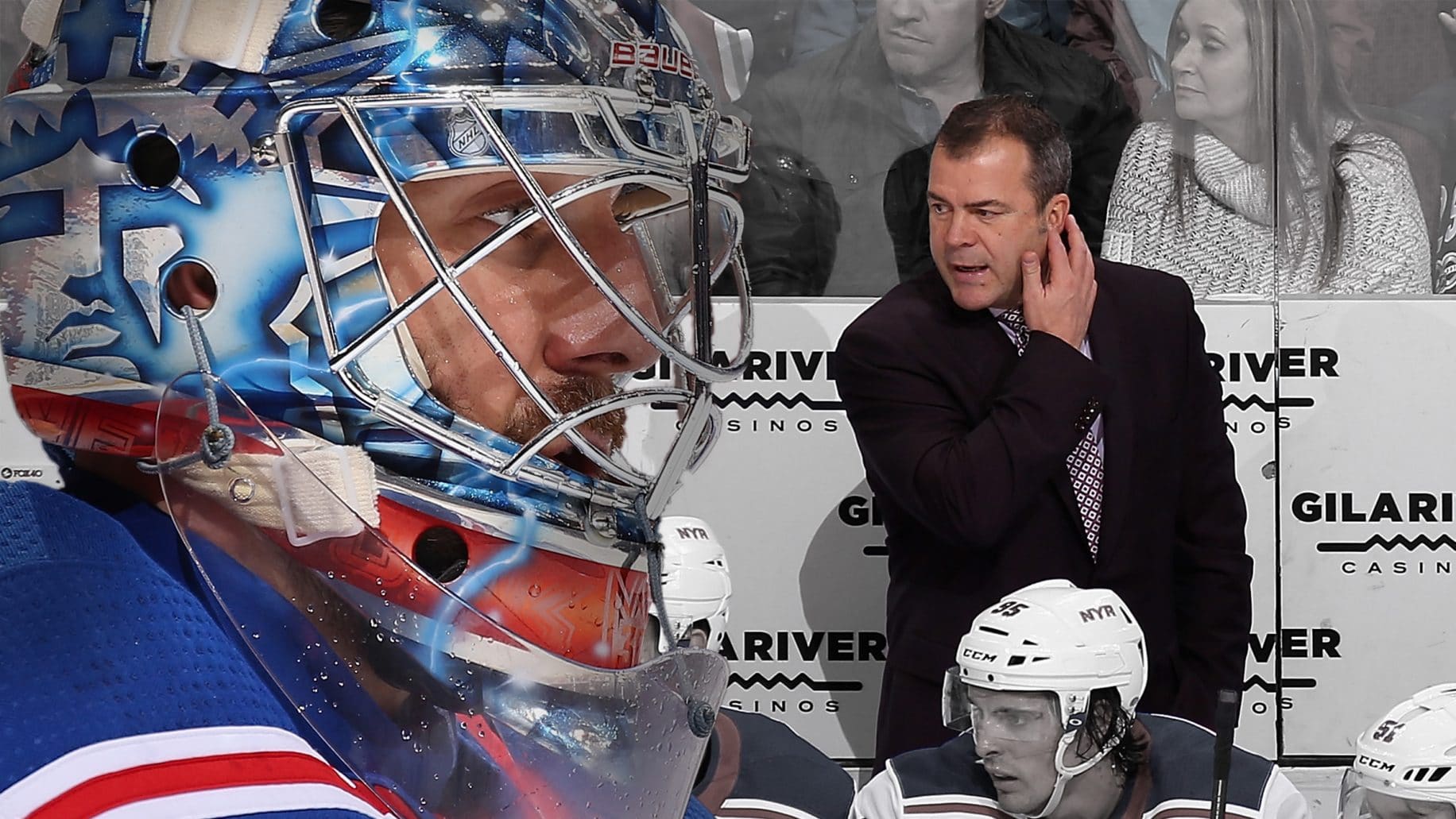 Georgiev will force the Rangers to play a more sound game defensively, or at least have them try to. They won't want the rookie goaltender to lose whatever confidence he has. Plus Georgiev has had a fairly good season with the Hartford Wolf Pack. He appeared in 31 games for the Wolf Pack and posted a .908 save percentage and a goals-against-average of 2.98.
Playing Georgiev helps the Rangers accomplish two things. It helps Lundqvist get the rest he has not had at all this season. Should the Rangers continue to struggle, their chances in the NHL Draft Lottery rise and they could potentially secure a top-10 pick in the draft come June.
For Lundqvist, the rest allows him to work on his game with goaltending coach Benoit Allaire. It will also play a major role next season. He will be 36-years-old in the 2018-19 season. The rest now can do nothing but help him in the future. Getting him to sign off on this plan will be the tough part as he doesn't like sitting out games where he is physically able to play.
This should be an absolute no-brainer for the Rangers. Lundqvist has as clearly been struggling of late and looks frustrated. The franchise let the world know that they want to give younger guys a chance. They would be doing all of that and more by giving Georgiev some playing time.