This Sunday the New York Giants will return to Lucas Oil Stadium, the site of their victory over the Patriots in Super Bowl XLVI.
There may be some reminiscing within the Giants organization this weekend.
On Sunday, the Giants will travel to Indianapolis to face the Colts at Lucas Oil Stadium. For those who forgot, this is the stadium where the Giants defeated the New England Patriots in Super Bowl XLVI.
In a February 2012 game, the 9-7 Giants upset Tom Brady and the Patriots 21-17 to win their second Super Bowl in five seasons.
The only two players that are still on the roster from that 2011 season are long snapper Zak DeOssie, and, of course, quarterback Eli Manning.
Although winning MVP in that game (the second of his career), Eli isn't thinking too much about it heading into this Sunday.
"We weren't playing the Colts that day," Manning said, per George Willis of the New York Post. "Once you walk in there you may reminisce. But it's been a while since I've been there."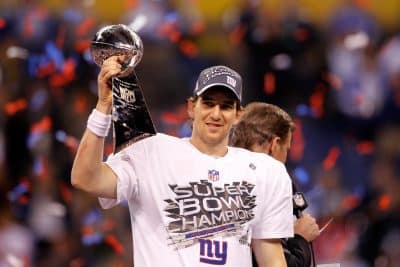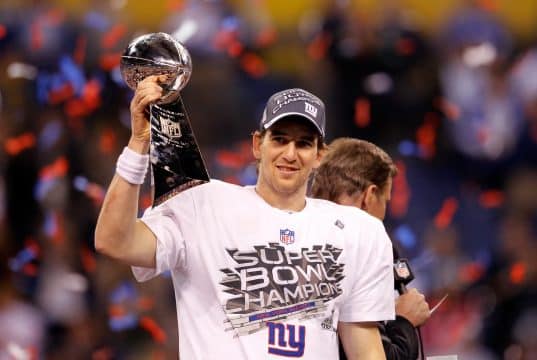 It isn't the last game the Giants have played there. However, it is the last one the organization would like to reminisce about.
The actual last game in Lucas Oil Stadium was when Eli and the Giants faced Peyton Manning and the Colts in week two of the 2011 season. The Colts ended up routing the Giants 38-14 in a season Big Blue finished 10-6 and missed the playoffs.
When it comes to DeOssie pondering the Super Bowl XLVI memories, he essentially has the same outlook as his quarterback.
"Maybe I'll take a minute to have a quick smile about it," he mentioned to Willis. "But it's in the past. We're obviously aware of the circumstances because this season didn't go the way we wanted. But we have no choice but to go out there and give 110 percent because that's what we do for a living."
The Giants and Colts will kick off Sunday in Indianapolis at 1 p.m. EST. Although eliminated from postseason contention, it will still be a playoff atmosphere for the Giants. The Colts are 8-6 and looking to make a push into the AFC playoffs.