The idea that the organization is in the midst of a full rebuild shouldn't stop the New York Rangers from kicking the tires on Artemi Panarin.
The New York Rangers' season has gotten off to a rocky start.
One of the Blueshirts' most glaring early struggles has been the team's inability to produce offense. The simple reason for this is that the team is missing an elite offensive talent. Considering New York is in the midst of a rebuild, this is not an imminent issue, but as management tries to prepare for the future, it is essential that they find an elite offensive talent to build around.
Filip Chytil and Lias Andersson don't look to be that type of offensive centerpiece, but Vitali Kravtsov has the potential to become one. Since these guys are all still so young and have little NHL experience, it's extremely difficult to predict their futures.
Lucky for Jeff Gorton, there is a proven commodity on the market, which is a rarity in the NHL.
The Columbus Blue Jackets' superstar winger, Artemi Panarin, is in the final year of his two-year deal with an AAV of six million dollars. Panarin is a bonafide superstar, and he has made it very clear that not only will he not be re-signing with Columbus this offseason, but that the Big Apple is one of his preferred locations.
Panarin was dealt to the Blue Jackets after spending his first two seasons in Chicago and is currently in his second season as a member of Columbus.
Since the Blue Jackets will not be able to retain Panarin, it would make sense to unload him at some point during the 2018-2019 campaign. Columbus needs to simply take what they can get for the Russian forward, and will have little leverage in negotiations.
Because of Panarin's contract situation, one could argue that the Rangers would be better off just waiting until the end of the season, and hoping that Panarin reaches unrestricted free agency come July 2019. In proceeding with that strategy, the Blueshirts are running the risk that Panarin is dealt elsewhere, where he could possibly agree to an extension. If the Rangers want to avoid that risk, they can go out and acquire Panarin, and easily sign him on a long-term basis, as they have the cap space and the player's interest.
Panarin will command a hefty raise from his current six million dollar contract, as Jeff Gorton would be looking at paying Panarin upwards of ten million dollars annually. However, Panarin is well worth the price. At 27-year-old, Panarin is in his prime and should have plenty more years of quality production. Thus far in his NHL career, Panarin has posted a whopping 248 points in 254 games.
Adding Artemi Panarin would completely alter the state of the Broadway Blueshirts. New York would finally have its star player that they have long needed. The Rangers would just need to build around him. New York already has Brady Skjei, Mika Zibanejad, Chris Kreider, Filip Chytil, Lias Andersson, Brett Howden, K'Andre Miller, Nils Lundkvist, Libor Hajek, and Ryan Lindgren, so there are plenty of pieces in place. Additionally, the Ranger will likely have a high selection in the 2019 NHL Draft, so they could potentially add another future core-member of the roster.
So now the question becomes whether or not it makes sense to try and acquire Panarin when they could possibly add him without giving any assets via free agency next summer. To me, this is a no-brainer. The Rangers absolutely need to go out and trade for Artemi Panarin because of the risk of him landing and then settling elsewhere is too high.
If Panarin were to join the Blueshirts, that would be a complete game-changer for the organization, as it would put them miles ahead of where they currently sit in the rebuilding process. Nonetheless, that brings up the question of what New York would have to give up in exchange for the highly-skilled playmaker.
It's very hard to estimate what the cost of acquiring Panarin would be. Since Columbus will have little leverage in trade talks, it's possible that Jeff Gorton could bring in Panarin without giving up all that much. It really all depends on what other teams are offering Blue Jackets general manager Jarmo Kekalainen.
If I'm Gorton, my conversation with Kekalainen is revolving around Kevin Hayes serving as the key piece in the return for Panarin. Columbus already has Pierre-Luc Dubois, who likely emerge as the team's future first-line center, but the Blue Jackets lack depth down the middle outside of their young rising star. Hayes would slot in perfectly as the team's second-line pivot of the future, as long as the Jackets can agree on a contract extension with him.
Aside from Hayes, the Rangers could send away one of their two second-round picks in the 2019 draft. So, now Hayes and 2019 second-round pick are on the table, but I think the offer still needs to be bolstered a little more. Maybe adding Jimmy Vesey, who seems like a guy that would get along with Blue Jackets head coach John Tortorella, would get the deal done.
Yes, I know this doesn't seem like the most attractive offer, but Columbus will be desperate to get whatever they can get for Panarin. Furthermore, there is another way that the Rangers could make this offer more enticing for the Blue Jackets: They could ask for more than just Artemi Panarin. The Blueshirts could look to bring back former fan-favorite and homegrown talent: Brandon Dubinsky.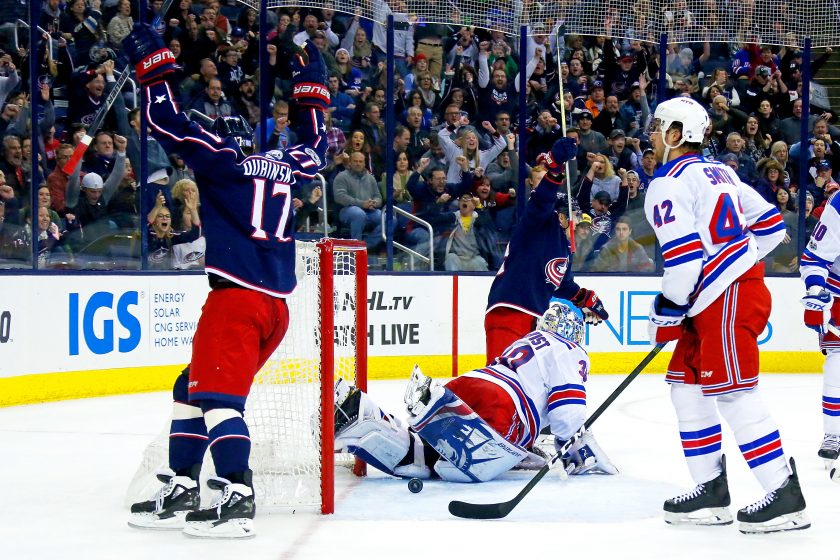 It sounds counter-intuitive to have Jarmo Kekalainen include another player in the deal, but the reason it would be Dubinsky would be because of the massive contract he carries. Dubinsky is signed through the 2020-2021 season and carries an annual cap hit of 5.8 million dollars. Dubinsky is being significantly overpaid, so this would simply be a salary dump for Columbus.
In order for the Rangers to be able to progress in their rebuild, they desperately need to acquire an elite forward. Artemi Panarin is that guy, and the Blueshirts have the assets to make a deal for him. It would be illogical for Jeff Gorton to not attempt to trade for him.
Follow Brian Paget on TWITTER