Fired Green Bay Packers coach Mike McCarthy deserves another shot, but it shouldn't come in New York Jets green.

Those who lampoon Mike McCarthy would be hard pressed to duplicate his success in the National Football League.
For all the consternation McCarthy faced during his time at the helm of the Green Bay Packers, the man won 135 games. Ten of those wins came in the postseason.
He made the decisions in Green Bay, hallowed NFL ground, for 13 seasons, overseeing some strong offenses. Super Bowl XLV ended with McCarthy hoisting the trophy his Green Bay predecessor Vince Lombardi helped christen.
McCarthy was indeed let go for a reason. His Packers pretty much hit a wall after a humiliating home defeat at the hands of the pathetic Arizona Cardinals.
His critics will declare his success was a byproduct of Aaron Rodgers' heroics. It's true Rodgers bailed out McCarthy on several occasions, but the coach still witnessed the rise of several offensive stars and oversaw a seamless transition of Green Bay power to Rodgers from Brett Favre. He'll get another shot in the NFL.
It shouldn't come with the New York Jets.
Though the Jets haven't made anything official, the general consensus is that head coach Todd Bowles won't be around come 2019. Should that happen, the team's ensuing hire will be one of enormous importance.
The goal of ending one of the longest NFL playoff droughts (one that's about to enter its eighth season) has given way to yet another rebuild. The drafting of Sam Darnold, the third overall pick in April's draft, has been both a blessing and a curse.
Obviously, prominently drafting a quarterback is the best way to invigorate a dormant fan base. At the same time, though, it officially puts a clock on the rebuilding process. Results are expected sooner rather than later.
What the Jets need with Darnold in tow is a confident head coach at the height of his game. Whether that's a guy with experience or a coordinator earning a promotion remains to be seen. But the Jets need a sense of stability and patience, a coach who's comfortable with starting from scratch.
Darnold's position as franchise quarterback may be secure, but it's worth remembering that the Jets have a mere 29 players under contract for 2019.
McCarthy, on the other hand, was a coach for a team that's a piece or two from true contention. The Jets are anything but a piece or two away.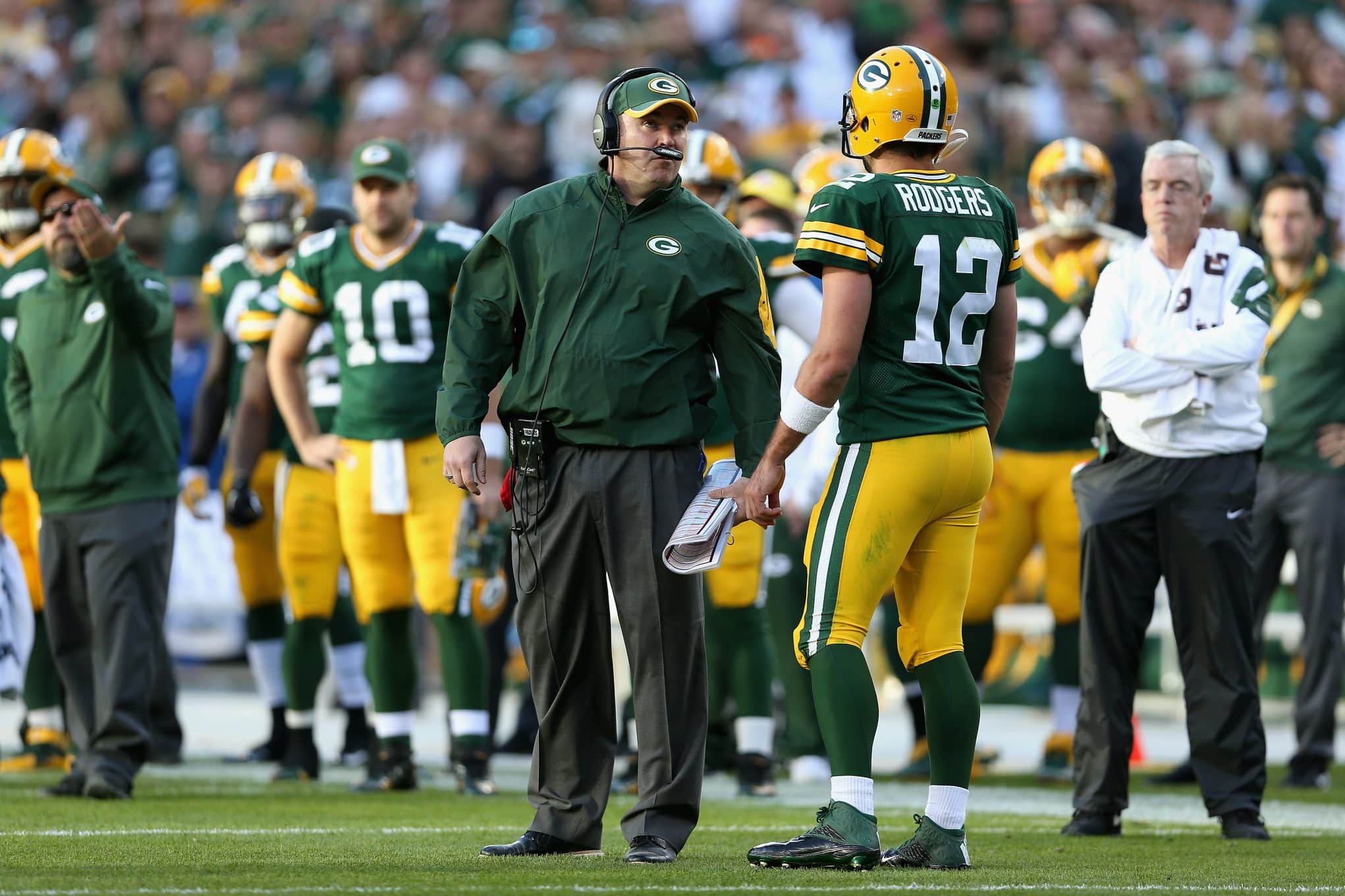 While McCarthy did a solid job of handing the keys to the Packers offense from Favre to Rodgers, the team did endure a season of growing pains. Favre's farewell was a 13-3 year that ended in a heartbreaking loss to the New York Giants in the NFC title game.
With the exception of this active season, Green Bay has rarely fallen out of contention with Rodgers at the helm. But things didn't start off so rosy.
After Favre departed for the Jets, who appeared to be in "one piece away" mode in 2008, Rodgers' first season was a 6-10 struggle that saw the Packers endure a 1-7 stretch in November and December.
McCarthy helped the team rebound with an 11-5 mark in 2009. However, he achieved this with more than Rodgers, as a group of established stars remained from the Favre era.
Running back Ryan Grant, for example, put up a career-high 1,253 rush yards and 11 touchdowns. Greg Jennings got his start under Favre and truly burst onto the scene under Rodgers. Established veteran Donald Driver kept everyone in check.
With the perfect mix of newcomers (like 2008 fourth-round pick Josh Sitton on the line) and Favre's comrades, the Packers returned to the playoffs in the second year under Rodgers. One year later, the team won McCarthy's first and only Super Bowl.
That is not the team the Jets are right now.
Funny as it may appear in the face of recent history, McCarthy seems better off with a team like the Cleveland Browns. Their recent letdown in Houston notwithstanding, the Browns are a team that has inched their way into relevancy, as their youth movement, headlined by Baker Mayfield, carries on.
With established veterans and even more draft picks to work with, McCarthy would feel right at home, as the Browns would allow him to cultivate the unit.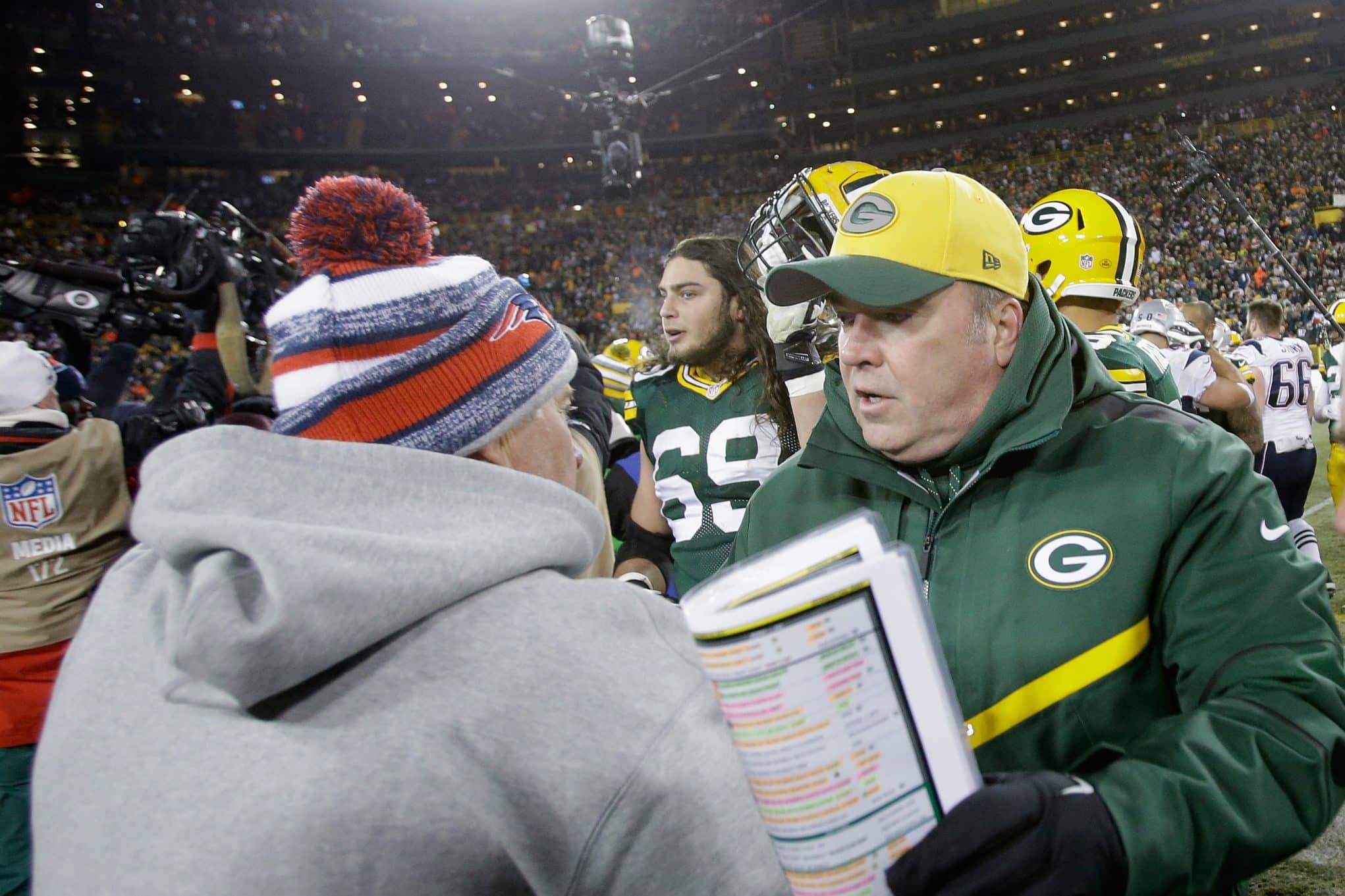 Added to the potential new coach's importance is the fact that 2018 is basically serving as a redshirt year for the hapless Darnold. The Jets' youngster hasn't seen the field in a month due to a foot injury.
What Darnold needs is someone like himself: a fresh face looking to make it in the league. Despite McCarthy's relatively strong resume, the fact remains that he would be a retread, someone else's used goods.
Again, McCarthy does deserve another chance in this league. If Hue Jackson can find another NFL job, surely McCarthy can as well. But he needs time to boost his confidence if he decides to take on another transition project like the one he faced in Green Bay, or the one that faces the Jets now.
Despite a passable resume—McCarthy's 125 regular season wins rank ahead of names like Pete Carroll, Sean Payton, and Jon Gruden—the fact remains he won a mere single Super Bowl with arguably the greatest quarterbacks of all time at his disposal.
McCarthy needs assurance that he can win again, maybe further credence that he can win without a Canton-bound thrower. The Jets are not the team to do that with.
The Jets aren't what you'd call a "blessed" franchise, and one thing they're certainly not blessed with right now is time. The ideal time for McCarthy to come aboard, frankly, would've been the 2017 season.
Things ended in an ugly 5-11 fashion that year, but there was hope, there was confidence, there were things to build on. This season, one that could potentially end with 10 straight defeats, has been a regression. The Jets need someone who knows what their rookie quarterback is going through.
It's easy to fall victim to the trends of recent history, but McCarthy's antics might have cost him his job. His final days in Wisconsin, for example, were defined by the mortal sin of a sour relationship with Aaron Rodgers.
There's a chance that one day Green Bay will welcome him back to Lambeau Field, particularly when they honor the 2010-11 championship squad. But he might as well be public enemy number one for the time being.
The Jets don't need a public enemy number one. They're trying to write their own redemption story. They don't have the time or resources to co-author someone else's.
Follow Geoff Magliocchetti on TWITTER