Now an active member of the New York Jets' roster, Davis Webb reflects on his NFL journey, which has taken him to both New York teams.

FLORHAM PARK, NEW JERSEY—For the second consecutive season, fans of a New York football team have been calling for Davis Webb to enter a regular season game. Thus far, all such requests have gone unfulfilled.
Webb, however, isn't blaming anyone for his current predicament. Speaking this week at Atlantic Health Jets Training Center, the second-year pro seemed content in his current situation with the New York Jets. He continues to live in Weehawken, NJ, and while the 45-mile commute is longer, he has no qualms with his green situation.
"The first couple of weeks was a little different. I think the biggest difference was going left instead of right (to the locker room) when you get to (MetLife Stadium)," Webb noted.  "It's fun. I get up early, I leave late, it all works out."
This time last season, Webb was seen as perhaps the first legitimate potential heir to Eli Manning's blue throne. As the New York Giants sank deeper in a 3-13 cesspool, fans clamored to see Webb, his third round selection making him the most prominent quarterback the team had brought in since a fateful trade with the Chargers brought Manning over.
With new leadership bidding him farewell in the wake of incoming rookie thrower Kyle Lauletta's arrival, Webb was able to keep the New York labels on his luggage, added by the Jets shortly after his late summer release.
A majority of Webb's 2018 season has spent on the practice squad, another year spent preparing his teammates for gameday. However, an injury to primary thrower Sam Darnold has led to Webb's promotion, and he now finds himself backing up another long-tenured NFL veteran, Josh McCown, as the Jets buy time and tread water until their touted rookie can return.
Webb believes that playing with two veterans with over three decades of NFL experience combined will be beneficial to his fledgling career.
"I think it's great, just be around good quarterbacks who have been in this league for a long time," he remarked. Webb also praised the coaches that have helped him during his professional experiences, adding "It's also being around great offensive minds (like) (former Giants head coach) Ben McAdoo, (Giants assistants) Mike Sullivan and Frank Cignetti, now being around (Jets offensive coordinator) Jeremy Bates and (Jets offensive line coach Rick) Dennison. Those guys, during a season, they're some great offensive coaches and you see how the game can be played. It's been a lot of fun."
Despite his sophomore status, Webb isn't the youngest thrower in the Jets' system, that honor instead going to Darnold, the touted rookie. Webb wouldn't label himself as a "mentor" to Darnold, but expressed his pleasure in working with the latest quarterback tagged as the Jets' franchise man.
"I wouldn't say I'm mentoring. That's more Josh's role, this is my second year in the league," Webb said. "But at the same time, I learned a lot from Eli and I do try to give as much to Sam as I can. I think Sam's going to be a really great player."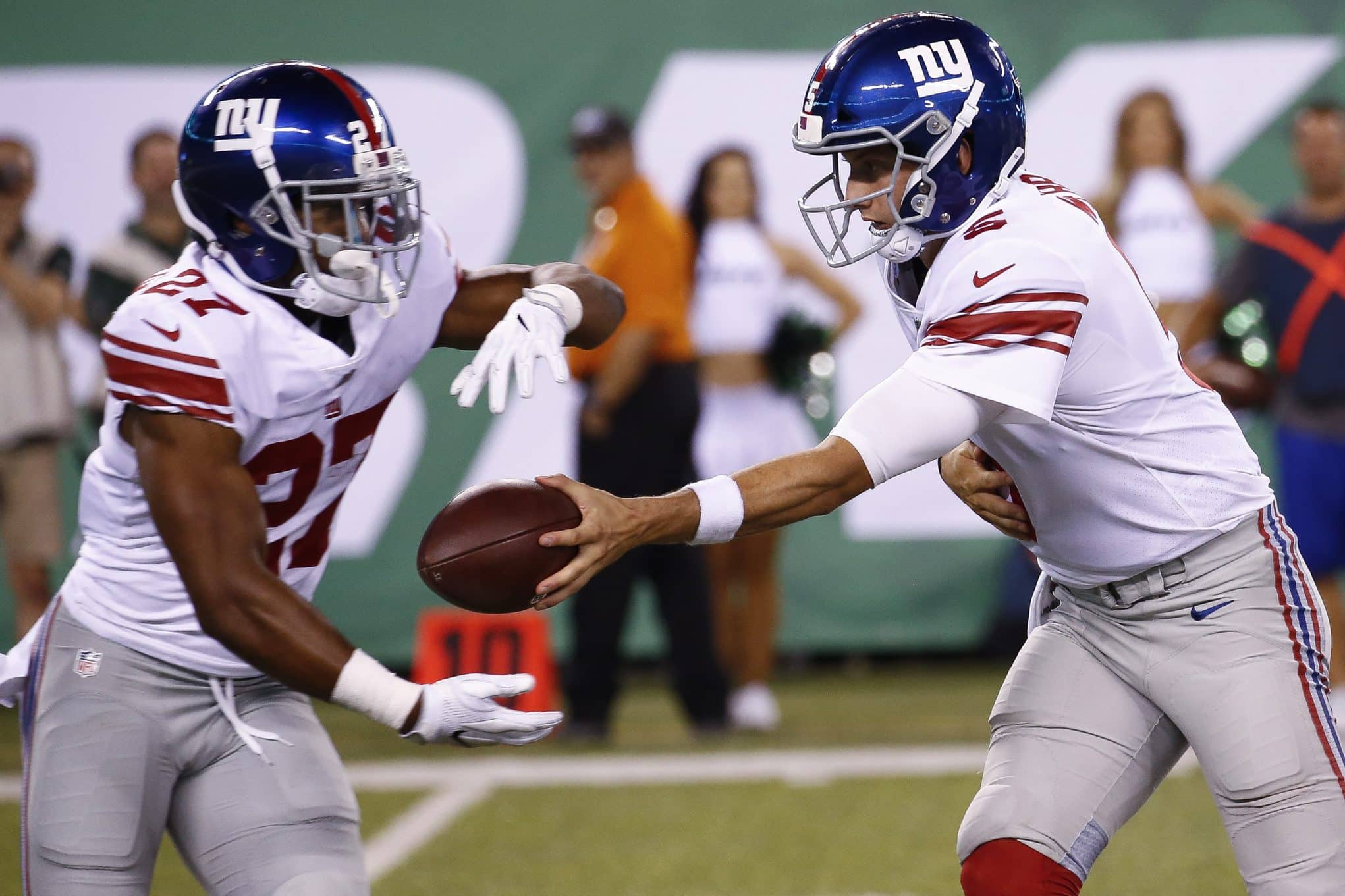 The latest Jets loss on November 11 harkened back to the days of Webb's rookie year in blue. As McCown struggled in what became a 41-10 loss to the Buffalo Bills, some Jets fans emulated their blue brethren and begged to see what Webb had to offer.
If and when his time does come, Webb insists he'll be ready to showcase his talents. For the time being, he still refuses to complain about his lack of game reps, showcasing a team-first personality that became familiar to Giants news reporters and readers alike.
"I'm trying to help Sam as much as I can to help him succeed, now Josh the same way," Webb said. "Just be a great teammate, continue to grow, get scout team reps every day. Me and (Jets offensive assistant) Mick Lombardi do our pregame routine whether or not I'm dressing. I'm just continuing to get better."
Webb is looking to leave his time in blue in the past, firmly stating he has "moved on" from his Giants tenure. The quarterback hasn't fully exorcized the Giants from his life, however as members of the team remain constants in his day-to-day activities.
He continues to socialize with fellow second-year man Evan Engram, the Giants tight end with whom he roomed at Giants rookie camp for their NFL introductions. Sterling Shepard lives a floor below him in Weehawken, where he continues to live despite a longer commute. He also remains to contact with the remaining Giants quarterback trio of Manning, Lauletta, and Alex Tanney.
"I definitely miss my teammates over there, the trainers, the coaching staff, the video guys. I had a lot of good relationships over there," Webb said. "(Me and Evan) talk about what's going on, what we're seeing. If we have something similar we'll talk about it, 'what did you see?' that sort of thing. I've watched just about every game. He had a heck of a catch-and-run on a seam route (last Sunday against Tampa Bay). He looked really fast, really healthy, ready to go. I think he's really going to break out over the last few games."
Whereas Darnold's future is set in stone, a rarity for the 2018 New York Jets, Webb's timeline is murkier, even immediately, as it's possible he can immediately be sent back to the practice squad once Darnold is healthy enough to play.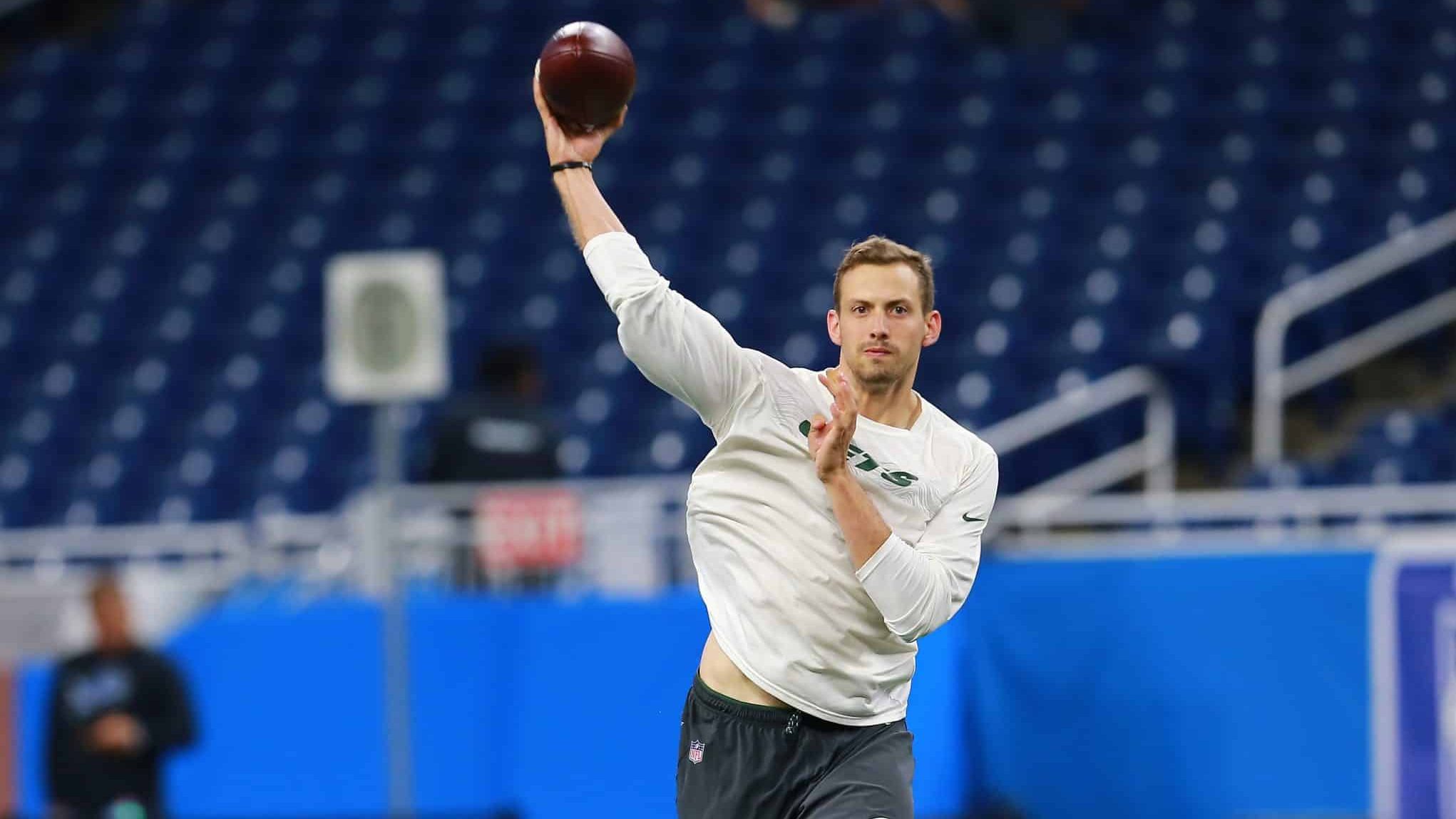 Whether that moment comes, perhaps even as soon as this week, Webb is enjoying the moment, remaining dedicated to controlling only what he can control.
"I do the same thing every week. Nothing's changed. I prepare every week like there's a chance I can play," Webb says. "My job is to continue to grow."
Perseverance is a trait Webb has had to showcase several times throughout his roller coaster football voyages. His career began with heroics at Texas Tech University, beating future Heisman Trophy winner Baker Mayfield for the Red Raiders' starting job. Webb got a taste of his own Lubbock medicine shortly after, usurped by none other than Patrick Mahomes. Forced to put some good, fruitful memories in the past, Webb retreated to the Berkeley, where he picked up where Jared Goff left off. In a single season with the California Golden Bears, he wound up with some of the most prolific tallies in Berkeley history, as marks of 4,295 yards and 37 touchdowns became the second best yearly numbers in the history of the program, behind only Goff in each.
Webb says the lesson of perseverance, among many others, comes from his family.
"Son of a coach" is a label that has followed Webb ever since he began his NFL journey in earnest at the NFL Scouting Combine in 2017. His father Matt, a Texas high school coach, remains a constant prescience, a rare constant in his football life.
"I call my dad every day after practice on the way home. I got a long drive, so I can make a few calls now," Webb said with a smile. "I got a good relationship with my family and my dad's a coach. He kind of sees it in both aspects."
Time will only tell if the day comes, but the confidence Webb has received from his young Jets tenure and the fuel from his family will play big parts if and when he takes an NFL field. His football career has been forever connected to bigger names like Mahomes, Mayfield, and Goff. When all is said and done, Webb hopes his career will be remembered by one surname: his own.
"Davis has been great. He's a grinder, he's in here all the time studying tape," McCown said on Monday. "(He) can give you a great insight on the opponent and he's going to look at a ton of games, do above and beyond the type of research to be able to help the quarterback room. He's been awesome from day one since he's been here."
Follow Geoff Magliocchetti on TWITTER