The New York Jets' win over the Colts didn't carry the weight of Super Bowl III, but the similarly-styled victory served as a perfect homage.

At the end of the day, it might be foolhardy to compare Sunday's New York Jets victory over a 1-5 Indianapolis Colts team to the January 12, 1969 victory on a site that now serves as the Miami Marlins' ballpark.
That victory at the Miami Orange Bowl captured not only the tri-state area's first Super Bowl but also gave legitimacy to an entire football league, as the Jets' victory as an American Football League squad gave rise to the professional football circuit we witness to this day. It was a 16-7 slugfest over the Baltimore Colts, one punctuated by Joe Namath's famous guarantee.
That team was honored during halftime of the modern-day Jets' most recent victory, a decisive 42-34 win over the transplanted Colts. The players were introduced on the field to an adoring MetLife Stadium crowd waving towels adorned with the signatures of every member of the historic squad. To commemorate the 50th anniversary, Namath addressed the fans shortly before they reached East Rutherford immortality with a banner on the MetLife balcony.
Sunday's victory won't get its own plaque, but Sunday's victory resembled that historic triumph in more ways that one, maybe, ironically enough, three to be exact.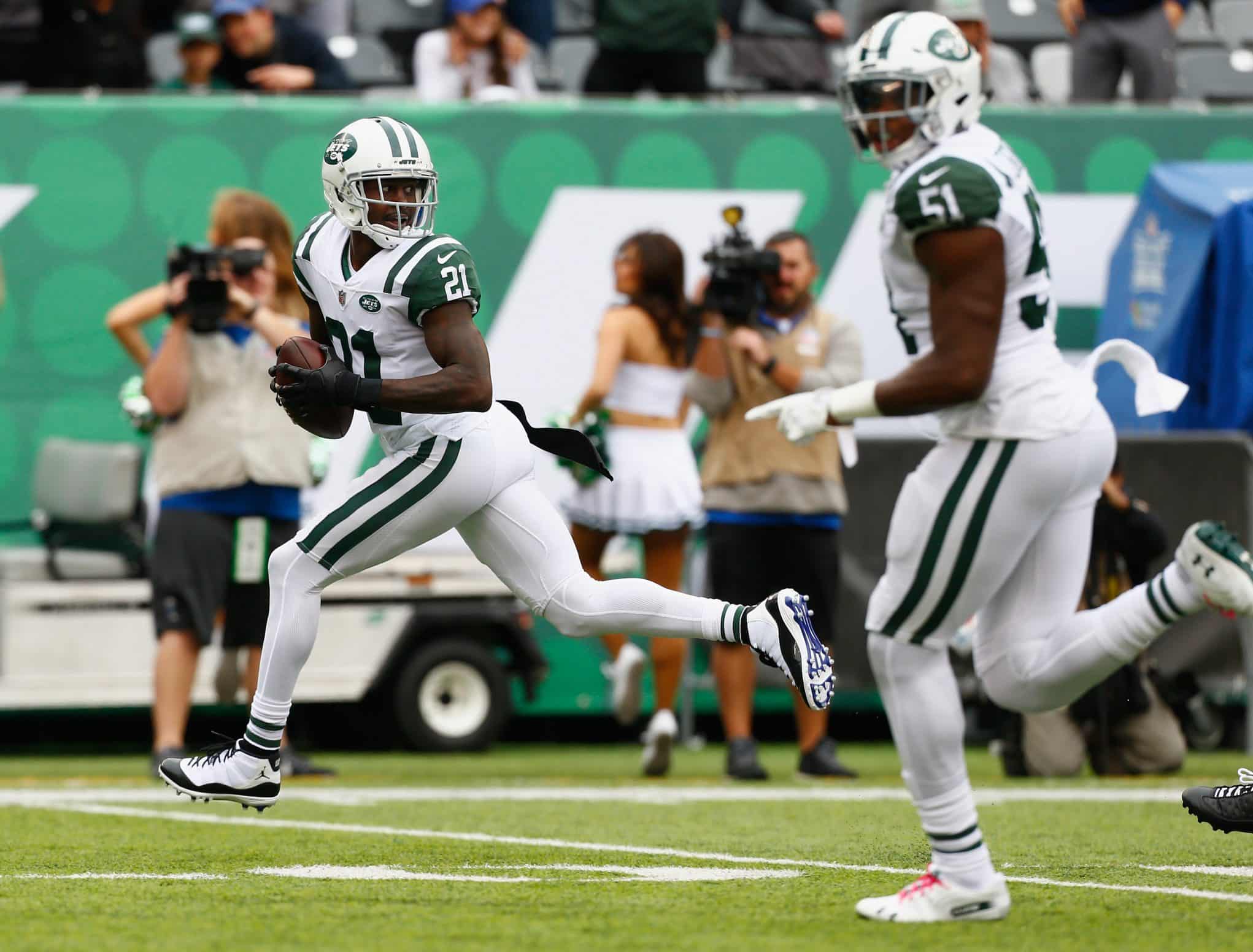 Horse Defense Coalition
As a franchise, the Colts have had the privilege of hosting or perhaps stumbling in to, some of the more renowned throwers in NFL history. Their first big victories were achieved with Johnny Unitas at quarterback, while Peyton Manning and Andrew Luck have each helped put Indianapolis on the NFL map.
For all the success the Colts' quarterbacks have had, however, they've been victimized in some of the bigger victories in Jets history.
Manning, for example, was on the wrong end of the most one-sided game in Jets playoff history, a 41-0 shellacking in the 2002 AFC Wild Card playoffs. Unitas threw a late touchdown pass to avoid a shutout but was ultimately bested in the historic Super Bowl win in Miami. This latest victory came at the expense of Luck, the latest would-be passing savior in Indianapolis.
With ailing defensive coordinator Kacy Rodgers in the building, the Jets defense made their coach proud. While there are plenty of issues to work on, namely allowing 428 yards and four passing touchdowns in the victory, constant pressure on Luck made him uncomfortable and forced him and his receivers into bad decisions. The Jets defense caused four turnovers on Sunday, three of which were Luck interceptions. The 1968-69 squad did the modern Jets one better with five turnovers, four of which were interceptions. Sunday's turnovers led to 20 Jets points.
Have a day, Jason Myers

The #Jets kicker nailed a franchise-record seven field goals and accounted for 24 points, two off an @NFL record

That and other Gang Green notes from @MMehtaNYDN: https://t.co/DyjUTV9mZr pic.twitter.com/Vt495h3LQF

— NY Daily News Sports (@NYDNSports) October 15, 2018
Very Special Teams
For all the talk and attention there's been when it comes to the epidemic of NFL kickers disappearing in the biggest situations, certain teams have found hidden gems, castaways that others rejected, for their field goal units. For example, the Dallas Cowboys found life after Dan Bailey in the form of Brett Maher, who trails only a single name when it comes to successful field goals this season: the Jets' Jason Myers.
Dismissed by Jacksonville and Seattle, Myers has taken up permanent residence as the Jets' kicker, crushing any doubt with a historic performance on Sunday. By converting a team-record seven field goals, keeping the pesky Colts' comeback in the hypothetical realm, Myers became just the second player in the league this season to tally at least 60 points, joining Los Angeles Rams running back Todd Gurley. It's not often a Jets kicker goes down in the same sentence as the NFL's top rusher, but Myers, a mid-August acquisition, has proven to be a welcome exception.
In a further historical note, Myers accumulating a majority of the Jets' points (24 of 42) brought back memories of Jim Turner duplicating the feat in the Super Bowl, scoring 10 of the Jets' 16 points, despite two misses, thanks to three field goals and an extra point. Myers actually did Turner one better, as all 10 of his boots went through the uprights in the win. If the Jets hope to continue a fledgling playoff push, a trustworthy kicker could end up being the difference between partaking in the postseason or watching it on TV.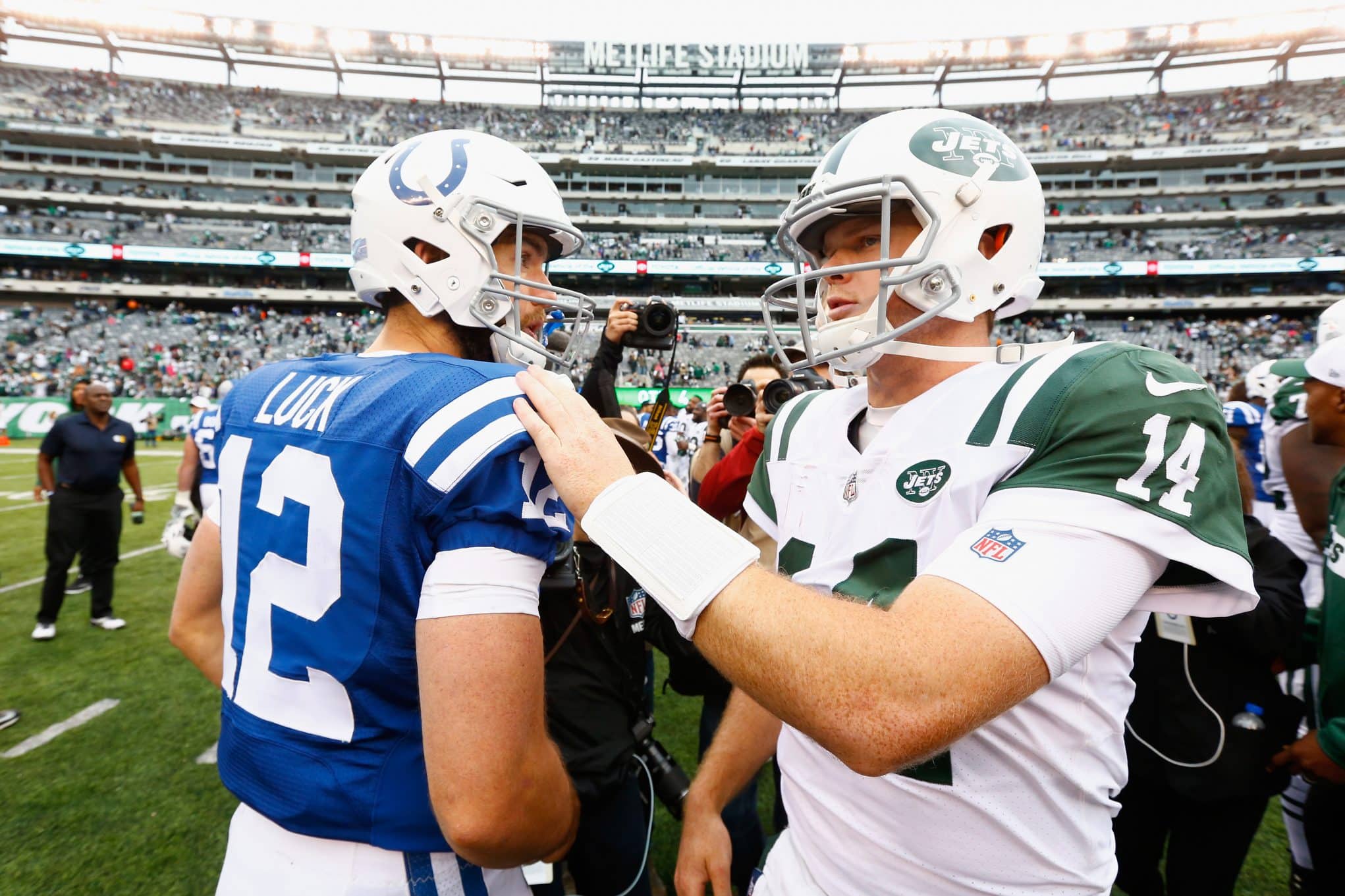 A Star Is (Re)Born?
With that Super Bowl victory, Namath forever cemented himself as an NFL legend. While Sunday's win probably won't go down as the most renowned chapter in Sam Darnold's NFL career, it has the potential to go down as a turning point in the touted thrower's rookie campaign.
On paper, Darnold isn't setting the NFL world on fire. He threw for 280 yards on Sunday, pedestrian by 2018 NFL standards, and had an ugly interception in the first half that set up a tying Colts field goal.
However, slowly but surely, the Jets are starting to loosen the training wheelers on Darnold. That 280-yard output was Darnold's highest tally since a career-high 334 in the Week 2 loss to Miami. It's the first time Darnold has thrown for at least 200 yards since the Dolphins loss, and his 9.3 yards per attempt was his highest since a 9.4 debut in Detroit. Darnold did manage to set a career-high in completion percentage on Sunday, earning an 80 percent mark (24-of-30).
Head coach Todd Bowles acknowledged Darnold's progress in a Monday conference call.
"You knew he could throw. You knew he had patience and everything like that," Bowles said. "It's the growth of the offense coming around him and understanding everything, making his checks and getting out of the huddle quicker to help us function faster."
Namath himself complimented Darnold prior to pumping up the crowd on Sunday. While he acknowledged that his development will be helped by a strong team effort, he praised what Darnold has been able to do thus far, as documented by ESNY's own Robby Sabo.
"I do see a physical ability and I understand a mental ability," Namath said. "But I can't emphasize enough. It's about the front line of both sides of the ball, it's about the kicking game, it's about the entire team."
Darnold has a fantastic chance to keep the momentum going this week. Not only can the Jets sweep a rare three-game homestand, but Darnold can take down the man who rejected the Jets in Kirk Cousins, as New York takes on the Minnesota Vikings (1:00 p.m. ET, Fox).
Follow Geoff Magliocchetti on TWITTER