The New York Giants are 1-4, but also in prime position for the playoffs thanks to a lowly East. Clinching won't be easy, but it can happen.

In almost any other division, heck, in any other sport, a 1-4 start is major trouble — the exact record the New York Giants possess. Even in the seemingly endless campaigns of the NBA, NHL, or MLB, losing four of your first five can be a death sentence, casting you into a deep hole before the season truly begins. At the very least, it can be a sign of things to come.
Life, however, is different in the NFC East.
Despite being the lone NFL division to feature four Super Bowl winners (including the most recent winners), the East has looked like anything but championship material this year. After a Week 5 showing where each of the quartet lost, in either heartbreaking or humiliating fashion, the cumulative record stands at 7-12, by far the worst in the league. Each team's sob story is perhaps more pathetic than the last.
The Washington Redskins, on the wrong side of history on Monday night, lead the group with a 2-2 mark, a surprising win over Green Bay perhaps being the division's crowning achievement thus far. The Dallas Cowboys seem destined for yet another year of hyped mediocrity, dropping to 2-3 after an avoidable overtime loss to the Houston Texans in prime time. Even the Super Bowl champion Philadelphia Eagles are 2-3 and reeling, their showstopping offense failing to move the ball for their championship defense.
As a result, the 1-4 Giants have just as much of a shot at the playoffs as, say, the recognized contenders from Green Bay and Jacksonville.
How can they pull it off?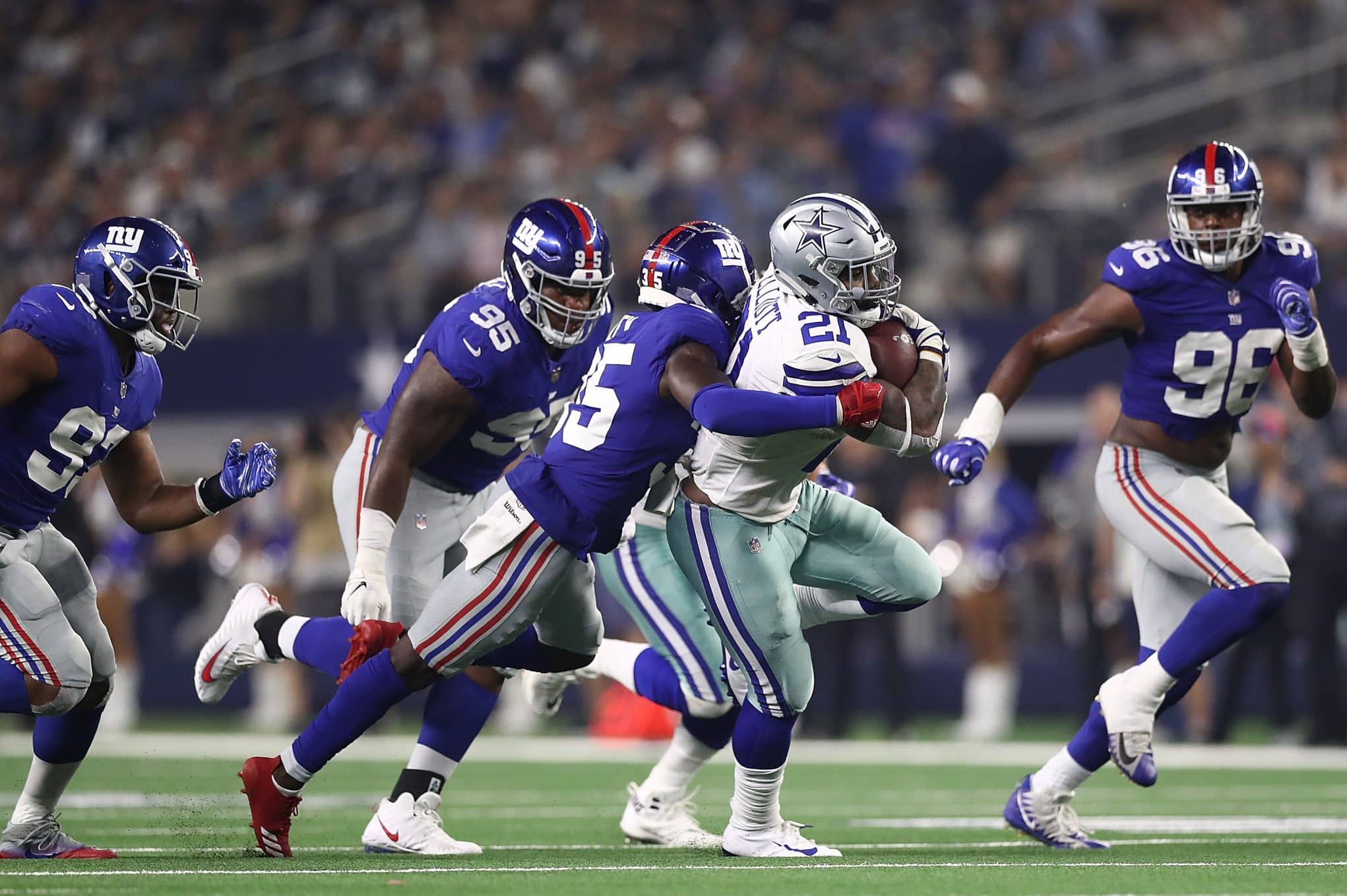 Feast on the East
Obviously, the Giants can't control what the Cowboys, Redskins, and Eagles do, with one exception: When they play against those respective opponents.
Their competition's incompetence has been mostly of their own doing, but the Giants can definitely add to that when they square off against their divisional foes later this year. A Week 2 prime time loss to the Dallas Cowboys was ugly, but the Giants' have five more chances to earn divisional wins over their final 11 regular season weeks. Thursday's game against the Eagles (8:20 p.m., Fox/NFL Network/Amazone Prime) might as well be a playoff game in October.
This season in Giants history is similar to the 2015 season, a year that saw the Redskins win the division with a 9-7 mark after the favorites in Dallas lost Tony Romo to injury. The Giants had a prime opportunity to steal the crown, entering their late Week 11 bye with a 5-5 mark after a narrow loss to New England that, frankly, might've been taken from them thanks to some NFL catch rules chicanery.
However, a brutal 1-5 finish, one that began with a narrow 20-14 loss to Washington, kept the Giants on the outside looking in. The NFC East is a bad division. The Giants, therefore, must take advantage of the bad teams whenever they can.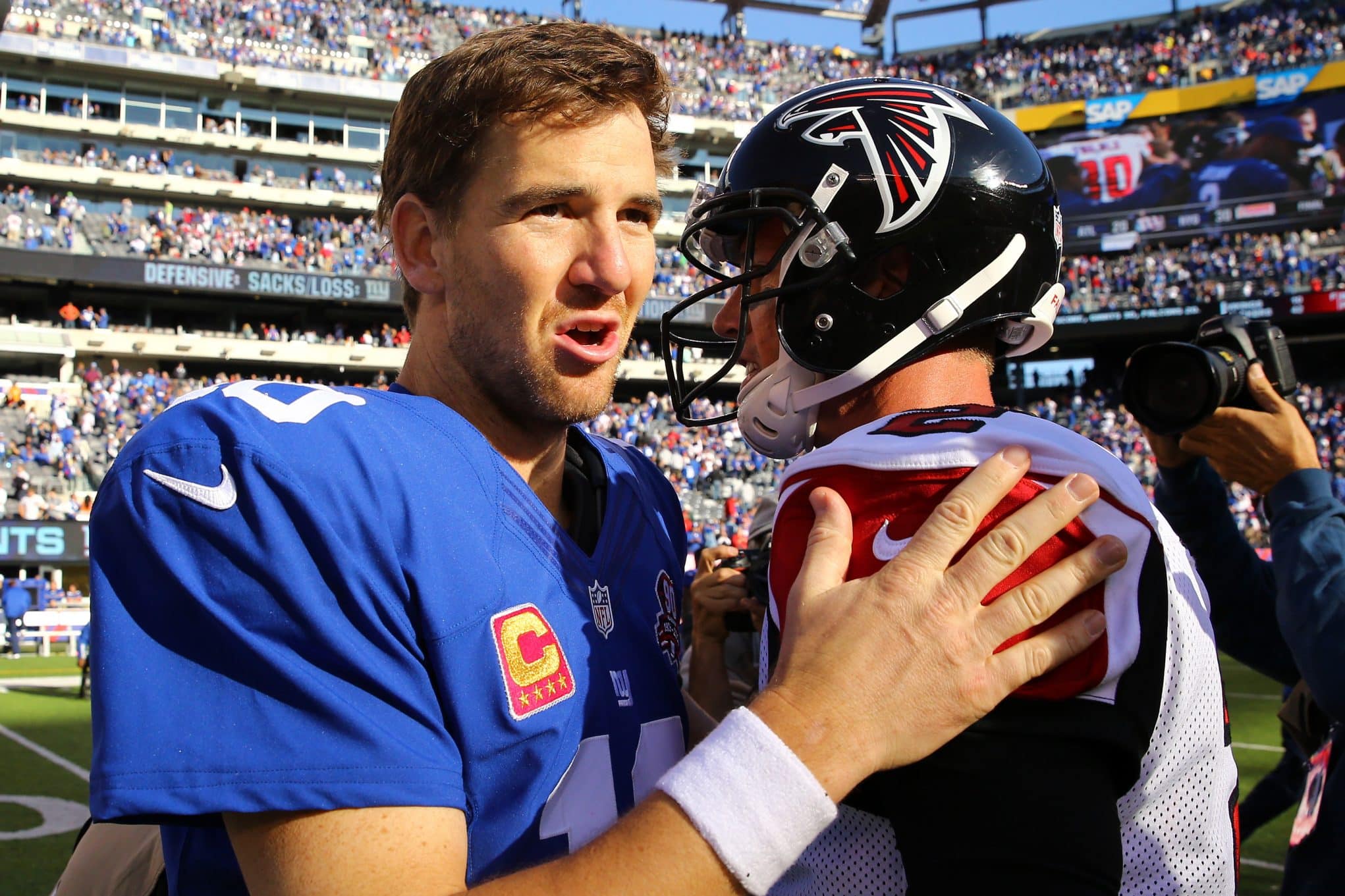 Take Care of Business
The Giants have plenty of winnable games over their final 11, even discounting those five East games. In fact, at this time, the Giants face just two teams with an outright winning record, and both of those games will be at home (Chicago and Tennessee in Weeks 13 and 15 respectively). After the Philadelphia game, the Giants get 11 days off before facing a reeling Atlanta team in a Monday night road game. After a short week leading into a visit from Washington, they get 15 days off to prepare for another road Monday nighter, their bye week preceding a prime time trip to San Francisco.
For the Giants, the playoffs start now. These are all winnable games, and, should they wish to capitalize on this most unusual opportunity, they can't afford a throwaway loss.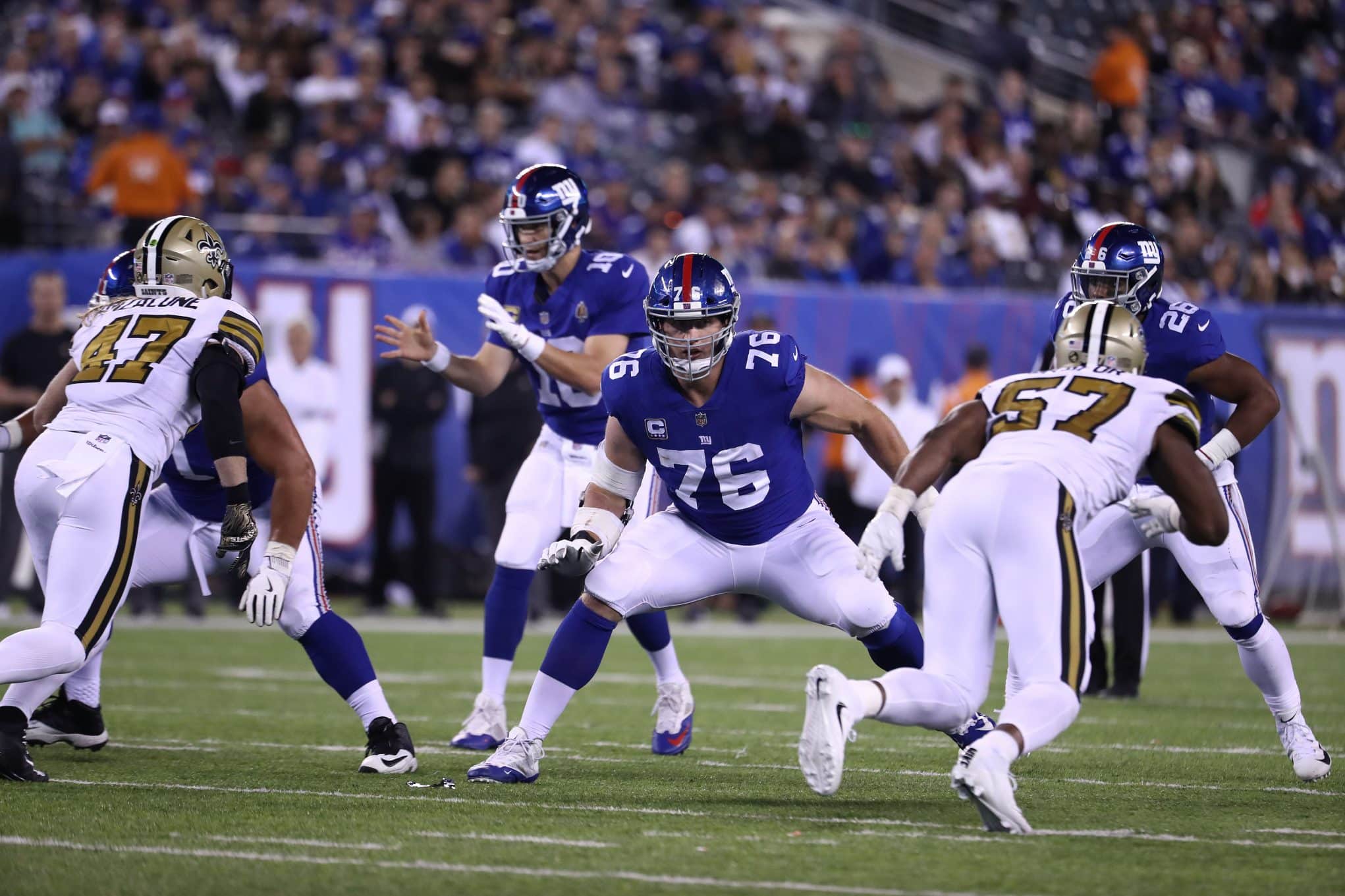 Building Blocks
The Ereck Flowers era is officially over. The former first-round pick had his share of problems but was often used as an excuse to blanket all of the Giants' blocking woes. With his dismissal, it's time for others to rise up.
Surviving on the right side of the offensive line is guard Patrick Omameh, who has not lived up to the $15 million deal rewarded to him last offseason. He currently ranks 54th in Pro Football Focus' league-wide guard rankings. Now working next to him is Chad Wheeler, who has held Flowers' former duties since Week 3 in Houston. A touted 2017 undrafted free agent, the Giants have had high hopes for Wheeler, and, now fully entrenched in the starting lineup, it's time for him to reward that faith.
Meanwhile, Omameh's fellow newcomer Nate Solder has fared slightly better, recovering from a slow start. Veteran John Greco has been a pleasant surprise at center since Jon Halapio went down, while Will Hernandez has been as mean as advertised. Pat Shurmur has been pleased with the line's progress, but they'll have to become an elite unit to make any sort of postseason push.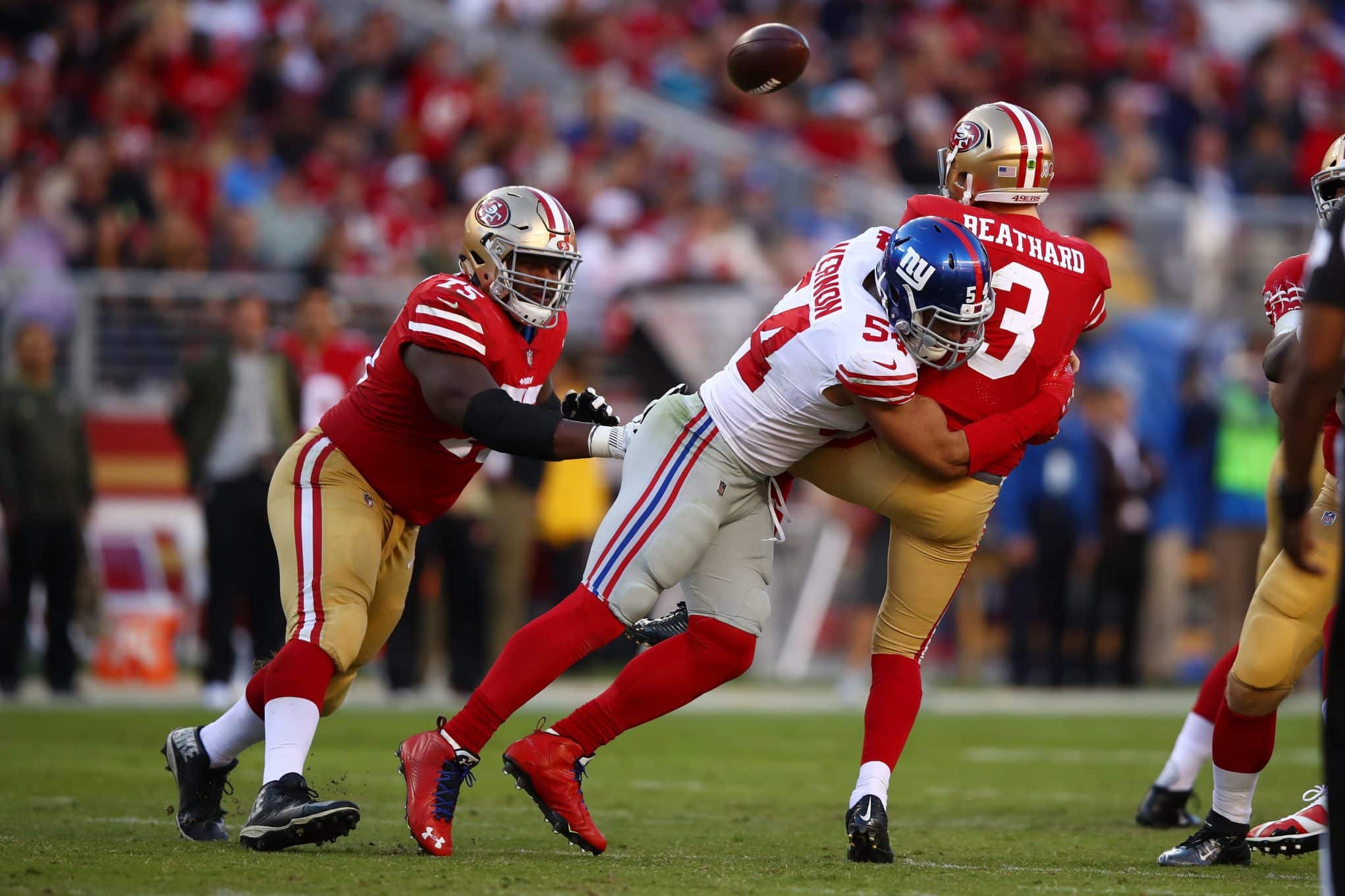 Back to Sacks
Visions of New York Giants, Michael Strahan and Lawrence Taylor leading the way, have constantly haunted the nightmares of opposing quarterbacks. Lately, however, throwers are sleeping soundly. The modern-day Giants have tallied just six sacks through five games, tied for dead-last in football with Oakland.
With Olivier Vernon back in the lineup, the Giants are hoping to bring back a pass rush that has been denied to them in the early portions of the year. Under a proper pressure, the Giants may finally be able to work defensive coordinator James Bettcher's new 3-4 set to the best of their abilities. Vernon's first game will come against a struggling Carson Wentz, who has had trouble regaining his pre-injury form. With rain expected in the East Rutherford era, the Giants have to create a storm of their own to make their guests as unwelcome as possible.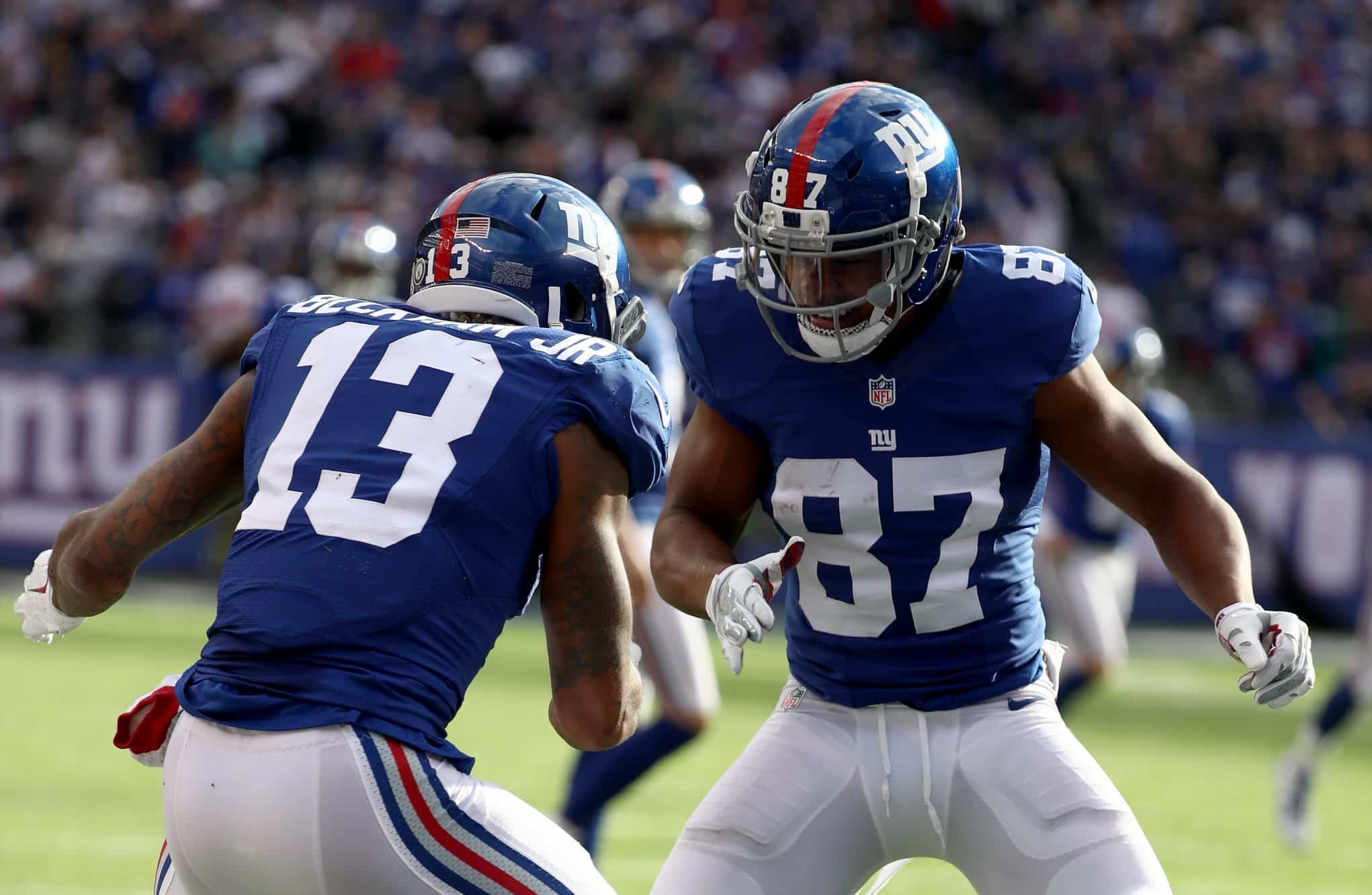 We No Drama
Odell Beckham Jr. shook off several OBJ stereotypes this offseason, displaying an improved work ethic and a better attitude. The Giants rewarded him with a massive contract extension, but shades of ill-advised Beckham antics were on display in the highly publicized ESPN interview featuring rapper Lil Wayne at his side. Further dramatics were visible on the sidelines during last Sunday's loss in Carolina, when a frustrated Sterling Shepard tossed a garbage can after an untimely interception.
This can't happen if the Giants hope to generate momentum.
A house divided against itself cannot stand, and the Giants need to tone the antics and devote their focus on football. Silly and surreal as the Giants "beef" with Lil Wayne has become, it's nothing they can't recover from, something can quickly be cast aside for the sake of football. It's up to Shurmur to rally his team together, making sure the team is all-in on another trip to the postseason, improbable as it may be. Eastern incompetency has granted them a second chance, a chance to right wrongs and recover. They can create long-term trust if they band together to take it.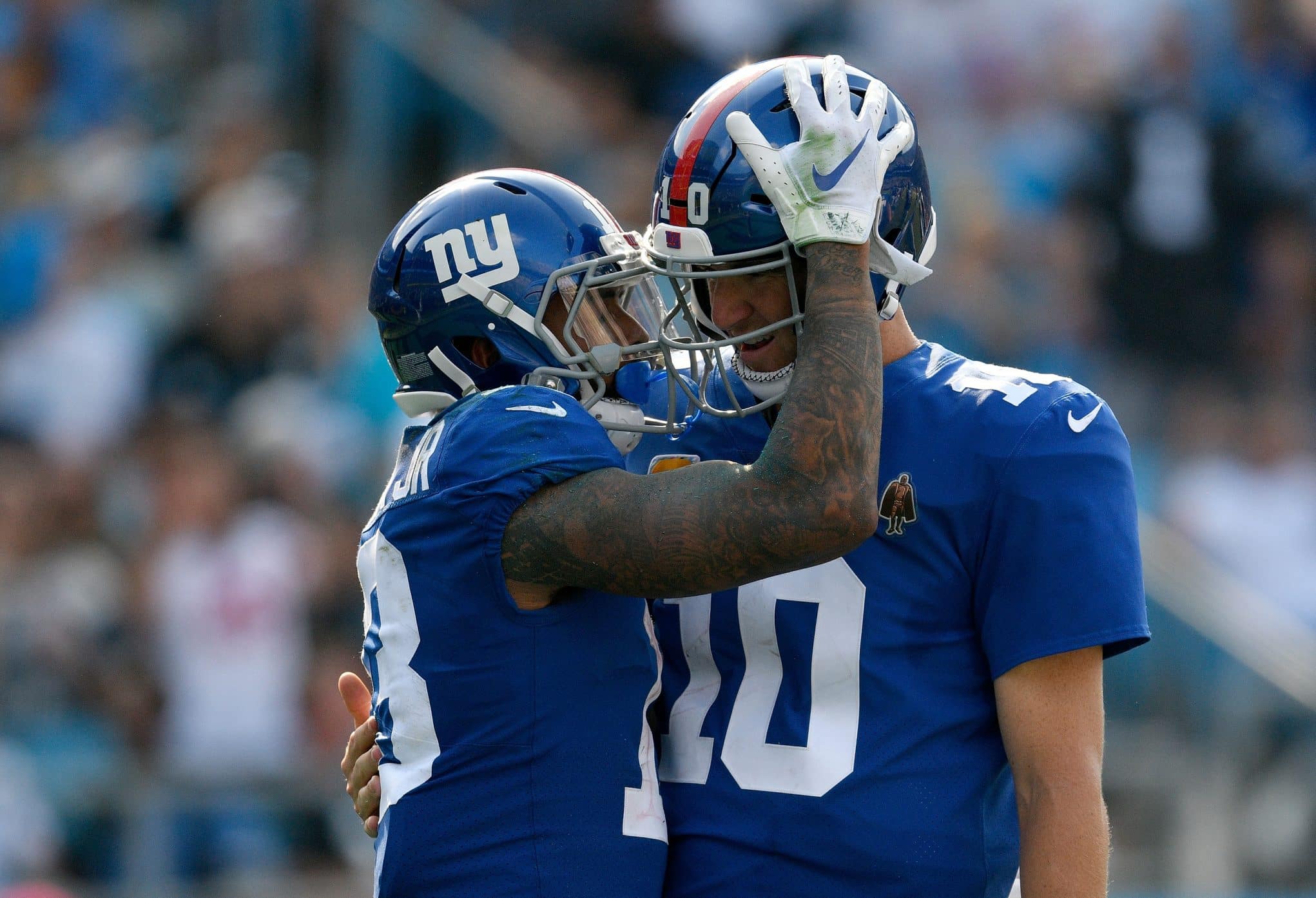 He's the Manning
Surely you've heard from the Giants' rookie quarterback cult, but Eli Manning is the only realistic option to quarterback the Giants. Therefore, it's time for Manning to start fulfilling the Giants' faith in him.
Manning is nowhere near the worst of the Giants' problems, but he's certainly part of the 1-4 opening. He threw some crucial interceptions in the most recent loss, ones that nearly cost the Giants the game, and several crucial overthrows, some of which were intended for Beckham, have been troubling as well.
Recently, however, Manning has begun to renew faith.
The Giants' lone win this season was punctuated by Manning brilliance, as a drive that featured six Manning completions for 76 yards (with no misfires), capped off the Giants narrow 27-22 victory over the Texans. Against Carolina, Manning again had another perfect final drive in a crucial situation, completing four passes for 75 yards to give the Giants a late lead before Graham Gano's ridiculously long winner send Charlotte into hysterics.
With many in the tri-state area calling for his dismissal, whether it's later this year or when his contract expires after 2019, Manning has made a whole career of playing his best football when half the region is begging for him to leave. Can he do it one last time in a winnable situation?
Follow Geoff Magliocchetti on TWITTER