Saquon Barkley and Sam Darnold are only two games into their NFL careers, and the comparisons are already insufferable. For now, let them be.

Two weeks into his NFL career, it appears Saquon Barkley's New York legacy will be defined not by how many yards or touchdowns he tallies as the New York Giants' running back, but by a factor far beyond his control: the play of New York Jets quarterback Sam Darnold.
By virtue of having his name called minutes before Darnold's at April 2018's NFL Draft, Barkley's career is forever linked to his former Rose Bowl opponent, as the Giants showed their trust in the young rusher, bypassing a potential Eli Manning successor, whether it was Darnold, Josh Rosen, Josh Allen or Lamar Jackson.
In today's world of instant gratification, a fire given life by the fuel known as social media, every Darnold completion is going to draw the ire of Giants fans and pundits who wanted to draft the heir to the Manning throne with the second overall pick used to take Barkley. The Giants, unlikely the perennial early choosers in Cleveland, were in rare territory picking that high, so the selection had to be someone who would be an integral part of the franchise for a decade … at the very least.
Through two games, Barkley has shown he has the potential to be that man. With a majority of Week 2's action completed, Barkley has thrived, as he is currently tied with Cincinnati sophomore for fourth in all-purpose yards amongst running backs, rookie or veteran (236). The Giants' offensive line has left much to be desired, keeping up their disastrous 2017 ways despite several pricey additions, but that only showcases the type of athlete Barkley is.
His first career NFL touchdown, a 68-yard rush to glory against the touted Jacksonville Jaguars defense, was largely a singular effort, breaking several tackles and cutting across the field before emerging to daylight. It's obviously early to determine, but Barkley's efforts have the makings of an athlete that can revitalize the New York football landscape.
All in all, the touchdown did accumulate more than half of Barkley's final rushing tally, earning 38 yards on 17 other carries. Nonetheless, hope was alive for Barkley after the game, a narrow 20-15 loss against the defending AFC finalists.
However, Barkley's efforts were almost instantly forgotten less than 30 hours later, with the New York Jets' opening Monday victory.
To cap off the commencement of 2018 regular season play, Darnold, like Barkley, posted mostly pedestrian numbers (16-21, 198 yards, two touchdowns, one interception), but a blowout Jets victory, to the tune of 48-17, turned a green tide against the Giants' decision. There was regret from Giants fans and mockery from Jets fans, as the two performances were relentlessly discussed.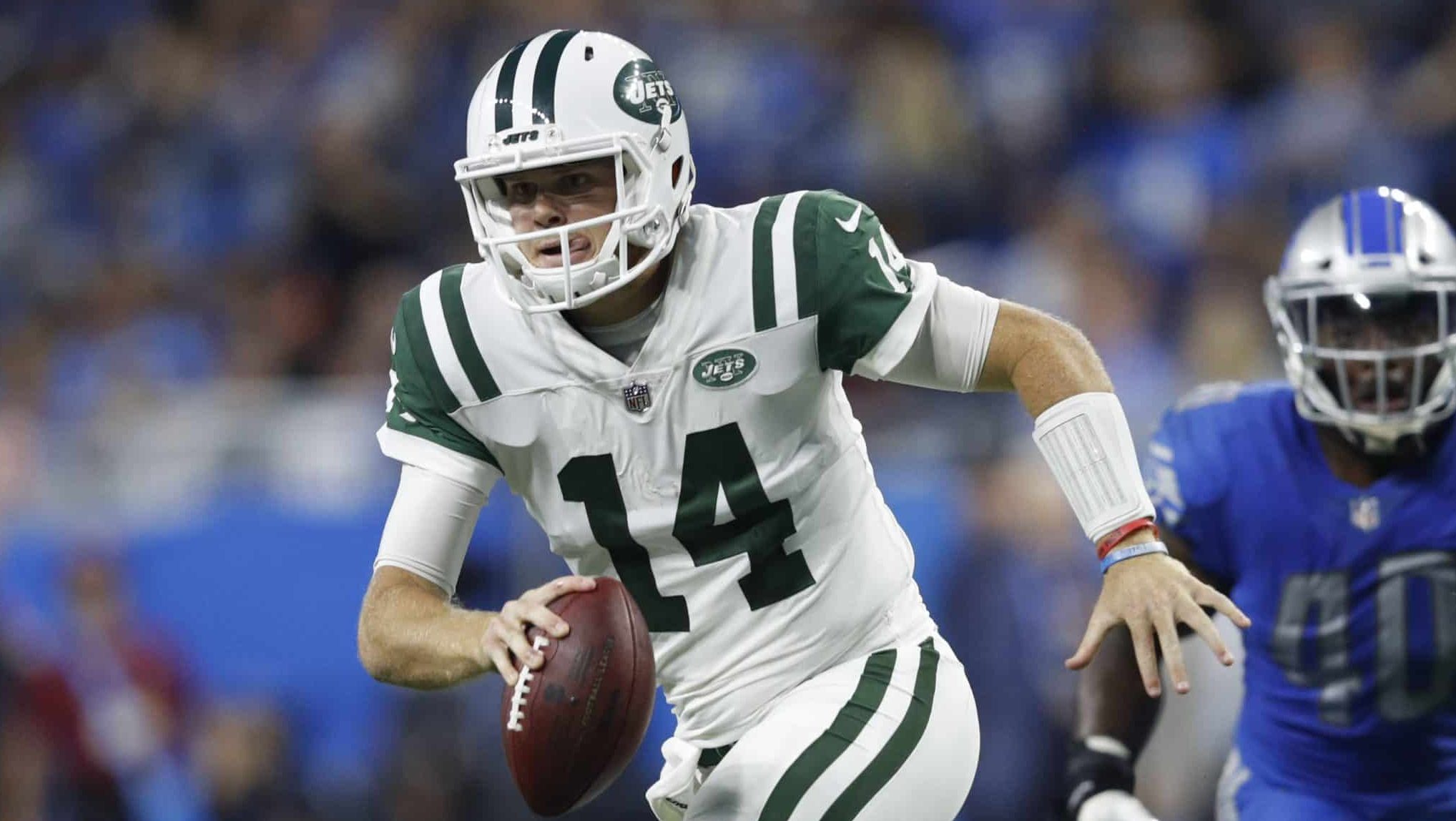 Week 2 has furthered the comparisons, which each rookie doing their part in a losing effort. Darnold threw for 334 yards, but his inconsistent posting (25-41, 1 touchdown, 2 interceptions) was part of an overall disappointing team effort from the Jets, who fell 20-12 to the Miami Dolphins. In Dallas, Barkley's opportunities against the Cowboys were limited on the ground, carrying just 11 times for 28 yards, but he earned 14 receptions, totaling 80 yards. The result, however, was another Giants loss, a 20-13 defeat.
The critical reception, however, was still affected by the play of someone other than Barkley himself. This time, in a shocking twist, it was a player on his own team that caused the regret of his selection.
Through two weeks of action, Manning's twilight appears to be approaching faster than a December sunset, causing the cult of quarterback worshippers to feel vindicated. Entering Monday night's game, Manning's 84.5 passer rating is 21st amongst qualifying throwers, and his 6.2 yards per attempt ranks 26th. With strong quarterback play essential to succeeding in 2018 NFL football, Manning's inconsistency has pushed Barkley's multi-faceted talents to the backburner, the future now in doubt by declining a rookie quarterback in the opening round.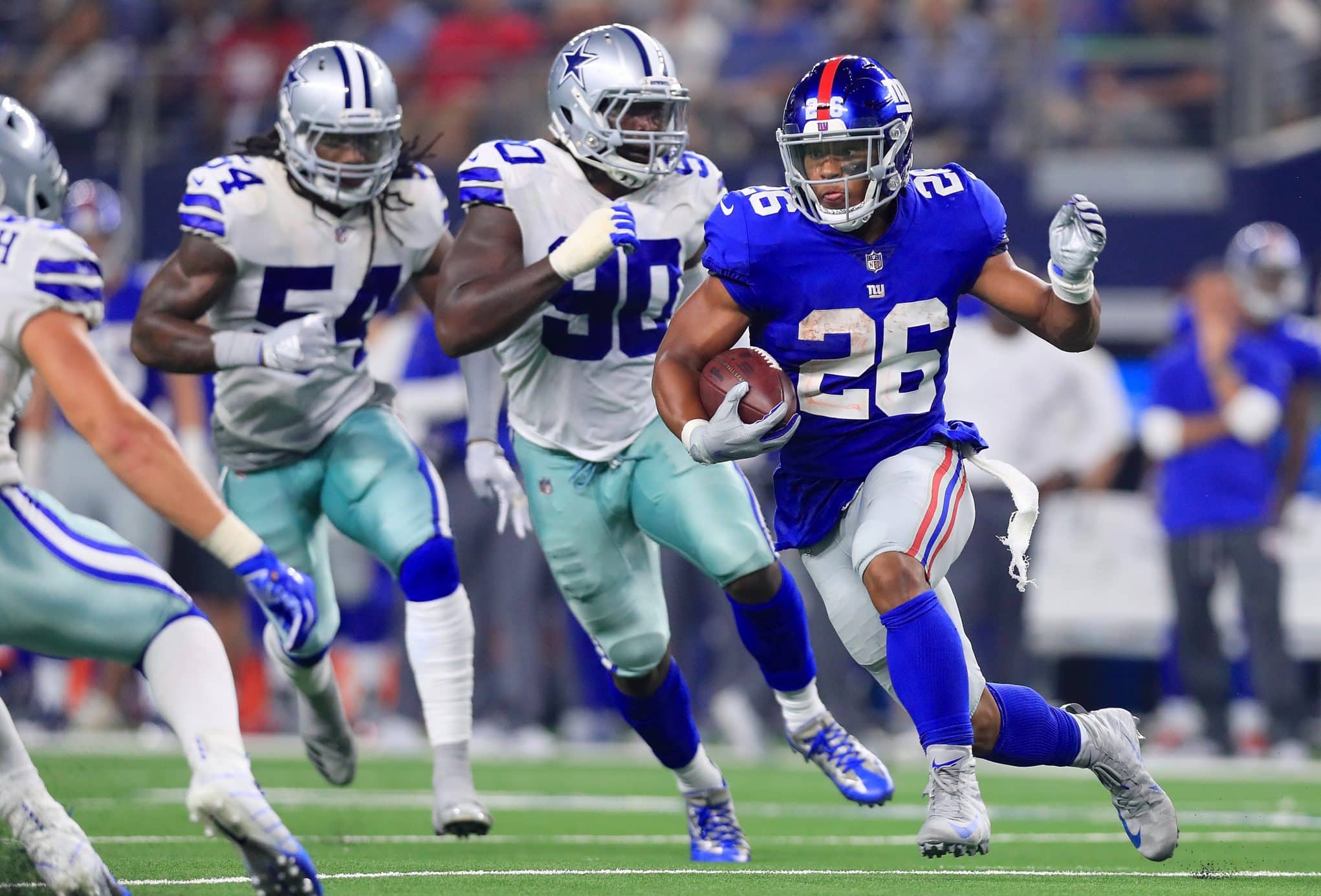 The constant comparisons, instant response, and never-ending hindsight probably won't be going anywhere, if only because the concept generate strong ratings and button clicks. But for the betterment of Barkley and Darnold's careers, the arguments should be curtailed, as least at the onset of their respective New York tenures.
Barkley, in particular, is hindered by the discussions, if only because of his more vulnerable situation. He wasn't the one, for example, who decided to embark on an offensive line spending spree, one that has mostly gone for naught in the early going. For example, newcomers Nate Solder and Patrick Omameh, accounting for $6.8 million of the team's 2018 salary cap, have been disappointments through the first couple.
It wasn't Barkley's choice to pay the disappointing veterans, nor was it his option to trust a 37-year-old Manning. In fact, when it comes to the latter, Barkley is perhaps vindicating the choice to hand the offensive reigns to Manning for another year with his strong play. 2018's quarterback class was rife with talent, but also infested with red flags from each of the touted prospects. Darnold's propensity for turnovers, for example, has been on display in the early going. A dynamic running back can work wonders for teams, as Ezekiel Elliott and Todd Gurley.
Quarterbacks will surely be available at future times. Options next season, for example, could include impending free agent Teddy Bridgewater, who proved he still has starting-level talents this preseason with the Jets, or rookies Drew Lock from Missouri or Justin Herbert of Oregon. For all the Giants know, Kyle Lauletta, chosen in the fourth round in April, could wind up being the successor to Manning, long-shot it may be. With Barkley, as well as recent extension-signer Odell Beckham Jr. in tow, the Manning heir has further weapons to work with.
The comparisons don't help Darnold, either. Being the latest in a line of potential Jets brings pressure right from the get-go. Darnold has to succeed in a position where names like Brett Favre, Chad Pennington, Mark Sanchez, and Geno Smith, each with a level of football success and hype prior to their New York arrival, have failed. He can't be held responsible for not only besting an opponent every Sunday, but also has to apparently hold the irrelevant job of proving the Giants wrong, which Jets fans value like gold.
Barkley and Darnold may share the same home stadium, but are likely separated by hundreds of miles when their teams play. Trash talk between fans has gotten louder and wider thanks to the advent of texting and social media, but, in this special case, it may be best for the constituents of each side to tone it down. It remains shocking that it needs to be said, but let Barkley be Barkley and Darnold be Darnold. It's hard enough facing teams like the Philadelphia Eagles and New England Patriots twice a year, and Barkley and Darnold will each have the first couple later this season. It's not right of New York to pit the two against each other 16 times a year as well.
Rest assured, debaters on both the professional and amateur level, there will come a day when it's suitable to be nostalgic, to look back on the history of the two draft picks, to fully analyze who was right and who was wrong.
Two weeks into their respective careers is not that time.
Follow Geoff Magliocchetti on TWITTER