The New York Rangers enter camp with 53 players. Some will be in the long-term plans, others won't. See where every player stands.

The New York Rangers have begun training camp, and for the first time in a long time are looking more towards the future than the present. Not all of the 53 players in training camp will be part of the long-term prospects of the organization.
The team will need to decide who in the organization is part of the long-term plans, who is trade bait, and who is just here. This piece will break down what the team should do with each player in camp.
Note that this piece is only looking at players in camp, so prospects like Igor Shestyorkin and K'Andre Miller will not appear on here. This is focused on who is currently with the team.
Lias Andersson
Lias Andersson, the team's seventh overall pick in 2017, leads off the list. Andersson will be competing for a center spot on the team this year as a 19-year-old, and had a nice season in Hartford last year, putting up 14 points in 25 games.
While a very safe prospect, he is also a player who maybe lacks top-tier upside. He does everything well but, doesn't excel at anything. According to his Dobber Prospects profile, "Andersson may lack the offensive ceiling as many other first round picks, but his NHL certainty is very high"
He's a safe prospect and can be a long-term piece for the Rangers. However, down the road, the team could consider using him in a package to acquire a top-tier player that could help them win. But for now, he's a long-term factor.
Matt Beleskey
Matt Beleskey came over in a trade from the Boston Bruins due to salary cap issues. He isn't a factor in the long-term plans of the team and has no trade value. Could land with the Hartford Wolf Pack again.
Pavel Buchnevich
Pavel Buchnevich has a big chance this season.
He has shown plenty of flashes but found himself inexplicably buried in the lineup by Alain Vigneault. However, he should get regular top-six minutes under David Quinn.
He's in the final year of his entry-level contract and should prove that with regular minutes he will be a major factor on the Rangers for years to come.
Bobby Butler
He was signed to provide depth for Hartford and hasn't appeared in an NHL game since 2014 with the Florida Panthers.
Filip Chytil
Filip Chytil was the Rangers other first-round picks in 2017 and flashed special talent in his nine games with the team. He's only 19 and showed tremendous vision when passing the puck. His defensive game needs to improve, but that isn't uncommon for young players, especially forwards.
He should be an important piece for the Rangers for years to come and even has the potential to be a top line center if he can continue to hone his vision.
Jesper Fast
Fan favorite Jesper Fast bounced up-and-down the lineup under Vigneault but, is best suited as a shut-down defensive forward in the low end of the lineup. He can be counted on for 25-35 points in a typical year.
While having a player like that is very important, there are a number of players that are capable of doing it. There's no reason to shop Fast in a trade, but there's no reason to force him into the long-term plans either. If the team trades him, it will probably be as part of a package for a higher pick or for a player.
This would be more likely to happen after the upcoming season. Ultimately, he's a good but replaceable player.
Steven Fogarty, Gabriel Fontaine
Neither are going to be part of the team's long-term plans, as both will probably top out as AHL players. Fontaine is 21 so he still has room to grow, but his absolute ceiling is as a bottom line player. Expect both to fill out the lineup in Hartford.
Tim Gettinger
Gettinger is an interesting prospect. A fifth-round pick, he has impressed since being drafted, including last season when he put up 69 points in 66 games in the OHL. He could move to Hartford this season.
He's a big-bodied player (6-foot-6) with the ability to get to the front of the net, which there is always a place for in the NHL. If he can translate his scoring touch (two straight 30-goal seasons) to the next level, he could find himself as a third line player in the NHL.
The Rangers are best off keeping him and hoping he develops into that, as it's unlikely that many teams around the league are willing to bet on him as the main piece in a trade.
Ryan Gropp
Ryan Gropp had a disappointing first year in Hartford, scoring only 14 goals, finishing with 21 points. The former second-round pick will be hoping to have a strong bounce-back year and prove that he can be a solid piece in the middle six going forward.
Kevin Hayes
The question around Kevin Hayes at this point appears to be when will he be traded, not will he be traded. He will be an unrestricted free agent after this season, and the team was unwilling to commit to him long-term.
This isn't a bad thing. Hayes has shown that his ceiling is an average second line player, and he was rumored to want upwards of $6 Million annually as part of a long-term contract. I have previously spoken about why, not only should the Rangers trade Hayes, they shouldn't hesitate to do it early in the season.
Simply put, the pieces he's likely to bring back will be more valuable than what he brings to the table.
Peter Holland
Peter Holland is a depth player. He could see time if the Rangers decide that they want a veteran centering the fourth line rather than one of their young players, but he's not a part of the long-term plans.
Brett Howden
Howden came over in the trade for Ryan McDonagh, and while I was underwhelmed by him at first, he had great numbers in the WHL last season, putting up 75 points in only 49 games. With play like that, he's forcing himself into the conversation as a player that could help the Rangers a lot long-term.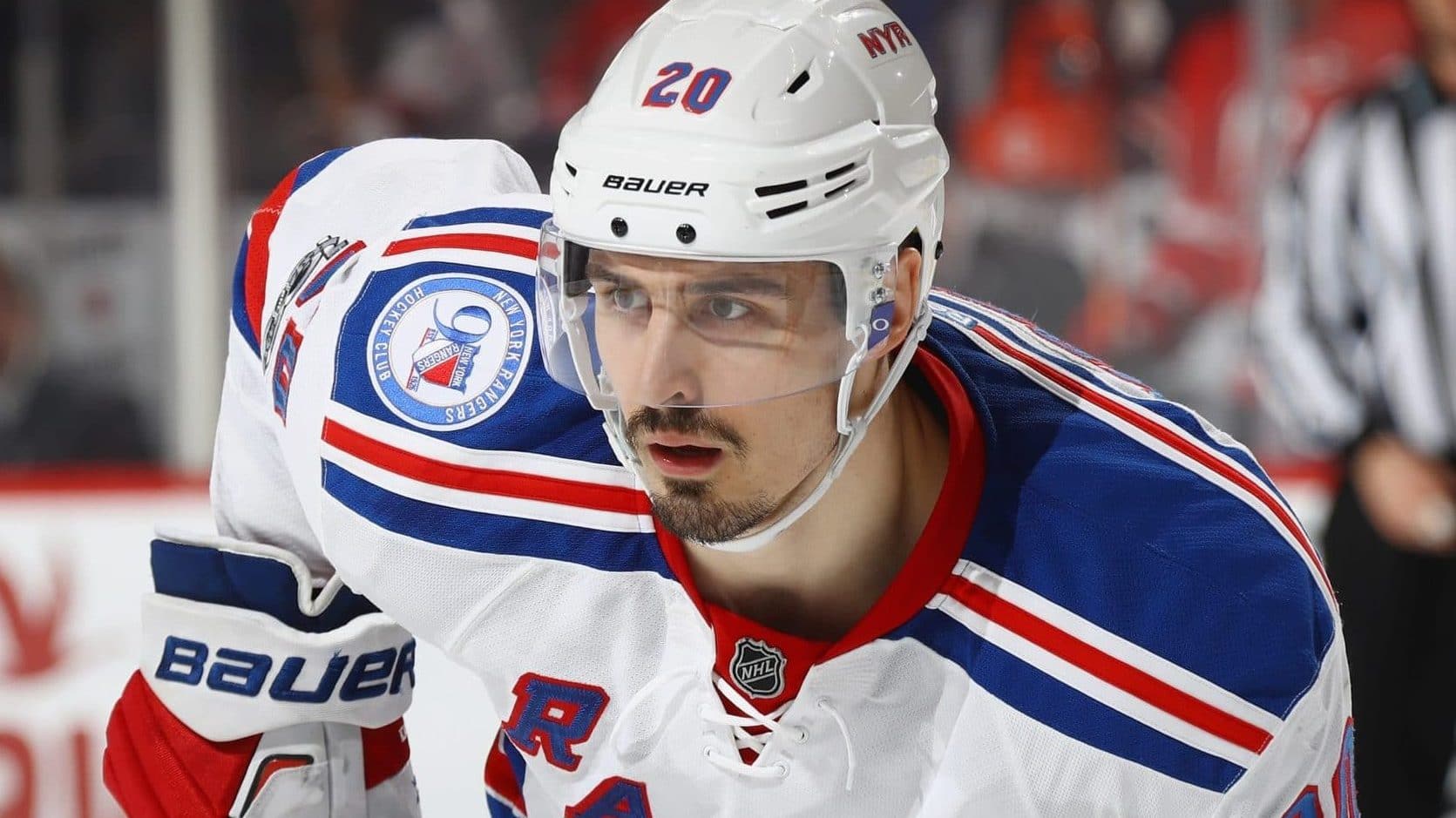 Chris Kreider
At this point, it's fair to wonder if Chris Kreider will ever be able to put together his significant gifts for a full season. However, he's playing at a lighter weight and he looked to be a different player upon his return from rib resection surgery.
It seems to be said every year, but this could be a breakout year for Kreider. If it isn't, it could be time to consider what the team can get for him in a trade.
Dawson Leedahl, Vinni Lettieri
Both are undrafted players still looking to show the Rangers they can play a role for the team. Vinni Lettieri got a 19 game cameo last season and showed a willingness to shoot the puck, which is something the Rangers have lacked in recent years. Don't expect a ton from either of them, but neither can be completely written off either.
Michael Lindqvist
Lindqvist tore up the Swedish League last year, putting up 34 points in 33 games before being signed as an undrafted free agent. Now he needs to show that he can produce on the smaller North American rinks. Not a long-term factor yet, but is worth keeping an eye on.
Cody McLeod
Cody McLeod was waived by the Predators last season, before joining the Rangers. He's here as a placeholder in case the team needs somebody to plug in. He's not a part of the long-term plans, and if he is then the Rangers are in a lot of trouble.
Ville Meskanen
Meskanen is another former undrafted player who had a breakout year in Europe, scoring 44 points in 48 Liiga games. He's similar to Lindqvist in that he needs to show that he can handle the smaller ice surface.
Vladislav Namestnikov
Vladislav Namestnikov produced only four points in 19 games after being traded to the Rangers, which is a big drop from his production with the Lighting while playing with Steven Stamkos and Nikita Kucherov.
He's never reached 50 points in an NHL season. While a strong middle six forward, he doesn't appear to be the top tier scoring threat the Rangers were hoping for.
Cole Schneider
He's a 28-year-old who has appeared in six NHL games. Expect him to fill out the lineup in Hartford.
Ryan Spooner
Ryan Spooner is a perfectly average 40 point per year player who had a great run after joining the Rangers after a trade with the Bruins (16 points in 20 games).
If the Rangers can find a team that was fooled into thinking that's who he is they would be foolish not to sell now while his value is higher than his ability.
Jimmy Vesey
Jimmy Vesey, while young, has had two almost identical seasons. After scoring 16 goals as a rookie, he put home 17 last year, with 11 assists each year. Quite simply he's a fourth line forward, and it would not hurt the Rangers should they include him in a trade.
Mika Zibanejad
Mika Zibanejad is signed through 2022, making him a part of the Rangers' future.
He's had two straight years with the Rangers where he's looked on the cusp of a breakout, while injuries kept him down. He'll take a third crack at it this season, and should he show he can stay healthy, he has a chance to prove him and his strong right-handed shot are worth the investment.
Mats Zuccarello
Mats Zuccarello is a fan favorite but, is also 31 and in the final year of his contract.
The diminutive forward has become loved for his combination of skill and grit and is a great player in the locker room. However, the Rangers could move him at the deadline, even if they decide to bring him back as a free agent.
Ultimately, with the team in a rebuild, he is unlikely to find himself as a large part of the team's future.
Chris Bigras
Picked up for Ryan Graves last season, he's organizational depth and is expected to play at Hartford. He provides no real long-term value.
Fredrick Claesson
Claesson was signed after spending parts of three years with the Ottawa Senators. He'll be looking to earn a third pair spot on the team, and could find himself traded at the deadline to a team that is looking to add to their defensive depth.
Brandon Crawley
Crawley is a big stay at home defenseman that the team drafted in the fourth round in 2017. He'll need to show the team some offensive upside or risk being squeezed out of future plans.
Sean Day
Sean Day had a strong year in the OHL last season, producing 47 points in 50 games. He fell in the 2016 draft to the third round but he has a very high ceiling and has shown early signs of being a steal for the Rangers.
He'll probably play in Hartford this season but expect to see him play a big role for the Rangers at some point.
Tony DeAngelo
This is going to be a big season for Tony DeAngelo. He struggled to start last season but looked strong during his second stint before suffering an injury.
He has a ton of offensive upside but needs to continue to build on his defensive game. But, he's still too young to give up hope that he will be a strong piece for the Rangers going forward.
John Gilmour
John Gilmour got an extended look after the trade deadline and didn't do a ton to impress with it. He'll get another chance to earn a spot in camp, but he projects as a depth defenseman. He could be part of a trade package.
Nico Gross
Gross was a fourth-round pick in 2018 and will likely be heading back to the OHL. He's not a flashy prospect but has a good hockey IQ and could stick as a middle pair or bottom pair player. Not a superstar but he can be a positive player.
Libor Hajek
Part of the McDonagh return, Hajek had a strong season in juniors and projects as a strong middle pair defenseman. He'll play a role for the Rangers at some point, though likely not this year.
Joey Keane
Keane was drafted 88 overall in June and impressed the coaching staff over the summer. He needs to develop but, there's no doubt that the coaching staff will be hoping that he can develop into a strong piece for them down the road.
Ryan Lindgren
Lindgren is a physical defenseman who is making the transition from college to the NHL. He was picked up in a trade with the Bruins and the team is hopeful that he will be a strong shutdown defenseman in the future, maybe to pair with an offensive defenseman like DeAngelo.
Adam McQuaid
McQuaid was picked up in a trade with the Bruins this week and is in the final year of his contract. He could be flipped for a pick at the deadline and is unlikely to play a role for the franchise long-term.
Rob O'Gara
Rob O'Gara will get a look in camp but didn't show anything special after joining the Rangers last season from the bruins. His ceiling is probably as a depth defenseman.
Vince Pedrie
Pedrie was signed as an undrafted free agent, but is most likely going to be a minor league player. He's not a bad player to have as some organizational depth though.
Neal Pionk
Neal Pionk had a great season for the Rangers after getting called up, putting up 14 points in 28 games and played better defensively than expected. He should carve out a big role for the Rangers this season and beyond.
Kevin Shattenkirk
Kevin Shattenkirk slogged through injuries last season, but is a great offensive defenseman and powerplay quarterback when he's healthy.
His modified no-movement clause makes a trade unlikely, and he's still young enough where he should be able to make an impact in the Rangers next run to the playoffs, especially if the rebuild happens faster than expected, which is a distinct possibility.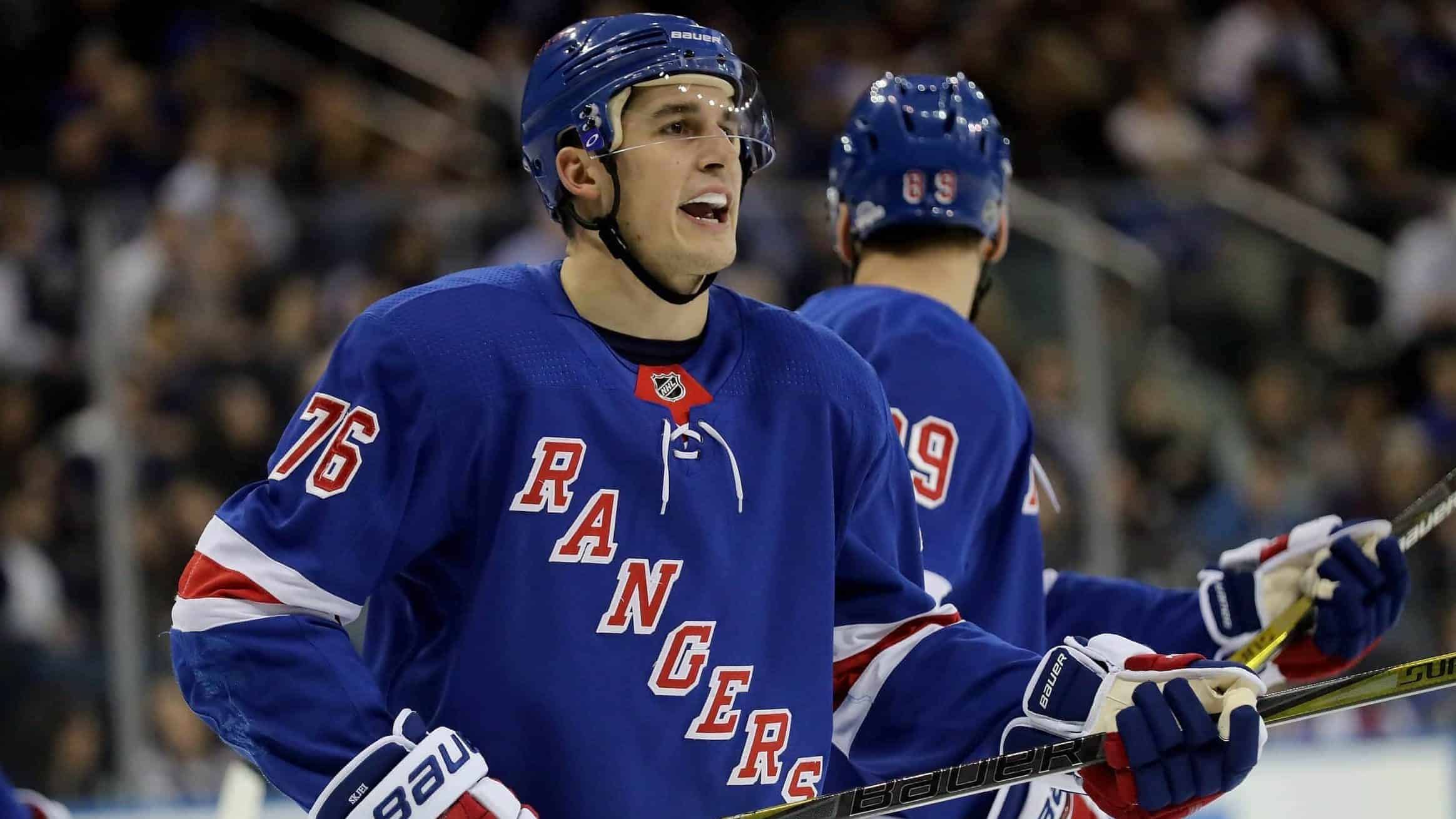 Brady Skjei
The Rangers gave Brady Skjei a six-year contract despite a bit of a sophomore slump. He did put up 39 points in his rookie season and is an immensely talented defenseman. He has a shot to establish himself as the team's top defenseman this season.
Brendan Smith
Brendan Smith had a season to forget last season that ended with him being buried in Hartford.
He'll be hoping for a bounce-back season, and the team will be hoping that he can show enough value where they may be able to move his contract, although that seems somewhat unlikely.
Marc Staal
Marc Staal's contract makes him unmovable but he's also not likely to be a part of the team's long-term plans. He's got two years on his contract after the upcoming season, making him a candidate for a buyout.
Jeremy Brodeur
The son of Devils legend Martin Brodeur, Jeremy Brodeur is hoping to show something in camp. That said, he spent last season in the ECHL and the Rangers have depth at goalie, so he's unlikely to be a large contributor.
Alexandar Georgiev
Alexandar Georgiev is hoping to earn the backup job behind Henrik Lundqvist this season after showing flashes last season. He could be a trade candidate after this season when Shestyorkin comes over from Russia.
Brandon Halverson
Halverson, a former second-round pick, has been jumped on the goalie depth chart by several other prospects and is fighting for his professional hockey career at this point.
Henrik Lundqvist
With Lundqvist's age and the team around him, it is becoming increasingly likely that he will be unable to win the Stanley Cup. That said, he's still a strong goalie, even if he has lost a step.
He is a Rangers legend and still has the talent to steal a couple of games for the team. He can't carry a team to the playoffs but, he is by no means a negative player. His talent and experience will also help Shestyorkin when he makes the jump to North America.
Marek Mazanec
Mazanec was the starter in Hartford last year and is here to give Quinn an option should he want a veteran to back Lundqvist up.
Chris Nell
Nell had a solid but unspectacular first season in the ECHL. He's young but will probably be jumped by Shestyorkin on the depth chart. He could be the backup to him eventually or find himself traded.
Dustin Tokarski
Tokarski was brought in to compete for the backup job, but is essentially a career AHL player.