The New York Rangers just signed Kevin Hayes to a one-year deal, and should now look to trade him sooner rather than later.
The New York Rangers recently came to terms with center Kevin Hayes on a one-year contract. ESNY's Frank Curto correctly states that this will ultimately result in a Hayes-specific trade.
Not only is this the correct move for the franchise, they should look to trade him as soon as they can.
Hayes has become a solid player for the Rangers during his tenure here. He went from a player that then-head coach Alain Vigneault scratched in his second season due to playing poor defense to a player the coach trusted to run the top penalty kill unit.
Over the past two years, Hayes took 60 percent and 63.4 percent of his starts in the defensive zone, signaling that Vigneault trusted him defensively. However, in those two seasons, the Rangers goals allowed number was 211 in 2016-17, and 248 last season after allowing only 181 and 201 goals in his first two seasons.
This isn't to blame Hayes for the spike, but rather to emphasize a point about Hayes defensively. While he took on more defensive responsibility, the team clearly lacked the ability to prevent goals as regularly as they had in previous seasons. Thus, his increase in defensive responsibility is due, in part, to a lack of better options, as opposed to being strictly talent related. He was the best defensive center, in part, by default.
Offensively, Hayes collected 25 goals last season, but it was with an unusually high 14.5 shooting percentage. He had failed to top 12 percent in either of the previous two years, so his shooting percentage should be expected to decline.
He had previously never topped 17 goals, so 20 goals a season would be a reasonable expectation for yearly production. While not bad by any stretch, it isn't a number that blows a team away.
Offensively, he's never reached 50 points. Specifically concerning is that fact that, while his goal-scoring output spiked last season, his assist total dropped to a career low of 19. This is concerning because it suggests a pattern that the scoring chances created while he is on the ice are stagnant.
This is further proved by the fact that three of his four seasons have finished within five points of each other. While remarkably consistent, his high is 49 points, which is fairly pedestrian. While his overall game has grown, his offensive game has remained roughly where it was when he was a rookie.
While a strong defensive center at even strength, his defensive play isn't impactful enough to prevent a startling spike in goals allowed. 20 years ago, his all-around game would have been enough to justify a long-term extension.
So what's changed in those 20 years to make him no longer worth the move? The salary cap was instituted. This is a common theme, as the NHL allows roughly $3.5 million per roster spot, with all contracts being fully guaranteed.
Hayes' deal is for $5.135 million for the one year. He was rumored to be looking for a deal between $5.5 and $6 million, a number that would be likely to climb as he would not have his final year of restricted free agency bought out by a contract signed next offseason.
Additionally, the Rangers are pretty well set up at center. Mika Zibanejad, Filip Chytil and Lias Andersson are all centers, and Vladislav Namestnikov and Ryan Spooner are capable of sliding over and playing up the middle.
Quite simply, a $6 million cap hit for a forward who is above average defensively and average to slightly below average offensively isn't something the Rangers should be chasing. Especially when that player plays at a position of depth.
For reference, Derek Stepan, who regularly put up five to 10 points more than Hayes, was (correctly) viewed as too expensive at his $6.5 million cap-hit.
Trading Hayes will prevent them from locking up a large portion of the salary cap to a player who isn't worth that portion. But why trade him now? Because doing so will maximize the return that the team will get for him.
Hayes' value will only decrease once the season begins, for two reasons.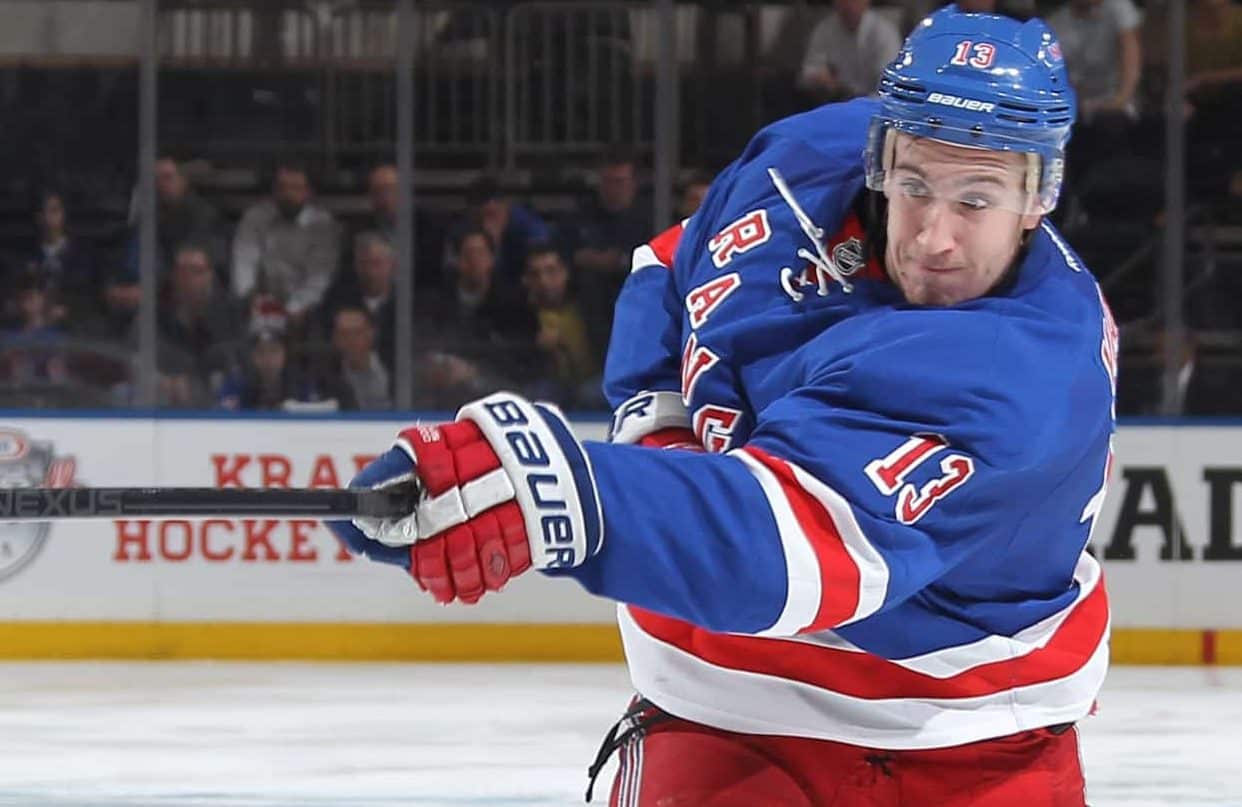 First off, there's the fact that every game he plays with the Rangers is one less game he will play with the team that eventually acquires him in the only year of his contract.
The market for rentals is often depressed, as teams don't want to give up young controllable talent or draft picks to get a player for a couple of months. Thus, the longer a team has Hayes post-trade, the more they'll be willing to give up for him.
The second reason is that, as has already been established, he's unlikely to match or improve upon his 25 goals from last season. However, he's still only 26, so it's possible an opposing team will be willing to take a risk that he will build upon it.
General manager Jeff Gorton can hang that 25 goal season out there and possibly convince another team to expect that production again.
Hayes was highly sought after coming out of college, and if a team regrets failing to get him they could be convinced to overpay. Remember, the opinion of the general managers involved are still very important, even if the numbers don't validate those opinions.
Should Hayes be with the team to start the season and has the regression that is likely, it will hurt his trade value. It's a lot easier to convince a team that a player will carry his prior form into a new season than it is to convince a team that a player will find his game after struggling early.
With Hayes unlikely to play to the form he established last season, his value will go down as the season progresses.
Trading Hayes will prevent the Rangers from overpaying for a middle six player. Trading him now will maximize the return that they get for him.
Follow Billy on TWITTER