Former Giants RB Tiki Barber and C Nick Mangold tell ESNY that each is extremely confident in each's former team heading into 2018. 
Their careers on the field may be over, but Tiki Barber and Nick Mangold were once again in action on Sunday afternoon.
As the first Sunday of the 2018 NFL season kicked off, the two New York football stars descended upon the Pilsner Haus and Biergarten in Hoboken, NJ to partake in the DraftKings Kickoff Bash. The pair was on hand alongside many jovial fans, several of whom bore jerseys repping the names of Barber's New York Giants comrades or Mangold's New York Jets compatriots.
Barber was a late arrival, having served as Fox's sideline reporter and analyst for the Giants' opening game against the Jacksonville Jaguars. Though the Giants fell by a 20-15 final, Barber, who called the game alongside his brother, Super Bowl champion and booth analyst Ronde Barber, is optimistic about the future of the Giants.
"I think they're going to have some growing pains early, but they're going to find their stride," Barber said. "There's so much talent. Even though it was a loss against Jacksonville, I thought they played well. Eli had a good completion percentage, the defense held up, I'm encouraged."
Of particular intrigue in the Giants' opening game was the debut of Saquon Barkley, the second name called at the most recent NFL Draft. Barkley experienced some growing pains in his NFL debut, but managed to post respectable numbers, earning 106 yards on 18 carries. Notably, Barkley closed the game's scoring with a 68-yard touchdown run that narrowed the gap.
Barber, the Giants' all-time leading rusher with 10,449 yards, says Barkley is nothing like the back that he used to be, but that might be for the better.
"He's a combo. He's like Barry (Sanders) in that he's got great breakaway speed, but also power like Adrian Peterson," he said. "He's everything."
Mangold's Jets were not in action, as they partook in the first half of Monday night's NFL doubleheader, defeating the Detroit Lions 48-17. There were plenty of the green faithful on hand to greet Mangold, however, and he fondly recalled his time on the field with New York. Though there was no Jets football to watch, Mangold offered his perspective on the modern-day NFL. Unlike most watchers, Mangold doesn't follow the ball when he watches football, instead keeping an eye on his brothers in blocking on the line.
"When you watch the line play, you see how they're reacting to things, their attitudes, how they finish the play," Mangold rationalized.
Without the Jets on, Mangold, in a perfect bit of synergy, went in on a four-team parlay with DraftKing's new SportsBook feature. He got two of four correct, with one of his correct picks being the Miami Dolphins, one of the Jets' biggest rivals. When the crowd reacted in horror, Mangold remarked he "bet with (his) head, not (his heart)".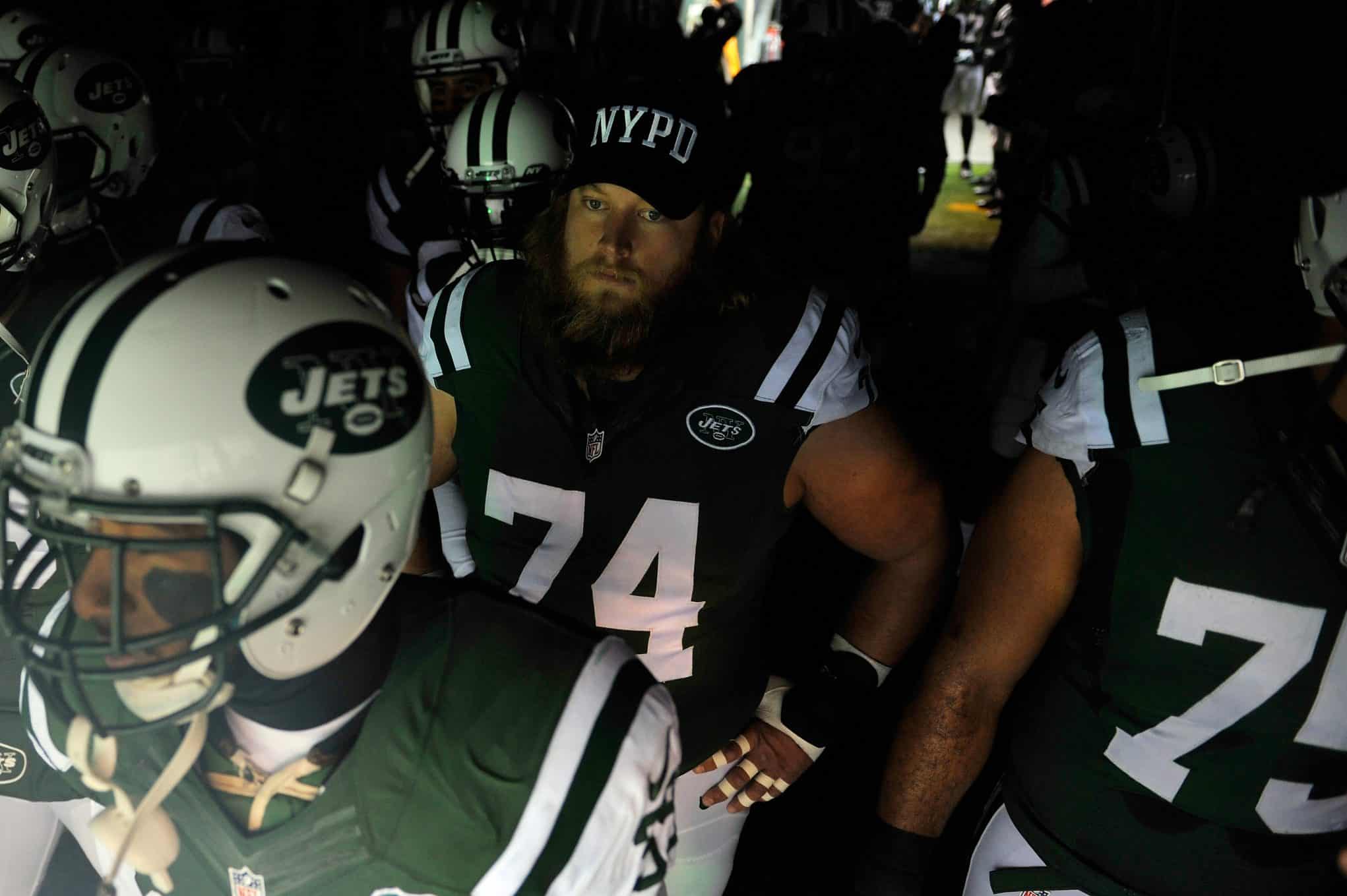 He mentioned that he has "dabbled" in fantasy sports in the past but admitted he's done "terribly".
Mangold couldn't help but smile upon seeing the result of another early game, however, namely the Tampa Bay Buccaneers' shocking 48-40 victory over the New Orleans Saints. The key behind the shocking result was the play of Tampa Bay quarterback Ryan Fitzpatrick, Mangold's teammate and friend over two seasons in green, who threw for 417 yards and four touchdowns, en route to a nearly perfect passer rating of 156.2.
"I saw him out there slinging it. I was excited for him, happy for him because I know he's like a little kid," Mangold said with a smile. "He's out there having fun, he loves the game. I know his boys are probably at the game watching him, so I'm happy for him."
As for the modern-day Jets, Mangold, now a father of three, likewise remains optimistic for his former employers.
"I'm hoping for good things," he said. "(Head coach Todd Bowles) has his plans, he has his players. Hopefully, they all come together."
The ex-center has worked with rookie quarterbacks in the past, including Mark Sanchez and Geno Smith. Though he has yet to speak with the latest would-be quarterback savior in Darnold, Mangold offered his own words of advice for the NFL freshman.
"Obviously, (expectations) skyrocket. One good thing happens, he's, you know the savior of the franchise," Mangold said. "Do your best to block it out. That's all you can ask. It's tough to do, but if you can do that, it will definitely help."
Follow Geoff Magliocchetti on TWITTER