The New York Jets even thinking about entertaining the idea of taking on running back Le'Veon Bell reeks of terrible trouble.
FLORHAM PARK, NEW JERSEY—The moment the 2017 NFL regular season came to its miserable conclusion, Kirk Cousins immediately became the buzzword surrounding the New York Jets campfire. Thankfully, as quick as he was discussed was as quickly as he went—ultimately signing in Minnesota.
As soon as last week, an NFL monster who plays the scarcest NFL position magically became available. Should a team have no issues relenting a king's ransom, he could have been had in immediately changing the face of a defense.
Again, that man came and went (Khalil Mack), this time even faster than the Cousins instance.
Now, it's time to take the moneybag ride in Florham Park, New Jersey once again, this time with a disgruntled star running back who's currently housed 352.5 miles west.
Le'Veon Bell is holding out and the entire NFL world is losing its mind. Stud, star, ridiculous talent skillset and all, if Mike Maccagnan and his boys showcase any interest in acquiring the man, trouble immediately becomes the name of the disastrous game.
The Money Isn't Worth It For A RB
Mr. Bell, 26, is an NFL running back. Case closed. Forget about relenting precious assets via trade. Simply offering Bell a mega-deal this coming spring is a no-no when building a championship football squad.
Just look at the last 10 Super Bowl champs:
2017: Philadelphia Eagles
2016: New England Patriots
2015: Denver Broncos
2014: New England Patriots
2013: Seattle Seahawks
2012: Baltimore Ravens
2011: New York Giants
2010: Green Bay Packers
2009: New Orleans Saints
2008: Pittsburgh Steelers
Which of these champs employed a stud running back? Yes, the Seattle Seahawks showcased BeastMode himself, Marshawn Lynch in 2013.
Who else?
The Philadelphia Eagles used a running back by committee. The New England Patriots … well, forget about it. The Denver Broncos demonstrated a solid running game during the 2015 season while carrying Peyton Manning to the finish line, but it was Von Miller and the pass-rushing demons of the defense that made the most difference. For crying out loud, the New York Giants of 2011 won the Super Bowl while finishing dead last in the NFL in rushing that season with 89.2 yards per contest.
For the most part, these champs employed solid, useful backs. Rarely was it a one-man show and never did they come to the party with a back making the money Le'Veon Bell is asking for. The highest number of the 10 was Lynch's $8.5 million cap hit during that Super Bowl season—nothing compared to Bell's soon-to-be massive payout. (Ray Rice comes in at second with a $5 million hit during the Baltimore Ravens 2012 title season.)
Moreover, only three of the last 10 championship teams included a back who rushed for at least 1,000 yards: LeGarrette Blount in 2016, Marshawn Lynch in 2013 and Ray Rice in 2012. The other guys come at us in the form of Willie Parker, Ahmad Bradshaw, Corey Clement, James White, Brandon Jackson, Reggie Bush, Ronnie Hillman, Corey Clement, Brandon Jacobs, Pierre Thomas and other nice backs whose pay is minimal while serving as one of a committee.
While, of course, Bell does much more than simply rush the ball, the argument will always begin there as it's the most critical of his duties and as it turns out, having a solo big-time rusher isn't critical in the grand scheme of the new NFL.
Perhaps the most interesting aspect of the saga is that Bell's camp has already turned down a massive multi-year deal.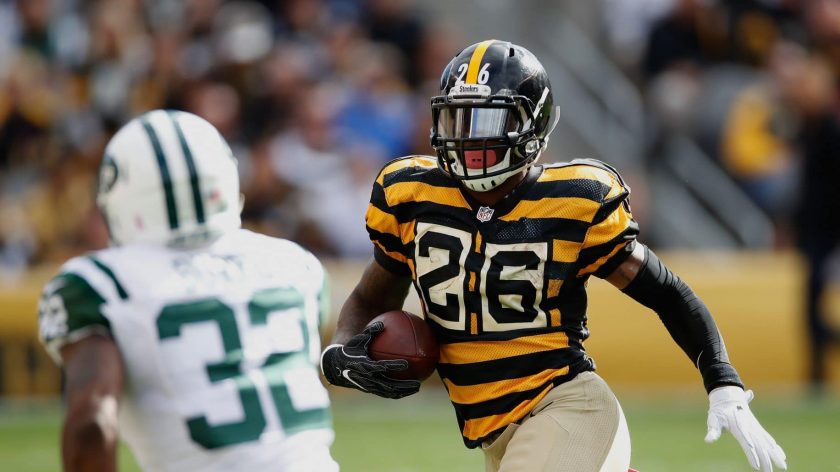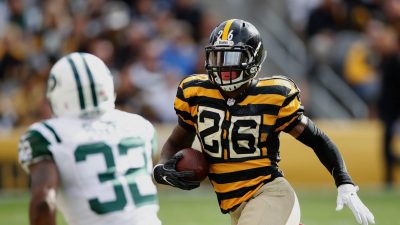 A year ago, Bell rejected a five-year deal that would have paid the Michigan State second-round product more than $12 million annually and over $30 in the first two seasons, according to Ed Bouchette of the Pittsburgh Post-Gazette. Just prior to the July 17 deadline last summer, the team thought they had a deal in place. That was, until, Bell didn't sign.
He wants an annual salary of $15 million. The only other back in that stratosphere is Todd Gurley whose freshly-signed deal puts him at $14.375 million for 2018. The runner-up is Atlanta Falcons back Devonta Freeman with a cool $8.25 million a season.
Bell would be far and away the top paid guy at $14 million-plus if he just signed the franchise tender. In any event, salary-cap championship team-building history proves that it simply doesn't pay to pay running backs in this league.
Screwing Over Teammates When It Wasn't Necessary
Everybody knows the story. Earlier in the offseason, the Pittsburgh Steelers decided to franchise tag their All-Pro back. By signing the tender, Bell would make a guaranteed lot of $14.544 million in 2018. The Steelers took the same course by tagging Bell in 2017 when he raked in a cool $12.12 million.
Despite dangling the holdout idea a year ago, this time around it feels real. Agent Adisa Bakari announced that his client is "going to do the things necessary to protect his value long-term," via Jeremy Fowler of ESPN.
"Le'Veon has several years ahead of him in football. We know right now his days in Pittsburgh are precarious at best. We also know how he's been utilized in the past by the Steelers organization," Bakari told NFL Live.
It's tricky from Bell's perspective. Unfortunately for him, he plays one of the most devalued spots in the league and now is the only time to strike. Now is the only time to cash in. Due to the CBA and it's current rigors of non-guaranteed dough, no player can possibly be criticized for looking out for his investment while off the field.
At the same time, Le'Veon Bell is catching unprecedented heat from teammates.
"He f—ed us," one veteran told ESPN as he walked out of the locker room on Wednesday.
Forget the nameless. Players were also putting names on comments.
"If you don't want to be here, it is what it is. Hold out 10 weeks," center Maurkice Pouncey said."I just felt confident that he was gonna come," Pouncey said Wednesday, "But now that he didn't, obviously it's Le'Veon over the Steelers, and we're the Steelers and we're going to play as the Steelers. … Now when it's game time and you that you have $14 million looming out there, and you're still not here and your team really wants you here? At this point, we got [James] Conner."

"In the ultimate team sport, we've created a league of individuals," guard Ramon Foster said. "I know the league is all about get your money, get paid, I love it. … But at least let us know [you weren't coming].
That's the main topic here. Why would Bell wait until the last moment? This hurts his fellow teammates. Forget paying a running back a boat-load of dough. The Jets even thinking about paying a player of this character that type of money would simply be foolish.
Protecting a long-term investment is fine. Doing it in this surprising manner is another.
Fix The O-Line, Not The Backfield
Why dish out a second-round selection (for example) for an All-Pro back on his final year when the O-line he'd be running behind rivals the worst in the league? It makes no sense.
Emmitt Smith would have found it tough-sledding behind these five big heavies the Jets showcase at the moment. There's a reason the successful personnel architects usually abide by the rule of "building from the trenches out." There's a reason the Philadelphia Eagles won the Super Bowl and Jacksonville Jaguars turned it around a year ago. There's a reason Dave Gettleman came in and didn't waste any time in signing Nate Solder and drafting Will Hernandez.
The offensive line makes up nearly half the offense (5-of-11). If that unit isn't humming, nothing within the offense will.
Don't dare dream of bringing up the name of Le'Veon Bell with one of the worst five-man units in the land.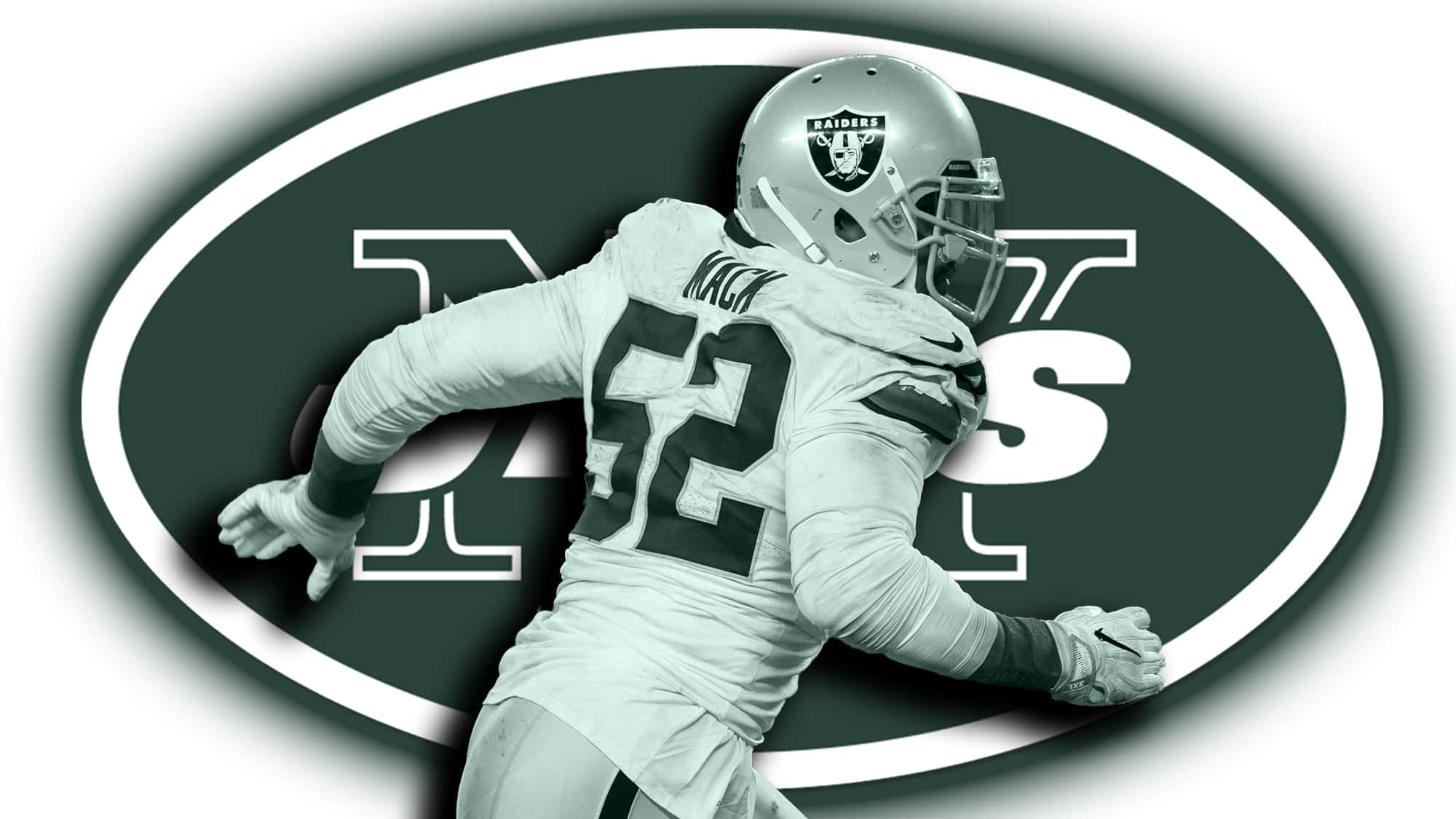 Mack Was The Guy, Not Bell
Thank the football gods Kirk Cousins said no. It never matters how much money is available under the cap. Every dollar counts as it always comes down to value per player, per penny.
Paying Cousins that ridiculous salary number would have devalued the roster.
Mack, on the other hand, while incredibly expensive, is a once-in-a-generation young talent who plays a position that's nearly impossible to fill to such an All-Pro level. While it's tough to get on Maccagnan for passing him up (considering what the Chicago Bears dished out), if any player was worth selling the farm for, it was Khalil Mack.
Not Le'Veon Bell.
Still, it's encouraging the Jets aren't selling the farm and rushing to the big-money table even though so much cap space is staring them in the face. It feels like they're understanding how championship teams and eras are built in this league: through the draft and with value signings that work the demanding salary cap.
As long as they stay out of this specific market running back-Le'Veon market, you can still continue to believe they've finally "figured it out." (We'll give them a pass on Cousins for now.)
Does Le'Veon Bell make the New York Jets a better team? Of course. He just doesn't get them any closer to a Super Bowl and/or fielding a legit, competitive team over a significant period of time. That contract will create too much damage within the grand scheme of the operation.
The kid is a flat-out stud who simply plays the wrong position in the unforgiving salary-cap era of football.