One New York Knicks fan is auctioning off his loyalty and looking to jump ship for another NBA team, but why would he choose now to do so?
The New York Knicks aren't going to win many games this season, but there is an optimistic feel around this team. So why would one die-hard fan want to pledge his allegiance to another team when the Knicks are trending in the right direction?
One eBay user, evanperl, is "selling" his fanhood to the highest bidder after reaching a breaking point with the New York Knicks.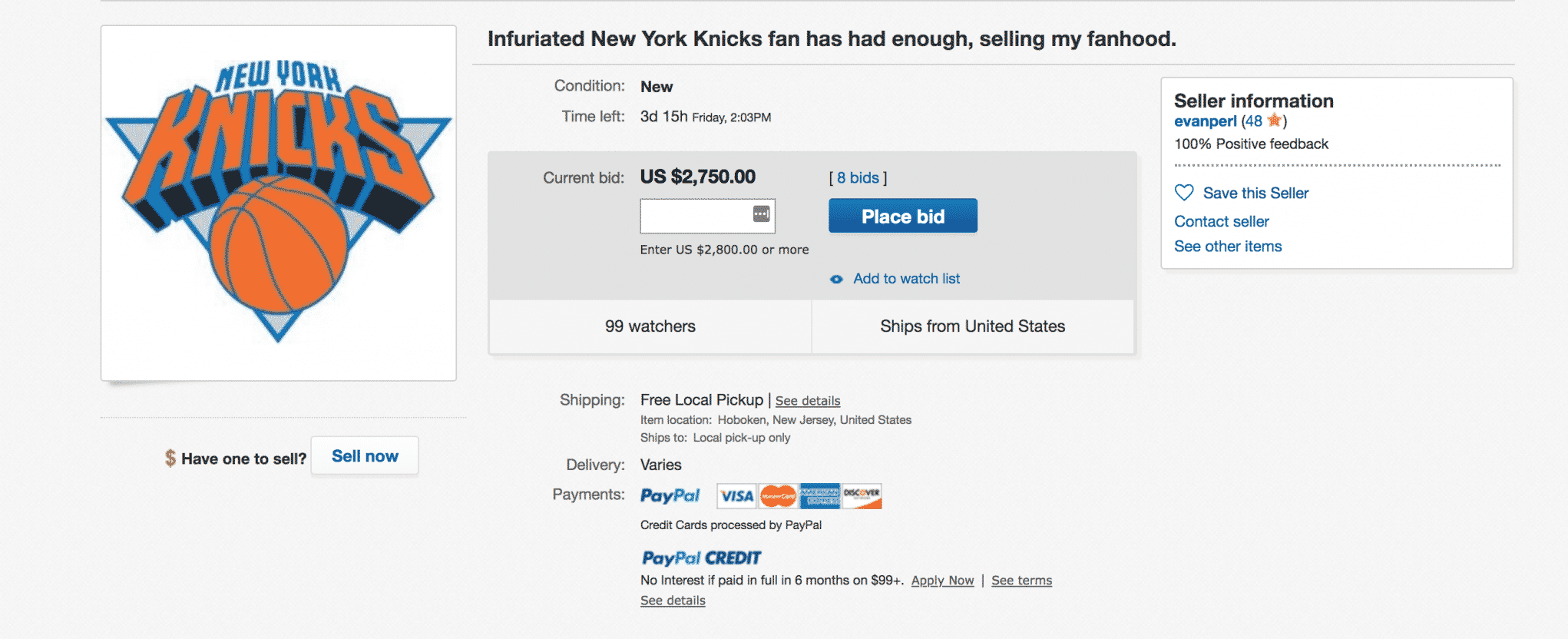 The seller initially put the bid at $1,973 — 1973 was the last time the Knicks won a championship. The deal includes a number of stipulations to ensure that this fan isn't looking for a quick payday. A $500 bet, attending at least two games, and a bunch of team apparel is on the list for this fan.
First of all, anyone who is willing to bid on this is outside of their mind. What could that person possibly get out of this transaction? There's one more fan of their team? That doesn't seem like enough reason to give a complete stranger thousands of dollars.
And second, why would this Knicks fan choose right now to denounce the team from Madison Square Garden? The team has a promising new regime in place to run the show. There is a legitimate superstar on the roster in Kristaps Porzingis. Not to mention, Kevin Knox and Mitchell Robinson could be the real deal. They showed tremendous upside in the Las Vegas Summer League.
Perhaps the years of torment have finally reached a breaking point for this fan, but this seems like a bad time to make this move.
If David Fizdale and Scott Perry can manage to turn this ship around, this fan better not jump back on the bandwagon. Normally, bandwagon fans shouldn't bother people. But in this case, there's no turning back for evanperl.