Eli Manning's tenure with the New York Giants has seen a host of wide receiving corps come and go. Here are the definitive rankings for each.
Drafted in 2004, long-time New York Giants quarterback Eli Manning has worked with multiple receiving corps. From guys like Plaxico Burress in the early years, through the Victor Cruz years onto the Odell Beckham Jr. era, Manning's been fortunate with the receivers he's played with.
However, each receiving corps contained their own unique qualities, which made some groups stand out more than others. Each group contained numerous long-time Giants. However, there were also some guys in each era that came and went in a season or two.
That being said, here are the rankings for each era of receivers Eli has performed with throughout his career as a starter.
3. The 'Odell and Co.' Era (2014-present)
When looking at the title for this era, which comes in third on this list, it's expected for things not to add up at first. OBJ is arguably the best receiver Eli Manning has ever had the privilege of working with, no question there. So why does this specific receiving corps come last on the list? The answer is the consistency of the supporting cast.
With the exception of OBJ, the Giants really haven't had another guy that's been a consistent dominant receiver for them in this specific era. All-in-all, when Beckham went down during the 2017 season, the majority of the Giants receivers were basically nameless.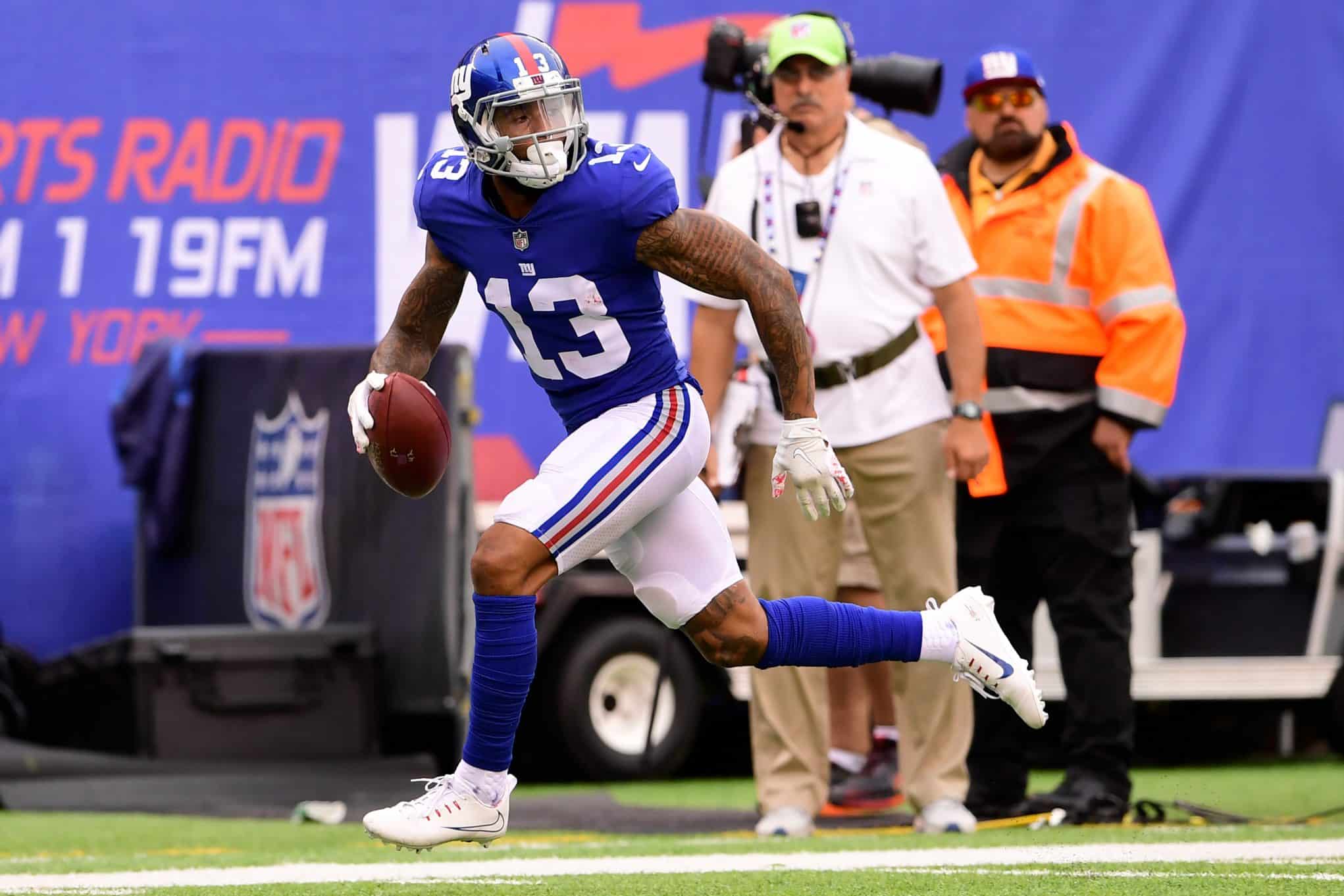 Brandon Marshall is an example of a receiver that failed to be consistently dominant for the Giants. In this case, just being a No. 1 receiver was a concern for Marshall. He played five games for Big Blue after being signed prior to the 2017 season. In those five games, he only racked up 18 receptions for 154 yards and zero touchdowns. This of course came before he was put on season-ending IR due to an ankle injury sustained in week five against the Chargers. Marshall was eventually released after the 2017 season, putting his brief, blur of a career as a Giant to an end.
The only receiver that could come to mind when discussing consistency is Sterling Shepard. However, even he struggled to stay healthy in 2017. Battling injuries throughout the entire year, Shepard only totaled two scores, in comparison to the eight he totaled in his 2016 rookie season.
2. The Plaxico Burress/Amani Toomer Era (2005-2008)
When Eli Manning began his career, there were many mixed emotions about him from fans. The tools and the knowledge to be a franchise quarterback in New York were existent. However, he wasn't completely there yet. Fortunately, Manning was given a great balance of receivers right out of the gate that helped him develop as an NFL quarterback immensely.
Burress made the end zone his home during his time in New York. In 2006 and 2007 he racked up 10 touchdowns and 12 touchdowns, respectively. He also caught the touchdown pass that everyone remembers: the game-winner against the Patriots in Super Bowl XLII.
Amani Toomer throughout the years added to the consistent balance of wide outs. He established himself as a dominant possession receiver, having a knack for the football each and every pass play. He only racked up three and four touchdowns respectively in 2007 and 2008, however, caught 59 and 48 passes in those seasons.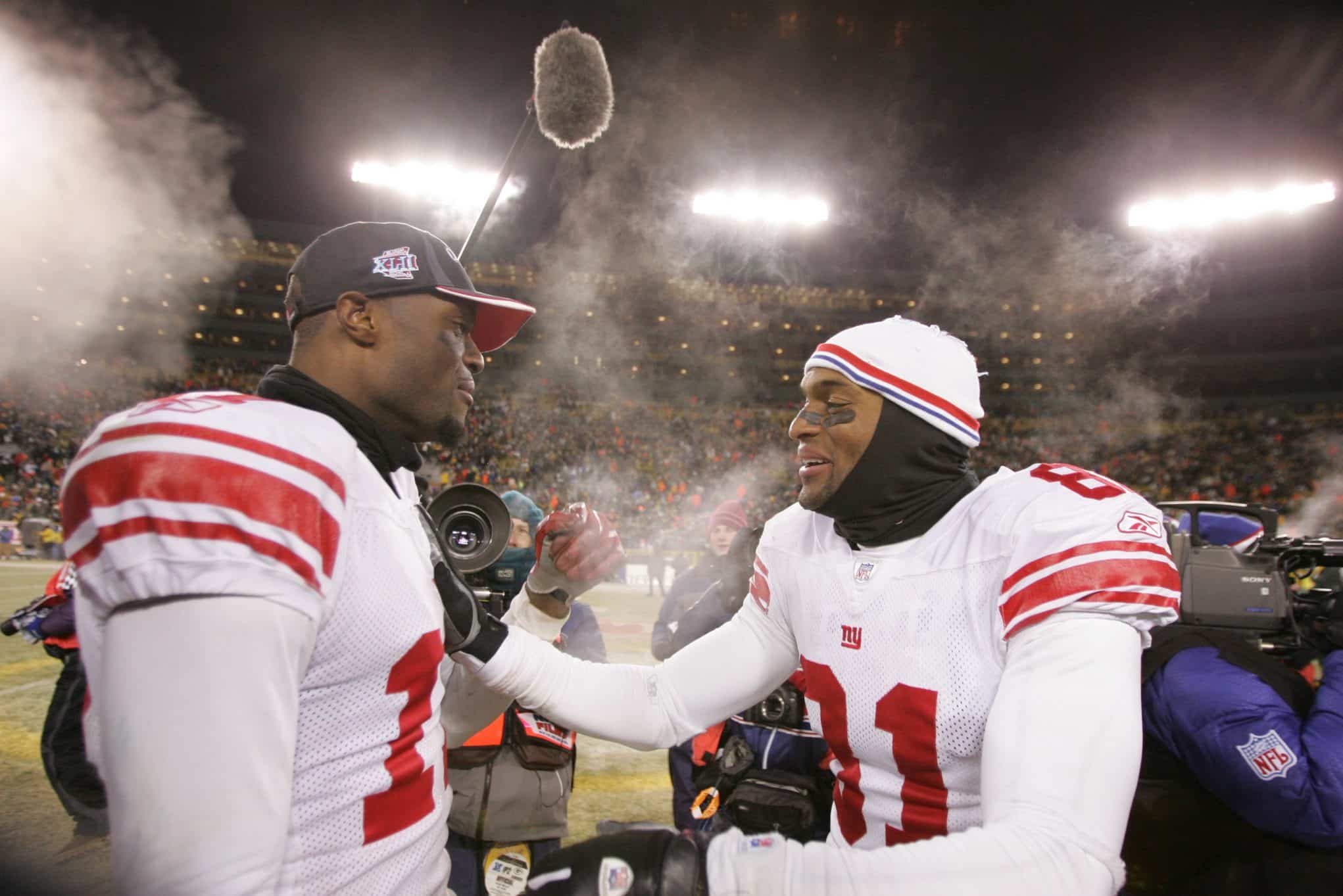 Two unsung heroes for the Giants in this era were two guys that just got their careers started in 2007. However, neither performed consistently until the 2008 season. Domenik Hixon played all 16 games in 2008, racking up 43 receptions and 596 yards, and always added speed to the Giants offense.
Steve Smith also played in all 16 games in 2008, totaling 57 receptions and 574 yards. Smith did what he could to establish himself as a dominant possession receiver for Big Blue. These qualities are what helped him experience breakout years later on, due to the eventual release of both Toomer and Burress.
1. The Hakeem Nicks/Victor Cruz/Mario Manningham/Steve Smith Era (2009-2013)
There are numerous reasons and much evidence to support the fact that this certain era takes the number one spot on our list. For one, each receiver contained their own qualities and strengths.
Entering the 2009 season, the Giants went through with releasing Toomer. And Burress…well…he had begun a 20-month stint in prison. This made the Big Blue receiving corps a huge concern. However, that concern didn't last for long, as guys like as Steve Smith (a holdover from the previous group), Hakeem Nicks along with numerous others rose to prominence.
Smith was the clear number one target for Eli Manning in 2009. In that season he played in every single game. The former USC Trojan totaled 107 receptions for 1,220 yards, showing a knack for the football all over the field. Smith also posted decent numbers down towards the goal line that season, having seven touchdown receptions as well.
When Smith darted for the Philadelphia Eagles in free agency after 2010, Hakeem Nicks rose as the number one target for numerous seasons. Nicks also became a huge factor in the Giants 2011 Super Bowl run. When healthy, he put up big numbers for the majority of the time he was a member of Big Blue. In 2010 the former Tar Heel totaled 1,052 receiving yards, while the following year reached 1,192 yards. Nicks and his overly-huge hands proved to be a beneficial target down near the end zone as well. In 2010 and 2011 he totaled 11 and seven scores respectively for the Giants.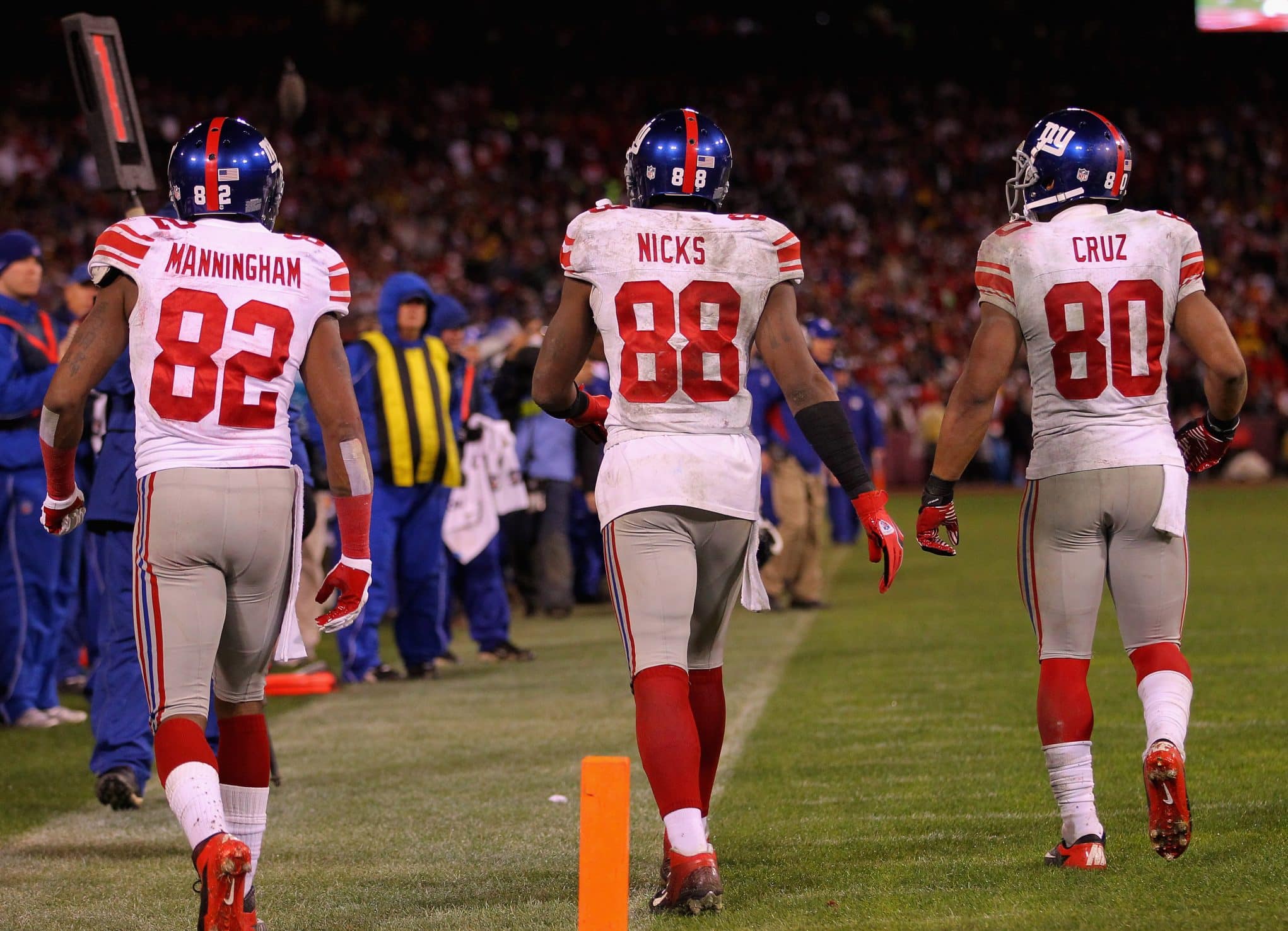 On the other side of things, Victor Cruz became an enormous breakout talent in his sophomore season in 2011. Undrafted out of UMass, Cruz played in every game in that Giants Super Bowl season, replacing veteran Domenik Hixon when he went down with a torn ACL in Week 2. Cruz became a star in New York right from the beginning. He posted 82 receptions for 1,536 yards and nine touchdowns in that 2011 season. His greatness continued into the following season, where he caught 86 passes for 1,092 yards and a career-high 10 touchdowns.
Mario Manningham was the least-mentioned receiver in this specific era. However, he was always extremely reliable. The 2008 third-round draft pick always made the phenomenal catch when the Giants needed him to. This includes the initial play of the final drive led by Eli to win Super Bowl XLVI. A perfectly thrown deep ball down the left sideline where Manningham made a beautiful catch going out of bounds at midfield. One of the best catches in Super Bowl history. All-in-all, a memorable play that showed fans who Manningham really was as a competitor.
Now, stats prove a lot, but they don't prove everything. Although this era of receivers posted big numbers, their impact is deeper than the numbers would dictate. Smith, Nicks, Cruz and Manningham all brought unique abilities to the field and gave Eli more than enough options when throwing the ball for years. When healthy, these guys were always working together as a unit and gave Eli some of the best seasons of his career. That is why they come number one on our list.