New York Giants quarterback Eli Manning wasn't the only player earning a critique from Jalen Ramsey, the outspoken Jaguars cornerback.
Jacksonville Jaguars cornerback Jalen Ramsey has created further bulletin board material for a highly anticipated Week 1 showdown against the New York Giants.
He is currently under a week's suspension for a profane rant directed toward media covering an apparent scrum between teammates. Ramsey recently sat down with Clay Skipper of GQ and offered his opinion on several opposing offenses throughout the NFL. The third-year defender's thoughts on the Giants' offensive unit will cause some waves in the tri-state area to say the last.
"Eli (Manning) … It's not really Eli. I think it's Odell (Beckham, Jr.). I won't say Eli's good, I'll say Odell's good. And their connection is good."
The profile features several Ramsey critiques, including reviews of opponents he will potentially face in the upcoming regular season. For example, he labels Buffalo Bills rookie quarterback Josh Allen "trash", while later referring to Dallas Cowboys thrower Dak Prescott as "good", then "alright", and finally "okay", before opining that running back Ezekiel Elliott "runs the team." Jacksonville faces Dallas and Buffalo in Weeks 6 and 12 respectively.
Other quarterbacks who don't meet Ramsey's standards include Ravens quarterback Joe Flacco ("I played him two years in a row. He sucks.") and Atlanta's Matt Ryan ("overrated"). He does offer praise to several others, including divisional opponent Deshaun Watson of the Texans ("He'll be the league MVP in a couple years.") and Seattle's Russell Wilson ("I think he's just a really good leader, too."). Ramsey also praised his team's own quarterback, Blake Bortles, remarking that if the team trusted him more in the surprise trip to the AFC Championship Game against to the New England Patriots, they might've advanced to the Super Bowl.
"I think as an organization, we should have trusted him more to keep throwing it. We (kind) got complacent and conservative. And I think that's why we lost. We started running it on first and second down, throwing it on third down, every single time we were out there. (New England) caught on to that."
Entering the league as a first-round pick out of Florida State in 2016, Ramsey has developed a reputation as one of the league's most feisty defenders and one of its loudest trash talkers. Notably, he referred to then-Ravens receiver Steve Smith, Sr. as "an old man" after a showdown during his rookie season. His verbal barbs also got to the head of Bengals receiver A.J. Green, who physically engaged with Ramsey during a game last season. On the national stage, Ramsey exchanged pregame words with Tom Brady prior to the team's showdown in the conference title game.
"I'm just me, unapologetically. I don't really care. (My family has) never really (sought out) approval of anybody. You either like us or you don't. If you don't like us, (expletive), (there's) a trillion other people in this world, somebody (is going to) like me. Somebody. God didn't make me to be on this Earth by myself."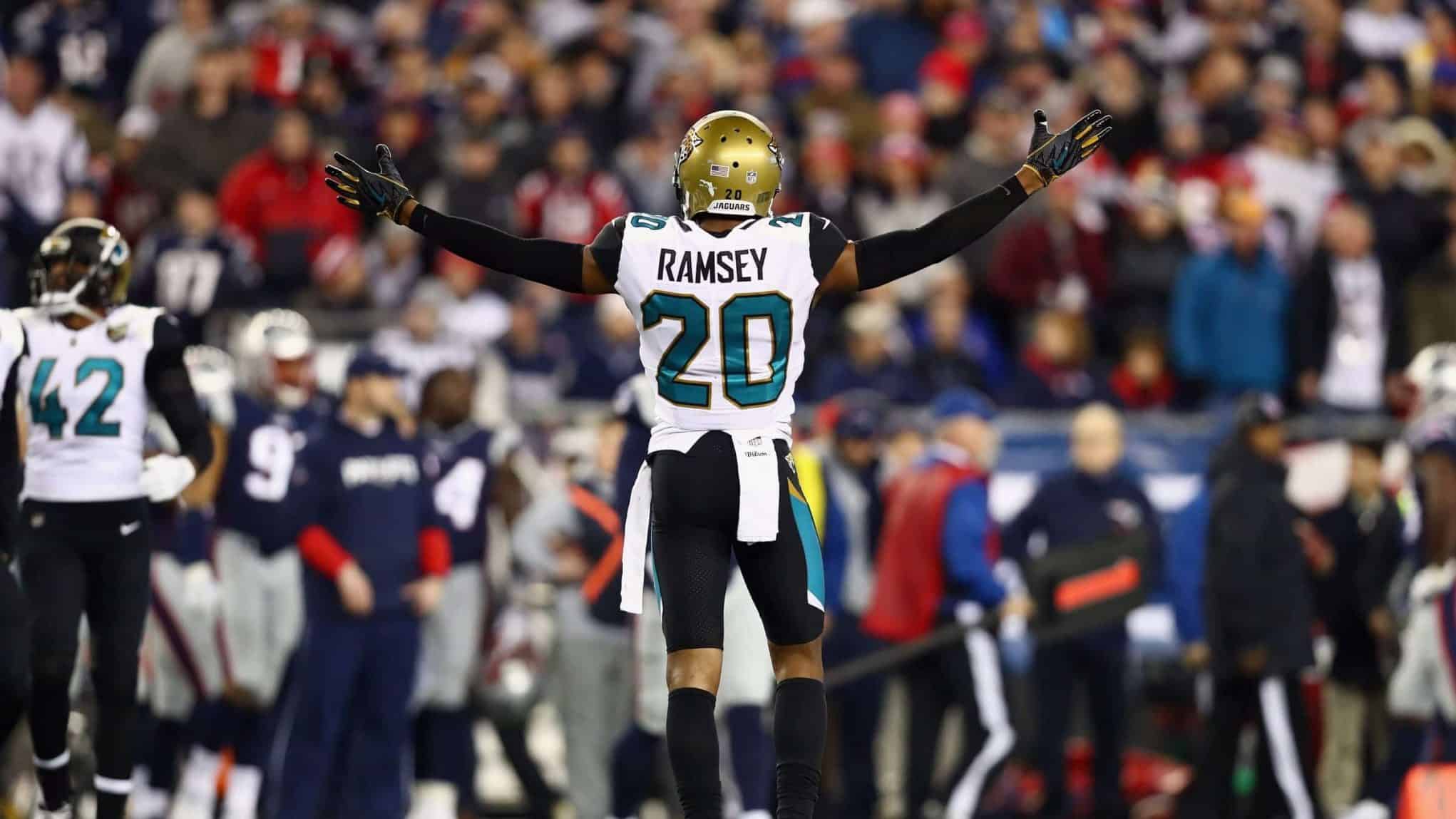 While Ramsey has backed his talk up on the field, earning numerous accolades in his first couple of seasons, his words have recently gotten him into some internal trouble. As media gathered at Jaguars training camp recorded an altercation between Ramsey's teammates, defensive ends Dante Fowler Jr. and Yannick Ngakoue, Ramsey demanded reporters to "stop recording that (expletive) man!", continuing his profane rant as he left the field according to ESPN's Michael DiRocco. Both Ramsey and Fowler have been suspended for the team's second preseason contest on Saturday afternoon in Minnesota (1:00 p.m. ET, NFL Network).
Fowler is likewise suspended for the debut regular season game, but Ramsey will return for the Week 1 game against the Giants at MetLife Stadium, which is set to be one of the most anticipated games on the opening week slate. In a game that already featured several headlines, including Giants head coach turned Jaguars executive vice president of football operations Tom Coughlin's first visit to East Rutherford as an opponent since 2002 (his final season as Jacksonville's head coach). Ramsey's words will only add to the stakes of that opening Sunday.
"We're going to give the people a show the first game of the season," Ramsey previously said about the matchup between him and Beckham. "He's going to have some wins, I'm going to have some wins. I just plan on having more wins. That's the plan I'm going to go in there with."
After the article's release, Manning, speaking at the Detroit Lions Practice Facility in Allen Park, MI after another joint practice with the Lions, had little to say about the slight, according to NorthJersey.com's Art Stapleton.
Eli Manning was asked about Jalen Ramsey's interview in GQ in which he essentially said Eli's success is a product of Odell Beckham Jr.
Manning: "No comment."
Paused for a moment, then deadpanned: "Who?"
September 9. #NYGiants

— Art Stapleton (@art_stapleton) August 15, 2018
Manning, Beckham, and the Giants return to preseason action on Friday night in Detroit (7:00 p.m. ET, WNBC).
Follow Geoff Magliocchetti on TWITTER