Jalen Ramsey is looking forward to facing off with the New York Giants, and more specifically Odell Beckham Jr. in Week 1.
There are just under 40 days until the Week 1 NFL Sunday slate kicks off. Jalen Ramsey is already counting down.
Speaking after the Jacksonville Jaguars' training camp activities on Tuesday, Ramsey, no stranger to trash talk, gleefully announced his eagerness to move the calendar to Sept. 9. His Jaguars will travel to East Rutherford that weekend, set to take on the New York Giants at MetLife Stadium.
Entering his third season, Ramsey has already established himself as one of the top defenders in the league. Thus, he has the unenviable task of being primarily matched with Odell Beckham Jr., who, barring preseason disaster, will be set to play his first regular-season game since Week 5 of last season.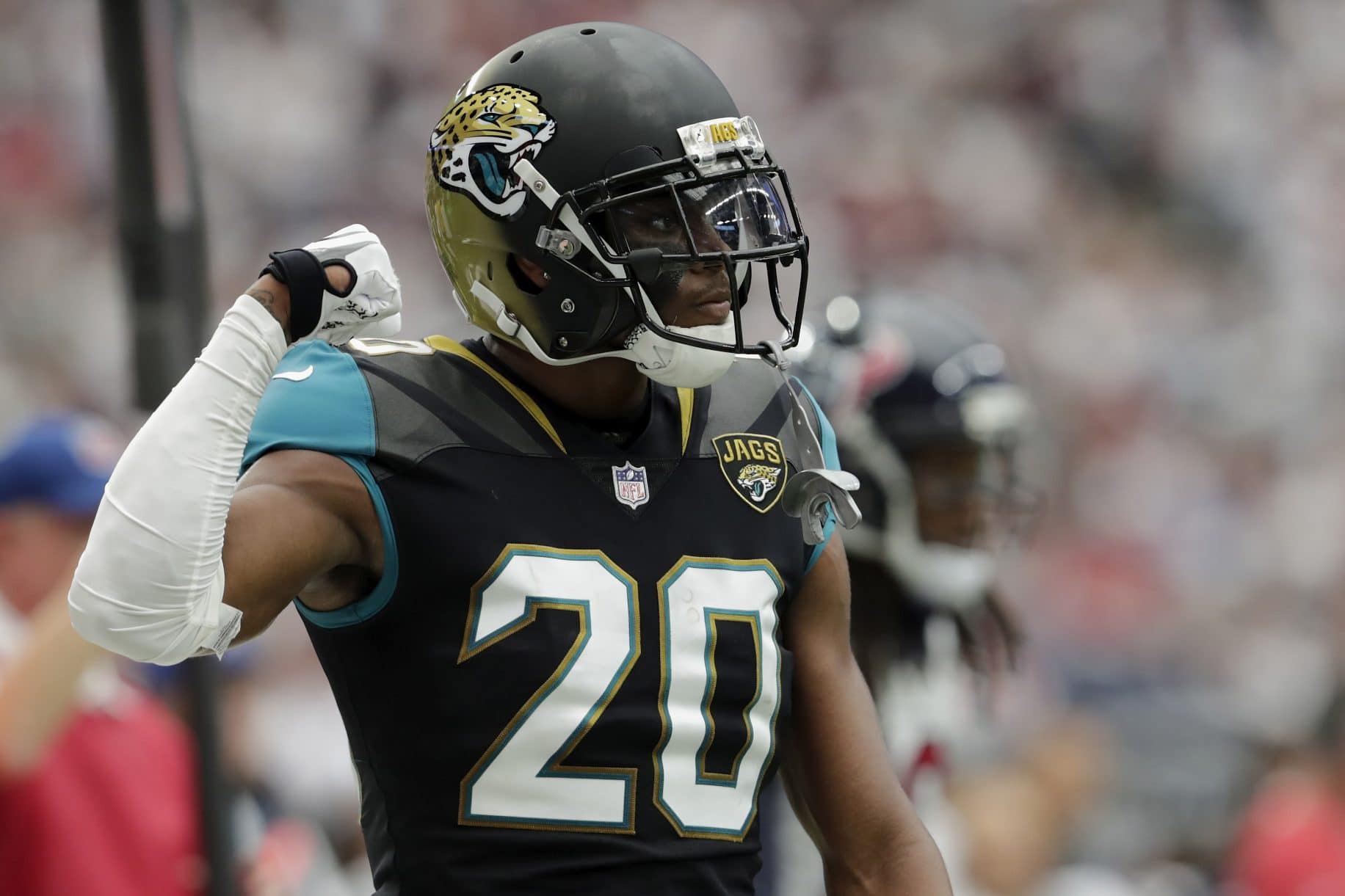 Beckham suffered a season-ending ankle injury in an October loss to the Los Angeles Chargers so there may be some rust on gameday. But according to ESPN's Michael DiRocco, Ramsey knows he's in for a challenge.
"Let's get this out the way right now: He's a good receiver," Ramsey said. "We all know that."
Ramsey, who was partaking in his first day of camp after welcoming his first child last week, welcomed the challenge with open arms.
"(You all) know me at the same time. Yeah, he's good. But I'm good, too. If (you all) want to say he's the best at his position, I'm the best at my position, so we're going to go at it."
Ramsey has a lot to defend in his third season, including his First Team All-Pro selection and a Jaguars division title last year. The team shocked the football world by not only winning the AFC South, but by reaching the AFC Championship Game. The Jaguars had a late lead, but eventually fell to the New England Patriots.
Ramsey sees Week 1 as the perfect way to open the encore season.
"We're going to give the people a show the first game of the season," Ramsey said. "He's going to have some wins, I'm going to have some wins," Ramsey said. "I just plan on having more wins. That's the plan I'm going to go in there with."
This adds another storyline to one of the opening weekend's most compelling matchups. The game will not only mark the first time the Jaguars have visited MetLife Stadium in the regular season since 2010 when it was still under its New Meadowlands Stadium moniker, but it also marks the first meeting since ex-Giants head coach Tom Coughlin rejoined the Jaguars as their executive vice president of football operations.
The first step in Jacksonville's journey back to football's final four won't be easy. The Giants are looking to emulate the Jaguars' worst-to-first journey, as they look to recover from a franchise-worst 3-13 mark from last season.
With a taste of the postseason barely quenching his thirst, Ramsey embraced the tall task.
"I'm going to work my (butt) off to get to that point. I'm sure (Beckham is) doing that on the other side, too," he said. "As fans of the game, as NFL, everybody, that's what (you all) for. We're going to give it to you for sure. I know I am."
The two teams will open their respective preseasons on Aug. 9, both at home. The Giants will welcome in the Cleveland Browns, while the Jaguars host the New Orleans Saints.
Follow Geoff Magliocchetti on TWITTER