Jason Arnott is an all-time New Jersey Devils fan-favorite, but he was also traded twice by Jersey. Today, we dissect the unique history. 
Not only was former NHL forward Jason Arnott acquired by the New Jersey Devils via trade from the Edmonton Oilers back in 1998, but Arnott was also traded twice by New Jersey.
The former first-round draft pick (1993) inked in his name in elite Devils history after he scored the Stanley Cup clinching-goal for New Jersey during the 2000 Stanley Cup Final against the Dallas Stars in double overtime, nonetheless. It's a highlight-reel that never gets old for Jersey's fan base and is arguably the greatest memory in the team's 35-year history.
Considering how critical Arnott was during his first tenure with the Devils, it was odd that the Stanley Cup Playoff hero was traded less than two years after he netted that historic game-winning goal one hot summer night in Dallas, Texas.
Here's a look back at Arnott's career and trade history with the New Jersey Devils.
Some may not be able to recall, but the 1993 seventh-overall selection was traded away by the Oilers for Edmonton to acquire Bill Guerin and Valeri Zelepukin. Both of those skaters were former New Jersey first-round draft picks (1989 & 1990) and helped lead the Devils to their first Stanley Cup championship in 1995 against the Detroit Red Wings.
While Guerin was a solid and consistent point-getter for the Devils over the course of six seasons, the trade to acquire a skater that was (then) four years younger than Guerin, and had potential, was a commendable hockey trade but one that worked out in favor of New Jersey.
Arnott came over from Edmonton with another skater, Bryan Muir, who only played in one game with New Jersey back in 1998-99.
As for "Arny," he totaled 97 goals and 124 assists for 221 regular-season points in 302 games during his first stint with Jersey's team (1997-2002). Though it was the centers dynamic and tough play down the middle of the ice that won over the hearts of Devils fans, and more importantly his uncanny chemistry with wingers Patrik Elias and Petr Sykora.
In 1998-99, the "A-Line" was formed and Jersey, hands-down, has never seen a scoring line flow and produce like those two Czech Republic natives alongside the 6-foot-5 skater from Collingwood, Ontario.
The following season the line would carry the team's offense to the 2000 Stanley Cup Final, as noted above, which also saw Arnott score the Stanley Cup-clinching goal off a crisp backhanded pass from the blade of Elias in the corner.
While the trio recorded another successful and productive campaign in 2000-01, the Devils were unable to repeat as champions when they lost to the Colorado Avalanche in seven games during the 2001 Stanley Cup Final. But 2001-02 was an off year for New Jersey, which also saw longtime general manager Lou Lamoriello strike a shocking and blockbuster trade at the 2002 NHL Trade Deadline.
Arnott was traded, along with Randy McKay and a 2002 first-round draft pick, to the Dallas Stars in exchange for Joe Nieuwendyk and Jamie Langenbrunner. Arnott had established himself as a key member to a Stanley Cup caliber squad and was also on pace to score his most goals in a season with the Devils. He recorded 22 goals and 19 helpers prior to the trade; his most goals in a season with Jersey was 27 back in 1998-99.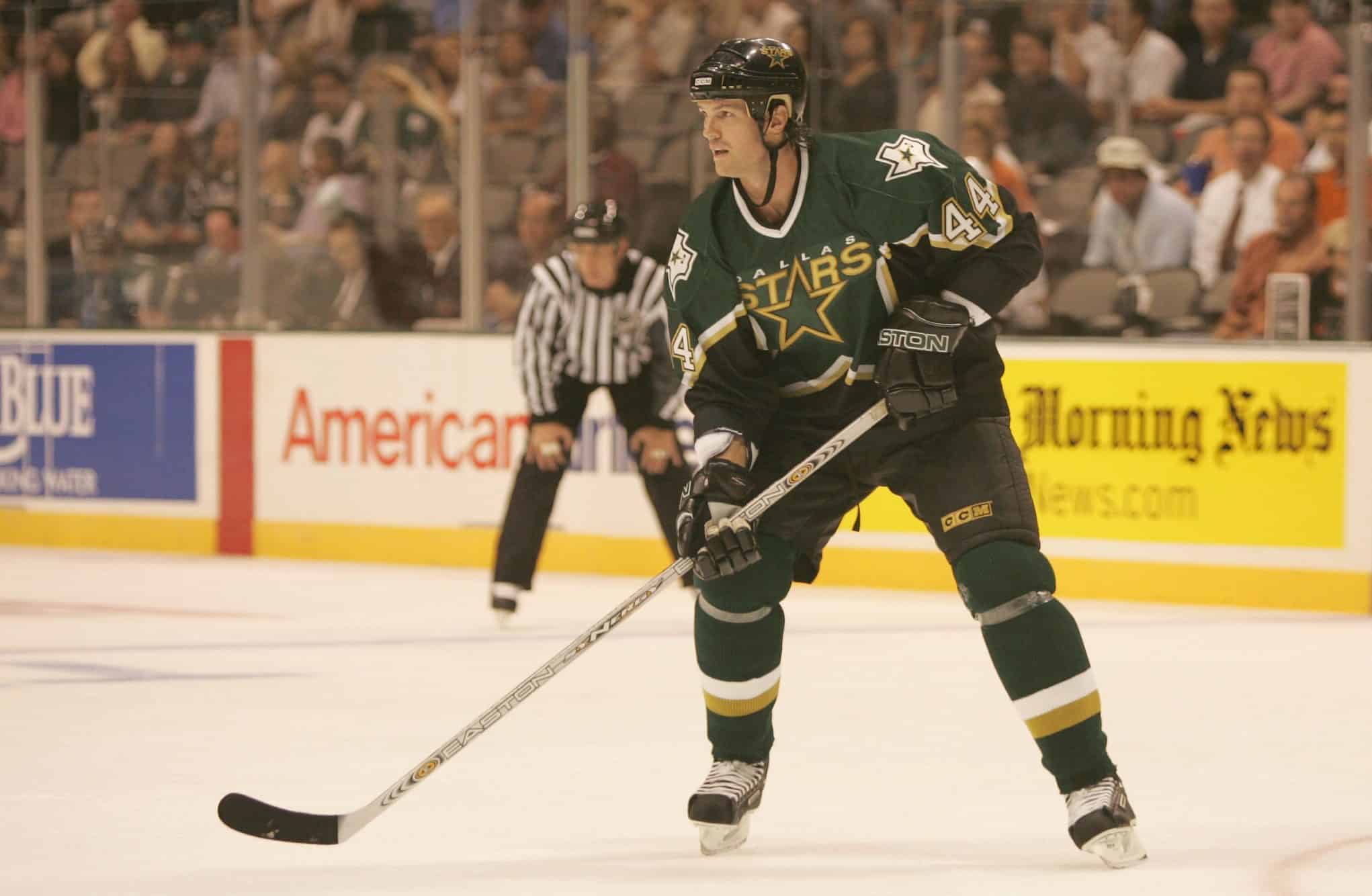 Lamoriello apparently wanted a change that would benefit the team's overall style and chemistry on the ice and thought that perhaps too much focus centered around the "A-Line." Interestingly enough, Sykora and Elias were both absent during the team's first game without Arnott back on March 20, 2002, when the team was playing on the road against the Chicago Blackhawks.
Similar to how Arnott was acquired by the Devils, in a multi-player trade with notable players involved, he was shipped off in a comparable fashion.
While trading Arnott was shocking and may have upset Devils fans at the time, it's fair to say that the trade benefitted the team for the better. New Jersey won it's third Stanley Cup championship one season later, and with Nieuwendyk and Langenbrunner playing significant roles to help the team hoist the Cup that year.
Nieuwendyk left the Devils after winning the Cup that season via unrestricted-free-agency for an arch-nemesis in the Toronto Maple Leafs.
However, Langenbrunner skated in parts of eight seasons with the Devils and was also named the team's 15th captain in team history (2007-2011).
From 2002 until 2010, Arnott split time between the Stars and Nashville Predators where he continued to blossom as one of the league's top power forwards. More notably, he netted 32 goals for Dallas in 2005-06, and then 33 goals for Nashville in 2008-09 which tied a career-high (1993-94, 33 goals).
Lamoriello wasn't finished with Arnott, though. The former playoff hero was re-acquired by New Jersey, like other notable Devils skaters during the Lamoriello era, back in the 2010 offseason. Again, Arnott found himself involved in another trade with New Jersey, when the team acquired him from the Nashville Predators in exchange for a prospect in Matthew Halischuk a Devils' 2011 second-round pick.
Though, Arnott's second stint with Jersey was far less memorable, as the team had one of their worst starts in history when it went 2-7-1 in the first 10 games and missed the Stanley Cup Playoffs for the first time since 1996.
In 62 games with New Jersey the (then) 36-year-old, recorded 13 goals and 11 assists for 24 points in 62 games played before he was traded to the Washington Capitals at the 2011 trade deadline. However, this time around, the compensation for Arnott was nowhere near the caliber of a Hockey Hall of Famer (Nieuwendyk) or productive winger (Langenbrunner).
The Devils received a skater who was an established face-off man, but nothing more than a fourth-line center in Dave Steckel, and a 2012 second-round draft pick. After parts of six seasons with the Capitals, Steckel only netted 23 goals and chipped in 35 helpers.
The center's tenure with New Jersey was brief and lackluster after he recorded one goal in 18 games with the Devils. He was traded prior to the beginning of the 2011-12 campaign to Toronto in exchange for a 2012 fourth-round draft pick.
If you're wondering who the Devils drafted with the second-round pick acquired from Washington, it was current defenseman Damon Severson.
Now, only time will tell if Arnott's trade compensation can help the team win another Stanley Cup like the first time he was dealt by Jersey.
Follow Kyle on TWITTER