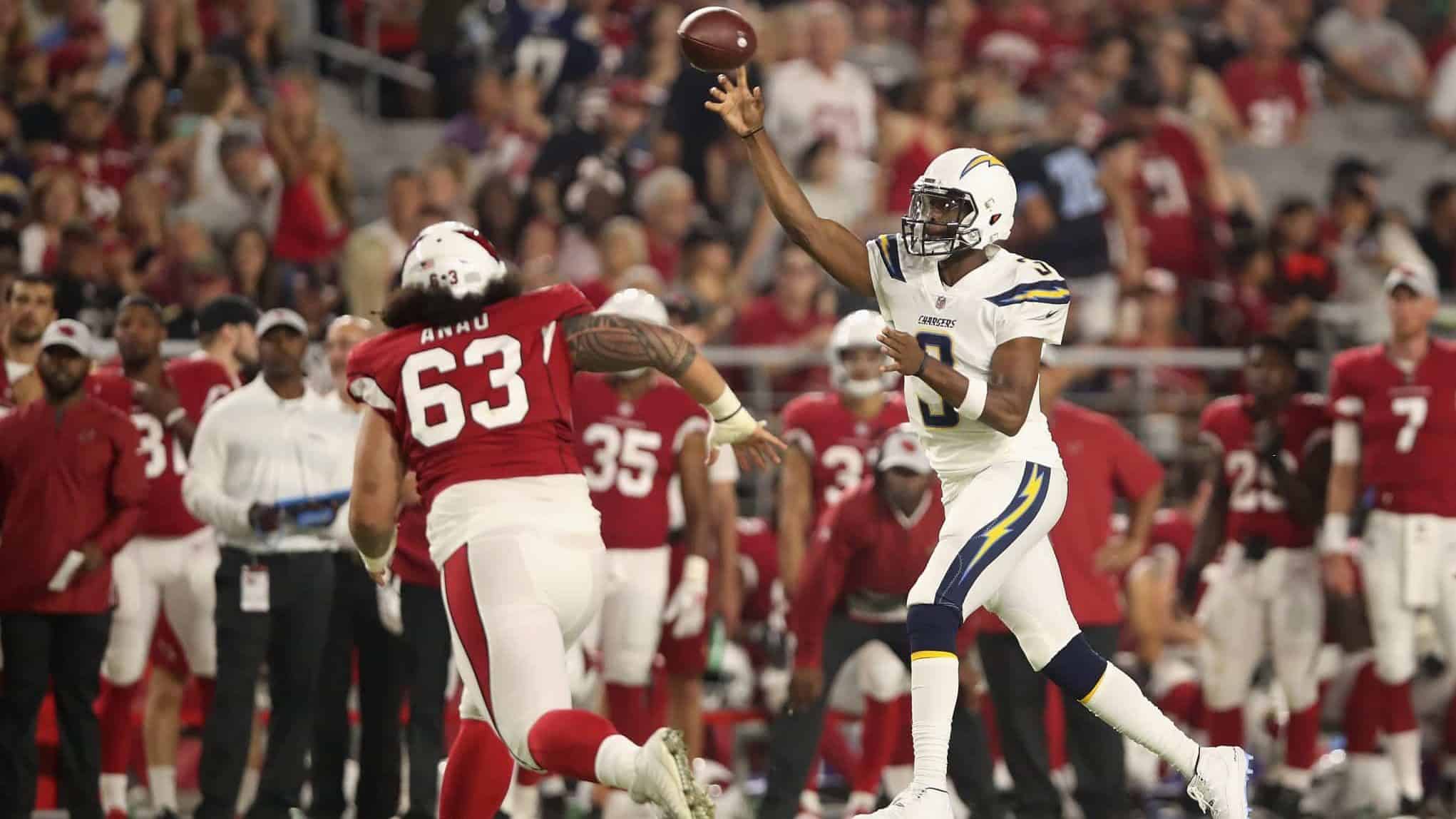 Los Angeles Chargers quarterback Geno Smith finds a former Giant in Geremy Davis for the score.
For the first time in his professional career, Geno Smith's uniform bore no references to the New York City area.
Signer of a one-year deal with the Los Angeles Chargers back in April, Smith holds a notorious place in New York football history. He began his career as a second-round pick of the New York Jets spending four roller-coaster seasons in green before becoming the man that broke Eli Manning's monopoly on the New York Giants' starting quarterback job last season.
Nowadays, he's looking to back up another long starting streak as he's competing with Cardale Jones to be the primary backup to Phillip Rivers, who has made 192 consecutive regular-season starts entering this year.
On Saturday night, Smith made his unofficial Chargers debut with the team visiting the Arizona Cardinals at University of Phoenix Stadium. Smith was the second Los Angeles quarterback to enter the game, taking over late in the first half.
With 3:28 to work with, Smith guided the Chargers to Arizona territory on a seven-play, 44-yard drive, highlighted by a 39-yard hook-up with running back Austin Ekeler. The drive, however, ended in heartbreak, as Caleb Sturgis missed a 41-yard field goal wide left.
? ??@AustinEkeler with the 39-yard gain. pic.twitter.com/FAsgBvrkgZ

— Los Angeles Chargers (@Chargers) August 12, 2018
Smith's second half was far more eventful, in both good ways and bad. His infamous turnover problem struck twice in the session, via an interception in the third quarter and a lost fumble in the fourth.
Ironically, the latter turnover was forced by a fellow former Giant, as defensive end Nordly Capi, who played four games in blue last season. Capi wound up with two sacks of Smith on the evening, while undrafted rookie safety AJ Howard came up with the interception.
Together we can do more.@TUoffTOz with the tip. @aj25howard with the pick! pic.twitter.com/5ONBuBXHV9

— Arizona Cardinals (@AZCardinals) August 12, 2018
Smith, however, was also able to lead a scoring drive in the third quarter, once again involving a former Giant in the proceedings. In the third quarter, he engineered a seven play, 66-yard drive that concluded with a 47-yard scoring pass to Geremy Davis, a sixth-round draft pick of the Giants from 2015.
Davis spent two seasons with the Giants before turning over to the Chargers. He finished the game as the top receiver on both sides, nabbing 88 yards on four receptions.
What. A. Catch.@gday85 with the 47-yard TD! pic.twitter.com/GCICzilQDN

— Los Angeles Chargers (@Chargers) August 12, 2018
Smith eventually gave way to undrafted free agent Nic Shimonek in the fourth quarter. He finished the day with a solid statline, going 14-for-23 for 218 yards, with a touchdown and interception. In comparison, Jones went 6-for-12 for 50 yards, while Rivers did not dress.
Arizona would go on to win the game 24-17. Of note, highly touted rookie Josh Rosen, the 10th overall pick in April's draft, made his unofficial professional debut, going 6-for-13 for 41 yards. Both the Giants and Jets considered taking Rosen with either the second or third pick respectively, but instead went with Saquon Barkley and Sam Darnold.
Smith's quest for the Los Angeles backup job continues next Saturday, as the Chargers return home to StubHub Center in Carson to play the Seattle Seahawks (10:00 p.m. ET, NFL Network).
Follow Geoff Magliocchetti on TWITTER