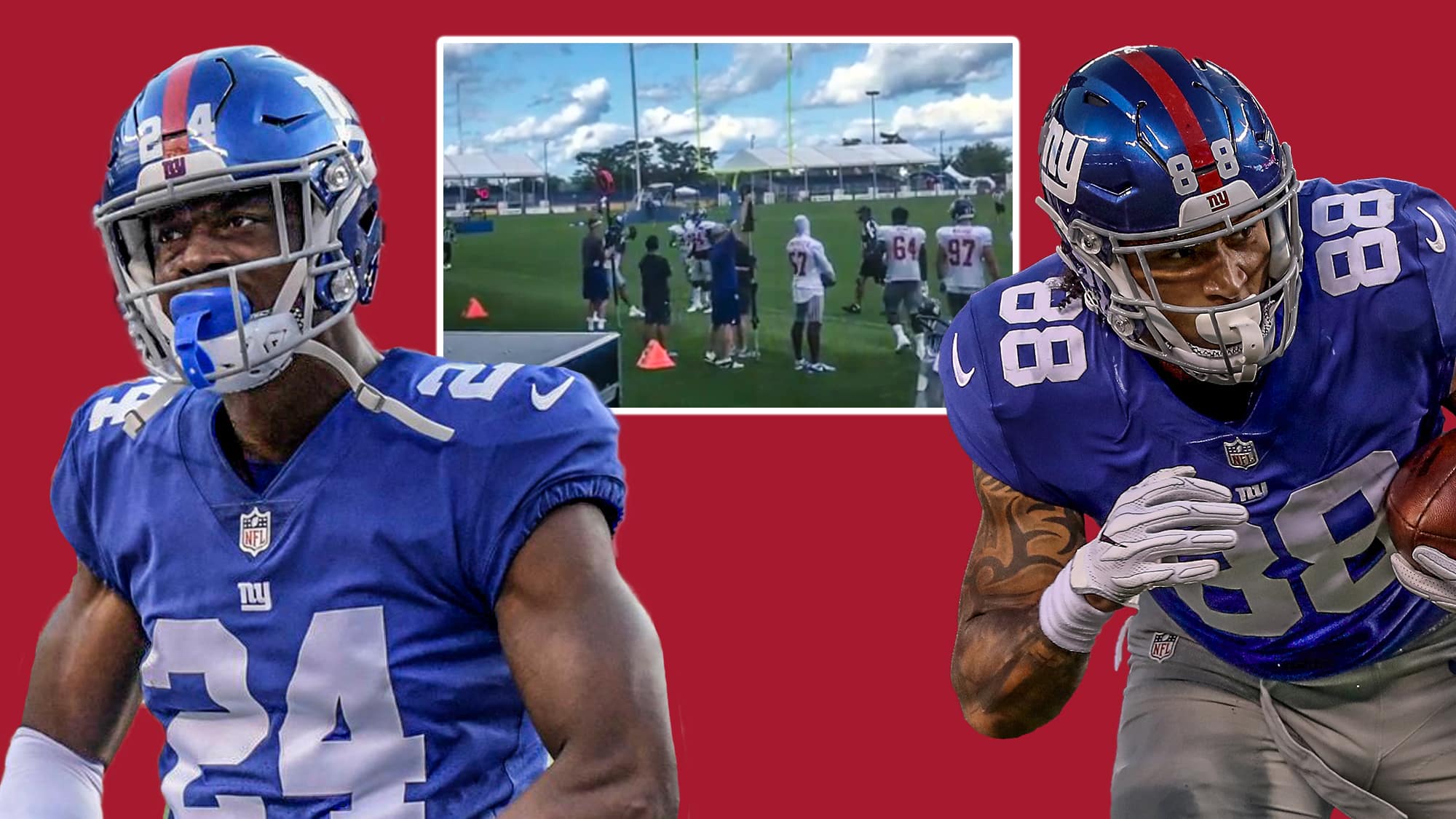 New York Giants tight end Evan Engram got into a fight with cornerback Eli Apple during Saturday afternoon's practice.
Although not uncommon, it is somewhat concerning when two teammates fight during training camp. Although football is an emotional game, ideally players will save their emotions for when they play other teams.
However, that's not always how it happens, as the New York Giants discovered in Saturday's practice. Jordan Raanan of ESPN posted a video to Instagram of Evan Engram and Eli Apple fighting after a passing play.
Head coach Pat Shurmur threw both players off the field for the remainder of the 11-on-11 period after the scrap, showing that he has very little tolerance for teammates fighting each other. The fight wasn't overly physical, consisting of Apple pushing Engram and Engram throwing the ball at Apple before they were separated by teammates.
Raanan initially stated his belief that Engram was unhappy with a low tackle at Engram, but amended that upon re-watching it, when it was noticed that Apple pushed Engram first.
… Upon further review, looks as if Apple was upset with Engram about something. He pushed Engram, the ball was thrown at him, etc. https://t.co/GSK4Gf0i4b

— Jordan Raanan (@JordanRaanan) August 4, 2018
Fighting teammates is the absolute last thing that Apple needs to be doing this season. He had a tumultuous season last year, being referred to by teammate Landon Collins as a cancer in the locker room.
He followed up on that by getting suspended by the team for the final game of the season. Although new general manager Dave Gettleman gave the corner a clean slate entering 2018, that slate will quickly get dirty should he continue to fight teammates.
Apple went on to leave practice later with a knee injury, according to Pat Leonard of the New York Daily News. When asked if he was ok, Apple told teammates and reporters "yeah, I'm straight," but was said to be walking with a noticeable limp.
Both the injury and the fight will be of concern for the Giants moving forward, although the injury is the more pressing issue at the moment.
Follow Billy on TWITTER