ESNYs Fantasy Baseball stretch-run awards include Mookie Betts, Jacob deGrom, Giancarlo Stanton and so many more.
The MLB trade deadline of any fantasy season is a time to reflect. What better way to evaluate the few months then by recognizing some of baseball's best, worst and select others for their respective first-half-and-change accolades.
When someone tells me, "I have good news and bad news for you," I elect to hear the worst part first. So without further ado, here are the disappointments:
Sonny Gray is certainly the largest wart on a near flawless looking baseball team. Although he isn't prime fantasy material, his 7-7 record that comes chained to a 5.46 ERA shouldn't be overlooked. Gray's outing prior to the MLB All-Star break against Baltimore was an encouraging sign.
The 28-year-old fired six innings of shutout ball while striking out eight for his first victory since June 18. Gray carried that momentum into the second half against the New York Mets. The last time Gray posted consecutive victories was in July of 2017 when he strung together three consecutive victories.
Honorable Mention: Kyle Hendricks, SP, Chicago Cubs; John Gray, SP, Colorado Rockies; Dallas Keuchel, SP, Houston Astros; Jake Arrieta, SP, Philadelphia Phillies; Alex Wood, SP, Los Angeles Dodgers; Luke Weaver, SP, St. Louis Cardinals
At this time last year, the 6-foot-4 Minnesota masher carried 21 homers, 62 RBI and .276 average to Miami as a member of the American League All-Star team. This year, Sano is back in Florida, but the pageantry didn't follow as a member of Minnesota's High-A squad in Fort Myers.
In 37 games, Sano was hitting just .203/.270/.405 prompting the decision to option the slugger to the minors on June 14. There is no need for you to monitor the waiver wire right now. According to a June 30 report from the Saint Paul Pioneer Press, the Twins are in no rush to bring him back to the big leagues.
Honorable Mention: Carlos Santana, 1B, Philadelphia Phillies; Kris Bryant, 3B, Chicago Cubs; Josh Donaldson, 3B, Toronto Blue Jays; Gary Sanchez, C, New York Yankees; Michael Conforto, OF, New York Mets
If you wanted Mike Trout on draft night but ended up with Mookie Betts, chances are you are just as satisfied. The Red Sox outfielder is doing his best Trout impression this year, as a five-category contributor with surprising power. A .300/30-homer/30 steal season looks imminent for the game's best leadoff hitter.
In 2016, Betts came of so close, batting .318 with 31 home runs, but fell four steals short of the feat. This year the three-time All-Star is already in striking distance. Betts closed the curtain on the first half with a .359 average, 23 round-trippers and 18 stolen bases.
Honorable Mention: Mike Trout, OF, Los Angeles Angels; J.D. Martinez, OF, Boston Red Sox; Jose Ramirez, 3B, Cleveland Indians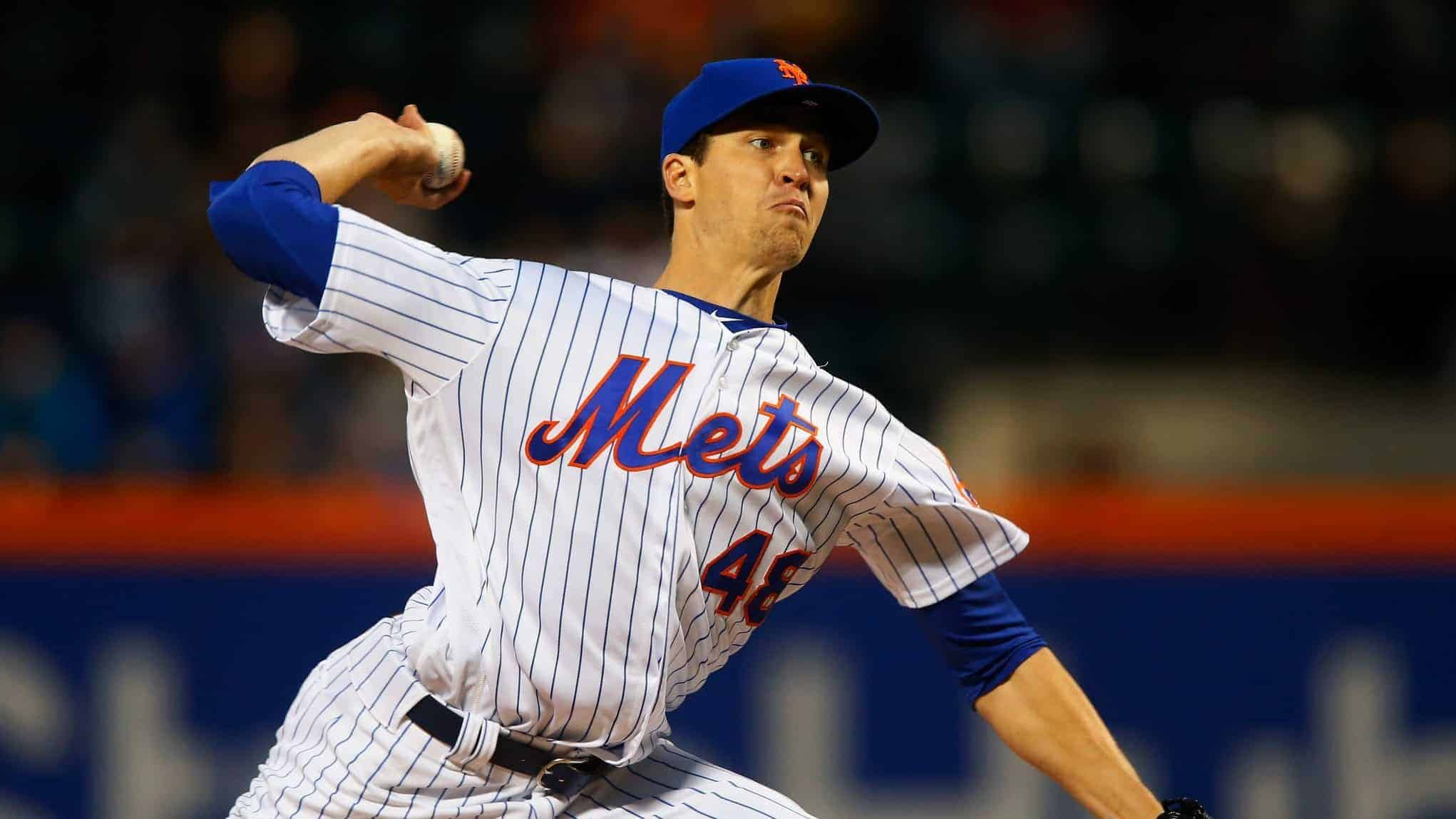 Metropolitan fans flash a rare smile once (twice during two-start weeks) when deGrom takes the hill.
Despite a crumbling supporting cast in Queens, deGrom is flashing a 1.68 ERA .097 WHIP and 149 strikeouts. He's also pitched six innings or more innings in 16 his 19 outings and is in the midst of an 11-game quality start streak. The Mets ace only has five wins on the season thanks in large part to an anemic offense coupled with a fair share of bullpen implosions.
If a contending team acquires deGrom at the deadline, expect the wins to pile up quickly for the two-time All-Star.
Honorable Mention: Chris Sale, SP, Boston Red Sox; Max Scherzer, SP, Washington Nationals; Luis Severino, SP, New York Yankees; Blake Snell, SP, Tampa Rays; Aaron Nola, SP, Philadelphia Phillies
Imagine being 23-years-old, dawning Yankee pinstripes, and having superstar written all over you. The baby-bomber leads all rookies with 29 extra-base hits while ranking amongst the top five in Runs, hits, homers, RBI, slugging percentage and OPS.
I know fantasy is strictly a numbers game, but this award goes beyond that. Andujar's veteran-like approach and maturity are contributing factors to his progression. Remember, out of spring training, Brandon Drury was slated to platoon with Andujar at third. Drury's unfortunate injury and eventual trade leave Andujar to man the hot corner full time.
Honorable Mention: Gleyber Torres, 2B, New York Yankees; Ronald Acuna, OF, Atlanta Braves; Juan Soto, OF, Washington Nationals; Shohei Ohtani, P/DH, Los Angeles Angels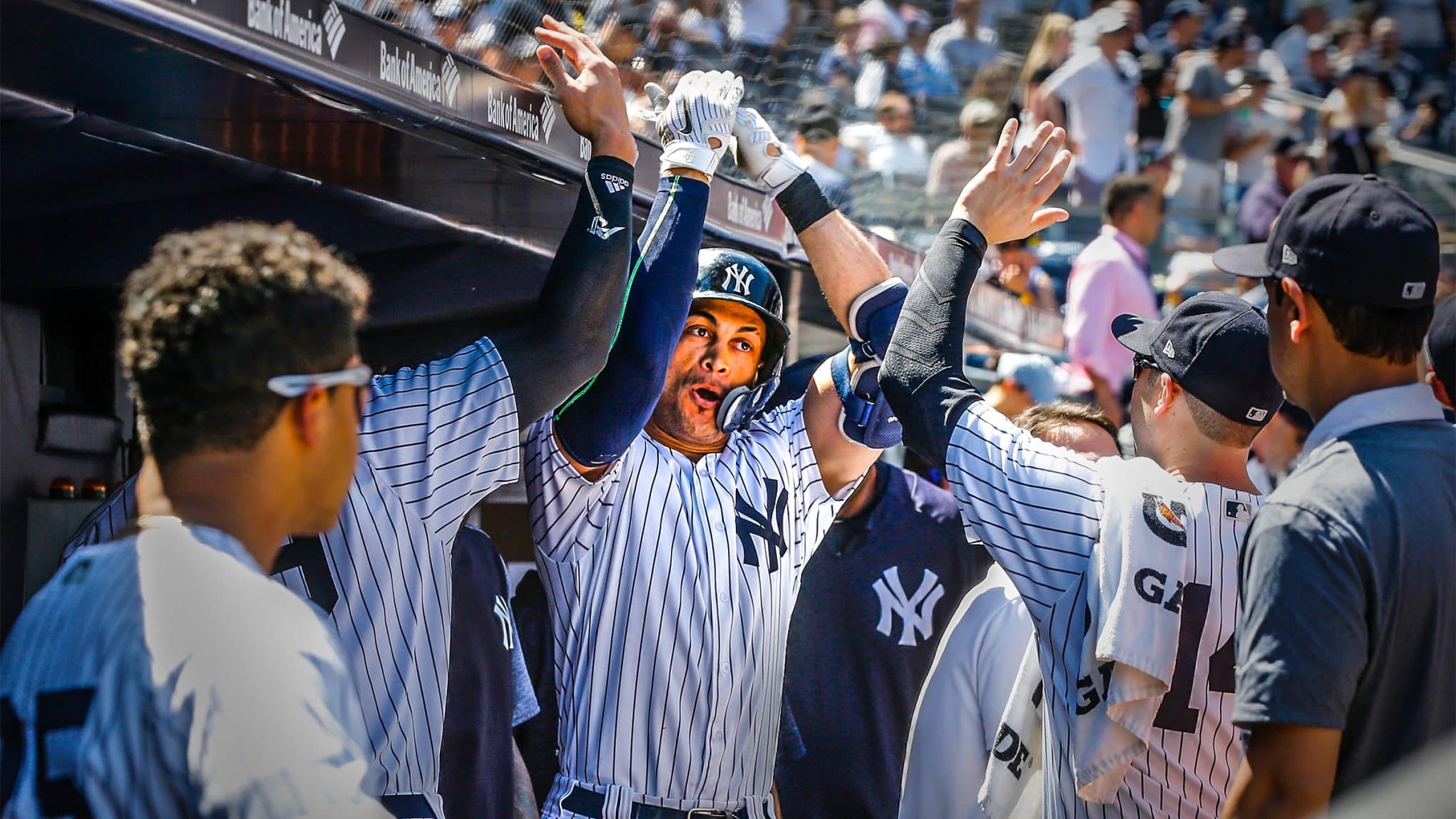 The Bronx boo-birds are no longer pecking at Giancarlo Stanton, who was my most disappointing hitter for April. As the award indicates, his concerning .218/.304/.356 slash line is now in the rearview mirror. Over the last three months, the reigning NL MVP's was a robust .295/.359/.559, underlined by 18 homers and 40 RBI's.
The Yankees star-studded lineup certainly accelerated his getting acclamation to the Big Apple. Expect the decorated slugger to continue to show his true colors to the finish line. After all, he is the reigning NL MVP.
Nola's sensational first half has elevated him into the upper echelon of pitchers in baseball. Two years ago there were concerns about the seventh overall pick's long-term health after a sprained UCL shortened his Sophomore season. There doesn't look to be any lingering effects, as his 12-3 record, 2.30 ERA and 0.98 ERA make him a dark horse Cy Young candidate.
Its 2018 isn't there something in the medical world that can alleviate recurring blisters?
Picture Goldy owners as parents and him as their child little Goldy. One day Little Goldy wanders off in the grocery store. After a nice chunk of time (March-May for owners) Little Goldy is found wrapped back safely in his parents' arms. Little Goldy's parents scold him for running off but they are so relieved he's back.
Little Goldy Runs Off: March 29 – May 30 stats: .209/.326/.369 Seven home runs 19 RBI, .719 OPS and 71 strikeouts
Little Goldy Reunited: June 1- July 15 stats: .369/.460/.706 14 home runs, 33 RBI, 1.166 OPS and 39 strikeouts.
I fought to refrain myself from reaching on Murph in both of my drafts. Reading the words "major knee surgery" and "no timetable for return" ultimately convinced me to stay away. If you decided to bite the bullet and store him in the infirmary, Murph is going to repay you in the second half.
The spring training rust is wearing off as the Nats second baseman is slashing .333/.396/.444 over his last 15 games.
The ageless wonder isn't ready to hang them up yet. Think about it this way, Big Sexy began his career when I was a 10-year-old.
Sure, the 21-year veteran has gotten lit up along the way, but he continues to chug along. So far this season, Colon has logged six or more innings than in 10 of his 19 starts (52 percent). Big Bart's most memorable outing Houston Astros in early April Colon flirted with baseball immortality, firing 7.2 innings of perfect baseball.
Colon's career win-total sits at 245, one shy of tying Dennis Martinez as the winningest Latin-American pitcher in baseball history. As long as he doesn't sing his swan song upon passing Martinez, there's gas in the tank to keep the record well-preserved.