Pro Football Focus is not impressed with the New York Giants front seven as they have their pass rush ranked 29th in the NFL.
The New York Giants defensive front seven will look much different in 2018 than it did a season ago. For one, the team is transitioning from a 4-3 to a 3-4 defense, and secondly, the Giants traded away one of the best pass rushers in the history of the franchise in Jason Pierre-Paul.
With the departure of JPP, there's only one player on the Giants defense that has ever recorded double-digit sacks in a season and that's Olivier Vernon who had 11.5 back in 2013 when he was a Miami Dolphin.
These are some of the factors that Pro Football Focus took into account when they did their pass rush rankings for 2018 and ranked the Giants 29th.
Only the Chicago Bears (30), Buffalo Bills (31), and the New York Jets (32) were ranked lower than the Giants.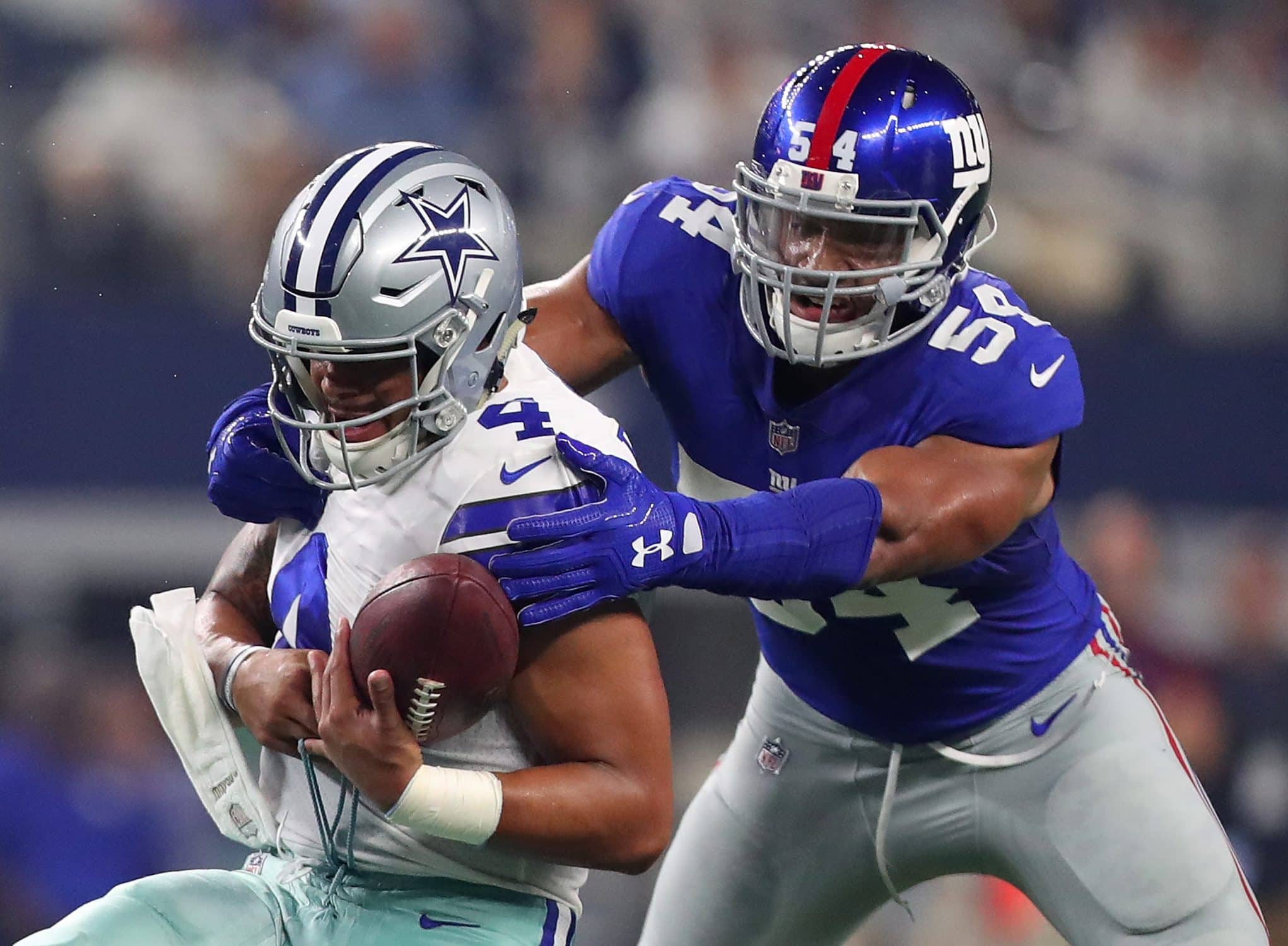 Pro Football Focus graded five players of the Giants front seven. The grades are as follows: Vernon 84.2, Damon Harrison 90.4, Dalvin Tomlinson 83.9, Kareem Martin 75.2, and rookie B.J. Hill 81.5 (college grade).
The only players not graded in the Giants projected starting front seven were inside linebackers B.J. Goodson and Alec Ogletree, who will blitz up the middle often in defensive coordinator James Bettcher's aggressive scheme.
The Giants will also rely heavily on their outside linebackers Vernon and Martin to apply pressure to opposing quarterbacks off the edge. But if the Giants pass rush outperforms Pro Football Focus' ranking, then their two defensive ends Tomlinson and Hill must play a huge factor.
Last season Tomlinson showed that he's an effective run stopper as Pro Football Focus gave him the highest grade for a rookie interior lineman. But now that he's being moved from defensive tackle to defensive end, he and Hill need to show that they can beat opposing offensive tackles and guards, and get to the quarterback.
The highest graded rookie interior defenders from the 2017 season! pic.twitter.com/Pe67EoiqVH

— Pro Football Focus (@PFF) February 14, 2018
Bettcher is confident that the two of them can do just that when asked by Giants.com if the duo can be effective pass rushers.
"I do think so. I do think so. And one of the things when we drafted B.J., that was part of us selecting him because we thought he has a potential to be a three-down player. Whether that's a middle push guy, whether that's a guy that can beat some guards and create some disruption for either edge players, or edge pressure guys. Dalvin's the same kind of player. Has some slipperiness to him, has the ability to get on edges. Excited to get to – again, I keep saying that, but I'm anxious to get to training camp to really see where some of that's at. But I do expect those guys to be able to help us."
Tomlinson, Hill and the rest of the Giants front seven will get to show how effective they can be rushing the quarterback next week when the team reports to training camp. They'll have the chance to go up against the Giants revamped offensive line.