There are many questions concerning the New York Giants' new 3-4 defense heading into training camp, particularly, four legit concerns. 
For the first time in over two decades, the New York Giants will run a 3-4 defense. While the players have expressed excitement in playing in defensive coordinator James Bettcher's aggressive scheme, there are several questions on how quickly the Giants will adapt to this new defensive scheme.
Here are four concerning questions surrounding the Giants defense heading into training camp.
1. How long will it take to get accustomed to James Bettcher's 3-4 defense?
With this new defense, several starters from a season ago will be playing a new position under this new scheme.
Dalvin Tomlinson, who was a defensive tackle last season, will now play defensive end. Olivier Vernon will go from playing defensive end to outside linebacker, and Damon Harrison will go from defensive tackle to nose tackle.
Anytime there's a change in defensive philosophy, you can expect there to be growing pains early on in the season.
Giants fans will remember in 2007 in Steve Spagnuolo's first season as defensive coordinator, the Giants gave up a combined 80 points in their first two games. From there on, the defense got better every week as they would lead the league in sacks with 53 and would shut down the high-powered Patriots offense in Super Bowl 42 on their way to a 17-14 victory.
Of the Giants' first four games of the season, two of those games are against teams that finished in the top 10 of total offense from a season ago (Saints at No. 2, Jaguars at No. 6). So it's imperative that the players grasp Bettcher's scheme quickly.
2. Is there enough depth at cornerback?
The top three cornerbacks on the Giants depth chart are Janoris Jenkins, Eli Apple and William Gay. Of those three, only Jenkins is considered a top cornerback, and after those three, the Giants are very thin when it comes to experienced cornerbacks.
Behind them are Donte Deayon, Curtis Riley, Teddy Williams, B.W. Webb and Grant Haley.
The concern over the lack of depth at cornerback is the reason they took Sam Beal in the supplemental draft on Wednesday.
The Giants will blitz often in Bettcher's scheme so they'll need corners that can cover opposing receivers man to man. If the Giants don't like what they see out of their backups in training camp and the preseason, they may try to re-sign Dominique Rodgers-Cromartie who the team cut back in March.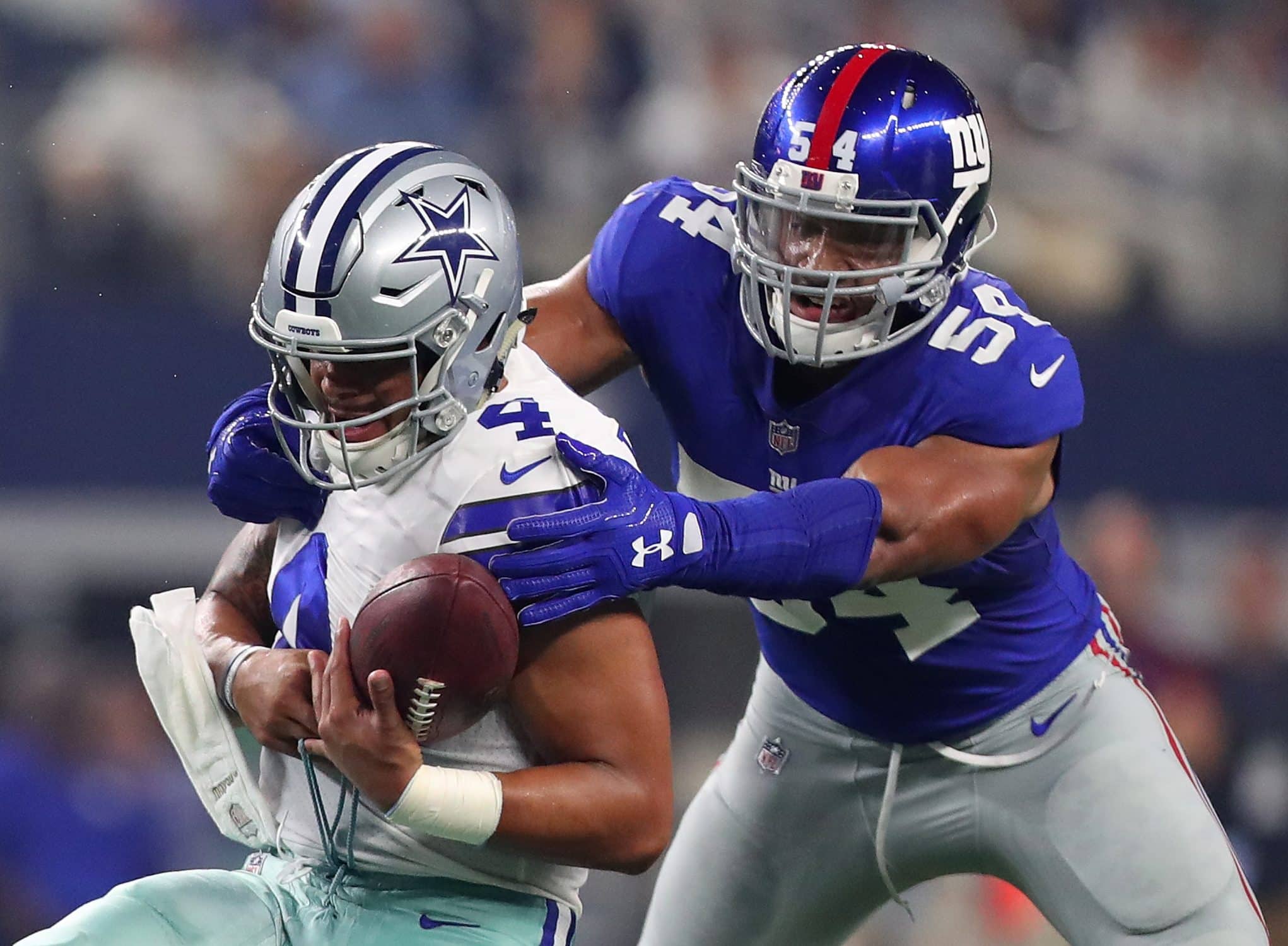 3. Where are the sacks coming from?
With Jason Pierre-Paul now a Tampa Bay Buccaneer, the Giants do not have a pass rush specialist on their roster. Vernon is the only Giant on the roster that has ever had double-digit sacks in a season and he only did that once back in 2013 when he was a Miami Dolphin.
Bettcher believes that Tomlinson and rookie B.J. Hill can create pressure at the two defensive end positions, but the Giants are going to rely heavily on their linebackers to get to the quarterback via the blitz.
The projected starting linebackers are Vernon, Kareem Martin, B.J. Goodson and Alec Ogletree and last season these four combined for 10 sacks. Rookie Lorenzo Carter will play often on the edge as well but it's unknown if he can be an effective pass rusher in the NFL.
4. How will the outside linebackers perform in coverage?
While the main responsibilities for the outside linebackers will be to rush the quarterback and stop the run, they will also have to cover tight ends and running backs coming out of the backfield.
In minicamp, the outside linebackers struggled mightily trying to keep up with Saquon Barkley on swing passes. This is a huge concern considering how much running backs are part of the passing game.
They will definitely need to improve on their pass coverage or opponent will exploit this weakness.