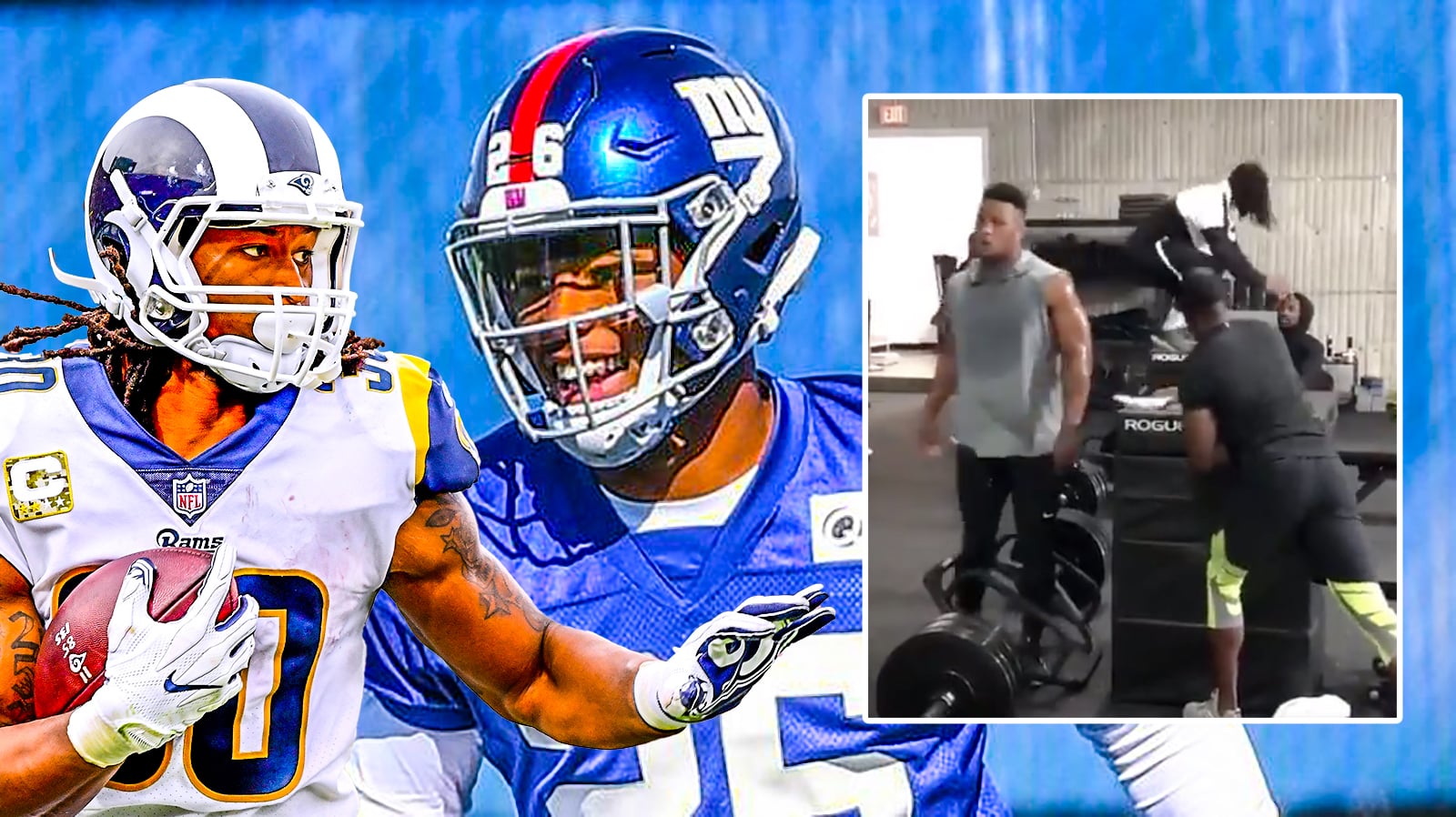 New York Giants rookie Saquon Barkley worked out with the second-leading rusher in 2017, Todd Gurley as they prepare for 2018.
New York Giants running back Saquon Barkley is by far the most hyped running back prospect in recent years. Barkley, who was taken second overall (the highest a running back since Reggie Bush in 2006), has already graced the ESPN body image.
He's showing how he got his physique, as he was working out with Todd Gurley, who was second in the league in rushing last year. Barkley went right from a deadlift of 315 lbs to a 42-inch leap onto a box.
315-lb deadlift to 42 inch box jump ?

Saquon and Todd Gurley are getting after it. (via @travellegaines) pic.twitter.com/g04L4eGnnR

— SportsCenter (@SportsCenter) July 11, 2018
He followed that up by doing sprints on a treadmill next to Gurley, and both backs were flying. It's a rare individual that combines both the raw strength and impressive speed of the Penn State product.
This is not the first time that the rookie's impressive workouts have made the rounds on social media. Previously, he was seen carrying a trap bar up a rather steep incline (he also worked out with Sterling Shepard). He's showing how he's earned the nickname given to him by teammate Odell Beckham Jr.
Lol exactly Saquads is sticking forever!! @saquon https://t.co/bPEhkWhiGc

— Odell Beckham Jr (@obj) May 31, 2018
The fact that Barkley is getting in work with one of the best running backs in the game is a great sign for him and the team.
Not only does Gurley have a track record of success, he knows the pressure Barkley is under, having been a running back drafted in the top ten. He can give Barkley tips on how to deal with both NFL defenses and the lofty expectations placed on his shoulders.
Barkley dominated the NCAA, collecting 3,843 yards on the ground and 1,195 yards receiving in three seasons for an impressive 5,038 yards from scrimmage.
He averaged 5.7 yards per carry and 11.7 yards per reception and racked up a ridiculous 51 touchdowns in only 38 games. While such domination is unlikely at the NFL level, he should quickly establish himself as one of the best running backs in the game today.