The New York Jets fan has earned his and her stripes. It's why positive Sam Darnold buzz leads to such an unwanted negative experience.
Sam Darnold is perfect.
The No. 3 pick in the 2018 NFL Draft has come to North Jersey to deliver a pristine performance through voluntary OTAs and mandatory offseason minicamp. Rave reviews are continually tossed from coaches to players, media members to fans.
He's traveling down that quiet yet workmanlike and steady path towards NFL superstardom. With no official Twitter account, it's obvious the kid doesn't dabble in the stuff champions aren't made of.
All of this and more has one collection of fans so giddy yet so uncontrollably anxious.
When it's all said and done, how will this kid go down? How will the Jets and young Darnold turn up so unlucky like so many who've donned the green and white in the past? It's the nagging question of the hour.
Remember, these are the New York Jets—the organization that's flown through several decades of football without a QB hero. It's the team of Browning Nagle and Neil O'Donnell. It's the franchise that's still riding a 50-year-old league-changing Super Bowl victory as its shining moment.
It's only natural that the media crushes such an organization. When the last crowing moment transpired while The Beatles were still on top, folks like Daniel Jeremiah and Mike Clay will enjoy each's respective field day.
Darnold could care less about the naysayers as his stock has risen even higher after his team's three-day mandatory minicamp this week. Though he's technically the No. 3 guy (behind starter Josh McCown and Teddy Bridgewater), he's taken many first-team reps.
Most importantly, nobody is ruling out a potential Week 1 that has Darnold behind center, especially offensive coordinator Jeremy Bates via Ralph Vacchiano of SNY.
"The question was: Are we giving him bits and pieces of the offense or are we throwing everything at him?" said Jets offensive coordinator Jeremy Bates. "We're throwing everything at him. If he can handle it, if he can prove that he is a starter, then that would take place when the time comes."

"We threw the whole playbook at him," Bates said. "Just like the same with Josh (McCown) and Teddy (Bridgewater). If you treat them like a rookie, they will become a rookie. We threw the whole book at him to see what he can handle, what he needs to work on."
The escalating belief at One Jets Drive is that Darnold has a real shot of starting come September. I already stated it's going to happen unless the Jets clearly hold him back for ridiculous conservative reasons.
Why? He is, by far, the most talented of the three.
There's no need to dive into specifics when glancing at the kid in the pocket. It's obvious. He throws a hard yet soft spiraled ball. He's big. He's put together. He's athletic. He's smart. He doesn't allow himself to get caught up in the nonsense that quickly takes out so many athletes during his social media world.
Darnold highlights from Day 3 featured a few goalline slant, flat and slant-corner routes. He then hit a couple on the nine-route and finished with a five-yard in.
Just watching the kid throw so perfectly while realizing this franchise lucked into the choice at No. 3 brings the fan base to a sudden halt—similarly to how Tony Soprano handled fights with mother Livia. Panic attack city.
The players understand. While the fans and media are often fooled, players rarely get it wrong (unless it's a clear teammate nudge of some kind), via Steve Serby of the New York Post.
"He's outstanding, man," Jamal Adams told The Post. "You can tell that he's a football junkie, he's always in the film room, he's learning each and every day. He's definitely feeding off Teddy and Uncle Josh. It's exciting to see those guys compete for the starting job, and it's gonna be exciting."
Even the returning starter can't turn away in silence.
"He's just wired right," McCown said.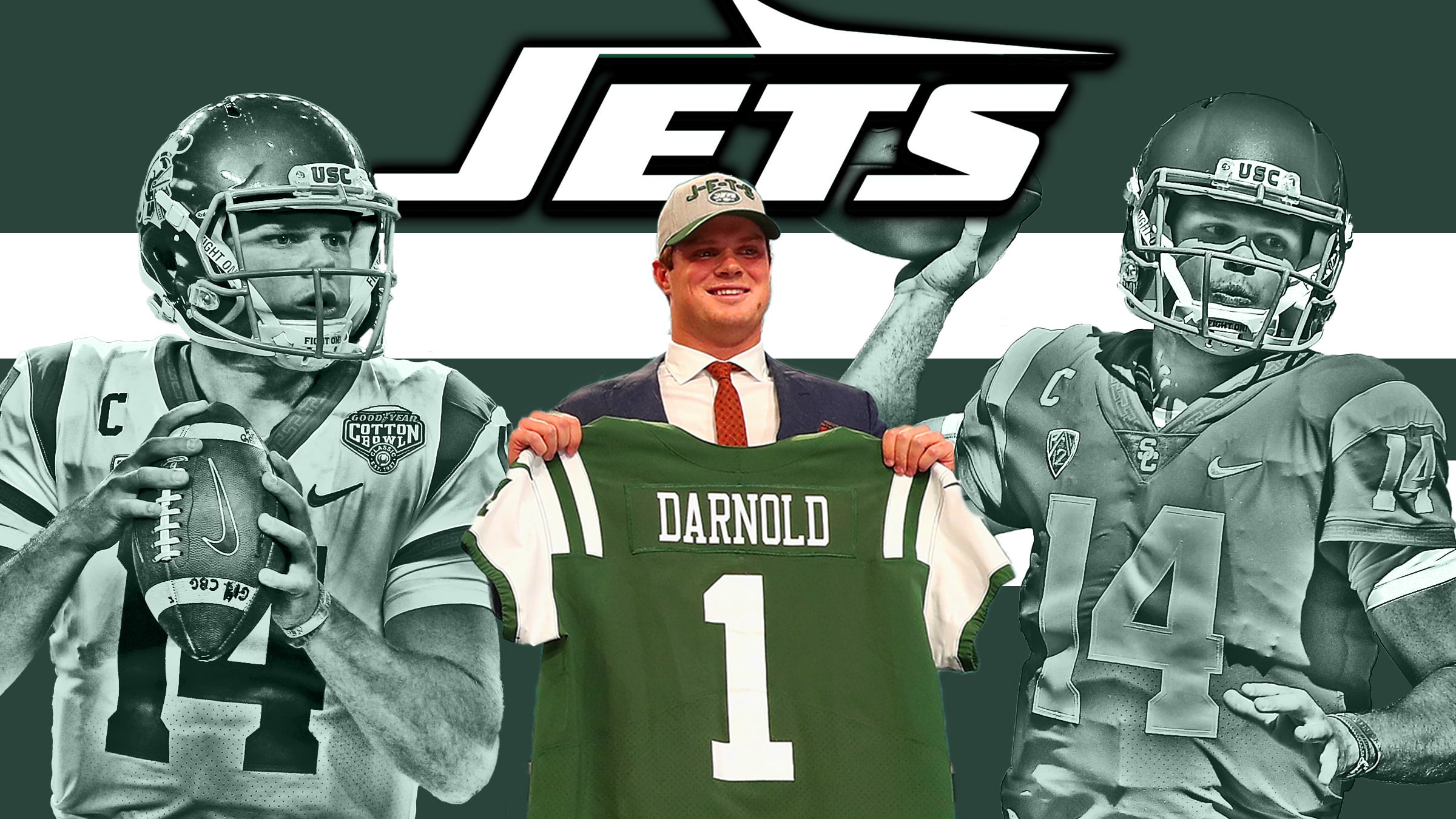 Remember, Kirk Cousins was the top choice in Florham Park. It was Cousins and his ridiculously overpaid $30 million a year salary that was constantly salivated over by Mike Maccagnan and his henchmen.
It didn't work, thankfully.
The Cleveland Browns then selected Baker Mayfield (another curious favorite of the Jets) and the rest is history.
It's not just Sam Darnold talent and perfection that's bugging the Jets fan. It's the entire situation and how it unfolded.
Never has this fan enjoyed a lucky break of even solid magnitude. Why would they now? That specific history remaining in the back of the diehard's brain is what represents an immediate halt to all of the Darnold buzz coming out of camp.
Not until September, even October can the fan base officially semi-celebrate. Not until the new golden boy defeats Tom Brady can all come together in one grand "Home of the Jets" song.
It's a simple case of human history. The New York Jets fan base will remain excited yet extremely anxious for now. Regardless, it's becoming increasingly obvious that Sam Darnold doesn't care which narrative is being spewed. He just feels like that special kid who can turn the world on its head—a neccesity for the current beaten and dragged-around Jets fan.
Next up for the kid? Twenty-eighteen New York Jets training camp.