Don't overthink it. Of course New York Jets quarterback Sam Darnold will be starting Week 1 of the 2018 NFL season. He is, by far, the most talented at the position on the depth chart.
Will he, won't he? Can he, can't he? Will they allow him or will they hold him back?
The possible scenarios facing the New York Jets organization as it pertains to rookie quarterback Sam Darnold moving through the summer ahead are many. Quite predictably, it's become a major topic of conversation, a talking point with thousands of smiles behind it while fully believing the one true quarterback has arrived in Florham Park, New Jersey.
And around North Jersey, the appropriate way of handling Darnold moving forward brings along a heightened importance due to the idea Joe Namath existed multiple decades ago.
Just do yourself one favor while joining these conversations. Don't overthink it.
Darnold will be the Jets starter come Week 1. He is, by far, the most talented player at the position on the depth chart.
The only possible way it doesn't happen comes down to an organizational gaffe—which this very franchise has showcased through the years. The only chance Darnold isn't touching the ass of Spencer Long on the night of Sept. 10 in Detroit is if Mike Maccagnan and the suits in power decide to "pretend" a real farm system exists in the NFL.
The NFL Isn't A Farm System League
Folks, wake up. Simply because Aaron Rodgers sat behind Brett Favre for three seasons prior to taking the official helm at age 25 doesn't mean he wouldn't or couldn't have turned out any worse if he'd started from day one.
What if he'd actually be a better quarterback for having played those three extra seasons? The prospect from Cal was a top 10 prospect only to see his name fall to Green Bay in the 20s. His success after waiting and learning means very little in terms of one true strategy in handling young quarterbacks in this league.
The number of examples pertaining to quarterbacks starting from day one is also many. Peyton Manning, John Elway, Dan Marino—it goes on and on. Throwing them into the fire didn't ruin any developmental shot.
The reason Jets fans lose their minds when speaking of this conversation is simple.
Mark Sanchez
Geno Smith
Mark Sanchez was that top 10 franchise quarterback. He was thrown into the fire and ultimately failed. Geno Smith, an early second rounder, again, thrown into the fire thanks to a Rex Ryan-Snoopy Bowl fourth-quarter decision and, yet again, ultimately failed.
Sprinkle in the snail-paced approach with Christian Hackenberg and Bryce Petty and, suddenly, Jets fans are all over the place as it pertains to Darnold.
There is no correct answer. The only thing a franchise can do is make sure the offensive line is well off enough to protect the investment. While, right now, that can be debated from many unique angles, it still comes down to the quarterback who provides the best opportunity to win.
That's Sam Darnold.
The QB Organizational Games
Could Mike Maccagnan and Todd Bowles come up with a decision of naming Josh McCown starter during August while fully realizing Darnold provides the best shot of winning? Sure, they can and most think they will.
It's extremely risky.
If it's done, the entire organization and fanbase will be waiting for a falter. They'll be waiting for failure—for that perfect spot to turn to the rook. It's never a good position to be in—especially if the team or McCown starts out at a torrid pace and never looks back. In that given situation, the squad will be playing great under a falsehood of never truly having a chance to win a Super Bowl. Not unless a true franchise guy is taking the snaps will that be the case.
It would be a silly game to play. The entire team understands how much better Darnold is in practice and with his god-gifted raw physical traits and starts wondering aloud what other spots are affected by politics.
The Jets are looking at Darnold vs. McCown as a true quarterback battle this summer. Honestly, what's the battle?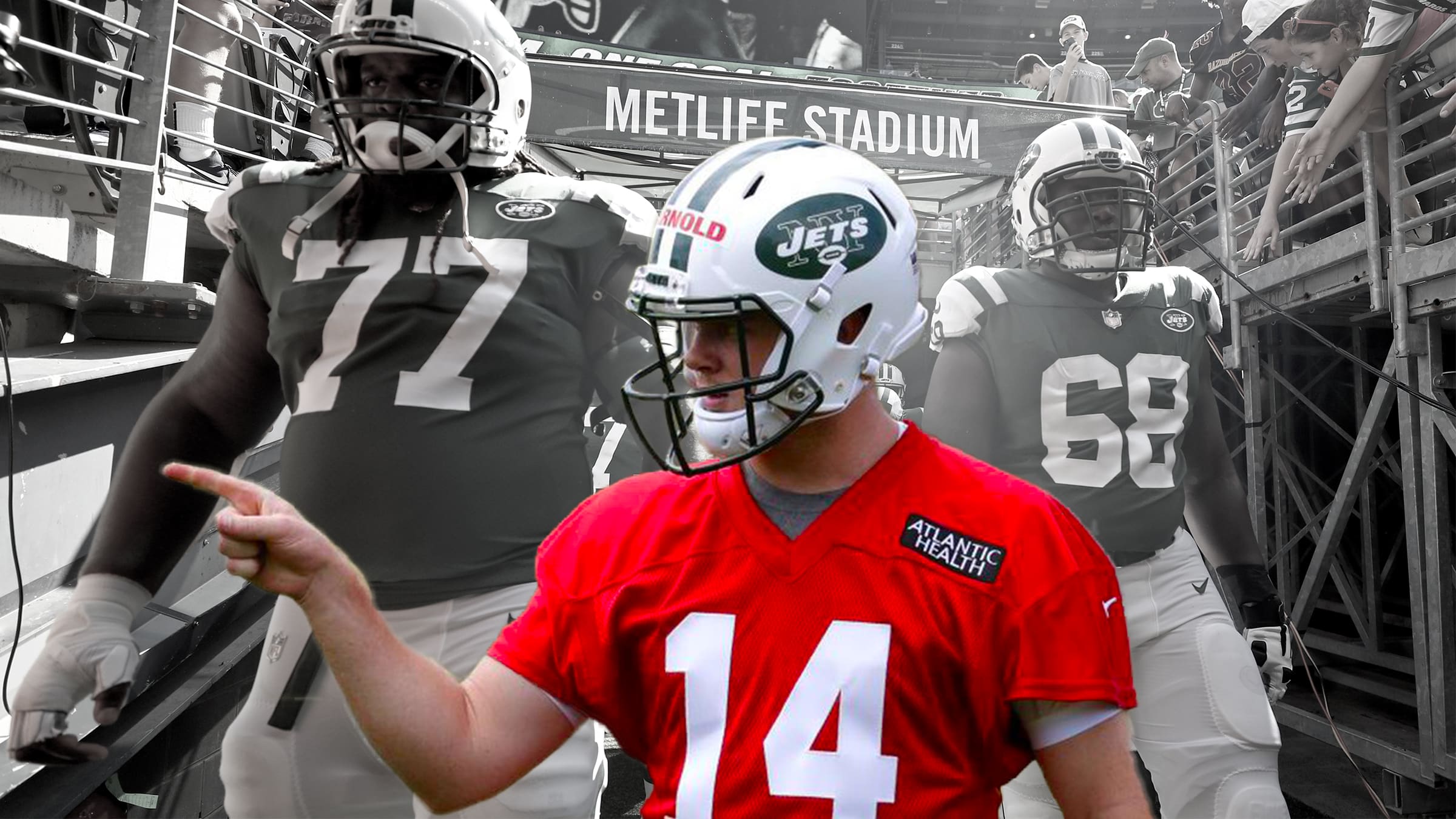 McCown has everything nailed down between the ears. He was in the offense a year ago and is still familiar with what offensive coordinator Jeremy Bates wants to do. Darnold, on the other hand, is already a much more gifted quarterback than his veteran counterpart. He can make every throw, move much better, and actually holds that possible key to an eventual title.
The only question is this: can Darnold be mentally prepared by September?
If he's not, he's simply not that franchise quarterback the Jets had hoped for. It's really that simple. Only a guy who'd struggle to pick up on a playbook all summer long is one who'll never achieve true greatness at the most critical position in sports.
Conclusion
There is no Triple-A Scranton in the NFL. It's not a league of rebuilding. One tremendous draft or season of a surplus of cap space can turn a cellar-dweller into a Super Bowl team.
Retooling, reloading and looking at things a bit more down the road can transform a personnel division (as the Jets are currently attempting), but rebuilding is a fake and fruitless word in the sport.
The best players play and they either develop or fold. They either develop through coddling or the school of hard knocks. If an individual is that special, he'll rise to the top regardless of circumstance.
Unless the New York Jets come to a silly decision, the rookie will be starting Week 1. It's not even close. When side-by-side with Josh McCown, Teddy Bridgewater or Christian Hackenberg, only a fool would select a man not named Sam Darnold.