The New York Rangers trade of Ryan McDonagh and J.T. Miller was surprising at the time, but now it appears the organization's move had more to do with the front office and coaching staff than it did the players.
The New York Rangers have been watching the playoff hockey instead of participating in them. Actually, there are some players who were Rangers a mere nine weeks ago. Some, longer than that.
Take a look at the Tampa Bay Lightning. The Bolts have three players in their lineup that were all with the Rangers when they were eliminated by the Ottawa Senators last postseason.
Dan Girardi was bought out by the organization last summer, Ryan McDonagh and J.T. Miller were acquired at the trade deadline in February. They joined former Rangers Anton Stralman and former captain Ryan Callahan.
Together, these players all for one reason or another were deemed expendable by the Rangers' organization are now flourishing in Tampa Bay, or, the name many fans are using, "Rangers South."
Were all of these players that the Rangers let go really the problem? Was it a lack of confidence by the organization? Could it have been a lack of patience and teaching ability by former head coach Alain Vigneault?
Worse yet, it's not just the former Rangers in Tampa. Another Ranger who's prospered in a jersey other than the red, white and blue is Carl Hagelin. Hagelin has won two Stanley Cups since he was moved to Anaheim and then traded to Pittsburgh. Derick Brassard, also with Pittsburgh this season, Brian Boyle with the Lightning, Maple Leafs and now the New Jersey Devils, are another two examples of life after NYR. We also cannot forget Michael Grabner, who, though, didn't see a lot of ice time, was also part of the Devils playoff season in 2017-18.
The Boston Bruins, just eliminated by "Rangers South" on Sunday, also benefited by trades with the Rangers as Nick Holden and longtime Ranger Rick Nash all contributed to Boston's playoff run.
NBC sports even rubbed some salt into an open wound, as noted by ESNY's Robby Sabo Sunday afternoon. Their graphic of the most games played in the playoffs by current players was a who's who of former Blueshirts.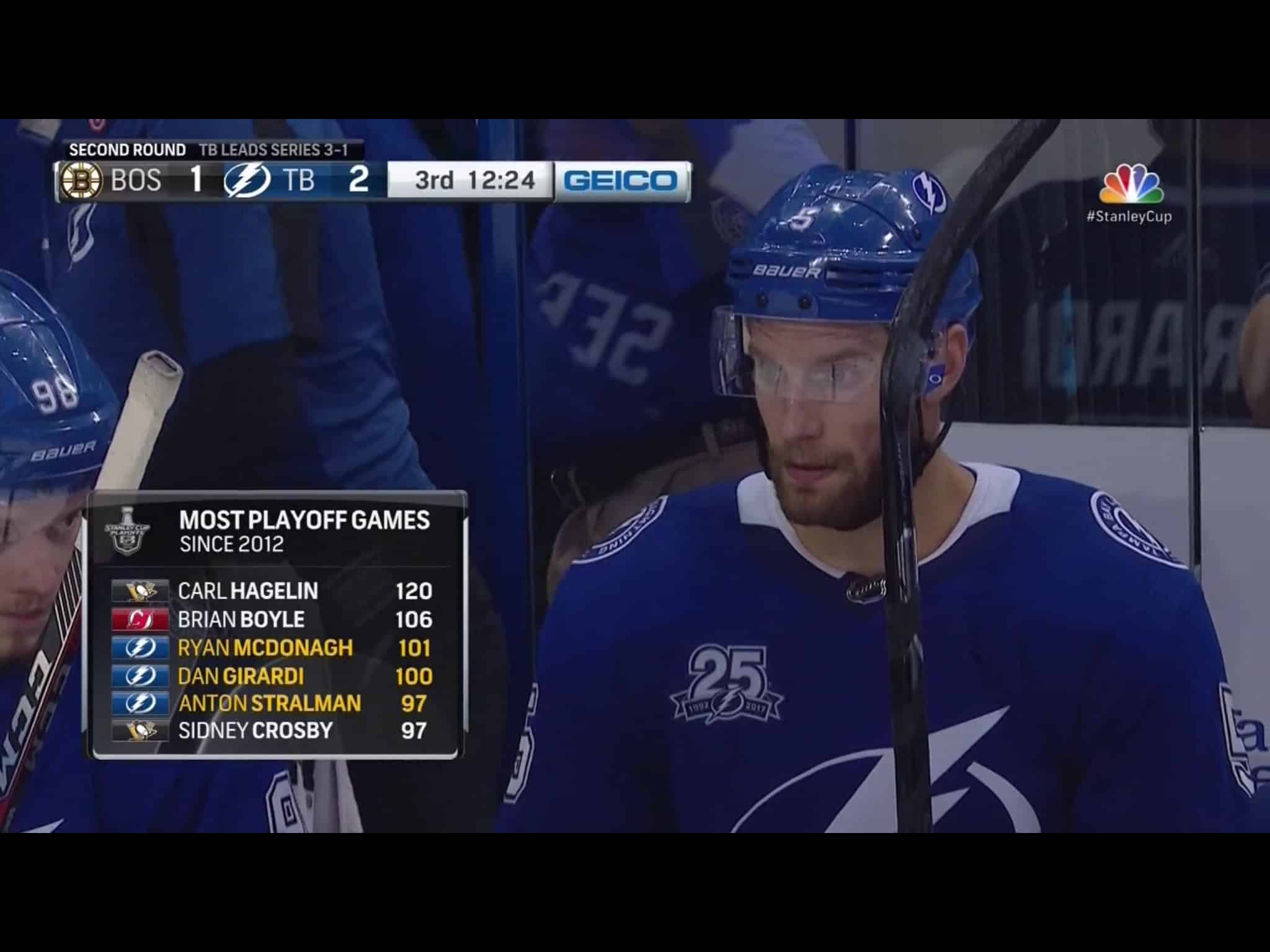 Since 2012, Pittsburgh Penguins Sidney Crosby was the only player out of the top six players to have appeared in the most playoff games, not on the Rangers. All were former Rangers now playing for other organizations. An eye-opening stat as most Ranger fans truly believed these players were the teams chance to make another run to the Stanley Cup, as opposed to watching these players and their talent skate elsewhere.
So I ask again, how did this happen to an Original Six team with one of the best fan bases in the National Hockey League?
Some were financial issues such as Hagelin's trade to Anaheim following the 2014-15 season. The Brassard trade for Mika Zibanejead in the summer of 2016 was a move the Rangers and Ottawa made with the hopes of getting each player a new place to bring out their game.
The trade I despised most was made this season and showcased the inability of patience and communication by Rangers former head coach Alain Vigneault—the trade of J.T. Miller.
At the beginning of the season, Miller was asked to switch to center form his natural wing position as the team was lacking at the center position. For the rest of the season, Miller bounced back and forth at the whim of a confused and inconsistent head coach. the result was a poor offensive season for J.T. as he registered 13 goals and 27 assists in 63 games for the Rangers.
Miller found himself on the fourth line as his Rangers career was coming to a close. A statement in confinement as Miller probably didn't know what was going on, or what he was doing wrong. Fans and players felt the same way.
Since his trade to Tampa Bay, Miller appeared in 19 regular season games, scoring 10 goals with 18 points. He scored the game-winning goal on Sunday to help his Lightning team eliminate the Boston Bruins.
Game-winner and off to the Conference Finals. This J.T. Miller goal will be your @GatoradeCanada Cool Under Pressure Play of the Night. #StanleyCup pic.twitter.com/cycXLiVrLP

— NHL (@NHL) May 7, 2018
Miller has appeared in 10 playoff games with two goals and seven assists. He has done everything the Rangers wanted him to do, but in Tamp Bay—now that he has found his confidence and game again. Also, it doesn't hurt that he has been on a line with two of the best players in the NHL, Steven Stamkos and Nikita Kucherov.
Former captain Ryan Mcdonagh has been playing his game once again, albeit it without the "C" on his chest The weight of that 'C" in New York must have been really heavy and it showed in his game. Now, McDonagh is back to solid hockey and once again battling the oppositions top players.
Dan Girardi does in Tampa what he always does, play with no fear and all heart. Fans who thought he was washed have been proven wrong as he has found another chapter in his career in South Florida. He even managed a game-winning overtime goal against the Bruins giving the Lightning a three game to one series lead.
Any type of goal is a good one in OT.

Dan Girardi just scored an important one for a 3-1 series lead for the @TBLightning. #StanleyCup pic.twitter.com/Wi3rCXahXW

— NHL (@NHL) May 5, 2018
The Rangers organization suffered through a terrible 2017-2018 season. The offseason was to be a place where the Rangers can move forward and put this past season far from their minds. Instead, this year has served as a memory of everything they did wrong.
Alain Vigneault cannot be the only one blamed for this mess.
Vigneault might have failed as a coach who had no patience for young players coming up in the organization over the past few seasons, but Jeff Gorton, Glen Sather and James Dolan are all representative culprits.
They failed to recognize the problem before it exploded into what we have now. The writing was on the wall weeks, or even months prior to the trades made in February. It actually started last June when the Rangers traded Derek Stepan, Antti Raanta and lost Oscar Lindberg in the Expansion draft. The organization never had a correct plan to adjust to the loss of those players and the teams struggled all season for it.
The coach, general manager, president and owner all share the blame along with the former and present players in the collapse of the New York Rangers. The decisions made to move away from the players who are now battling for the Stanley Cup serve as a reminder that all decisions, financial or otherwise, need to be evaluated from all sides before making a deal.
Some say these moves were necessary for the team to move forward and others say they were why the team missed the playoffs.
For this writer, I think if these players can flourish the way they have been so far this postseason, why couldn't they do it when they were in New York? Plenty of blame to go around, I guess.
For now, we can watch Rangers South play in the Eastern Conference Finals. Just four wins away from a matchup to hoist Lord's Stanley Cup.