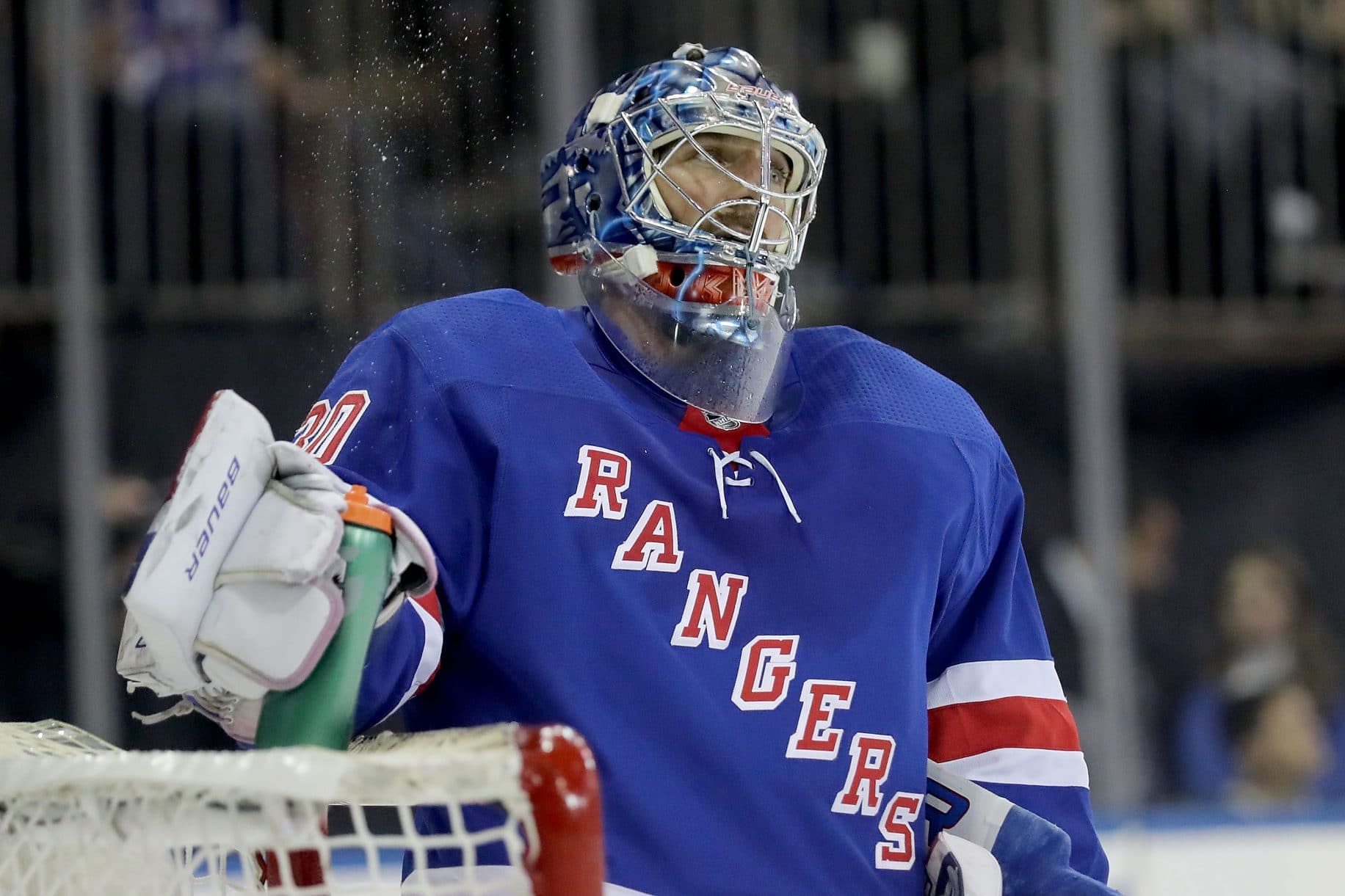 It looks like the New York Rangers will be sellers at this year's trade deadline. What happens with Henrik Lundqvist?
It appears that the New York Rangers are going to be sellers. Larry Brooks of the New York Post explained as much recently. Several key players are on the trade block with one notable exception—Henrik Lundqvist. If the Blueshirts do go through with a rebuild, where does Lundqvist fit?
Lundqvist, 35, most certainly does not want to sit through losing seasons. He is on the backend of what has a been a marvelous career. with one thing eluding him: the Stanley Cup. He came close in the 2013-14 season when the Rangers lost in the Stanley Cup Finals to the Los Angeles Kings but has yet to get back to playing hockey in June.
With three years left on his deal after this season concludes and a full no-movement clause, Lundqvist will have a tough decision to make. Do I stay or do I go?
Pros of leaving
The only way that Lundqvist will have an opportunity to win the Stanley Cup is to escape New York.
Obviously, this would be a major change for both Lundqvist and the Rangers as the two of them have been together since 2000. Throughout all of the success, the Rangers have almost never been able to give him a roster that has been capable of making long playoff runs. Whether it's a lack of scoring or a lack of defense, something always cuts the Blueshirts' playoff trips short.
Should Lundqvist feel it's time for a change, he has the power to decide where he wants to go. With a full no-movement clause, the Rangers cannot make a deal surrounding Lundqvist without his approval. The only logical solution for Lundqvist would be to orchestrate a team that has a chance at winning a Stanley Cup.
St. Louis is one place he could consider. Not only are the Blues reportedly in the market for a goalie, but they've traded for a franchise goalie once before, acquiring Ryan Miller from the Buffalo Sabres in 2014.
A trade with the Blues would bring the Rangers some young prospects and give St. Louis a legitimate chance in the playoffs.
Pros of staying
Should the Rangers hit a home run as they're selling off pieces, like the deals that brought players such as Derick Brassard and Mika Zibanejad in, Lundqvist might be inclined to stick around, seeing the upside of the new faces. The theme from those deals was that the Rangers received up-and-coming talent for aging veterans.
Staying in New York would mean that Lundqvist would get to spend the entirety of his career in the Big Apple. There are not many players that can say they have spent their entire careers in one city. All-time greats like Wayne Gretzky, Mark Messier, Jaromir Jagr and Martin St. Louis have moved around throughout their careers.
Staying would also result in Lundqvist mentoring prospect Igor Shestyorkin, who is just a couple of years away. Shestyorkin looks like a promising prospect and a spending a year backing up Lundqvist would be nothing but beneficial. Former Rangers netminders Antti Raanta and Cam Talbot flourished as Lundqvist's backup. The Rangers can hope that Shestyorkin will have the same success should Lundqvist stay.
Even though it appears that Lundqvist only cares about winning the Stanley Cup, he will be the last player in franchise history to wear the number 30. That will not change. He will go down as the greatest goaltender in franchise history. He will also go down in history as one of the greatest goalies to never win a Stanley Cup in history.
If Lundqvist can handle the idea of never getting to the promised land then he should stay. Most Ranger fans want to see him win. But it doesn't appear like that will happen in New York. His future is up to him and it is something that he and the Rangers should have a serious conversation about.