Just when you think life for New York Rangers fans couldn't possibly become more depressing, NBC throws up a "most playoff games" played stat that hits home.
There you are, watching the Stanley Cup Playoffs with your feet up. Comfortable is the only word you can think of. The clicker is on the right side with the cold mug of ale swiftly in reach on the left.
As a diehard New York Rangers fan, you've finally zoned in on quality hockey rather than your team's ills.
Then, boom. NBC puts up a statistic that makes it all hit home—a colossal shot to the solar-plexus.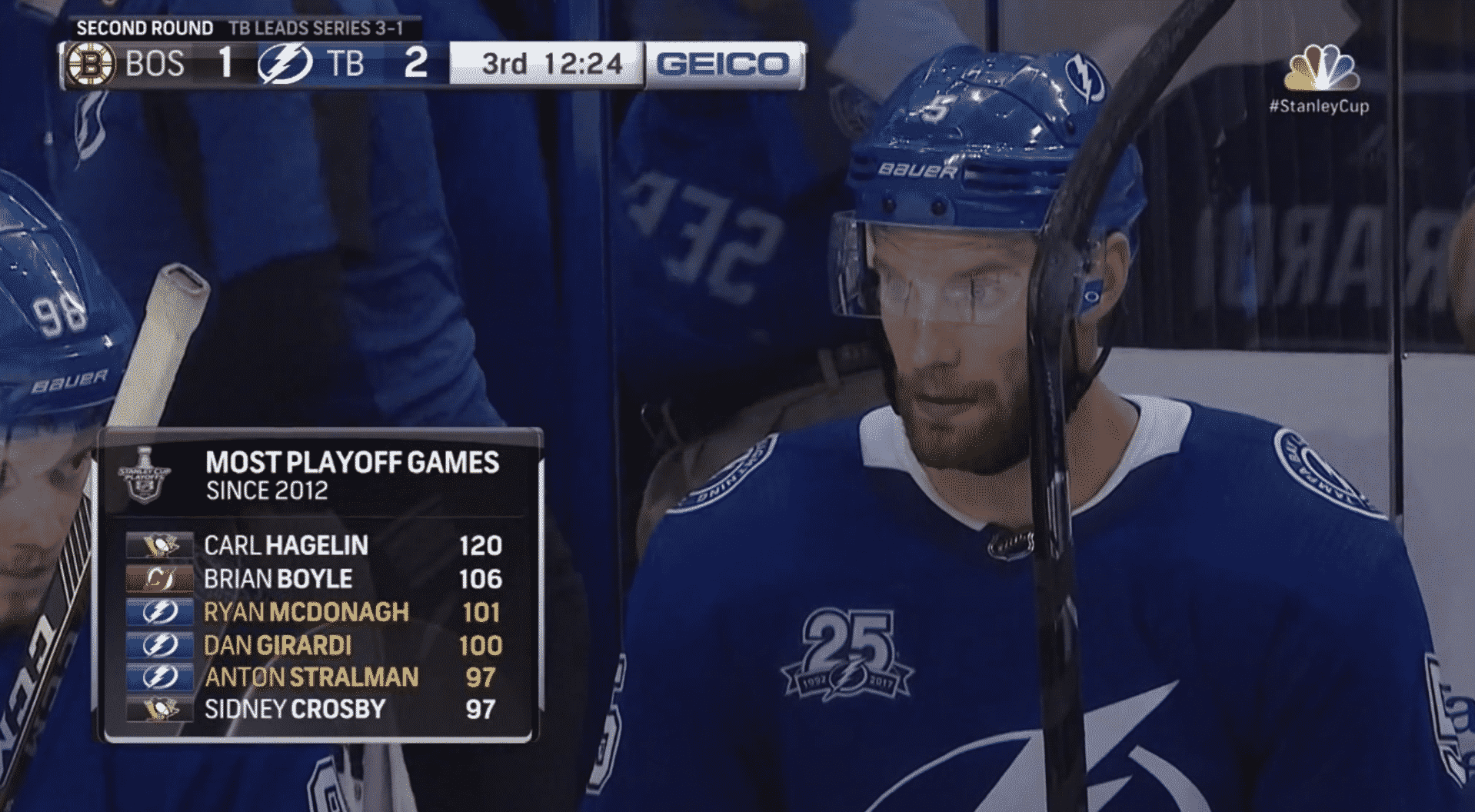 The NHL leaders in most playoff games since 2012 are right there to fully take in.
Of course, you didn't need to see the stat to understand it probably shook out this way. The John Tortorella and Alain Vigneault Rangers were a staple during NHL springtime. Add the success the Tampa Bay Rangers Lightning have enjoyed over the last few seasons and, yes, of course, the names are obvious.
Still, to actually understand the top five names come from the core of the organization and that all five made the playoffs this season and four are still playing is one bitter hockey pill to swallow.
Most playoff games played since 2012:
Carl Hagelin, Penguins: 120
Brian Boyle, Devils: 106
Ryan McDonagh, Lightning: 101
Dan Girardi, Lightning: 100
Anton Stralman, Lightning: 97
Sidney Crosby, Penguins: 97
Crosby, the three-time Stanley Cup champion ranks sixth on the list. That's just incredible.
The moment the shift really started came during the 2015 offseason. With Cam Talbot's youth and cheap salary, Carl Hagelin and Derek Stepan could have both been retained if they made the tough decision in telling Henrik Lundqvist they would force his hand (his no-trade clause) and shop him.
Losing Hagelin was a massive hit. Those glue guys just aren't valued enough in this league. The very same thing can be said about Ryan Callahan. While Martin St. Louis' nice story sparked the 2014 run, the team desperately missed the grittiness of the former captain.
The playoff of 2015 was one final shot with the core playing on bum and injured legs and now, an incredible 25 percent of the Lightning are former Rangers. Five of 20 Bolts players hail from the same core group and look to be on track for the organization's first Stanley Cup while Hagelin and Mike Sullivan are on the other side still battling it out.