It's only been a little over a month since the fantasy baseball season kicked off. Still, it's never too early to distribute some hardware to highlight overachievers, underperformers, newcomers and notable surprises.
You picked your team. Right now, you're incredibly excited for the rest of the season or you're floundering, doubting your top picks.
Regardless of where you land in the group, you know there's still a whole lot of season left. Let's take a look to see who took the gold and who completely flopped after one month.
Biggest Pitching Disappointment:
Yu Darvish, SP, Chicago Cubs
Yu Darvish hasn't been the same since his dreadful World Series performance for the Los Angeles Dodgers. In his two starts against the eventual champs, Darvish's ERA swelled to an alarming 21.60 over a combined 3.1 innings pitched.
The struggles seem to have followed the four-time All Star to the windy city this offseason. In three of his first five starts for Chicago, Darvish failed to make it out of the fifth inning. He was able to make it into the sixth inning on two occasions against the Brewers. The 31-year-old only surrendered two runs (one earned) and while striking out 17, but he did not factor in either decision. The reasoning behind his early season woes is limitless, putting owners on the brink of panic mode after just five starts. Theo Epstein's $126 million man still has time to settle in.
Honorable Mentions:
Alex Wood, SP, Los Angeles Dodgers; Marcus Stroman, SP, Toronto Blue Jays; Sonny Gray, SP, New York Yankees; Chris Archer, SP, Tampa Bay Rays
Biggest Offensive Disappointment:
Giancarlo Stanton, OF, New York Yankees
Stanton's Yankee debut in Toronto couldn't have gone any better. New York's prized offseason catch belted his first two homers and drove in four to propel them to victory. Since that memorable performance, Stanton has endured a dismal first full month of the season.
The former Marlin added three more long balls but is slashing a mere .239/.323/.440 and whiffed 37 times in April. Owners shouldn't expect Stanton's strikeouts to diminish by much, as evidenced by Stanton's career  27.8 percent strikeout rate. However, with Stanton's plethora of K's come brilliant power numbers. Since 2015, the artist formerly known as Mike has amassed at least 20 homers and 50 RBI by the All-Star break.
Much like Darvish, it may take some time to settle in and fully adjust to his new surroundings. Being a member of the most potent lineup in baseball is also a luxury.
Ultimately, April showers will bring May (June, July, and August for that matter) flowers for the reigning NL MVP.
Carlos Santana, 1B, Philadelphia Phillies; Evan Longoria, 3B, San Francisco Giants; Yoenis Cespedes, OF, New York Mets; Anthony Rizzo, 1B, Chicago Cubs
Biggest Pitching Surprise:
Patrick Corbin, SP, Arizona Diamondbacks
At 28 years old, Corbin's five years of big league service have been a roller coaster ride. After Tommy John surgery forced him to miss a big chunk of 2015 season, he never materialized back into the savvy southpaw we saw in 2013.
To the surprise of many, the Corbin of old came storming out of the gates in 2018. The Syracuse native finds himself amongst the NL's league leaders with four wins and 2.25 ERA. His 55 strikeouts are only short of reigning Cy Young winner Max Scherzer for tops in the National League. Meanwhile, just .06 decimals separate Corbin from Johnny Cueto's glowing .069 WHIP.
Rick Porcello, SP, Boston Red Sox; Sean Manaea, SP, Oakland Athletics; Joey Lucchesi, SP, San Diego Padres; Trevor Williams, SP, Pittsburgh Pirates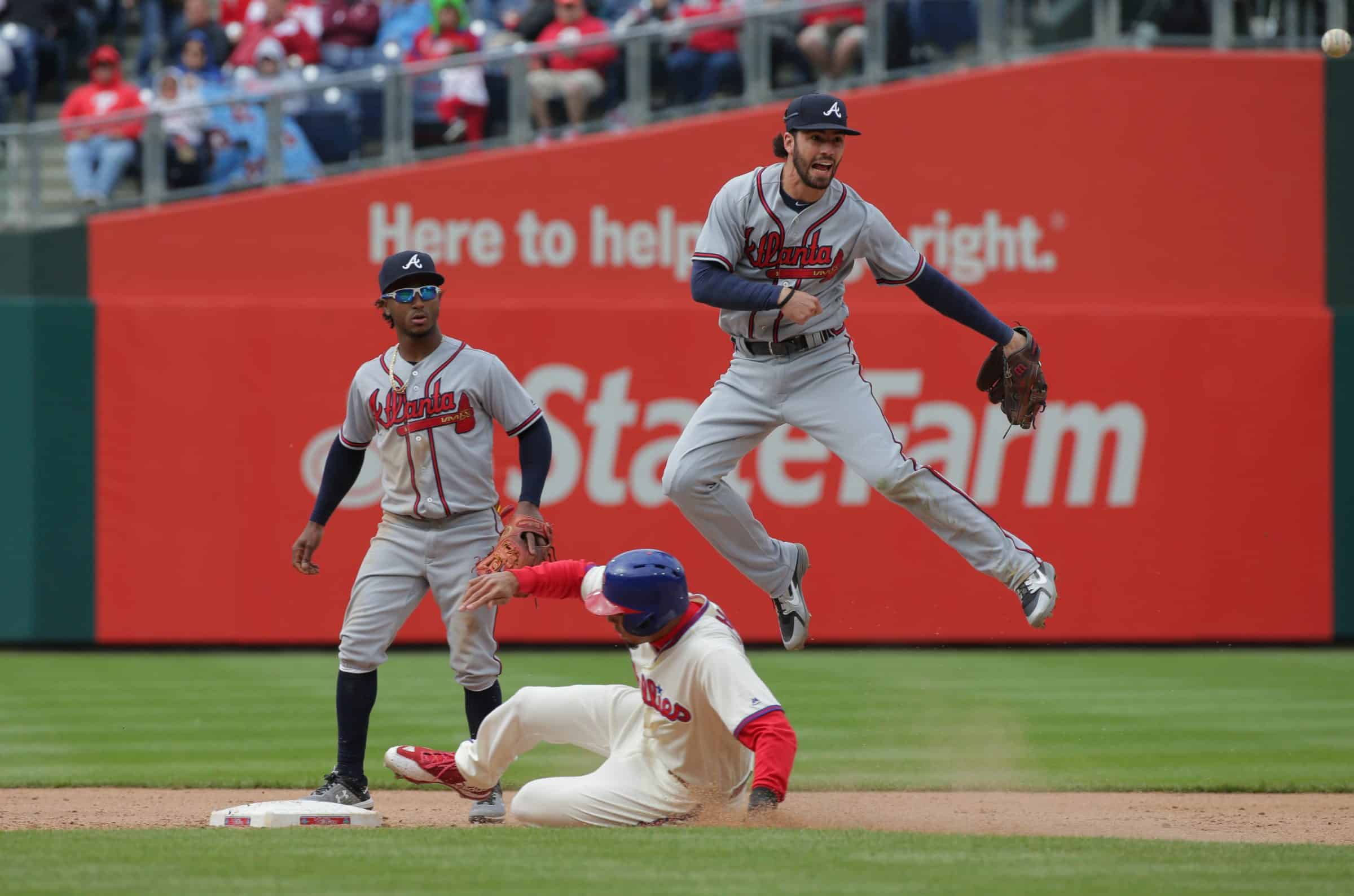 Biggest Offensive Surprise:
Dansby Swanson, SS, Atlanta Braves
Sports enthusiasts find a level of satisfaction when reminiscing about superstars who never panned out. The same goes for head-scratching trades that backfired. Heck, there are "Top Ten" shows dedicated to both topics. Dansby Swanson, Major League Baseball's first overall pick in the 2015 draft, is a unique name you can find on both of these lists.
Within six months of being selected by the Arizona Diamondbacks, he was packaged along with Ender Inciarte and Aaron Blair in return for Braves' pitcher Shelby Miller. Swanson didn't hit rock bottom like Miller, but he hovered around the Mendoza line frequently enough to be demoted back to Triple-A Gwinnett.
The 24-year-old has made major strides to start the 2018 campaign. Last year at this time, Swanson was sporting a disastrous slash line of .156/.200/.233 with two home runs and one extra-base hit. At the conclusion of April, the Braves shortstop sits at .277/.327/.426 with two home runs and nine extra-base hits.
The Braves' infusion of young talent is something to note. There is no question that a revamped lineup is contributing to Swanson's success. If Swanson can sustain his steady production, he will be on his way to tearing the 'bust' label off.
Jed Lowrie, 2B, Oakland Athletics; Jorge Soler, OF, Kansas City Royals; Jose Martinez, 1B, St. Louis Cardinals
Didi Gregorious, SS, New York Yankees
Who would have thought that the shortstop hitting in between Stanton and Judge would be the guy tearing the cover off the ball? Sir Didi's ten homers and .766 slugging percentage were the best across baseball. He captured AL Player of the Month honors earlier this week and is on pace for a career year.
Outstanding Rookie:
Shohei Ohtani, P and DH, Los Angeles Angels
A less-than-stellar Spring Training proved skeptics wrong about the 23-year-old phenom. The modern-day Babe Ruth's .333 average and .667 slugging percentage rank best amongst the Angels roster. Ohtani is still finding his groove on the mound. Through four starts, he sits 2-1 with a 4.43 ERA and 26 strikeouts and nine walks. You'll be hearing plenty more about him in the months to come.
Jed Lowrie, SS, Oakland Athletics
At some point during the marathon season, Lowrie almost always makes an appearance on my roster. If he can sustain April's Triple Crown output, it's unlikely he will see the fantasy free agent market. The 34-year-old recorded a .341/.396/.617 slash line accompanied by a .979 OPS.
Matt Davidson, 3B, Chicago White Sox:
Dorothy from The Wizard of Oz said, "There's no place like home." Matt Davidson feels at home in Kansas as well. He blasted seven of his nine home runs in Kansas City, and now owns the record for most home runs in a season by an opposing player at Kauffman Stadium.
Ozzie Albies, 2B/Ronald Acuna, OF/Atlanta Braves:
The NL East is going to have its hands full for the next decade courtesy of Atlanta's youth movement. Albies could be the most valuable second basemen. He continues to flash his speed and power out of the leadoff spot in front of rookie outfielder Ronald Acuna. Baseball's most highly touted prospect arrived at the start of the Braves' road trip two weeks ago. Although he only had 19 at-bats under his belt at the start of May, he showed that he's a superstar in the making.
Now, what will the month of May bring? The same winners and losers? This is baseball…you just can't predict it.