There's one specific way the New York Jets can replace Nick Mangold at center: draft another Ohio State product in Pat Elflein.
"I feel summer creeping in and I'm tired of this team again." This is what Tom Petty might have meant if he were a New York Jets fanatic. For a fanbase that is hoping for their last dance with Woody Johnson, new blood in the form of Chris Wold-Johnson may be weeks away.
Wold-Johnson accompanied the current owner to the Spring Meetings in Arizona, last week. Seeing the two together has been a common occurrence over the past few months since it was speculated that Woody may be in line to become the Ambassador to the United Kingdom.
While a transition of "ownership" may be in the works, the dynamic duo of Mike Maccagnan and Todd Bowles will use this draft to pivot the team in the right direction during an organization revamp. While draft analysts and prognosticators could spend hours debating who should be the number six pick for the New York Jets, essentially, there is belief that it will be a defensive back.
At this point in the offseason, Marshon Lattimore, Malik Hooker and Jamal Adams have become household names within Jets nation. The trio of players should be considered the chalk pick unless something unforeseen happens, such as Jonathan Allen falling or Maccagnan trading back.
There is an outside chance that Maccagnan selects a quarterback with the selection. The owner has yearned for a franchise quarterback since acquiring the team in 2000. While Chad Pennington, Mark Sanchez and Ryan Fitzpatrick had displayed consistent play for a season or two, the three were unable to secure the tag.
Gang Green's draft board alignment for rounds two through seven will shape the future of the organization, and the security of the Maccagnan and Bowles tandem. While the draft appears to have a deep pool of defensive talent, there are gems to be had on the offensive side of the ball.
If the green and white are looking to get a jump on rebuilding the offense, here are a few names of players that could fit in nicely: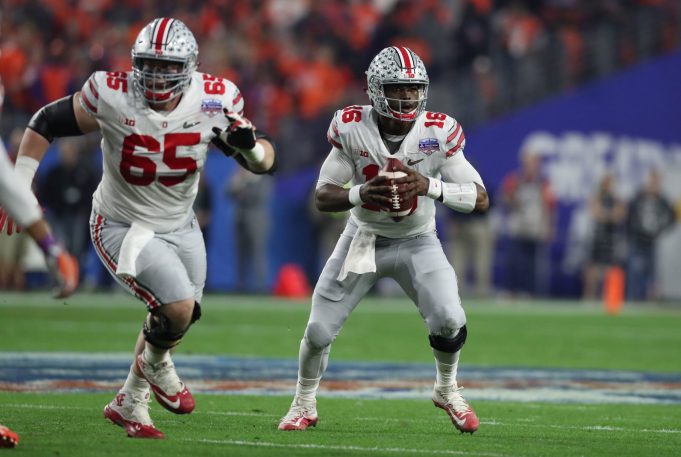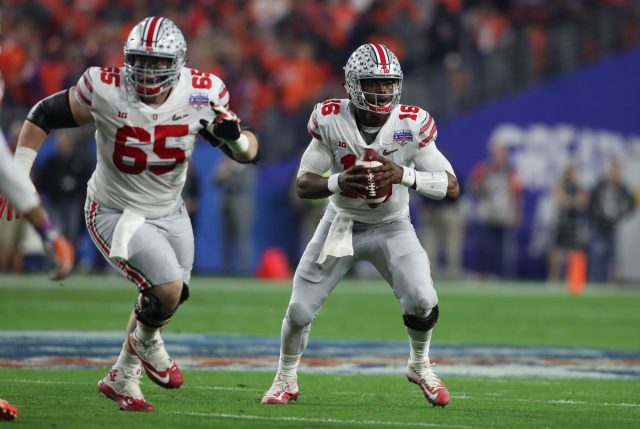 Considering how well the last center from Ohio State worked out, Pat Elflein's name should be towards the top of the Jets "wants" list. Like Nick Mangold before him, Elflein is a natural born leader in the locker room.
Elflein has a terrific work ethic and his versatility allowed him to play all three interior offensive line positions during his time as a Buckeye. His strength is in the run game, where he developed holes to allow Ezekiel Elliott and Mike Weber to rush for 1,000-plus yard seasons.
With all of the inconsistency at the quarterback position, the one continuous bright spot for the Jets was Nick Mangold at center. After a decade of manning an ever-changing line, Mangold is a free agent. There will be plenty of discussion about his hall-of-fame worthiness after he calls it quits.
The importance of a center with the work ethic and intelligence like Mangold's is immeasurable. With Elflein, the Jets could be acquiring a player cut from that same cloth. Elflein could be had on the second day. However, it may take some Maccagnan "magic" to grab the All-American either with their second pick or perhaps trade up from the third round.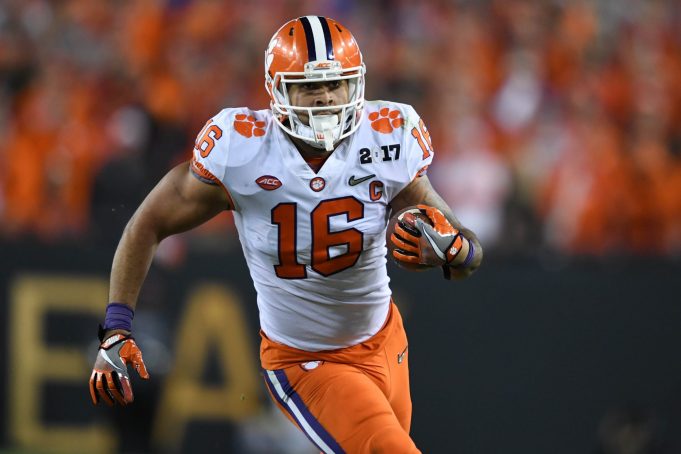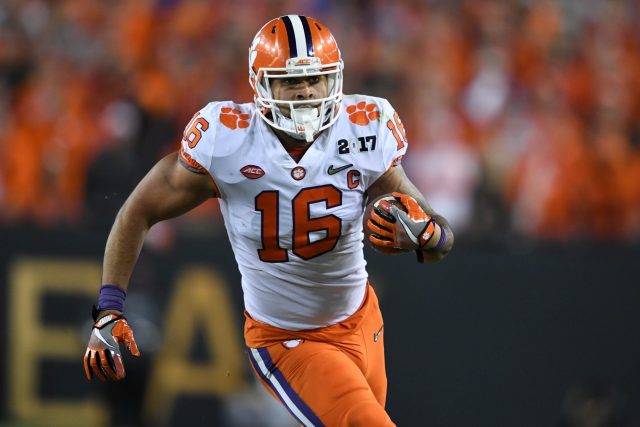 Jordan Leggett is a wide receiver stuck in a tight end's body. As sure-handed as a tight end that will be selected in this year's draft, Leggett can line up anywhere in the offense to make an impact. His big play ability in the biggest of games has given great insight into his potential.
Leggett amassed 12 receptions and over 200-yards in Clemson's two biggest games during the 2016 season, Florida State and Alabama. At times he looked unstoppable by gaining over 16-yards per touch on 43 total catches.
If Leggett played as well in every other game as he did against the Seminoles and Tide, he could be looking at a first or second-day selection. Unfortunately, he has been marked as a player who isn't always motivated to reach his full potential.
Perhaps a third-day selection by the Jets will reinvigorate the high potential athletic freak that is Jordan Leggett. Offensive Coordinator John Morton would be pleased to be able to utilize the tight end position as it was utilized in New Orleans when Jimmy Graham lined up in that incredible offense.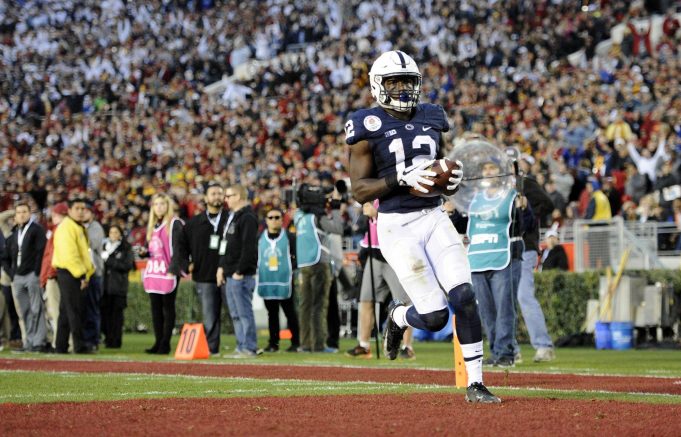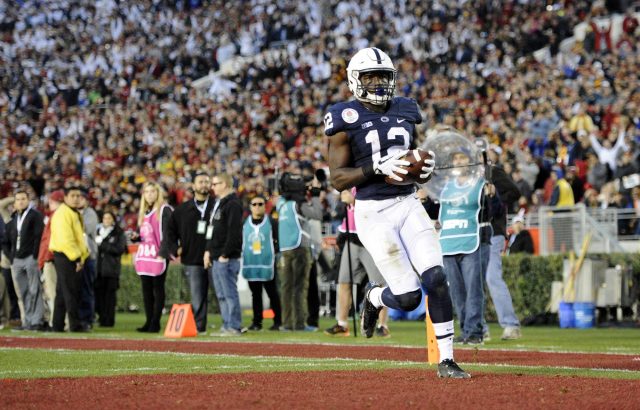 You don't get a second chance to make a first impression, but in the case of Chris Godwin, your last impression is what may get you paid. Godwin has been consistently good since his days in high school, but it's his bowl game performances that have set him apart from so many other wide receivers.
For Penn State, Godwin has compiled over 400-yards receiving and three touchdowns during bowl season. His performance in a heartbreaking loss to USC in the 2016 edition of the Rose Bowl was the culmination of a very successful collegiate career.
If the Jets brass decide that Christian Hackenberg will get the nod as starting quarterback, Godwin, a player he has chemistry with could be of great value for the young signal-caller. During Hackenberg's final season with the Nittany Lions, the two connected for over 1,000-yards.
Godwin's work ethic is unquestionable, he spent the weeks leading up to the combine by training with Calvin "Megatron" Johnson. A mentor of this caliber shows the drive that others see in the youngster. If the Jets want to provide a safety blanket to Hackenberg, there is no better selection than Godwin.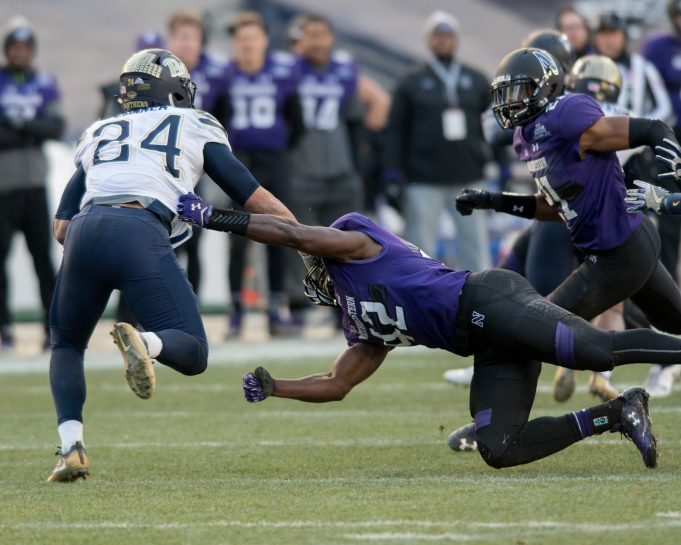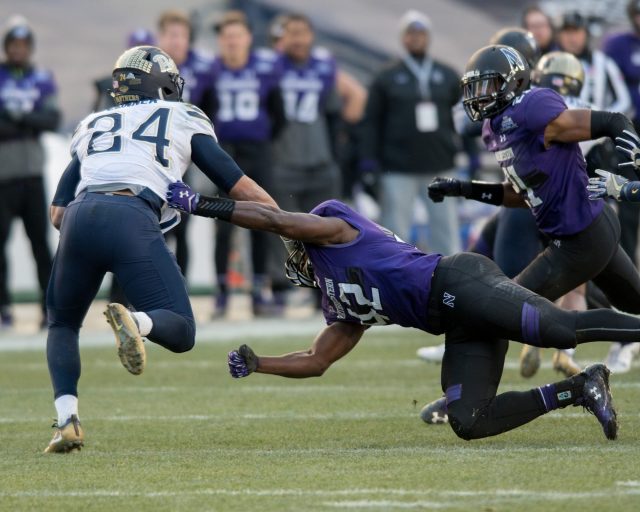 As for how comeback stories go, you won't find many more inspiring than Pittsburgh running back, James Conner's story. A player who suffered an injury in which during his rehab it was discovered he had a form of cancer. To return to the field and be as effective as he was based on the year-plus he was removed from the game, is remarkable.
Today, we are beyond a feel-good story. On draft weekend, something that may have seemed impossible just a few years back will occur when James Conner's name is called. Redemption for Conner, who during his sophomore year looked like he may go on to be one of the top running backs in the country.
Obviously, the injury and cancer rehabilitation may have removed some of the natural ability Conner possessed. What it did not do, was decrease his work ethic, in fact, that may have been enhanced.
Conner could have a role with the Jets from day one. He is a vicious runner who looks for contact, and is a willful contributor to adding his own punishment to any defensive player in his way. With Matt Forte and Bilal Powell both moving toward the twilight of their careers, Conner could be the first addition to a two-back system for the Jets moving forward.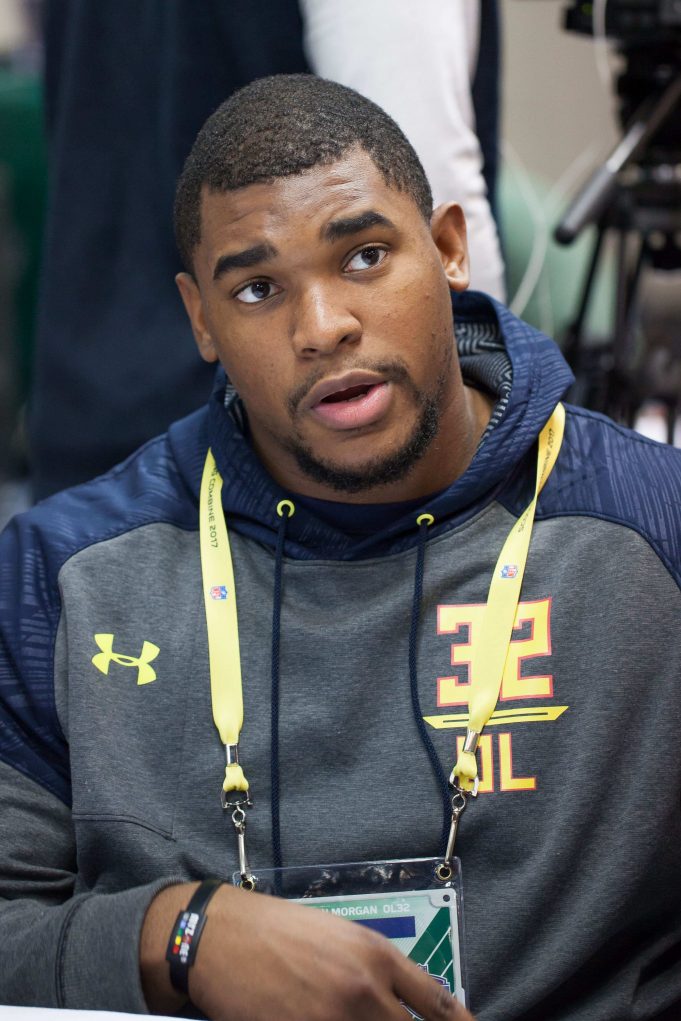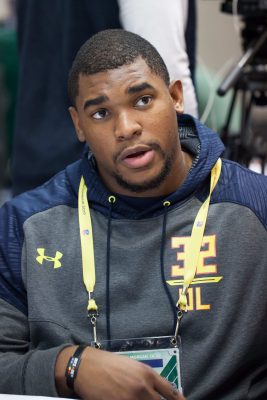 It is quite possible that Jordan Morgan was one of the best college left tackles in the country during the 2016 season. The only knock being, he played for Division II, Kutztown University. Even so, the level of competition will not deter NFL teams from drafting Morgan.
Morgan has ideal size to play guard in the NFL, and though he may be a bit of a project to hone the skills necessary to start in the NFL. One player, in particular, has gone from the Pennsylvania State Athletic Conference to the NFL.
In 2006, Jahri Evans was drafted in the fourth round by the New Orleans Saints. A selection that would at one point, become the highest paid guard in the league. To dismiss a player that played in a lower level of football because of the competition level would be foolish.
For Morgan, his exploits as a four-year starter did not grab the attention of NFL scouts more than his Senior Bowl week did. There were mixed results during the reps he took as a tackle, but once he was moved to guard, the dominant first team all-conference player looked willing and able.
For Gang Green, maybe the losers will get lucky this time.