With draft day quickly approaching, the conversation about the New York Giants' future quarterback has reached a boiling point. These conversations have turned these weeks of preparation into the most important of Davis Webb's young NFL career.
Who should the New York Giants take with the second overall pick in this month's NFL Draft?
The conversation has been contagious in the tri-state area. Every person of every age and every profession has seemingly been asked the question and has engaged in debate over a quandary that could shape the landscape of New York sports for the next decade. Though the Saquon Barkley campaign has gained steam as we get closer to draft day in Dallas, a good amount of the debaters are still calling for the Giants to move on from the Penn State running back, should he be available, and to dip their toe into the pool of uncertainty that is the 2018 rookie quarterback class.
There's rampant civil war in the quarterback debate, as fans have aligned themselves with certain representatives, creating Game of Thrones-style factions. Some are California dreaming, as UCLA's Josh Rosen and USC's Sam Darnold have added a West Coast flair to the proceedings. Others are going all or nothing on Oklahoma's Baker Mayfield. In a shocking development, a Cowboy could be welcomed in East Rutherford, though only in the form of Wyoming's Josh Allen. Smaller sectors clamoring for Oklahoma State's Mason Rudolph or Louisville's Lamar Jackson have likewise emerged, as each group submits their nomination to succeed Eli Manning as the Giants' franchise quarterback.
The exception, it appears, is Davis Webb, the other quarterback currently on the Giants' roster.
This time a year ago, Webb was one of the more polarizing prospects in the draft. Some saw him as a dark horse first rounder, others as a mid-round sleeper. He wound up leaning more toward the latter, as the Giants took him in the third round, 87th overall.
The drafting of Webb was perhaps the first acknowledgment from the Giants that they were aware the day would come where Eli Manning would not be their starting quarterback. Quarterbacks had been drafted in the Manning era before, but Webb was the first thrower selected within the draft's first three rounds since that epic 2004 trade with the Chargers that dressed Manning in blue. Thus, he became the closest thing to an heir apparent the Giants ever had, including Ryan Nassib, whom the Giants traded up to select (ironically, also with the artists formerly known as the San Diego Chargers) in 2013's fourth round.
That Manning-free day wound up coming much sooner than the Giants anticipated because 2017 happened. The youngest Manning brother was no exception to the cesspool that became the Giants' season, and, while he was nowhere near the top of the Big Blue blame list, it still went down as one of the most brutal seasons of his career. In a desperate move by the Giants' leadership triumvirate of head coach Ben McAdoo, general manager Jerry Reese, and principal owner John Mara, Manning's epic streak of 210 consecutive starts under center ended in December, with New York Jets washout Geno Smith getting the start in the team's Week 13 visit to Oakland. Once McAdoo and Reese were dismissed hours after the loss to the Raiders, Manning took every remaining offensive snap.
It was almost immediately established that American Dream Meadowlands was more likely to see autumn 2017 action than Webb, but, in hindsight, the team's failure to insert Webb in any of their meaningless late-season games created an offseason of uncertainty and prognostication. Save for a few summer throws against de facto practice squads in the preseason, the Giants have nothing to go on in terms of Webb's future. Inspiring as it was to see Manning get a hero's welcome when he returned to starterhood against the Dallas Cowboys a week after the Oakland disaster, the final four games provided free research and development for the next generation. Some might've provided their cases to stay for the rebuild, securing their roster spot for the future.
Alas for Webb, he was denied the opportunity, only allowed to dress for the season finale against the Washington Redskins. Several rookies quarterbacks got their chance to showcase their talents over the course of the 2017 season. Houston, for example, is fairly confident in a future headlined by Deshaun Watson. On the other hand, Cleveland, San Francisco, and Buffalo know their respective futures won't see much of DeShone Kizer (second round), C.J Beathard (third), and Nathan Peterman (fifth). The 49ers were able to plug their quarterback gap up with Jimmy Garoppolo, the Browns and Bills each added stopgap veterans (Tyrod Taylor and AJ McCarron) while still performing due diligence on the rookie front.
By not inserting Webb into any games last season, the Giants' situation becomes slightly murkier and makes the taking of a quarterback all the more possible. Thus, April 2018 has become the most important month of Webb's fledgling career.
With Smith departed to, again, the Chargers, Webb, at least for the time being, occupies the second slot on the Giants' quarterback depth chart. With the Giants' offseason program well underway, it's up to him to prove why the Giants should, pun very much intended, pass on a prospect thrower and establish himself as New York's future.
Webb, 23, is undoubtedly aware of this. But while he may be a rookie in terms of on-field experience, he is dealing with the constant quarterback conversation like a seasoned veteran. A difficult debut season was somewhat offset by his class and professionalism when forced to talk about his awkward situation, as he praised and thanked his veteran mentors Manning and Smith throughout the year. While Webb has kept out of the spotlight during this draft preparation process, his professionalism has extended to the offseason, in an area where such an art is lost, perhaps even frowned upon by its users: social media.
In a Giants offseason that has featured more uncertainty than the New York City subway schedule, one of the few constants, a rare winter/spring staple, has been Webb's training videos, which have appeared sporadically on Twitter throughout this football hiatus. Working with Tony Racioppi, a self-described "Private Quarterback Instructor" on his LinkedIn page, Webb's progress was on display long before the Giants' official offseason began. He wasn't alone in the videos, working with several catching assistants, including a good friend and fellow Giant, tight end Evan Engram.
Great session today with Giants QB Davis Webb working Stretch Naked Bootleg Throwing Deep Drag to Giants TE Evan Engram. Davis can make every throw in the game in or out of pocket and Evan is a mismatch everywhere. @TEST_Football @Davis_Webb5 @EvanEngram @Giants #nfl #giants #qb pic.twitter.com/EukRQ6KKwr

— Tony Racioppi (@Tonyrazz03) February 21, 2018
Racioppi knows a thing or two about New Jersey football greatness. Currently the head coach at Franklin High School, Racioppi made a name for himself at Division III Rowan University, where he was a two-time All-American. Despite last playing with Rowan in 2002, he remains one of the top 20 highest rated passers in all of college football. His compatriots on that list include University of Washington head coach Chris Petersen, 2006 Heisman Trophy winner Troy Smith, and current Redskins quarterback Alex Smith. He also still holds the NCAA record for most touchdown passes in a quarter (5).
New head coach Pat Shurmur, whose prowess in quarterback development has been well documented, expressed excitement to work with Webb in his introductory press conference in January. After earning the offensive coordinator position on a full-time basis in Minnesota for the 2016 season, Shurmur acknowledged that Webb was on the Vikings' radar during the draft proceedings in Philadelphia. The team eventually elected to stick with veterans Sam Bradford and Case Keenum (each of whom posted their best numbers under Shurmur's watch), but Webb left an impression on the Giants' new boss.
"We went through the process on Davis Webb, and we thought he was an outstanding player," Shurmur recalled. "We liked how competitive he was. He's got size. He's got good arm strength.  We felt like he was a guy worthy of being drafted and having a chance to be a starter someday."
Incoming offensive coordinator Mike Shula, who spent the past seven seasons overseeing Cam Newton's reign in Carolina, anticipated the chance to analyze Webb at the Giants' upcoming voluntary minicamp, which is slated to be held April 24-26 …ending hours before the first round of the draft kicks off.
"I'm looking forward to finding out what he's about," Shula said as the Giants opened their offseason workouts. "I think coming up next here in the next few weeks with our veteran minicamp will help us gather more information on him."
Webb is a quarterback who has dealt with adversity long before his NFL career began. After beating out Mayfield for the illustrious and fruitful position of Texas Tech's starting quarterback, Webb was dished a taste of his own medicine, subbed for fellow 2017 draftee Patrick Mahomes. Transferring to Cal-Berkeley for his senior season, Webb left a lasting imprint on the Golden Bears' record book in just one year. His 4,295 yards and 37 touchdowns in 2016 each rank second in the team's single-season tallies, providing an outlier to the Jared Goff-topped lists.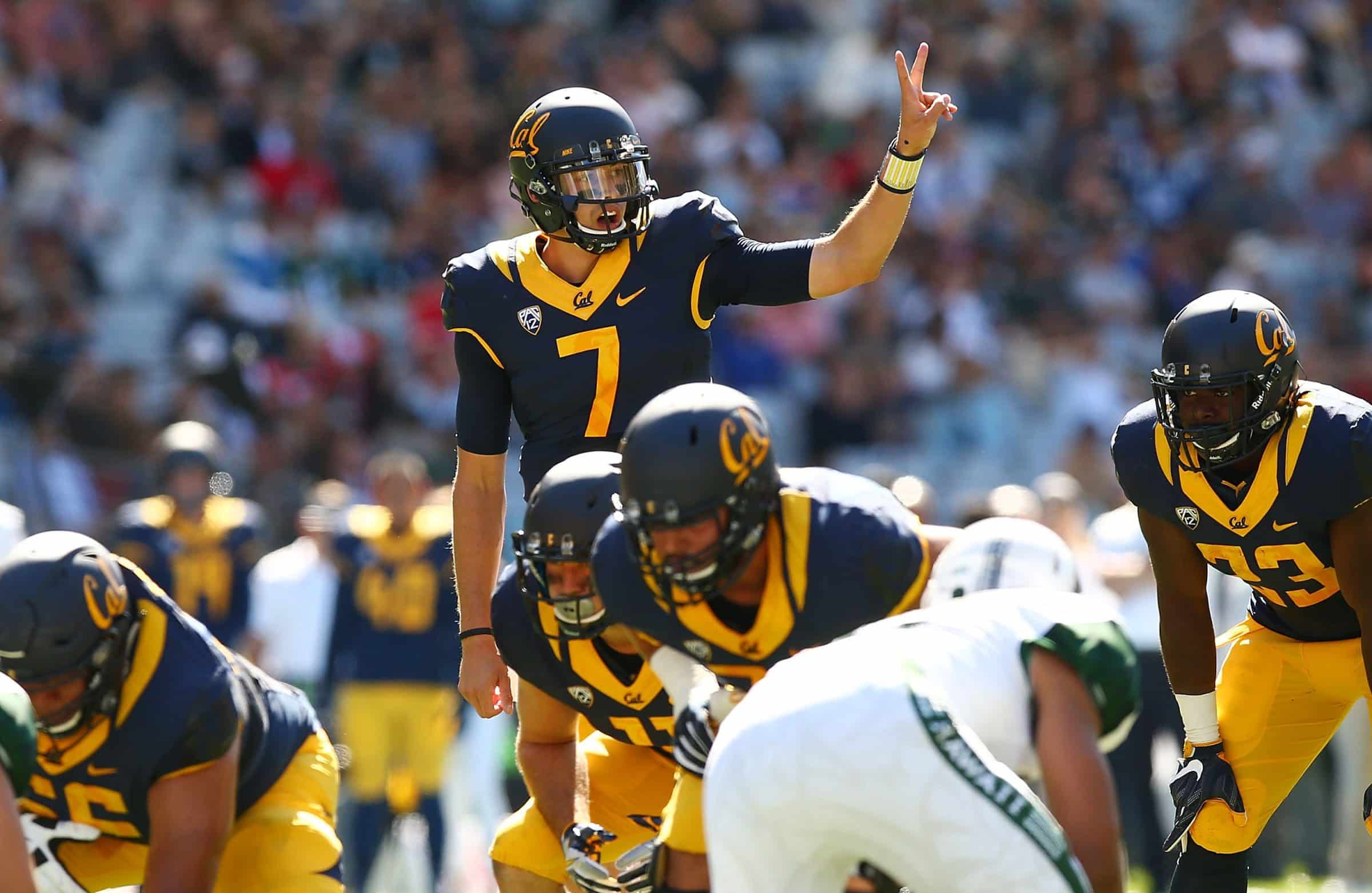 Webb remains good friends with Mahomes, who is expected to be the Kansas City Chiefs' man of the future. In terms of joining Mahomes in the starters' ranks, Webb knew from the beginning that it would take awhile, thanks to Manning's notorious durability, consistency, and longevity. Even when he was relegated to street clothes and the third unit during his rookie year, his confidence never once faltered.
"(The draft) is out of my control so not too much to worry about. I've done everything the Giants organization has asked me to do, I'm going to continue to do more, as much as I can to help our teammates enjoy success and help us win games on Sunday. That's the only thing on my mind," Webb said back in December when asked about the future. "I do feel like I've done everything I can possibly do to be a good teammate and I'm going to continue to grow as a quarterback in this league."
One thing Webb can control is the team's outlook on arguably the most important position in all of sports. If he impresses in April, he could very well appear in a September in the near future.
Follow Geoff Magliocchetti on TWITTER