In several ways, New York Giants quarterback Eli Manning's career has always been linked to Drew Brees' which means the latter's new contract looms significant. 
Aside from being two of only nine quarterbacks to throw for over 50,000 yards, Eli Manning and Drew Brees are tied together in several different ways (other than the idea the brand new deal the Saints franchise face just signed could greatly impact New York's).
The names Manning and Brees are arguably the two most beloved names in New Orleans, as Manning's father Archie played for the Saints from 1971 to 1982 and Brees has been the Saints quarterback since 2006, once leading the Saints to their only Super Bowl title in 2009.
Their ties also travel back to draft day 2004 when the San Diego Chargers drafted Manning number 1 overall in the 2004 draft. They did so while Brees was the franchise's quarterback.
As we all know, Manning would never play for the Chargers as Ernie Accorsi executed a blockbuster trade moments after the Chargers drafted him. Manning would go onto becoming the best quarterback in the history of the Giants, leading them to two Super Bowl titles.
Two years after draft day of 2004, Brees would leave the Chargers via free agency sign with the New Orleans Saints. But it's ironic that for a brief moment they were Chargers teammates and the two would later go on to win a combined three Super Bowl titles and three Super Bowl MVPs and none of that happened with the team that drafted them.
Of the two quarterbacks Brees has been the more consistent and prolific of the two and barring injury, he will break Eli's older brother Peyton Manning's career passing yardage mark of 71,940 this season.
Despite being 39-years-old, Brees is still performing at a high level which is why the Saints gave him a two year $50 million contract this offseason.
The position Brees was in this offseason is the same exact position the 37-year-old Manning will find himself in two years from now.
His contract is up at the conclusion of 2019 season, and some feel that his window as a Giant will close at the conclusion of that season. But it's premature to think that Manning's career with the Giants has to end when his contract is up.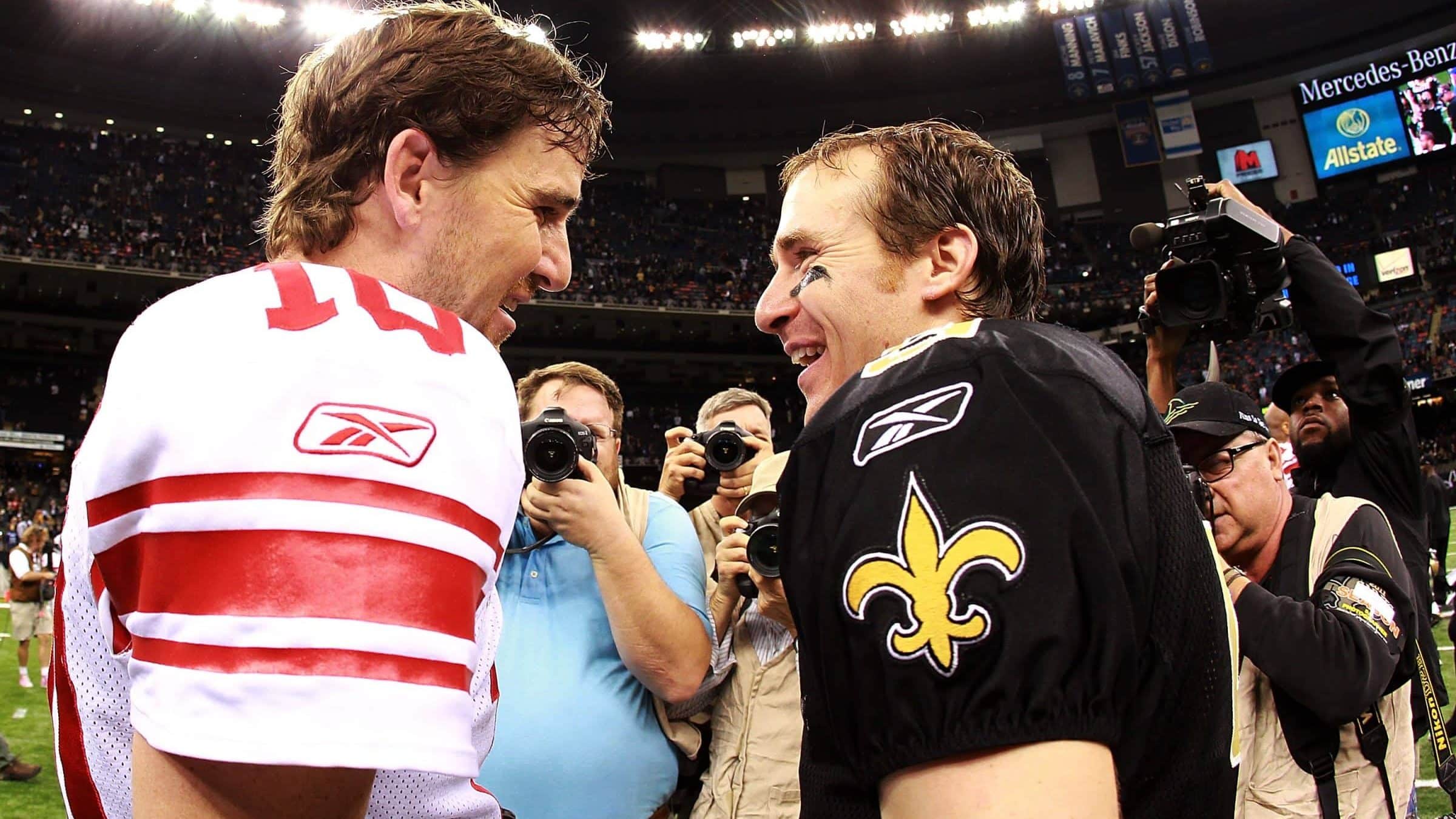 Just as the case is with Brees, there's no reason to believe that Manning cannot play at age 39 and beyond. He's been the most durable quarterback of his era having not missed a game due to injury, and if it wasn't for Ben McAdoo his consecutive game streak would still be intact.
It's true that Manning has not been as productive as Brees, as Brees has averaged 30 touchdowns, 4,804 yards and just 11 interceptions over the last three seasons whereas Manning has averaged 26 touchdowns, 3,977 yards and 14 interceptions.
But during that stretch, they treated the world to one of the best quarterback duels of all-time in Week 8 of the 2015 season when Brees threw for seven touchdowns and Manning six during the Saints memorable 52-49 victory.
https://www.youtube.com/watch?v=KxfVSK02Ajg
Some of the individual success Brees has had over Manning can be contributed to the fact that he plays in a Dome, and the fact that Manning has been playing behind a subpar offensive line, and his receiving corps was depleted last season.
However, 2018 looks like it will be a better year for Manning as he finally has a solid left tackle in Nate Solder while Odell Beckham Jr. seems fully healed from his fractured ankle.
With a solid left tackle to go along with a healthy OBJ and an emerging star at tight end in Evan Engram, Manning could have one of the best seasons of his career despite his age.
At his introductory press conference, head coach Pat Shurmur spoke on how he believes Manning still have years of football left in him, via Pat Leonard of New York Daily News.
"You know, I watched Eli throw a little bit this summer, and I walked away saying, 'He looked really, really good.'  He looked fit.  He was throwing the ball well.  The ball had good velocity coming off his hand.  And again, I think he's got years left.  How much, I don't know.  But I think he has time left, and I look forward to working with him.  With regard to who we're going to draft, you know, I'm not ducking that question.  I think that we've got to travel down that road of evaluation to see what happens there.  But I think what's important is we have a guy here that's helped this organization win Super Bowls.  He's an outstanding player, and I'm really looking forward to working with him.
It might seem premature to discuss what the Giants will do with Manning two years from now. But if you're going to have sustained success in the NFL you always have to look down the road, particularly when you have the second pick in the draft, and the franchises' best quarterback is still on the roster.
If Shurmur and Gettleman believe for a moment that Manning can play at a high level beyond 2019, there's no way they can, considering drafting a quarterback with the second pick in the draft.
They'd be better off taking Saquon Barkley or Quenton Nelson to improve the team's chances of winning in 2018.
We all saw how much the Saints improved last season when they drafted players that could immediately help Brees when they took Alvin Kamara and Ryan Ramczyk in last year's draft.
So the Giants should follow the same blueprint and see if he and the Giants can have similar success that Brees and the Saints had. Then perhaps just as Brees got a new contract at 39, the Giants will offer Manning a similar offer.
So let's not be so fast to close the book of the clutch Eli Manning. There may be several chapters remaining in his future Hall of Fame career.