The New York Giants are off to a good start, but there's still plenty of work to be done before this offseason can be called ideal—or the team contenders once again.
The New York Giants are looking to bounce back from their abysmal 3-13 2017 season. With roughly $14 million to spend in free agency and the number two overall pick in the NFL Draft, they'll have to be decisive in bringing in the reinforcements necessary to be competitive once again.
Here's a realistic, yet ideal offseason for Big Blue.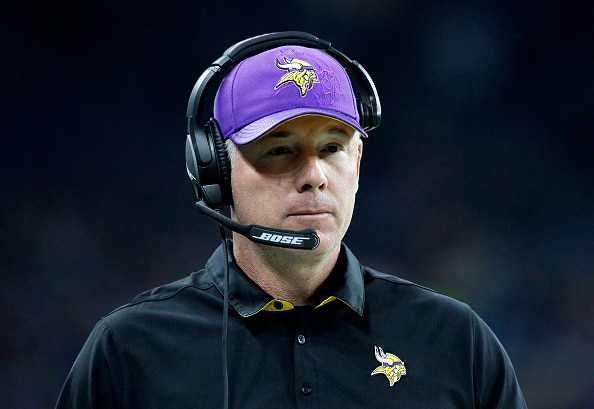 What's Already Been Done
The Giants filled the two biggest holes in their organization rather quickly by hiring Dave Gettleman as general manager and Minnesota Vikings offensive coordinator Pat Shurmur as head coach. Co-owners John Mara and Steve Tisch are confident in their ability to turn things around and, so far, Gettleman has made a very good showing for himself.
Releasing Bobby Hart before their Week 17 matchup with the Washington Redskins after he supposedly said he wasn't suiting up on Sunday and firing longtime player evaluator Marc Ross, Gettleman made a loud statement: Immaturity and lack of success will not be tolerated. The Giants also hired Mike Shula to be the team's offensive coordinator (although Shurmur will handle the playcalling) and James Bettcher of the Arizona Cardinals as defensive coordinator.
In addition to those hires, Gettleman also made a shrewd trade with the Los Angeles Rams, surrendering just a fourth and sixth round pick for inside linebacker Alec Ogletree who may very well be the team's best linebacker since Antonio Pierce.
Ogletree's cap number, at the moment, is roughly $10 million leaving management with about $14 million to spend. At the same time, the transaction is a significant move for the team's defense; The Giants' cap space will increase if and when management cuts some noteworthy contracts.
They've already released punter Brad Wing (which saves them approximately $1 million) and wide receiver Brandon Marshall ($5.1 million) among others could potentially be next. According to NFL Network's Mike Garafolo, the Giants have also asked cornerback Dominique Rodgers-Cromartie to take a "significant" pay cut.
With whatever coin the Giants end up having to spend, the number one priority will be addressing the offensive line.
Sign Andrew Norwell 
It's been reported that the Giants are the overwhelming favorites to sign Carolina Panthers guard Andrew Norwell who is one of the best offensive lineman on the free agent market this offseason. Standing at 6-foot-6 and weighing in at 325 pounds, the guard is a battering ram. He stays low, is hard to get through and helped give quarterback Cam Newton time to operate. Based on Gettleman being the Panthers' former general manager, he is said to be fond of Norwell and willing to make him the highest paid guard in the league.
Addressing the O-Line is a priority for the Giants as it's been the team's Achilles heel over the last four seasons. While he may cost in excess of $12 million per year, there's no denying Norwell's potential impact on their line. He'd an immense upgrade over John Jerry at left guard and a huge get for Big Blue. He alone though won't be enough for the Giants' line to pose a potent bunch.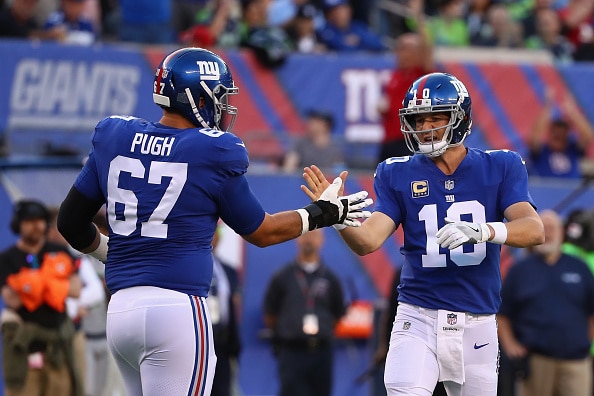 Re-sign Justin Pugh to play Right Tackle
The Giants need big bodies up front for their offense to excel. Norwell would shore up their guard play but inking tackles is just as, if not more crucial. A shrewd option would be to re-sign Justin Pugh. While he's played more guard over his career, the Giants have rolled Pugh out to tackle in the past and seen him have success. In their Week 6 win versus the Denver Broncos in Mile High, they played Pugh at right tackle and he held Von Miller (one of, if not the game's most feared pass rusher) in check.
Pugh has been the one offensive lineman over the last five years that's played consistently well for the Giants. Granted he's not a premier lineman, but Pugh's versatility is valuable for a Giants' team looking to build a reliable line. Plus, with the Philadelphia Eagles adding defensive end Michael Bennett to a front seven that was one of the best in football in 2017, as well as the presence of Ryan Kerrigan in Washington and DeMarcus Lawrence in Dallas, it's imperative that the Giants shore up the tackle position.
Keeping Pugh at right tackle would help contain those premier pass rushers. Considering his shaky 2017 and recent injury history (Pugh has missed 13 games in the last two years), an offer in the range of six-to-seven million per year for the 2013 first rounder would be fair.
Re-sign Orleans Darwka
If and when the Giants improve their O-Line in free agency, they can begin to establish a reliable run game. And bringing back Orleans Darkwa to start in the backfield would make sense.
Last season, Darkwa ran well despite a shaky O-Line in front of him. Rushing for 751 yards and five touchdowns on 4.4 yards per carry in 2017, he showcased the ability to be a lead back. He also rolled out for 19 receptions. Darkwa doesn't have electric speed, but he's hard to take down, is always looking to go forward and an asset in short-yardage situations. He likely won't reel in a huge contract based on one encouraging season, so re-signing the Tulane product on a deal worth four-to-five million per year would be fair for both parties.
Darkwa and the second-year Wayne Gallman (who ran for 476 yards on 4.3 yards per carry in 2017) could make for an intriguing duo in the Giants' backfield.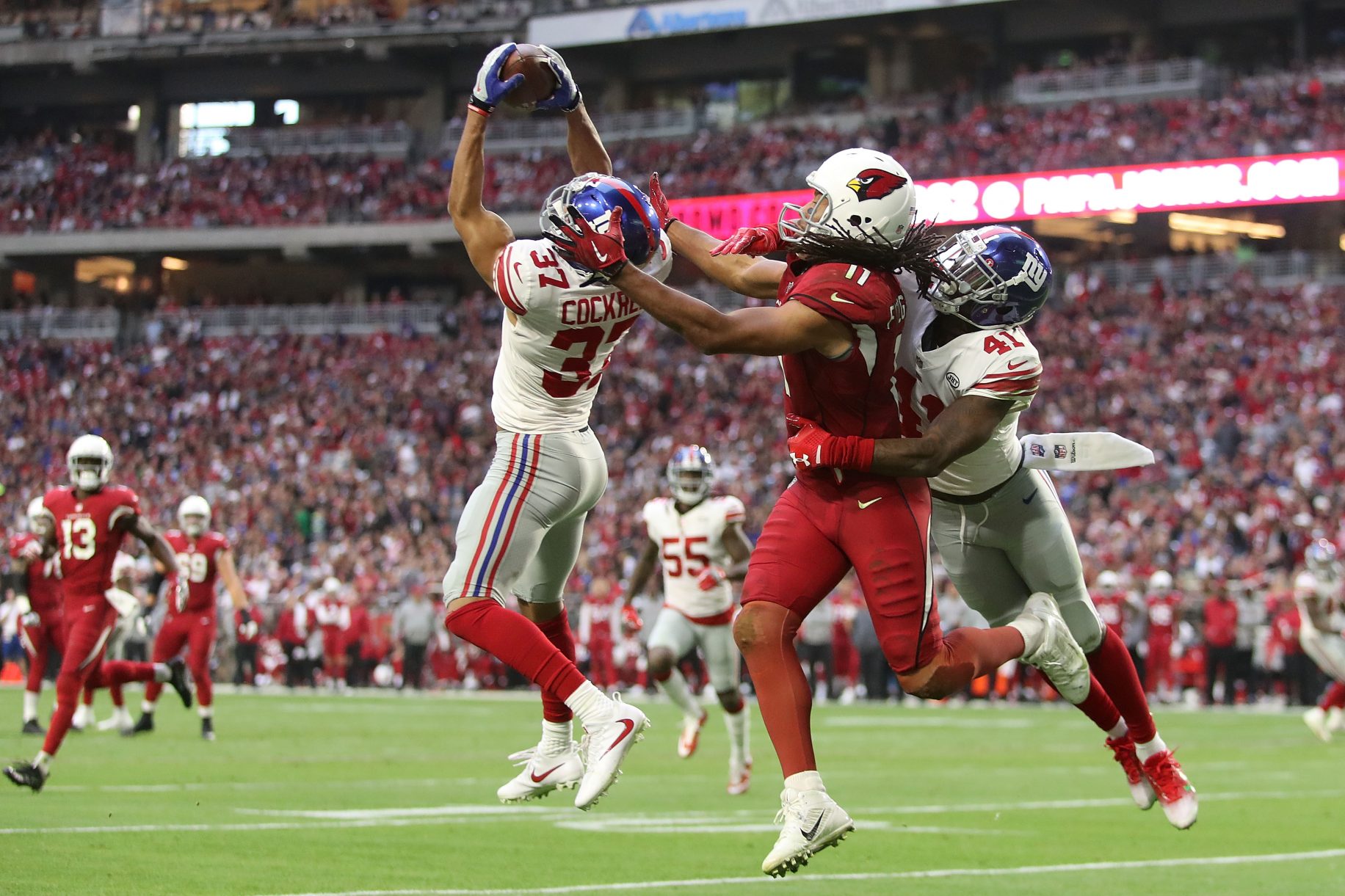 Re-Sign Ross Cockrell 
There have been conflicting reports as to whether Rodgers-Cromartie will be moved from cornerback to safety in 2018. Whether Rodgers-Cromartie makes the move or not, management should retain cornerback Ross Cockrell.
With Janoris Jenkins recovering from a season-ending ankle injury and Eli Apple coming off a drama-infested, underachieving year, the Giants need depth at cornerback more than ever. In their final two games, Cockrell had three interceptions and played well in man coverage. He also recorded 50 combined tackles. If Rodgers-Cromartie moves to safety, he gives Bettcher a viable starting corner and if the veteran doesn't move to safety, Cockrell adds depth at corner. He also shouldn't cost more than $3 million per year.
Draft Quenton Nelson 
The Cleveland Browns are probably going to select Penn State running back Saquon Barkley with the number one overall pick and the Giants appear more likely with every passing day to avoid a quarterback at number two. One player the Giants are fond of is Notre Dame guard Quenton Nelson whose presence would greatly benefit the Giants' offense.
Standing at 6-foot-5 and weighing in at 330 pounds, the Notre Dame product is a force to be reckoned with up front. He bulldozes incoming lineman, is a great pass blocker and the best lineman in this draft class. Former Giants' Pro-Bowl center Shaun O'Hara compared the Notre Dame product to Chris Snee — which would be a great outcome for the Giants.
If the Giants draft Nelson and ink Norwell in free agency, Shurmur may opt to move the rookie to right guard. Doing so would make their starting line (from left to right) Ereck Flowers-Norwell-Brett Jones-Nelson-Pugh. While adding a franchise left tackle such as New England's Nate Solder would resolve their blind side woes, it appears to be a foregone conclusion that the Giants will sign Norwell as its big splash which likely wouldn't give them enough coin to sign the left tackle. However, outside of Solder, it isn't a deep free agent class at tackle.
If Flowers continues to struggle to hold his ground or the Giants want to light a spark under him, they could insert Chad Wheeler (who run blocked well last season) at left tackle or move him to right tackle and slide Pugh to the left side. Regardless of whether he's worthy of being selected with the number two pick, Nelson's presence would further fortify the Giants' O-Line. It would also grant Eli Manning and the Giants' passing attack (which will feature Odell Beckham Jr., Sterling Shepard, Roger Lewis and tight end Evan Engram) with more time to operate and help create a potent ground game.