Speculation has grown over the past week that the New York Giants may take former Notre Dame guard Quenton Nelson with the second pick in the draft.
With the New York Giants hellbent on rebuilding their offensive line and NFL Network's Ian Rapoport reporting that the Cleveland Browns may take Penn State running back Saquon Barkley first overall, Quenton Nelson to the New York Giants makes even more sense.
That's especially true after the Giants made it a point to tweet out Nelson's impressive showing on the bench at the NFL Combine.
Notre Dame All-American G Quenton Nelson just beasted the bench press at the #NFLCombine ?

?: @nflnetwork on March 2-5 pic.twitter.com/9LMR83Xkyt

— New York Giants (@Giants) March 1, 2018
You never know how a college player will transition into the NFL, but Nelson seems as close to a sure thing as there is.
He is widely regarding as the best offensive lineman in this year's draft and has the potential to be one of the best guards in the league as a rookie. He can be to the Giants what Zack Martin has been to the Dallas Cowboys ever since they drafted him in 2014.
The Giants have a wide range of options with the second pick and just like with everything else, there are pros and cons to taking Nelson second overall.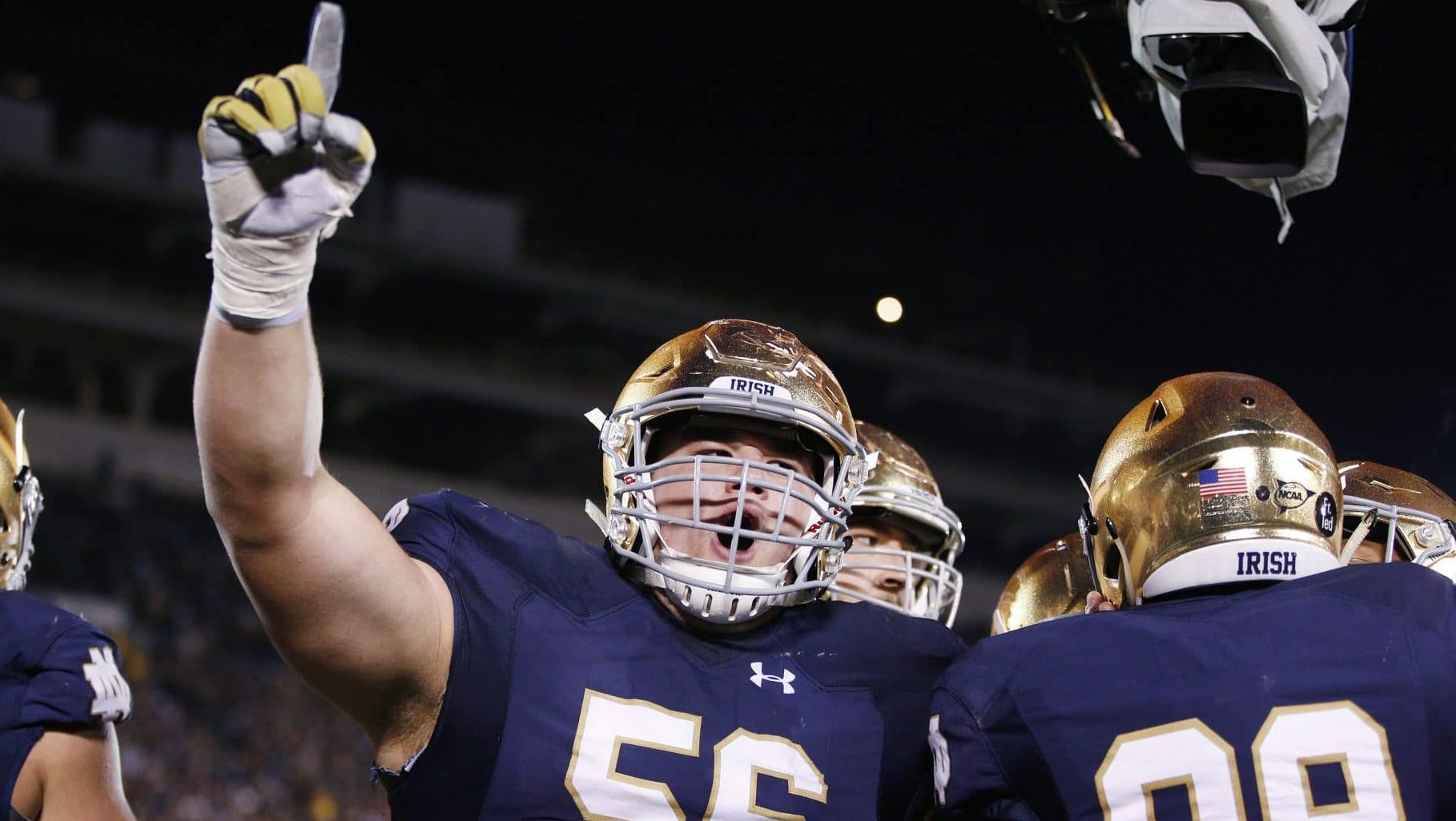 Pros
He can be the next Chris Snee—maybe even better
Everybody remembers the 2004 draft when the Giants traded for Eli Manning and helped changed the team's fortunes, as he led them to two Super Bowl wins in his first eight years in the league.
But Manning wasn't the only key piece to the Giants championship puzzle that they acquired in 2004. In the second round (34th overall), they took guard Chris Snee out of Boston College. Snee, who is also Tom Coughlin's son-in-law, was one of the best guards of his era, earning four trips to the Pro Bowl and two first-team All-Pro selections in his 10 seasons with the Giants.
Nelson can help change the Giants fortunes just as Snee did and have a similar career. Nelson is strong, athletic and has a nasty attitude, which is everything you want in an offensive lineman.
Upgrade the offensive line without breaking the bank
The Giants are in dire need of offensive guards. Justin Pugh and D.J. Fluker are both free agents, and the Giants may look to cut John Jerry or have him as a backup.
Since there aren't many quality offensive linemen available in free agency, the Giants will have to spend a large sum of cash to bring back Pugh or Fluker.
It's no secret that general manager Dave Gettleman would love to sign All-Pro free agent Andrew Norwell, who Gettleman acquired after Norwell went undrafted in 2014 draft when he was GM of the Panthers. But based on a report by ESPN's Jordan Raanan, signing Norwell will come at a steep price at around $13 million annually.
Considering the Giants reportedly have just $22 million in cap space, drafting Nelson and having him under a rookie contract would be an ideal scenario. This would save the Giants cap space and allow them to try and fill the biggest need on the offensive line—left tackle—and make an offer to Nate Solder, leaving them enough cap space to bring back one of their free agent guards.
Having one of the best guards in the league under a rookie contract will do wonders for the Giants financially, with Odell Beckham Jr. and Landon Collins having contracts expiring after next season.
Cons
Taking a guard with the second pick in the draft is a bad value
As great as Nelson may turn out to be, taking a guard with the second pick is too high because guards do not impact the game as much as other positions. Normally, teams either take a quarterback, left tackle or an edge rusher this high in the draft.
Let's face it: An offensive guard has never won league MVP or a Super Bowl MVP. Those awards are given to quarterbacks, running backs, and pass rushers because they play a more dominant role.
Drafting one of the top quarterbacks (Josh Rosen, Sam Darnold, Baker Mayfield, Josh Allen) or taking Saquon Barkley, if he's still on the board is the sexier pick. Each of those men will have a bigger impact than Nelson on Sundays.
Doesn't address the biggest need on the offensive line
While drafting Nelson would improve the offensive line, it doesn't address the gaping hole at left tackle. The Giants simply cannot have another season of Ereck Flowers failing to protect Eli Manning's blindside.
As previously mentioned, the Giants do have options to fill their need at guard. Even though it might be pricey, but their options to upgrade at left tackle are limited.
If the Giants had decent NFL tackles, they certainly wouldn't have finished last season with a record of 3-13.
It may serve the Giants best to see if they can re-sign Pugh and Fluker at hometown discounts, and trade down in the draft to take an offensive tackle such as Oklahoma's Orlando Brown, Texas' Connor Williams, and Nelson's Notre Dame teammate, Mike McGlinchey.