The New York Rangers mission statement at the trade deadline was to rebuild. They did that, but with Kevin Shattenkirk close to returning, have plans changed?
The New York Rangers have been without Kevin Shattenkirk since Jan. 19 with a knee injury. Since then, the Rangers have gone in a new direction, only making his imminent return raise serious questions.
In the time that Shattenkirk has missed, the team has traded Rick Nash, Michael Grabner, Nick Holden, Ryan McDonagh, and J.T. Miller. They have brought in an influx of young talent in players like Neal Pionk, John Gilmour, and even Rob O'Gara. Those young players have taken over the Rangers blueline gaining valuable NHL experience at a time when the Rangers were most vulnerable.
Now it appears that Shattenkirk is getting closer to returning to the Blueshirts as he returned to the practice rink Tuesday morning. He won't play for the Rangers two-game road trip in Florida, head coach Alain Vigneault has to be thinking about what to do when the 29-year-old veteran returns.
What Are The Rangers Options?
As it stands right now, there are only two defensemen on this team that has a spot cemented: Brady Skjei and Marc Staal. Staal currently has the most NHL experience on this Ranger roster and has had success playing on the top defensive pair in the past. Skjei is in his second full year in the NHL playing an increased role since the trade of McDonagh.
That leaves Tony DeAngelo, Pionk, Gilmour, and O'Gara as the options Vigneault has to remove from the lineup when Shattenkirk is ready to return.
Of those four players, it does not make the most sense if Vigneault removes O'Gara or Pionk. Those two players bring a different element to the Rangers blueline. Gilmour's all-around game has been something to marvel at lately. Between him and Pionk, Gilmour seems to be having the most success. For O'Gara, his style is completely different compared to the rest of the defensemen on this team. After a rough start, O'Gara seems to be getting into a grove and it has translated in his play with a plus-one rating in his last three games.
DeAngelo and Pionk have a similar game to Shattenkirk's. All three play with offensive instincts and are known to be risk takers when handling the puck. We saw it earlier in the season when Shattenkirk was paired with McDonagh. It was obvious that McDonagh was holding back playing with Shattenkirk with the reputation that Shattenkirk had coming in. The same thing happened with Skjei, who's offensive game diminished after being paired with Shattenkirk.
Who Comes Out?
The answer isn't as simple is it may seem. The first thing that Rangers management, not Vigneault, has to ask is if Shattenkirk returning is worth it. If the answer to that is no it's because of the investment that Rangers made in him this past summer. If that answer is yes, a young player who will benefit from the playing time will have to come out.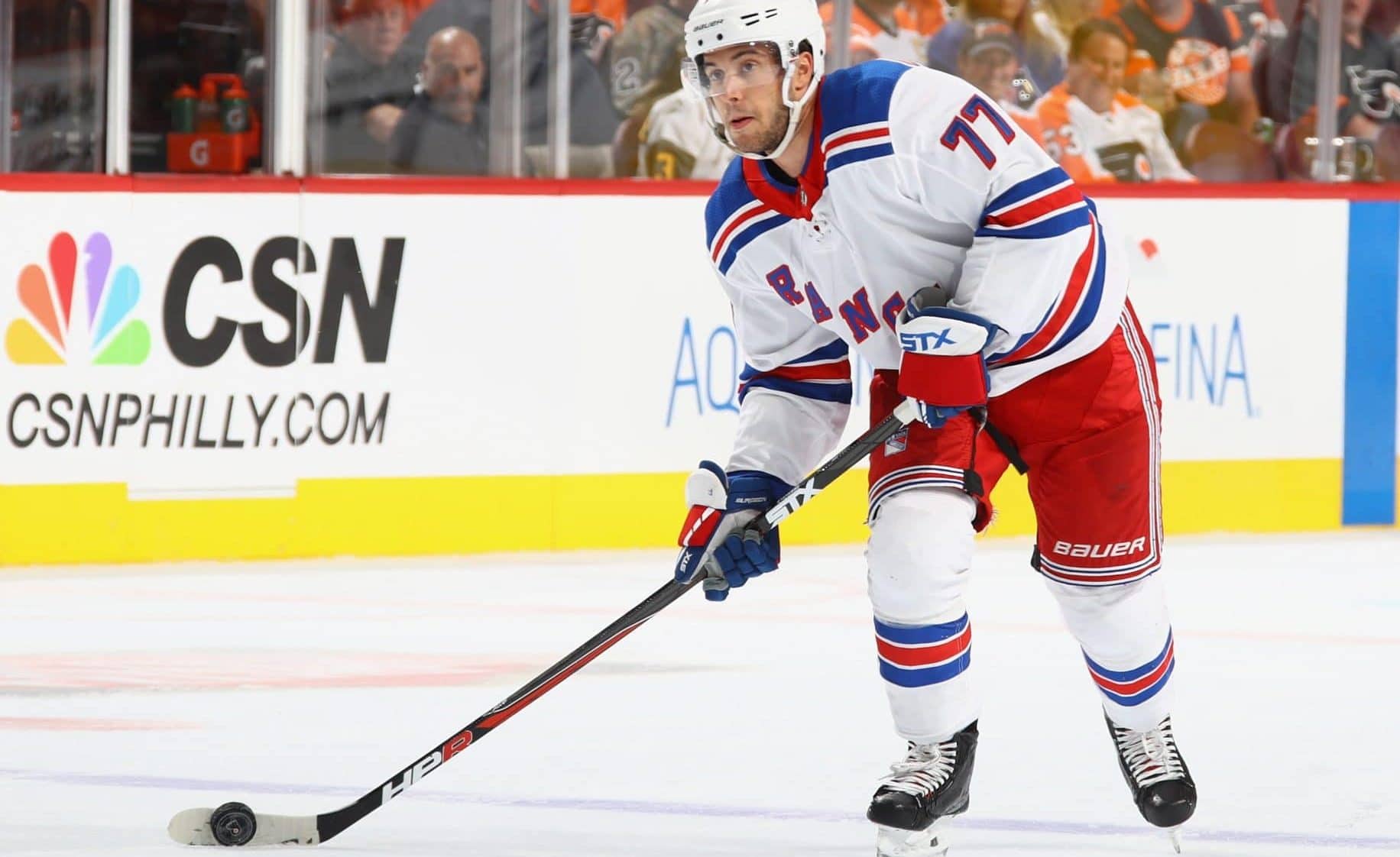 One of Pionk and DeAngelo will have to come out of the lineup once Shattenkirk returns. It doesn't make any sense for the Rangers to dress four offensive defensemen every game. What makes the most sense here is if Pionk is the one that comes out. DeAngelo has really turned his season around after he struggled breaking out of training camp. But that DeAngelo staying in the lineup shouldn't be the answer.
The answer that the Rangers should resort to is to rotate DeAngelo and Pionk down the stretch. By the Rangers going this root, DeAngelo and Pionk will continue to get the experience at the NHL level compared to playing the American Hockey League.
Now rotating the two doesn't necessarily mean when DeAngelo plays, Pionk doesn't. Shattenkirk will be trying to catch up to game speed so there could be nights where one of Pionk or DeAngelo play and Shattenkirk sits. Vigneault can also sit Staal if he feels the veteran could use a rest or he could go with a rotation involving O'Gara and Gilmour.
Shattenkirk returning to the lineup is great news for next year. This year, however, his return might put a damper on what the Rangers are trying to accomplish. There is a way to avoid this, the question now becomes will the Rangers be open to it?