Whether you feel New York Giants quarterback Eli Manning is underrated or overrated, you can't deny that he is one of the most prolific passers in the history of the NFL.
We don't typically think of New York Giants quarterback Eli Manning as one of the NFL's all-time great signal callers. Rarely, if ever, is he mentioned in the same breath as the likes of Tom Brady, Joe Montana or Bart Starr.
But maybe he should be. Currently, Manning ranks sixth all-time in career passing yards (51,682) and eighth in career touchdowns with 339. By the time he retires, he'll likely be in the top five in each of those categories.
All of the quarterbacks who are in the top 10 of those categories—who are eligible—are in the Pro Football Hall of Fame. So it would be safe to assume that Manning will one day wind up in Canton someday too.
Eli has been able to put up these numbers due to his work ethic and, most importantly, his durability. He started 210 consecutive games at quarterback, the second-longest streak behind Brett Favre (297). If not for former Giants head coach Ben McAdoo, who benched him in last season's Week 13 matchup against the Raiders, his streak would still be alive.
But what made Manning the greatest quarterback in Giants history and earned him his clutch reputation is how he performed in the postseason.
He has an 8-4 postseason record. and in the Giants' two Super Bowl runs in 2007 and 2011, he's thrown 15 touchdowns to just two interceptions. To top it all off, he engineered two late fourth-quarter touchdown drives to defeat the New England Patriots.
His 32-yard completion to David Tyree in Super Bowl 42, forever known as the "Helmet Catch." is not only the greatest play in Super Bowl history but arguably the best in NFL history.
Due to his playoff success, some say he's a better postseason quarterback than his brother Peyton Manning.
With all of these lists of accomplishments and accolades, you would think Manning would be a first ballot Hall of Famer. But there's one glaring stat—outside of his 228 career interceptions, which is tied for the 15th most all-time—that's the most important stat: wins and losses.
His win-loss record is currently 111-103, which is just barely above .500 (.519). If the Giants 2018 season is anything like 2017 was, Manning could have a .500 record—or worse.
Considering that he's playing in an era where the rules favor offenses, you would want a quarterback who's supposed to be considered elite to have a better win-loss record.
In fact, his record does not match up favorably against other quarterbacks in his era who will retire at or around the same time as he does, and be eligible for the Hall of Fame the same time as Manning.
Here's a look at Manning's win-loss record compared to other quarterbacks of his era.
| Player | W-L Record | Winning Pct. | Pro Bowls |
| --- | --- | --- | --- |
| Tom Brady | 196-55 | .781 | 13 |
| Drew Brees | 142-106 | .573 | 11 |
| Ben Roethlisberger | 135-63 | .682 | 6 |
| Philip Rivers | 106-86 | .552 | 7 |
| Aaron Rodgers | 94-48 | .662 | 6 |
| Matt Ryan | 95-63 | .601 | 4 |
| Eli Manning | 111-103 | .519 | 4 |
As you see, Manning's winning percentage is considerably lower than the rest of the quarterbacks on this list, and he's tied with Matt Ryan, who has been in the NFL four fewer seasons, for the fewest number of Pro Bowls.
However, the one thing that currently has over every quarterback on this list, with the exception of Brady, is that he's the only one who has won two Super Bowl MVP awards, while only Roethlisberger has as many Super Bowl victories.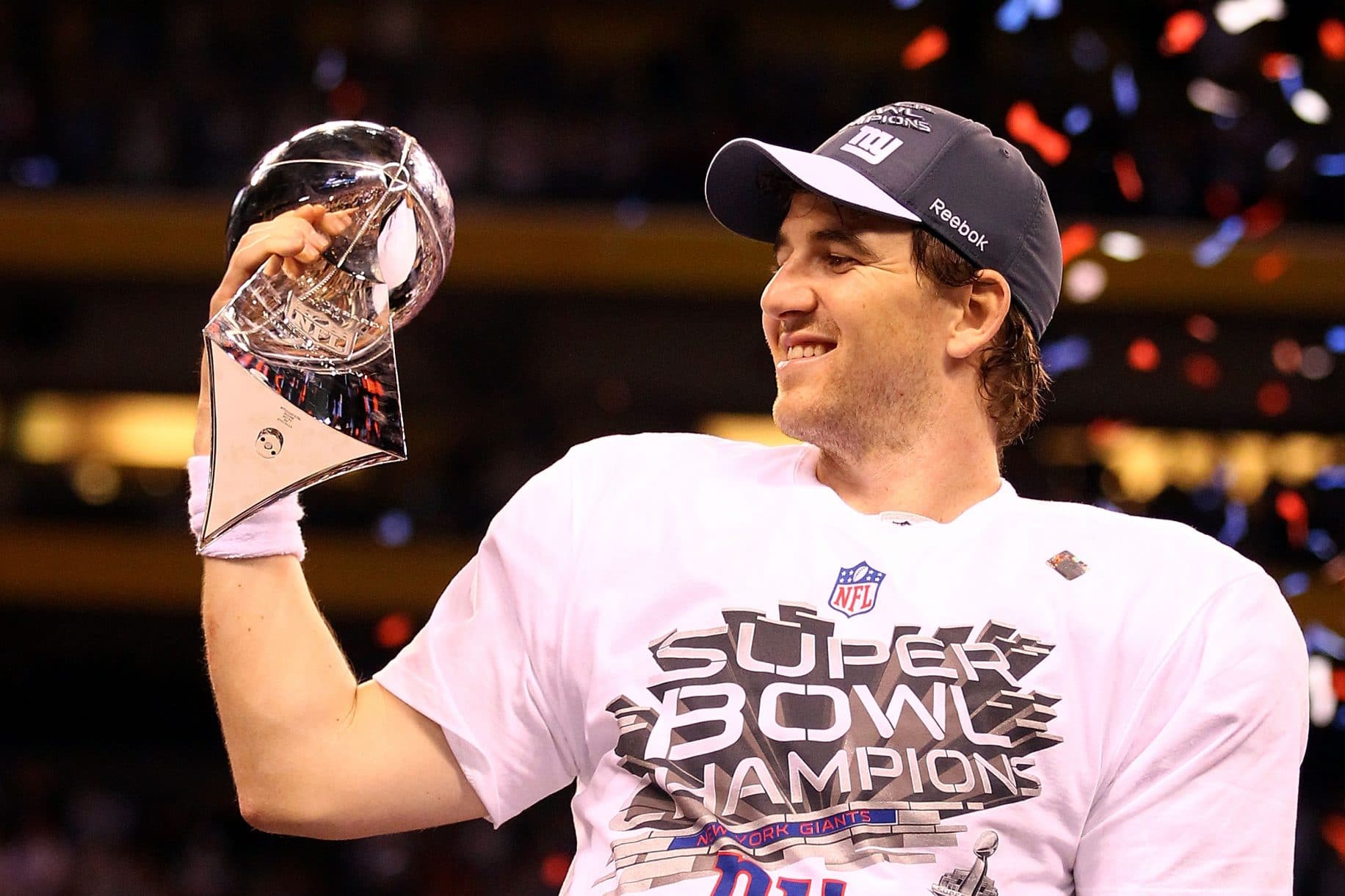 But will  Hall of Fame voters heavily weigh his two successful Super Bowl runs over his subpar win-loss record compared to other quarterbacks in his era?
You never know what voters emphasize most when it comes to voting on who should get in. Perhaps they'll devalue passing yards since the league is so pass-heavy. Every year, eight-to-10 quarterbacks throw for 4,000 yards and put more of an emphasis on win-loss record.
Or will the voters emphasize Manning's two Super Bowl titles and playoff record? After all, the only quarterback that has won multiple Super Bowls and who is eligible for the Hall of Fame to not get in is Jim Plunkett.
My take on this is that Manning will get into Canton, but unless he wins another Super Bowl, he won't get in on the first ballot. It will take a few years but eventually, he'll end up where he belongs, enshrined in the Pro Football Hall of Fame.