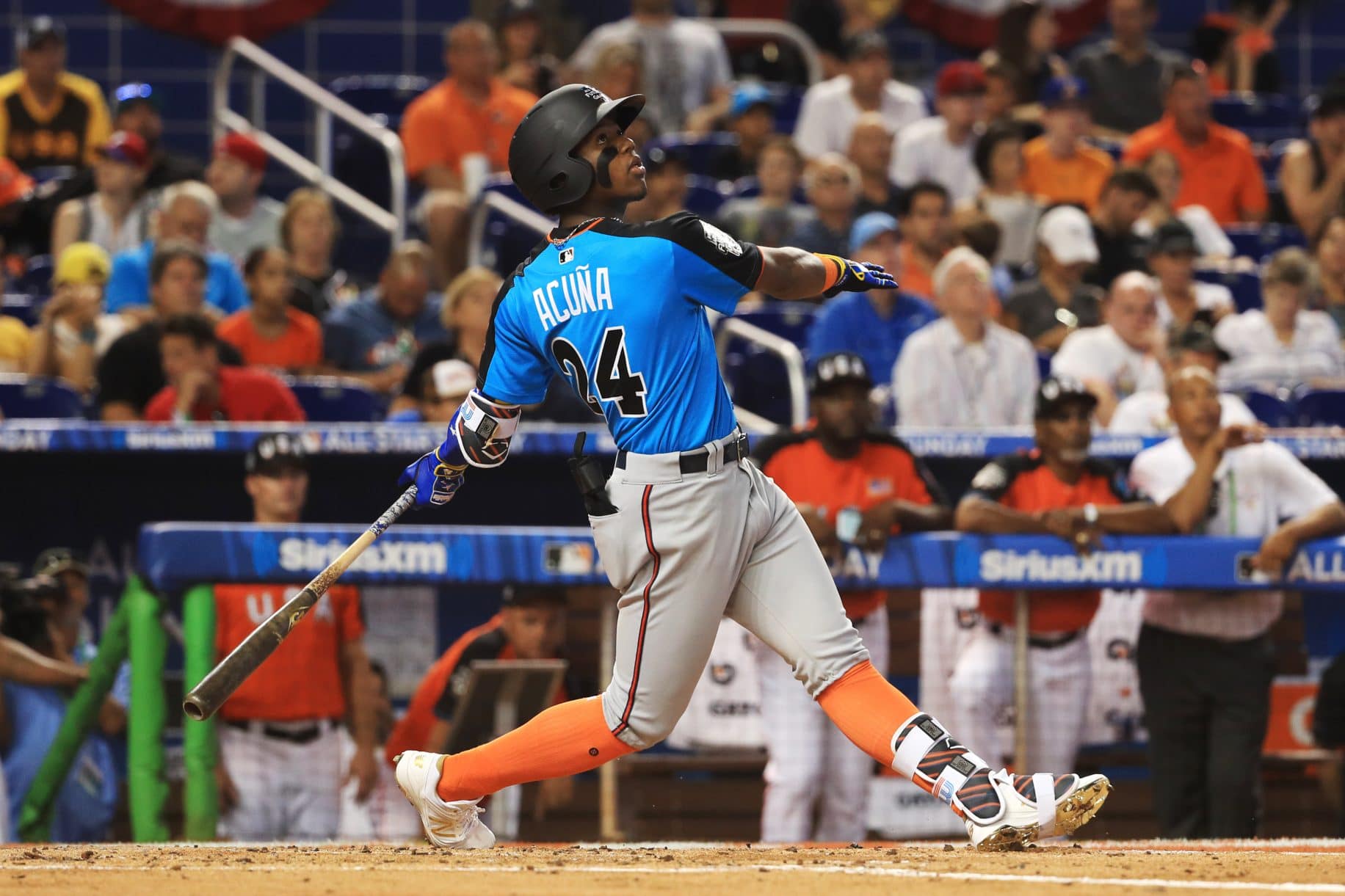 Outfielders may be plentiful in your fantasy baseball draft, but don't overlook these prospects who are poised to make big impacts in 2018.
The outfield is loaded with talent and where you can find studs for the next decade. Three of Baseball America's top five prospects are included on this list. I don't care what kind of league you are in, you need one if not two of these players on your team by the time your draft ends.
The biggest question for drafting prospects is when to draft them, and that all depends on your league and how many roster spots you have.
Let's take a look at the future of Major League Baseball and who will help us win fantasy championships starting this year.
Ronald Acuna, Atlanta Braves, BA #1 overall prospect
| MiLB Level(s) | BA | OBP | HR | RBI | SB |
| --- | --- | --- | --- | --- | --- |
| A/AA/AAA | .325 | .374 | 21 | 82 | 44 |
Despite being only 20 years old, Ronald Acuna he put up video game-like numbers in 2017 while playing across three minor-league levels, starting at Single-A and ending at Triple-A. He hit .325 with 21 homers, 44 stolen bases and 60 extra-base hits. His numbers in Triple-A, against some of the best pitchers in the minors, were impressive. Over 54 games, Acuna hit .344 with 25 extra-base hits (nine home runs), 33 RBI and 11 stolen bases.
If he doesn't get the start on Opening Day he won't be in the minors for too long, as he's too talented and the Braves aren't afraid to call up their young stud prospects. If your league has a deep bench, draft him and wait until he gets the call. However, if you have a shallow bench it can hurt you the first couple of weeks of the season. Make sure you have three outfielders on your roster before adding him.
Right now, he is going as the 177th player being drafted and if you can get him there that's a steal. Someone in your league will reach for him and I am guessing at least five rounds earlier, if not more. He has the potential to be a 30/30 player who bats over .300 and that's a first round pick in his prime. He won't put up those kind of numbers yet but he will be valuable this year. If you want to reach for him to make sure you get him, go for it. Just realize that if you reach too much it can hurt your team.
Remember, Yoan Moncada was the top prospect that everyone was drooling over last year and he had a horrible start to his career. There is a ton of risk drafting Acuna but the upside is potentially the best player behind Mike Trout and Bryce Harper. Personally, I will be drafting him around the 12th round because I am a Braves fan and his upside does match that of Trout's. I also know that he may not give me results right away and I won't drop him because of it. If you draft Acuna, be patient and don't drop him if he gets off to a slow start or they delay calling him up.
Eloy Jimenez, Chicago White Sox, BA #4 overall prospect
| MiLB Level(s) | BA | OBP | HR | RBI | SB |
| --- | --- | --- | --- | --- | --- |
| A+/AA | .312 | .379 | 19 | 65 | 1 |
Jimenez has the most power out of all the outfield prospects. He projects as a someone who should be good for 30-to-35 home runs and 100-plus RBI a year. The White Sox have some of the top talent in the minors and Jimenez should be on the Opening Day roster or get the call up early in the season.
While playing in the Arizona Fall League, Jimenez hit the fifth-hardest hit ball ever recorded by Statcast, with a blistering 119.4 mph exit velocity. He has been compared to Giancarlo Stanton with his power and will be a middle of the order bat for the next decade. He is flying under the radar because of the Acuna hype but if you miss out on Acuna, Jimenez has the same superstar potential and won't go nearly as high in drafts..
Victor Robles, Washington Nationals BA #5 overall prospect
| MiLB Level(s) | BA | OBP | HR | RBI | SB |
| --- | --- | --- | --- | --- | --- |
| A+/AA | .300 | .382 | 10 | 47 | 27 |
Robles is the fastest prospect in the minors. Speed is hard to come by today and that makes him an asset in fantasy. He has 64 stolen bases over the last two years and if he plays a full season in the majors he could reach 40 to 50 with ease if he stays healthy. Robles' biggest problem is a path to regular playing time.
Cody Bellinger was supposed to be "blocked" by Adrian Gonzalez last season and a lot of people didn't draft him because of that. Roblesis talented enough where the team is going to have a hard time keeping him down in the minors. If your team is lacking speed at the end of your draft, I would draft Robles because of his upside. He's too valuable to the Nationals to keep him in the minors and once he gets called up he will finish the season near the top in steals and runs scored. He has the upside of Dee Gordon and Billy Hamilton who are both top 100 players just because of their speed.
Lewis Brinson, Miami Marlins, BA #18 overall prospect
| MiLB Level(s) | BA | OBP | HR | RBI | SB |
| --- | --- | --- | --- | --- | --- |
| AAA | .331 | .400 | 13 | 48 | 11 |
Brinson could be a 25/25 player if he gets the everyday job in the outfield for the Miami Marlins. The good thing for Brinson is that Derek Jeter came in and traded all the team's talent and that will leave him with plenty of time to prove himself.
There were no 25/25 players at the major league level last year, that shows you the upside Brinson has. Miami should hit him near the top of the lineup and allow him to run wild on the bases once he gets on. His .400 OBP shows he has a good eye at the plate and that will make him a five-tool player. Unlike the other prospects on the list, he has the clearest path to every day at bats. He's another player to target at the end of your draft because of his talent and he could finish the season as a top 50 outfielder.
Austin Hays, Baltimore Orioles, BA #21 overall prospect
| MiLB Level(s) | BA | OBP | HR | RBI | SB |
| --- | --- | --- | --- | --- | --- |
| A+/AA | .329 | .365 | 32 | 95 | 5 |
Hays hits the ball over the fence a lot, and 32 home runs and 95 RBI is nothing to take lightly. He could be a middle of the order hitter for Baltimore and will be a deep sleeper this season, much like Adam Duvall. A player who hits 30-to-35 home runs and drives in 90-plus runs with a .250 batting average is someone who needs to be on your fantasy radar.
Unlike the other names on this list, he isn't on the preseason hype list which benefits all of you reading this. If your league has a n/a spot or a deep bench Hays is someone you should draft. If he doesn't get the call early or struggles badly in his first month than you can cut him and it won't cost you anything.