He might have all the talent in the world, but the 2018 NFL season will be crucial for New York Giants' wide receiver Odell Beckham Jr.
Odell Beckham Jr. is the New York Giants most prominent offensive player. Without him, they're one of the league's worst offenses. And the other-worldly talent has a lot to play for in 2018 in what will be the most important season of his career.
Last season, Beckham was plagued by injuries and played through pain. Rushing back from a nasty ankle injury which he suffered in a preseason game versus the Cleveland Browns and undergoing season-ending ankle surgery after the Giants' Week 5 matchup with the Los Angeles Chargers, he was unable to help lift the Giants back to the postseason after they went 11-5 in 2016.
Finishing 2017 with 25 receptions for 302 yards and three touchdowns in just four games played, Beckham endured, by far, the worst and most challenging season of his career. Now healthy and ready to prove himself, he has a number of hurdles to overcome in 2018.
Over the duration of his career, Beckham has been categorized as an immature hothead. Whether it be his MMA brawl back in 2015 with then-Carolina Panthers cornerback Josh Norman or peeing like a dog after a touchdown, he's battled the image bug his entire career. Granted, the raw emotion shows he cares about his play and that of the Giants as a whole, it rubs people off the wrong way. Hitting free agency next offseason, Beckham has to do his best to eliminate, or, at the very least, make that notion die down a bit. And the best way to do as such is to just ball-out and stay humble.
Beckham is, undoubtedly, one of the most talented receivers the NFL has to offer. Whether it be his raw quickness, shrewd cuts or smooth hands, Beckham is gifted with an elite skill set. And before his injury-riddled 2017 season, Beckham's arsenal helped him put forth monumental campaigns.
Recording 288 receptions for 4,122 yards and 35 touchdowns from 2014-16, Beckham quickly established himself as one of the best wideouts in the NFL. And Eli Manning found his go-to man on the outside in the process.
With Beckham out wide, Manning was able to heavily rely on the prodigy to get open and make things happen. Heck, look at the immensely different results on the quarterback's end as soon as Beckham entered the league.
After an abysmal 2013 season where he threw an NFL-worst 27 interceptions and finished with a quarterback rating of 69.4 — which was the worst rating he posted since his rookie season –, Manning's game was revived with Beckham's arrival. Throwing for 4,400-plus yards and recording a combined 65 touchdowns from 2014-15, Manning excelled with Beckham as his primary option.
Without Beckham, Manning is not the same. He's forced to throw downfield which he isn't as adept at doing as he was even two years ago and doesn't look like an elite quarterback, although his offensive line does him little to no favors.
Regardless of who they draft with the number two overall pick or sign in free agency, the Giants are in win-now mode, no matter how laughable that notion sounds after they went 3-13 last season. They have a great receiving core in Beckham, Sterling Shepard, Roger Lewis and tight end Evan Engram — who led the Giants in receptions (64) and touchdowns (6) last season. An improved O-Line, whether it comes through free agency or internal growth, can help head coach Pat Shurmur establish a running game. Better protection up front will also help Manning's efforts in finding Beckham and friends downfield.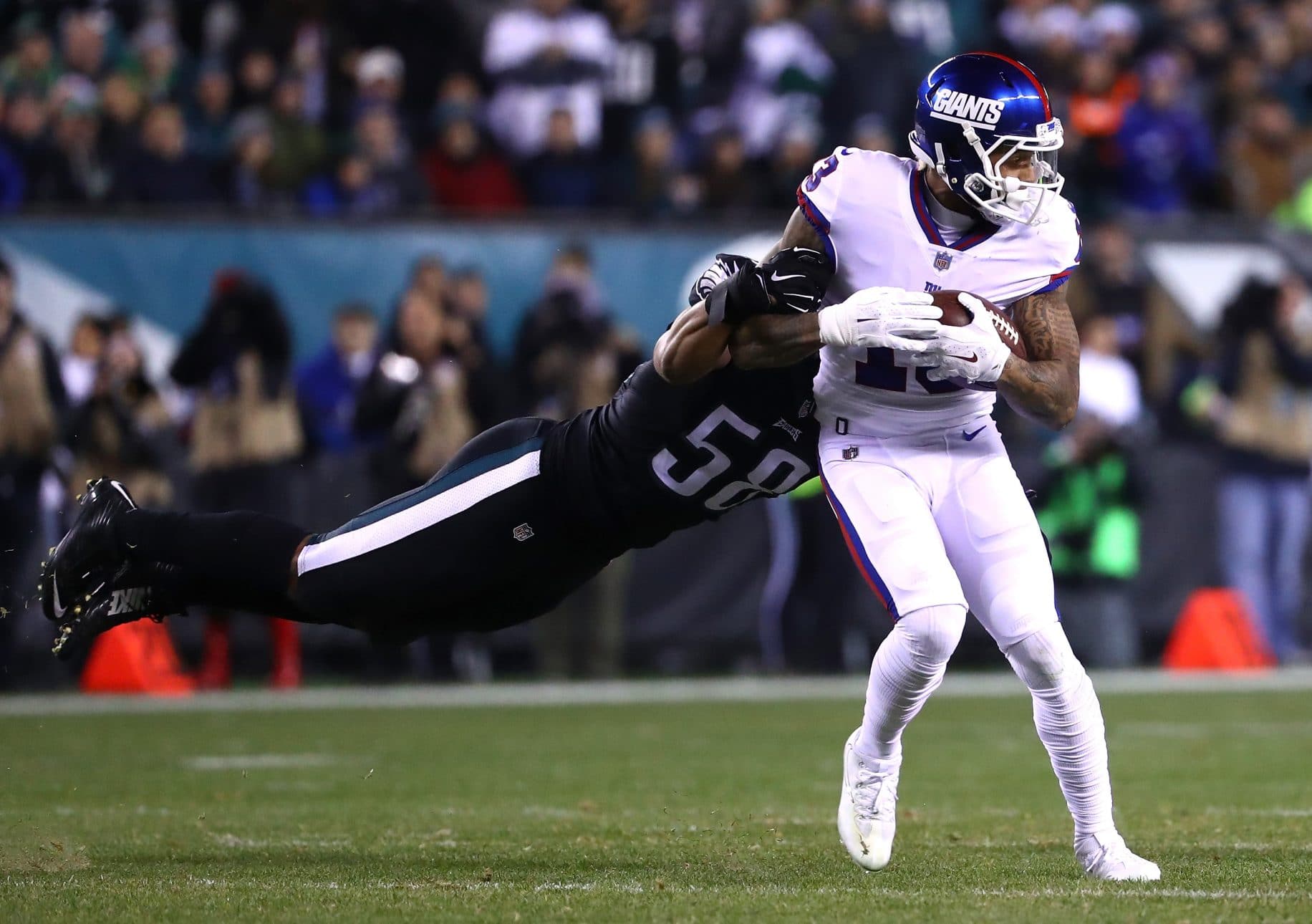 If and when those reinforcements are put in place and Manning and Beckham reunite, the Giants' offense can be electric once again.
Manning and Beckham need each other. Manning needs Beckham because he's his number one receiver and makes him look good. Beckham needs Manning because without a veteran and highly-regarded quarterback under center, he cannot prosper.
If you ask the 32 general managers in the NFL how they view Beckham, the consensus would be that he's a great talent who can't control his temper. And if he aspires to become the highest paid wide receiver in the NFL (Antonio Brown leads all wide receivers with an average salary of $17 million per season), he needs to change that narrative.
Beckham's career has been a rollercoaster. Whether it be him taking on the role of serving as the team's go-to receiver when Victor Cruz went down for the year with injury in 2014, the three-finger catch versus the Dallas Cowboys, the fight with Norman, his disastrous performance versus the Packers in the playoffs (Beckham caught just four of the 11 passes thrown his way vs the Packers) or peeing like a dog in the end zone, Beckham's always played at a high level but has also given others the gateway to question his mentality.
Beckham is fighting to rebut the negative portrayal of his image, playing to prove he's still elite and can help get the Giants to a Super Bowl after his nasty ankle injury and will be a free agent after next season. There's no other way to slice it: 2018 will be the biggest season of Beckham's career.