Drafting a top corner infield prospect, even a year early, can set your fantasy baseball team up for long-term success.
Corner infielders can be the backbone of your fantasy team. There are some names on this list that can be keepers for the next five years and help lead you to fantasy glory. When it comes to some of these prospects it's important to make sure that if you play in a 10-or-12-team league that they have a job before rostering them.
Even then, don't expect these guys to have a Cody Bellinger or Aaron Judge type of impact on our rosters—those kinds of seasons may never happen again. That said, here are the corner infielders who need to be on your radar for 2018 and beyond.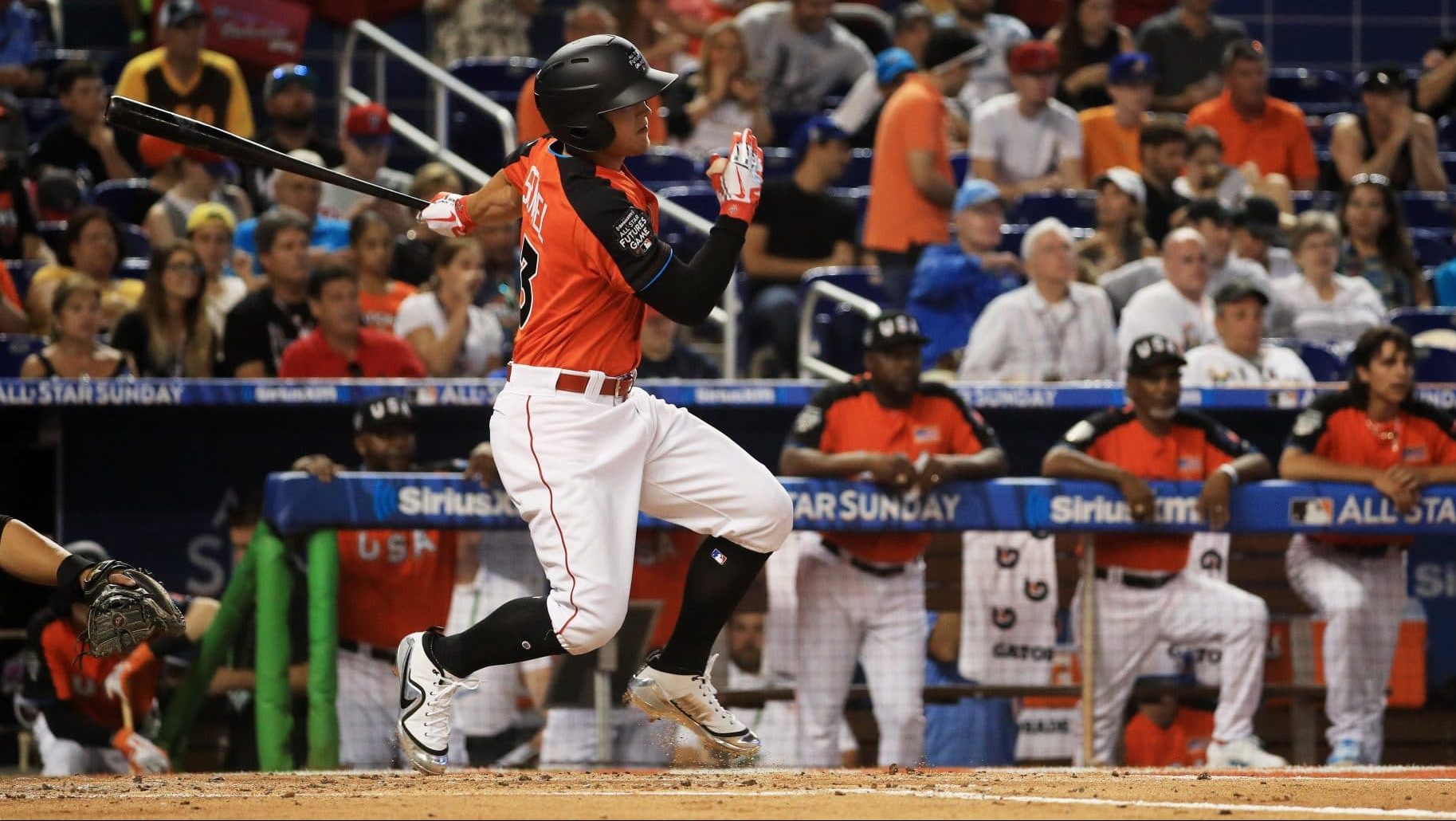 Nick Senzel, 3B, Cincinnati Reds
Age: 22
Baseball America Top 100 Rank: No. 7
If I had to pick one prospect on this list to be a superstar, it would be Nick Senzel. He was the second pick in the 2016 draft and he has looked like a franchise-caliber player. He is being compared to Anthony Rendon who is a five-tool player and a middle-of-the-order bat.
He has the potential to be a 25/25 player and that is rare in today's MLB. Senzel has explosive bat speed, and a veteran's approach at the plate which can lead to some monster fantasy seasons once he gets the call to the big leagues. I will be following the news to see if he makes Cincinnati's Opening Day roster because if he does, he will have an immediate impact on our fantasy teams.
Ryan McMahon, 1B/3B, Colorado Rockies
Age: 23
Baseball America Top 100 Rank: No. 63 
After Senzel, Ryan McMahon would be superstar number two. He might be the best hitter in the minors. He is naturally a third baseman but with Nolan Arenado playing at the hot corner in Colorado, he has had to make the move to first base. The team wants him to be the everyday first baseman on Opening Day, but with his lack of experience that might be put on hold.
McMahon can do everything for our fantasy teams. He projects as a .300 hitter who has a knack to drive in runs and can steal us 20 bases. Named the best athlete in Colorado's farm system, the thin air at Coors Field should help him reach 35 home runs. He has all the tools to be the team's next fantasy stud. I would draft him in every type of league and leave him on the bench until he gets every day playing time, he's that good.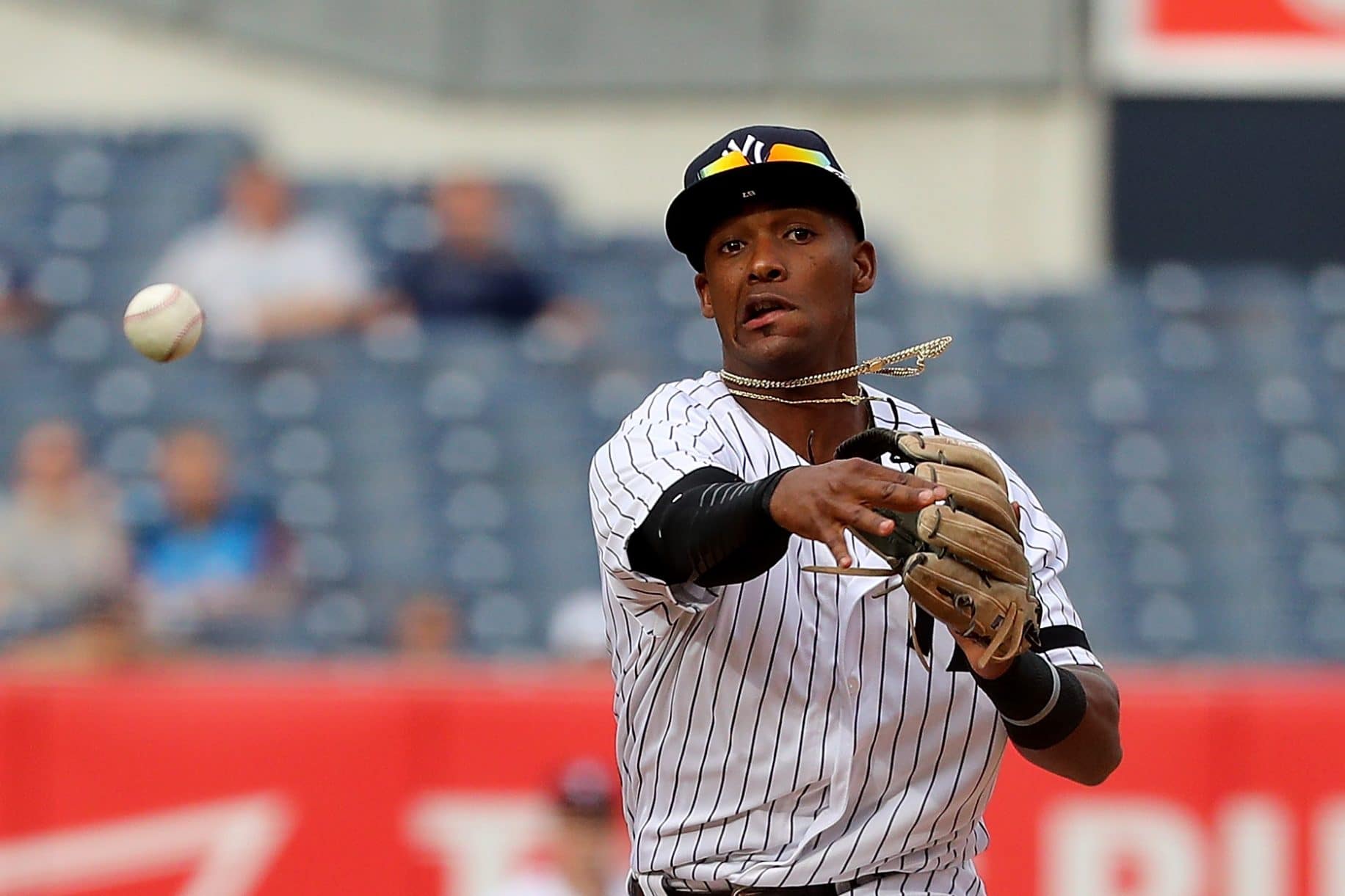 Age: 22
Baseball America Top 100 Rank: No. 59
There's a reason the New York Yankees didn't bring back Todd Frazier and traded Chase Headley—that's Miguel Andújar. Not only is hit bat major league ready but he improved his defense enough to handle the hot corner. It's hard to ignore his .315 batting average 165 RBI he's put up over his last two minor league seasons.
If Andújar can get everyday at-bats this year he will be worth a late-round pick. He has a knack to drive in runs and there will be plenty of opportunities no matter where he hits in the lineup. He doesn't offer superstar upside but with a solid average and the ability to drive in runs, he could give us a good boost.
Age: 22
Baseball America Top 100 Rank: No. 85
Michael Chavis might be a year away from the majors but it's never too early to draft him in dynasty leagues. He's got plenty of power, hitting 31 home runs across two minor league levels and raised his batting average to .282, a 45-point increase over his .237 mark in 2016.
The problem here is that the Red Sox have Rafael Devers at third base and he isn't going anywhere. If Chavis is part of a trade this season and he goes to a team where he can get everyday at-bats he will be a 20-25 home run player right away.
Age:20
Baseball America Top 100 Rank: No. 54
Austin Riley has big boy power. He has been compared to Troy Glaus with his bat but he is a much better athlete. What will Help Riley is that he can play all four corner positions (1B, 3B, LF, and RF) and he was recruited as a pitcher who could reach up to 93 on his fastball.
Riley will be a fixture for 30 home runs and should hit in the middle of a young and talented Atlanta Braves lineup in a couple of years. Atlanta isn't scared to call up young prospects and he could get the call halfway through the season. If he doesn't get the call this year, in 2019 he will be a top 25 prospect. Grab him now in dynasty leagues and be patient, his power is worth waiting for.
Edwin Rios, 3B, Los Angeles Dodgers
Age: 23
Baseball America Top 100 Rank: N/A
Edwin Rios is a career .300 hitter in the minors and he's hit 60 doubles and 51 home runs in the last two seasons. The biggest problem with Rios is that the Dodgers major league lineup is stacked and he might not be able to get everyday at-bats. However, if he gets called up or traded he will give our teams a big boost.
When a player has the ability to hit .300, hit for 25 homers and drive in 90 or more runs, that is a top 50 hitter overall. There were only 11 players last year who hit 25 home runs and hit above .300, that shows you the caliber of player he can be. He's older for a prospect but don't let that stop you from drafting him once he gets the call.