The New York Giants' Ring of Honor is an exclusive club filled with iconic NFL players, but is most unquestionably missing a few worthy names. 
Throughout the 93-year history of the New York Giants, they have produced some of the most iconic coaches and players in NFL history. They're the reason the Giants have won eight World Championships (four Super Bowls).
Forty-two of these men are enshrined in the Giants Ring of Honor which was unveiled in 2010.
When you take a franchise that has been around for as long as the Giants have with so many great players, there's bound to be some exclusion from the Ring of Honor.
In honor of Throwback Thursday, we'll look at four former modern-day Giants that are worthy of being in the Ring of Honor.
Embed from Getty Images
When you think of the Giants defense of the 80's and early 90's, three players stand out, Lawrence Taylor, Carl Banks, and Leonard Marshall. LT and Banks are in the Ring of Honor but surprisingly Marshall has yet to be inducted.
Marshall played with the Giants from 1983-1992 and recorded 79.5 sacks which are third-most in the history of the franchise only behind Hall of Famers LT and Michael Strahan.
He would make two Pro Bowl teams in 1985 and 1986, and had a career-high 15.5 sacks in the 1985 season.
As great as Marshall was in the regular season he made his biggest mark in the postseason. In Super Bowl 21 he sacked Broncos quarterback John Elway twice, and in Super Bowl 25 he was the lone Giant to sack Bills quarterback Jim Kelly.
But the sack Marshall is most remembered for is when he annihilated Joe Montana in the 1990 NFC Championship game, which knocked the ball out of Montana's hand, and Montana from his senses.
That is arguably the most iconic defense play in the history of the Giants. The next time the Giants have a Ring of Honor class, Marshall needs to be included.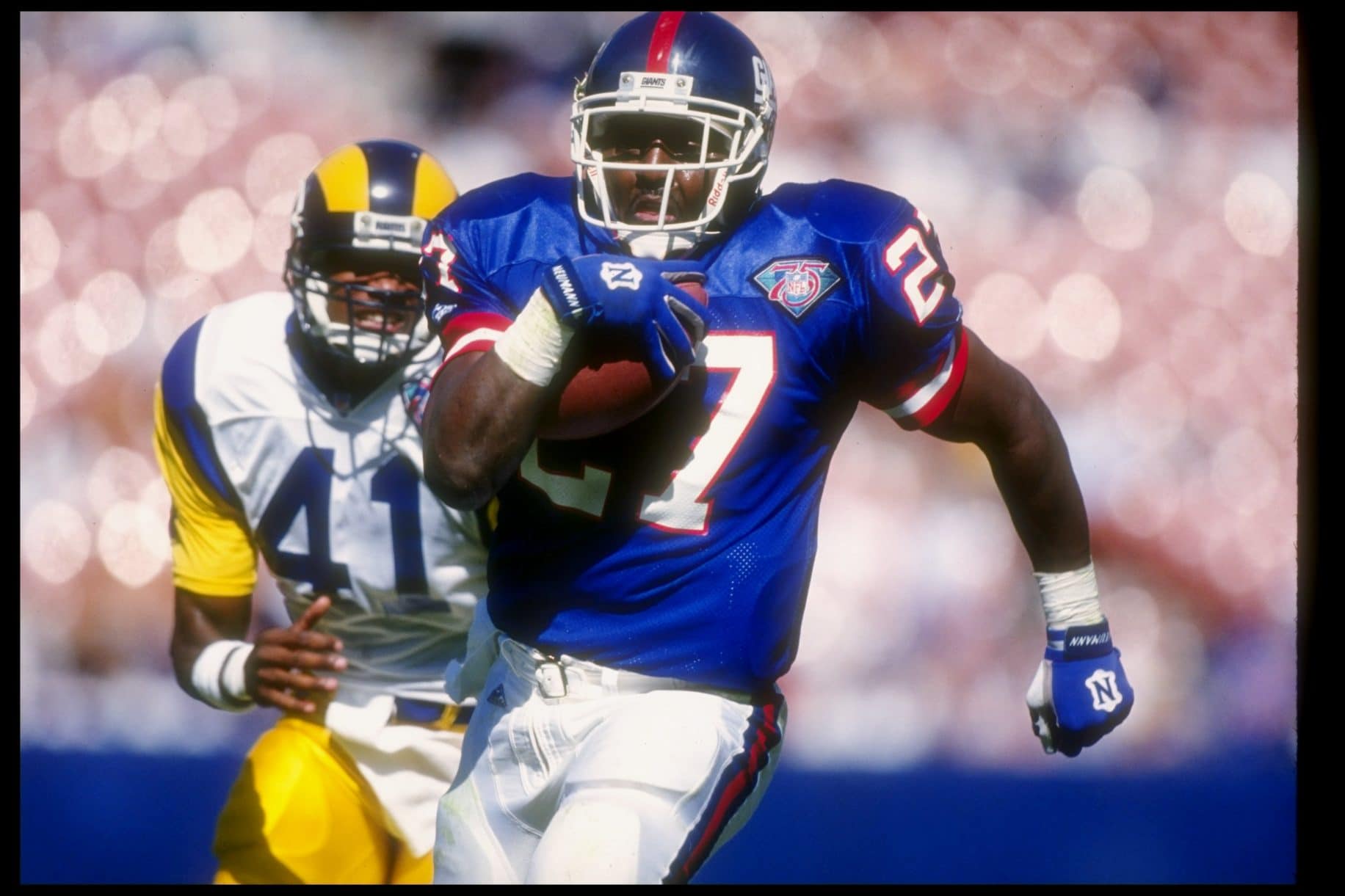 Rodney Hampton, RB
Hampton played with the Giants from 1990-1997 and was the franchise leader in rushing touchdowns with 49 until Tiki Barber eclipsed that mark in 2005.
In his rookie season, he helped that Giants to a 13-3 record were gained 455 yards on the ground 274 more receiving, and scored four touchdowns. His playoff run was cut short however as he suffered a broken leg in the divisional round in the Giants 31-3 victory over the Bears.
From 1991 to 1995 he was one of the best running backs in football gaining over 1,000 in each of those seasons and was named to the Pro Bowl in 1992 and 1993.
His 6,897 rushing yards are the second most in the history of the franchise.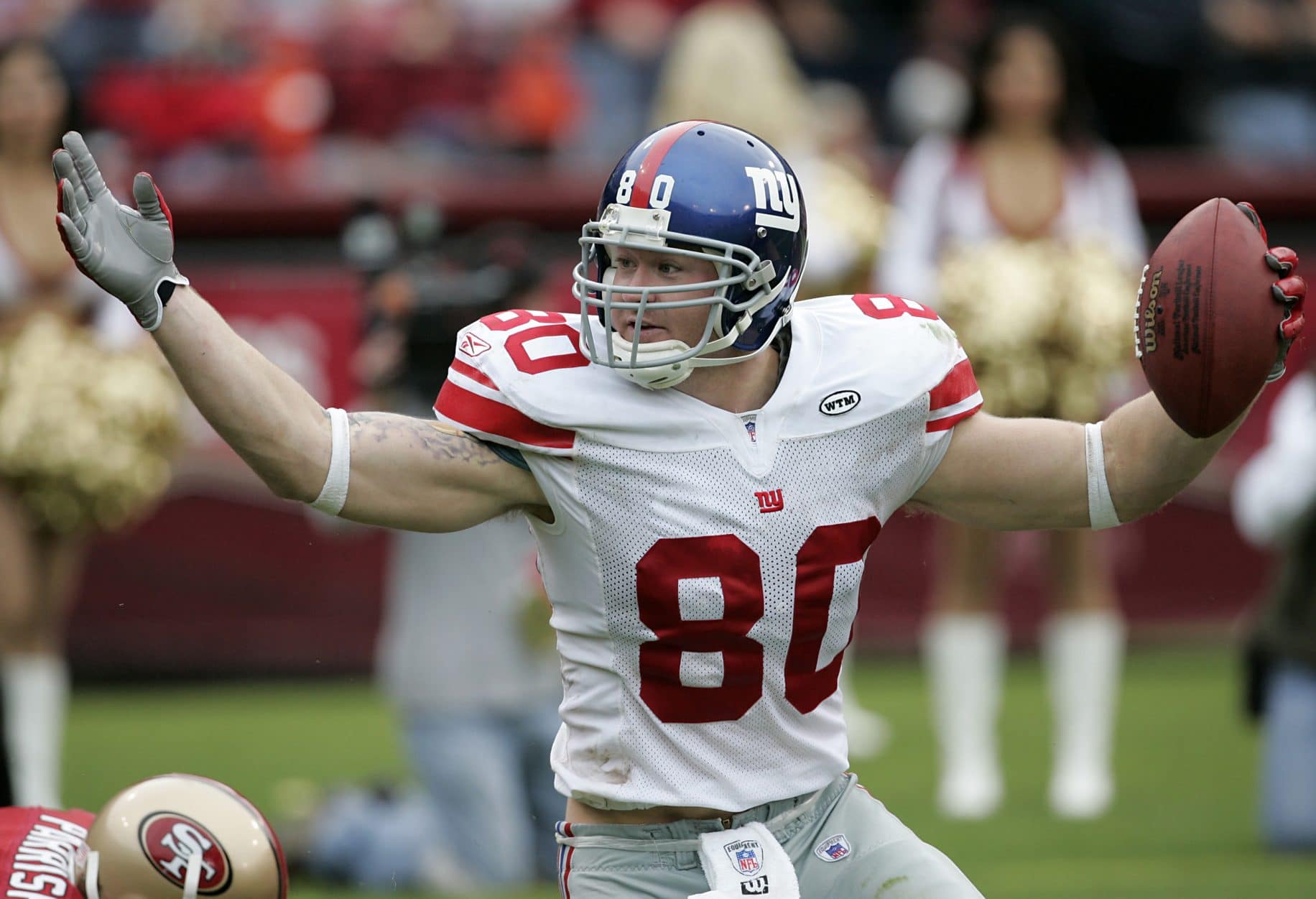 Jeremy Shockey, TE
While some may not have liked his antics, you can't deny that Jeremy Shockey was a tremendous player for the Giants. During his six seasons with Big Blue, he caught 371 passes for 4,228 yards and 27 touchdowns.
Shockey was a star the minute he put on a Giants uniform.  As a rookie, he was named First Team All-Pro and made the game-winning touchdown over safety Brian Dawkins in the Giants 10-7 win week 17 over the Eagles that clinched a playoff berth for the Giants.
He made four Pro Bowl teams in his six seasons with the Giants (2002, 2003, 2005, and 2006)
A case can be made that the Giants offensive philosophy from a hard nose smash mouth ground game, to a high powered passing attack began with the arrival of Shockey.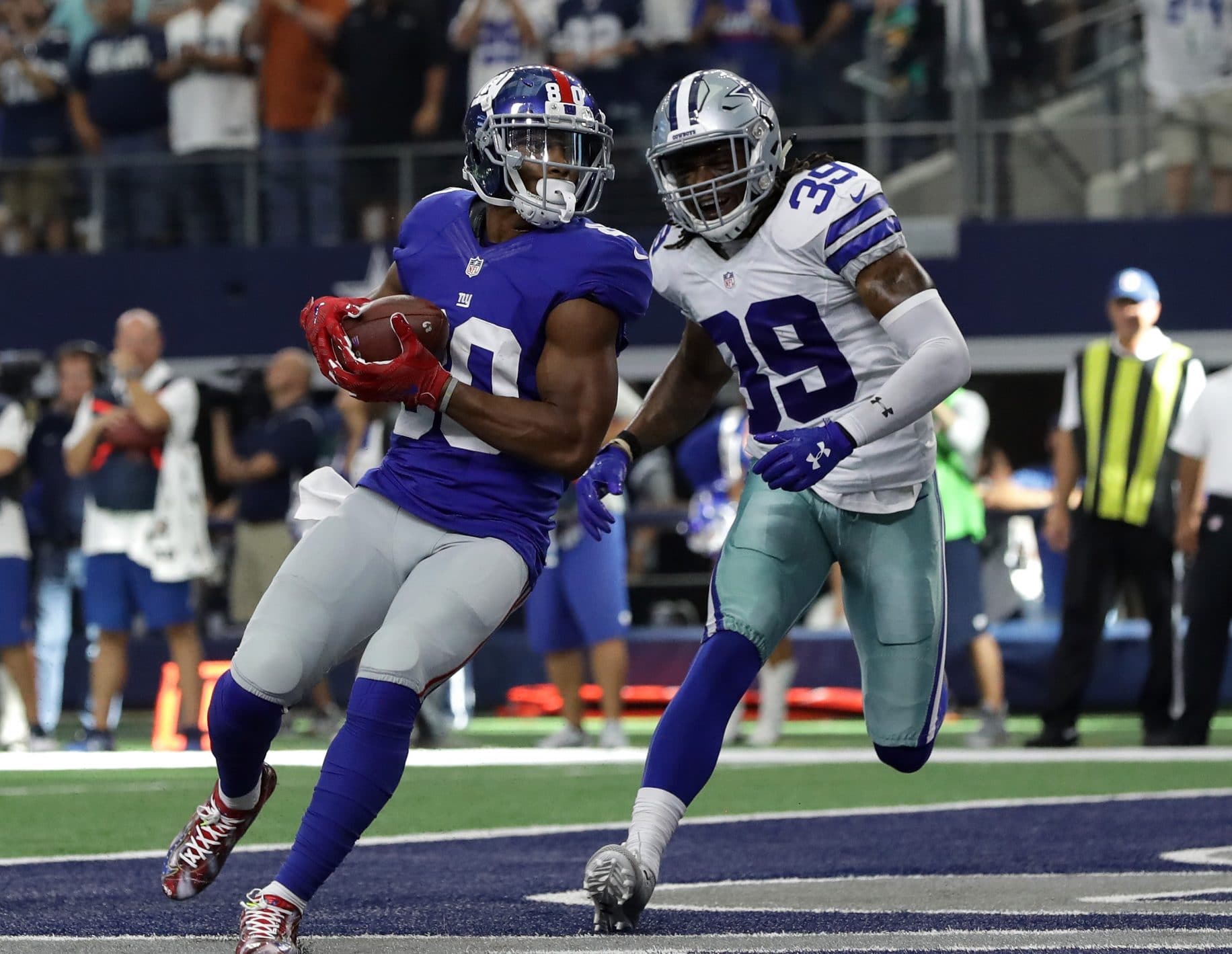 Victor Cruz, WR
Although he would only play 70 games for the Giants, Cruz left an undeniable mark on the franchise and is one of the most popular players in the history of the franchise.
His story was almost like a fairytale, a local kid from Paterson NJ, making it big with a team just a few miles from where he grew up. His salsa dances after touchdowns and fans chanting "Cruuuuuuz" made him one of the most recognizable players in the league.
Cruz burst onto the scene in 2011 where he caught 82 passes for a franchise record 1,536 yards and nine touchdowns. Five of those touchdowns were over 50 yards and none of those were bigger than his 99-yard touchdown against the Jets in week 16. He would cap off that remarkable season by scoring a touchdown in the Giants 21-17 win over the Patriots in Super Bowl 46.
The following season he would catch a career-high 86 passes for 1,092 yards, 10 touchdowns and be named to the Pro Bowl. He finished his Giants career with 303 receptions for 4,549 yards and 25 touchdowns.